Ken Block Shows Off His Audi S1 Hoonitron, and It's Awesome
audi | Audi S1 Hoonitron | elektrikhana | ken block
Typically when we talk about Ken Block, it's because he's released a new Gymkhana video or built some sort of new high-performance Ford vehicle. However, Ken is branching out. His latest car comes from Audi, and it's incredibly cool. The car is called the Audi S1 Hoonitron.
Audi says it developed the vehicle for the upcoming Elektrikhana video Block is working on. Block often builds vehicles with retro cues, and that's precisely what they did with the S1 Hoonitron. He says that the car's design incorporates much of what Audi was famous for in the 1980s but with modern performance.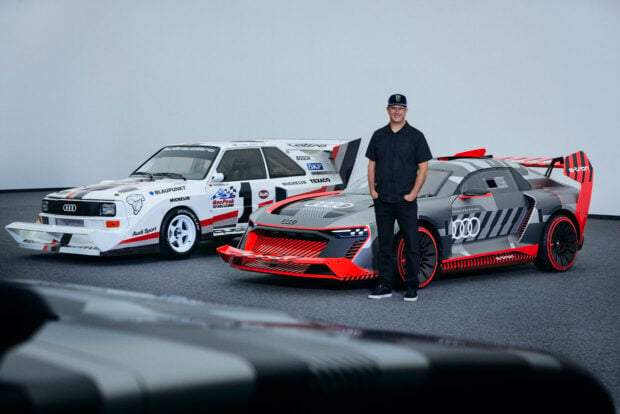 The S1 Hoonitron has a pair of electric motors and all-wheel drive, a carbon fiber chassis, and FIA-spec safety systems. Block says he has been able to test the car for a few days in Germany and notes that it's capable of spinning into a doughnut at more than 90 mph from a standstill. Block also pointed out that his right foot was all he needed to get that spin going. Anyone who's watched him driving before knows he typically uses the handbrake to initiate slides and doughnuts.

Unfortunately, Audi isn't offering any technical details yet on the S1 Hoonitron, so we don't know exactly how much power it makes or how fast the car will be. We hope when the Elektrikhana video is released, we also get some in-depth technical details about the vehicle.