Dodge Challenger A/T Untamed Concept
dodge | August 30, 2014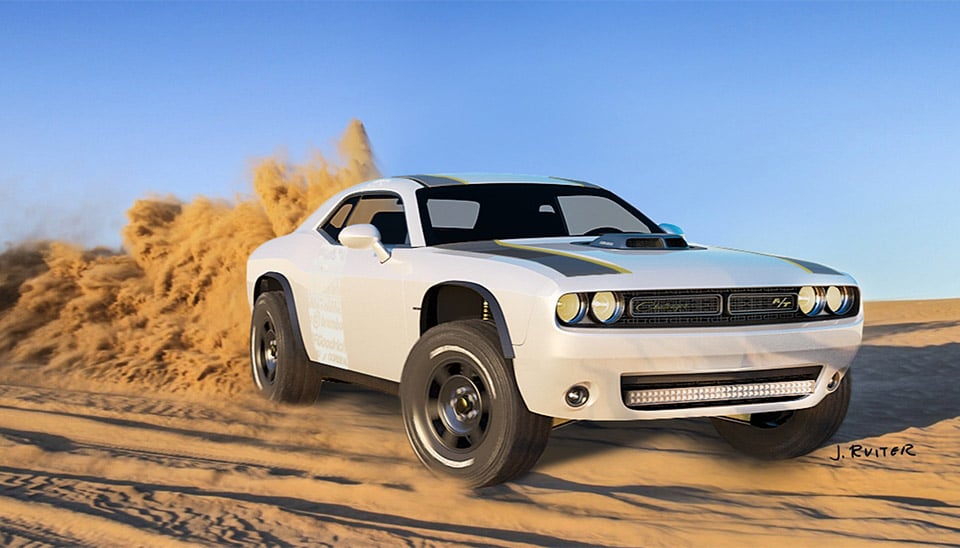 If there's one thing I never really thought of, it was taking a Dodge Challenger off road. But that's exactly what product designer and builder Joey Ruiter has dreamed up with his off-road modded Challenger concept. Most recently, Ruiter gave us his stripped down Reboot Buggy, so he knows a thing or two about tearing up the dirt.
The Dodge Challenger A/T Untamed Concept is envisioned as an amped-up muscle car that's been equipped with an off-road capable suspension, flared fenders, and appropriately massive off-road tires and wheels to go with. You won't have to worry about ground clearance with the Challenger, as it's been jacked up several inches over the standard car.
In order to keep the vehicle's weight balanced, Ruiter envisions a V6 power plant, rather than a HEMI or a Hellcat, though you'd probably want an all-wheel drive system. I can only imagine that a rear-wheel drive vehicle would still have trouble in wet or loose terrain. Regardless of the physics, Ruiter hopes to develop an all-terrain kit for modding Challengers and other muscle cars down the road.