First Drive: Lexus RC F and RC 350
lexus | September 4, 2014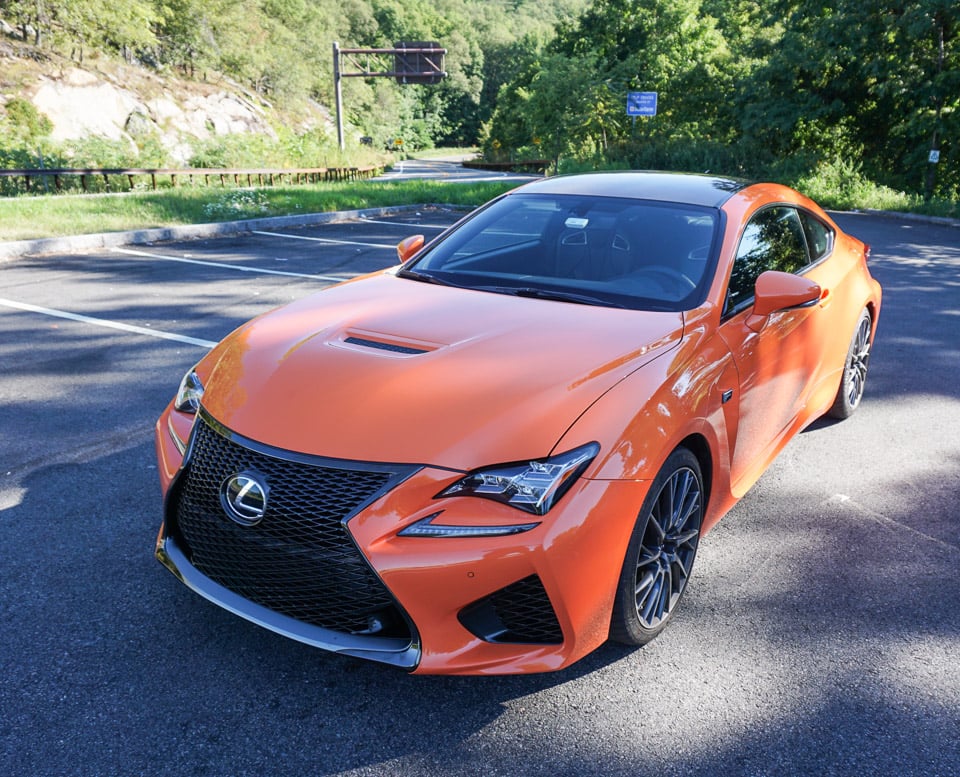 Lexus RC F / RC 350

Powertrain: 467hp 5.0L V8(F) / 306hp 3.5L V6(350) 8-speed sport trans. (F) / 8-speed automatic (350) / 6-speed automatic (350 AWD)
0-to-60 Time (secs):
4.4(F) / 5.8(350) / 6.0(AWD)
1/4 Mile Time (secs):
12.5(F) / 14.3(350) / 14.6(AWD)
Top Speed (mph):
170(F) / 143(350) / 130(AWD)
City/Hwy/Combined MPG:
16/25(F) / 19/28(350) / 19/26 (AWD)
Curb Weight (lb):
3958(F) / 3748(350) / 3891(AWD)
Wheelbase (in): 107.5
Total Length (in):
185.2(F) / 184.8(350)
Width (in): 81.5 (w/ mirrors)
Base Price (USD): $62,400(F) / $42,790 (350) / $45,025 (AWD)
Ever since the Lexus RC F was first shown off at the 2014 Detroit Auto Show, I've been dying to get behind the wheel of the sporty new coupe. So when Lexus invited me out to the track at New York's Monticello Motor Club to test drive the entire RC line, I was totally stoked. And now that I've completed my time with the RC F, and its daily driver siblings, the RC 350 and RC 350 F-Sport, I'm happy to report that the cars not only lived up to, but exceeded my expectations.
The RC F
While most people associate Lexus with luxury, technology and comfort, the company continues to revamp its image, as it's been working on adding "performance" and "sporty" to its vocabulary in recent years.
With the LFA now discontinued, the RC F is the top of the line, performance-oriented car you can buy from Lexus, with an awe-inspiring 467 horsepower 5.0 liter V8 under the hood, capable of generating an impressive 389 lb.-ft. of torque. Combined with a close-ratio 8-speed direct-shift automatic transmission, the RC F zips from a standstill to 60mph in just 4.4 seconds, an electronically-limited top speed of 170mph, with a redline of 7,100 RPM. Given its large engine up front, its weight distribution isn't too shabby either, at 54% front to 46% rear.
Outside, both the RC 350 and RC F are stunners, turning numerous heads as we drove a fleet of cars away from our hotel towards the track. Lexus makes no bones about the RC F being a proper sports car, offering it in a luscious orange color called "Molten Pearl".
Its menacing black spindle grille is the largest on any Lexus, and it looks awesome. I only dread what it might look like if you live somewhere that front license plates are required.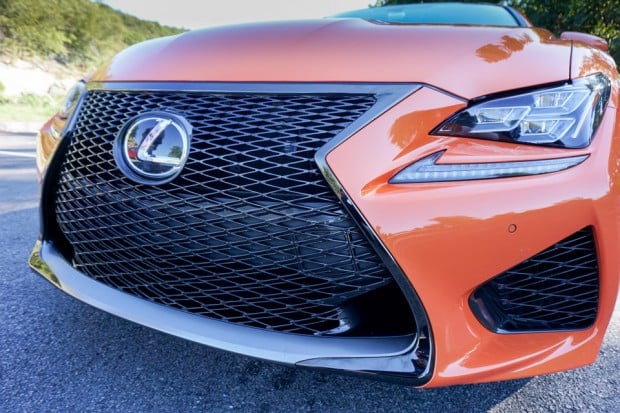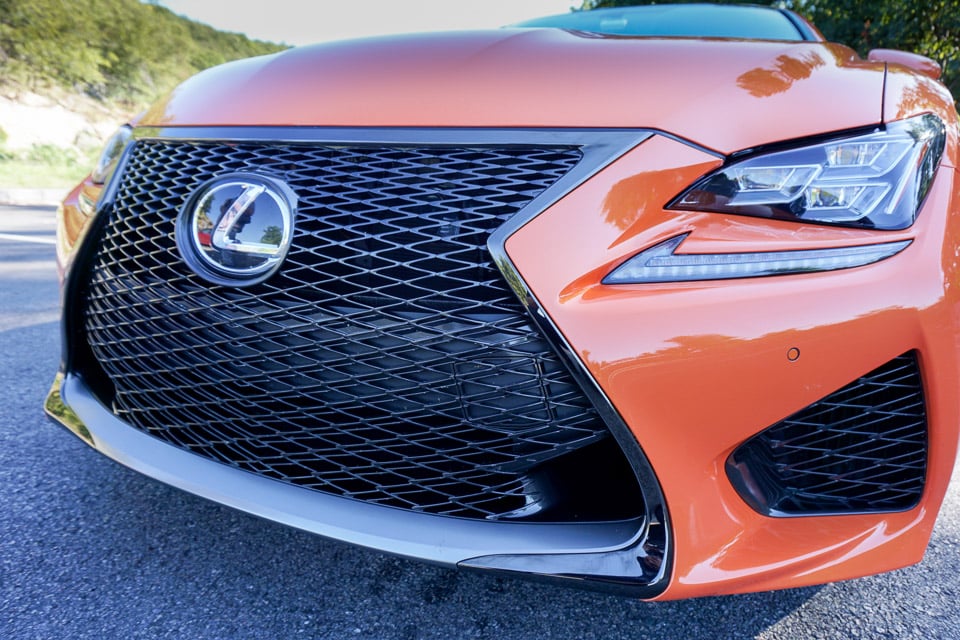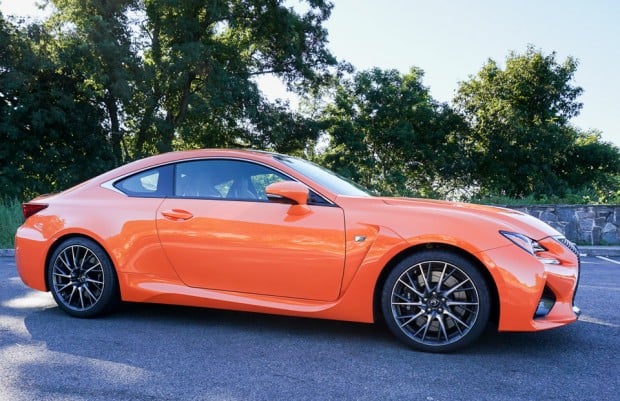 The RC F rides on sexy 19″ BBS black chrome aluminum wheels, and every exterior light is LED, including headlights, taillights, license plate light and signature arrow accent lights. Around back, you'll be greeted by quad stainless steel exhaust pipes and a retractable spoiler built into the trunk lid.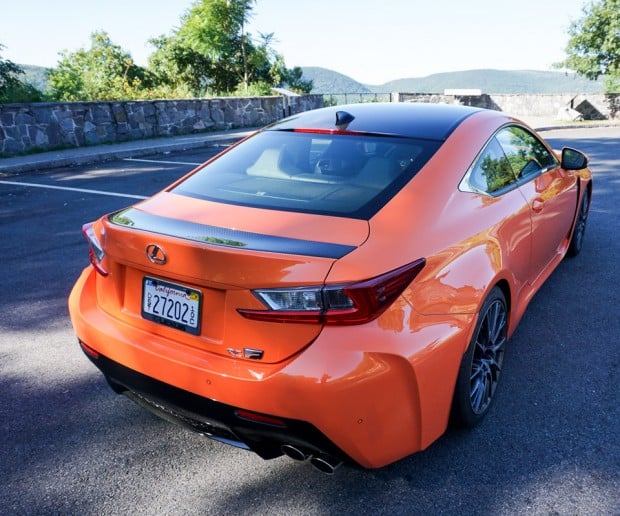 My RC F was equipped with the optional black carbon fiber accents, including a carbon fiber reinforced plastic roof and matching retractable rear spoiler. (I also spied a version with a carbon fiber hood, but sadly that's only a Euro-spec option at this point.) The carbon elements part of the Performance Package, which also adds a rear torque vectoring differential (TVD), dramatically improving cornering ability by adjusting torque going to each of the rear wheels to help the car pivot around sharp turns. The TVD setup is adjustable, with specialized settings for track, slalom and everyday driving situations.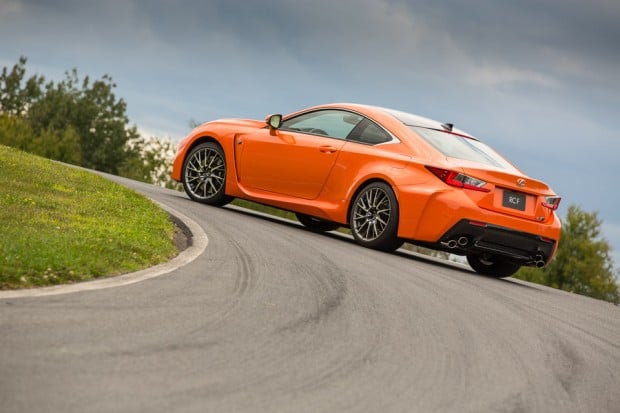 I had the opportunity to drive the RC F on both a lengthy road trip and on the track at Monticello. The car performed extremely well in both situations. The RC F offers tons of thrust from a standstill, a delicious exhaust note outside the vehicle (though it appears to have been "enhanced" for occupants since the cabin is so well insulated from road noise,) and handles incredibly in the corners, with great body rigidity and tight, responsive steering. Lexus designed the RC F to be easy to drive, and I have to say that despite the growing 467 horses under the hood, and tremendous torque hitting the rear-wheels, I was very confident on the track in every single spot other than the tricky hard right coming out of a 130MPH straight followed by a quick reverse S curve. And frankly, that sort of setup would tax just about any car.
That said, if you're going to spend the $62,400+ that the RC F is going to cost you, you're going to want to splurge for the Performance Pack. The torque vectoring differential is just that good. Nothing against the standard Torsen limited-slip diff, but if you have any intent on taking the RC F on the track, the torque vectoring tech makes a huge difference in cornering confidence and sharpness, doing away with pesky understeer.
Braking is also sharp and precise, thanks to the large Brembo ventilated disc brakes, with 15″ front and 13.6″ rear discs.
Inside, the RC F is well appointed, using much of what Lexus already knows about luxury and applying it to a sports coupe. Fit and finishes are high quality, with aluminum composite trim, and you can opt for dark carbon fiber accents as well, which appear around the door controls and over the glove box. There's also premium suede-like Alcantara on the armrests.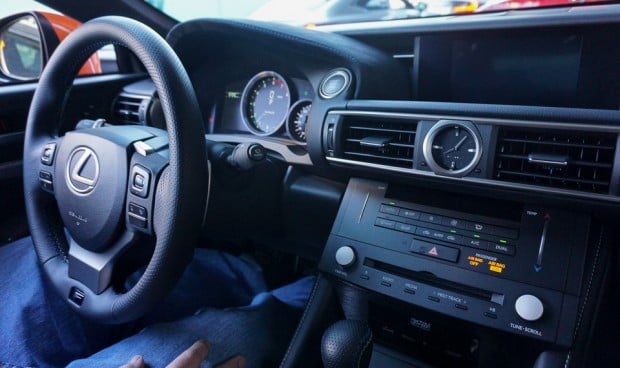 The sport seats offer plenty of support and side bolstering and kept me snug going around corners. While the base model comes with black NuLuxe seating, leather-trimmed seating is also available in black or grey. For those looking for something more showy, there's also a Rioja Red interior color scheme: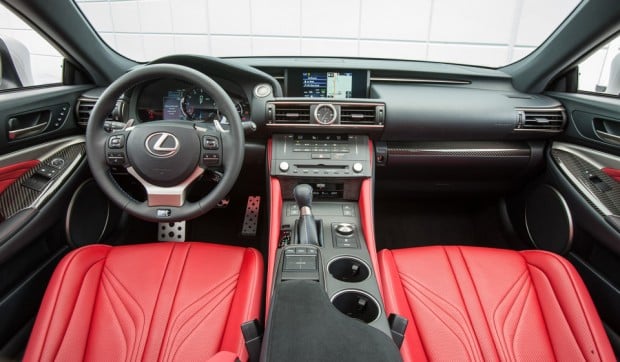 Keep in mind that this is a true 2+2 interior, meaning the driver and front passenger have plenty of legroom, while the rear seat is reserved for pets, backpacks, or small, legless children.
The dashboard of the RC F is equipped with all kinds of fun and useful information, including G-Force tracking, and a handy lap timer function. And when you're driving in one of the Sport modes, the center dash gauges become one of two huge tachometers. The car also offers an audible beep when you approach redline. There are also digital temperature gauges for fuel, coolant, oil temperature and voltage.
If I have any complaint at all about the interior, it's the infotainment system. There's no shortage of features, but like other Lexus vehicles, the screen has been set back several inches into the dash, meaning that a touchscreen wouldn't be practical. Instead, you've got the choice of a knob or touchpad control which sits on the center console. I generally find these kind of interfaces to be annoying, but I usually get used to them pretty quickly. In this case, the touchpad was way too finicky, often jumping my cursor beyond where I intended it to go on the screen, and rarely going where I wanted it to. I'd also like to see a physical button for quickly accessing the Nav system.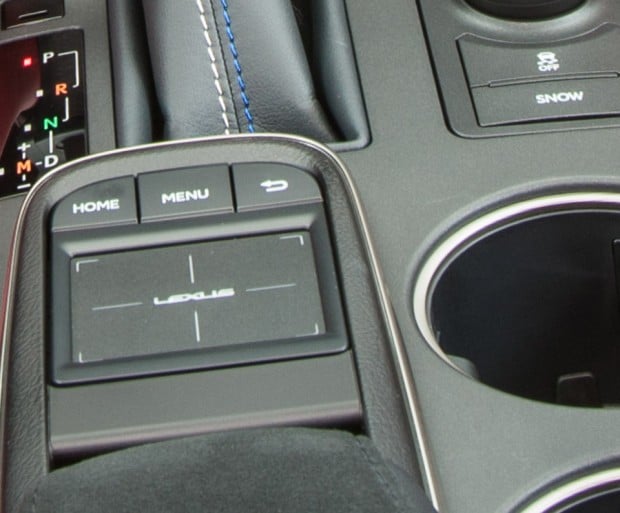 There's a reason I hate using the trackpad on my laptop and opt for a mouse. Please, Lexus, just move the screen towards the driver and give us a touchscreen. You don't have to get rid of these console controls if you're in love with them, but having the option to just touch the screen would be a huge improvement, IMHO.
The RC 350
While the RC F is truly an impressive driving machine, anyone thinking about buying an everyday sports coupe should definitely consider the RC 350 (especially the F Sport package shown here) as well. While the RC 350 has a smaller 3.5-liter, 306 horsepower V6 engine, it still offers plenty of driving fun, and is a hair more practical as a daily driver. Base priced at $42,790 for the RWD and $45,025 for the AWD, it's also significantly more affordable. The RC 350 goes from 0-to-60mph in a swift 5.8 seconds, though if you opt for the AWD model, that drops to 6.0 seconds. Still, that's plenty fast for most things, comparable to the Cadillac CTS or Mercedes-Benz E350 Coupe. Outside, the RC 350 looks very similar to the RC F, though it's not quite a long, low or wide.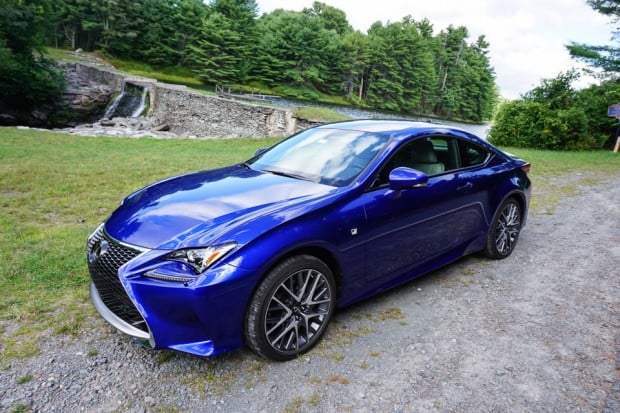 The RC 350's rear-wheel drive variant gets an 8-speed automatic transmission, while the all-wheel drive model has a 6-speed. Both cars include paddle shifters as well. The AWD is confident and a great everyday car, while the RWD is definitely a little more fun – especially if you go with the optional four-wheel steering and variable gear ratio steering. On the track at Monticello, the four-wheel steering allowed for some impressively tight cornering – almost like speeding around the track in a giant, luxury go-kart.
The F-Sport model of the RC 350 gets a variety of upgrades, including adaptive variable suspension, 19-inch wheels, sport seats, aluminum sport pedals, high-friction brake pads, and a fancy instrument cluster inspired by the LFA. It also comes in snazzy colors like the eye-popping Ultrasonic Blue Mica 2.0 shown here. You can also get it in orange if you want to pretend you're an RC F.
I took the RC 350 F-Sport out on both the track and country roads, and it was a pleasure to drive in both environments. On the road, it was responsive and quiet, not dissimilar from the IS 350 F-Sport (reviewed here). But the RC 350 was even more fun to drive than the IS 350. Certainly, the intimate 2+2 cabin and coupe styling makes it feel more sporty, but I found the steering to be tighter, and the overall experience just a bit more connected to the road than the already solid IS 350.
Lexus expects to make about six times as many RC 350s as RC Fs in 2015, acknowledging the fact that the RC F is for serious performance enthusiasts, while the RC 350 is a car you can take anywhere. If you don't plan on going to the track, you probably don't need the extra power and handling enhancements in the RC F, and you'll spend about $20,000 less for a car that looks every bit as good.
Frankly, I'd be happy to own either the RC F or the RC 350 (especially the F-Sport RWD version with four-wheel steering). For a track-capable car that can keep up with the likes of a BMW M4 or and Audi RS5, you'll definitely want to go for the RC F, but for a great looking, luxurious car, with solid handling and performance, the RC 350 is plentiful in its charms.