Peugeot EXALT Concept Updated
peugeot | September 6, 2014
A few months back, we got a look at some images of Peugeot's EXALT concept car. While the design featured some extraordinary materials, we barely got to see the car as a whole. Since that time, Peugeot has continued to refine the design, and has released a set of images which give us a better idea what a production EXALT might look like.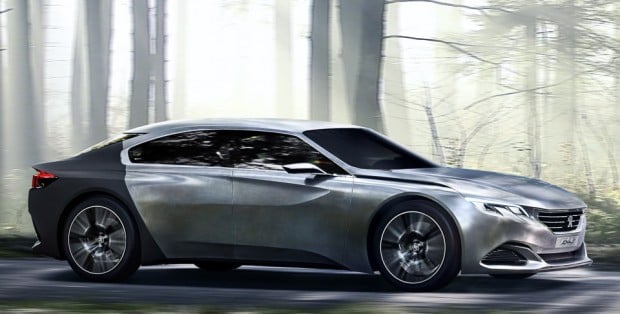 The 5-door sedan is certainly dramatic, with its low and wide profile and elongated hood. Not only is its body designed for optimal aerodynamic performance, the "sharkskin" textile lining the exterior of the car is designed to reduce drag even further. As previously noted, the EXALT has an electric/gas hybrid drivetrain, offering a combined output of 340 horsepower.
Its dramatic design approach carries over to its interior, with a minimal, driver-focused cockpit, a high-tech digital dashboard, and use of natural materials. The center console features a pair of folding touchscreens which provide access to multimedia and navigation controls. Another innovative feature is the use of supplemental black lighting around the headlamps, which is said to improve visibility of road markings at dawn or dusk. Who knew? And while it's not shown in any of the images, the trunk is said to have a unique "pantograph" opening mechanism, and a hidden compartment which stows a foldaway motorized scooter under its floor.
Peugeot plans on showing off the latest iteration of the EXALT concept at the Paris Motor Show in October 2014.