Tesla Shares Video of Its Factory Expansion
factory | technology | tesla | November 23, 2014
Tesla Motors recently paused production for two weeks at its Fremont, California facility. During the downtime, the production line was upgraded to add capacity to its body shop, improve efficiency of powertrain assembly and to provide better facilities for Tesla workersThis time-lapse video captured some of the work, as well a provides a brief glimpse into vehicle production.
Changes include increased automation, including new robots to do more of the heavy lifting. The changes should help Tesla increase production from over 22,000 cars last year to about 35,000 this  year, and another 50% more in 2015. In fact, the upgraded assembly line is currently producing about 1,000 vehicles a week. These changes should also mean we'll start seeing the much anticipated Model X Crossover SUV rolling off the line in the not too distant future.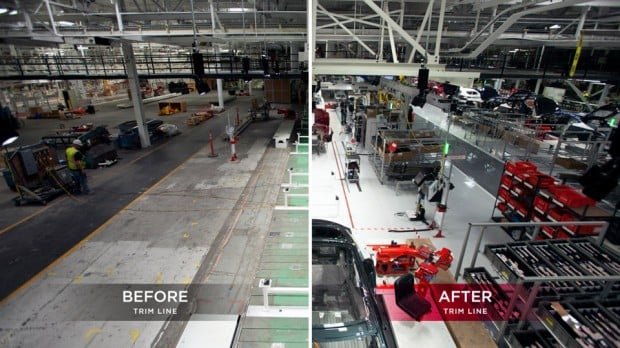 Hopefully, Tesla will release a similar video of its massive new Gigafactory battery production facility, which is under construction outside of Reno, Nevada.