Inside ZF's Active Kinematic Control
porsche | technology | zf | November 29, 2014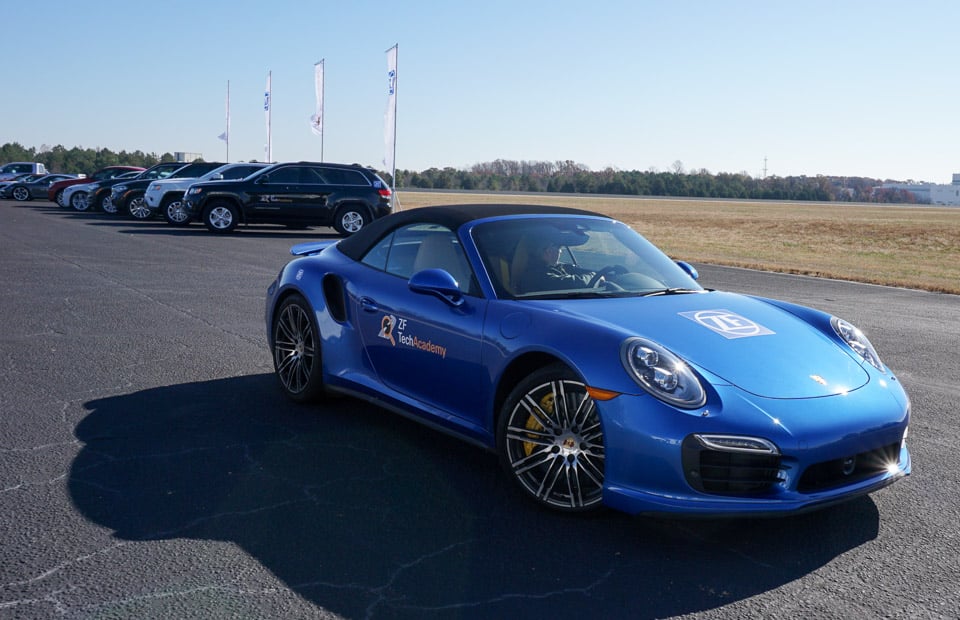 I recently had a chance to drive a number of vehicles at ZF's TechAcademy. Each of these cars, SUVs and trucks highlighted an aspect of drivetrain, handling or steering technologies available today. Perhaps the most compelling technology I encountered was "AKC" or Active Kinematic Control – an impressive rear-steering technology which dramatically improves cornering for performance vehicles.
The AKC system dynamically adjusts the rear axle kinematics of a car based on the current driving behavior. In essence, this means that the wheels steer a slight amount based on the speed and angle that the vehicle is turning in. When turning at a slow speed, the wheels turn up to three degrees in the opposite direction of the front wheels to help a vehicle corner like a shopping cart. In fact, this can decrease the size of a car's turning radius by up to 10%, making it easier to move through tight urban environments and getting in and out of parking spaces.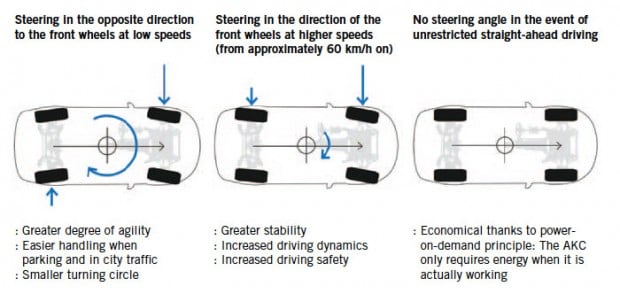 At high speeds the wheels move to a lesser degree – in the same direction as the front wheels – but these tiny corrections mean major improvements in cornering. In fact, when I took the AKC-equipped Porsche 911 Turbo S out on the track, the difference compared to standard steering systems was pretty mindblowing. Zipping through a cone slalom required very little steering input in the Porsche, while every other car I drove through the same course required substantial steering input. And turning through sharp corners was like driving a high performance go kart. Safety is also improved as the system helps decrease the amount of time during the transition from a straight line to a curve, which helps with overall stability and makes for effortless lane changes and evasive maneuvers.
The technology itself uses an electromechanical actuator, comprised of a motor, sensors and a control unit, and is controlled using ZF's control software. These work in concert to adjust the toe of the rear wheels. Theoretically, the same technology could be used to adjust wheel camber as well – which could be used to dynamically influence a vehicle's amount of oversteer or understeer.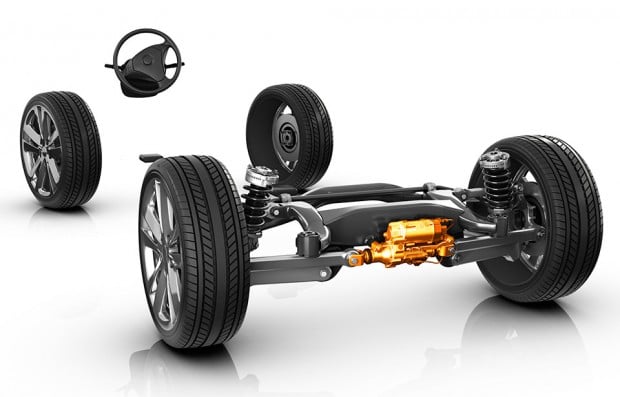 Between the glare on my camera lens and the subtle wheel angle changes, it's a little touch to see, but if you watch the clip below, you can watch the system in action as the 911 Turbo does some tight quarters maneuvering:
Despite what seems like a very small amount of toe angle, these changes make a dramatic impact on steering and stability. If you're interested in finding out more about AKC and ZF's other innovative technology for the automotive industry, be sure to check out their website.