Living with a Bentley Continental GT V8 S
bentley | convertibles | December 2, 2014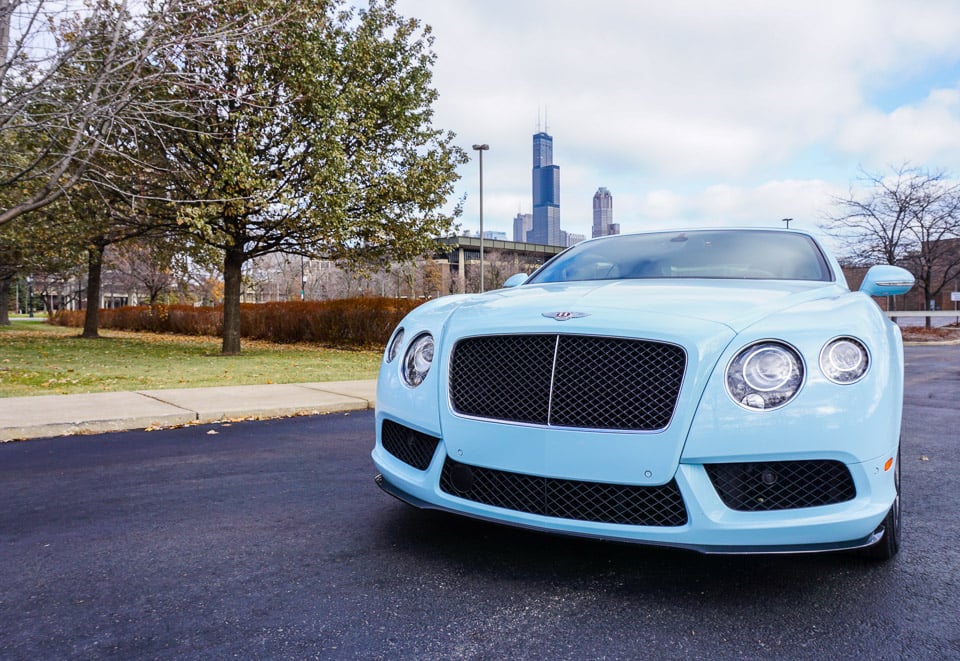 2014 Bentley Continental GT V8 S Convertible

Powertrain: 528hp 4.0L twin-turbo V8, 8-Speed ZF automatic transmission
0-to-60 Time (secs): 4.5
Top Speed (mph): 191
Curb Weight (lb): 5,445
Wheelbase (in): 108.1
Total Length (in): 189.2
Width (in): 87.7 in w/mirrors
Base Price (USD): $216,200
Price as Tested (USD): $251,070
There's nothing quite like a Bentley. The British automaker's elegant and powerful cars are the ultimate extravagance. Driven by a 528 horsepower, twin-turbocharged 4-liter engine, the all-wheel drive Continental GT V8 S offers tremendous power, while at the same time lavishing you in creature comforts. I recently had the privilege of spending a week with one of these fine cars as my daily driver, and it was quite an experience.
I start the engine up, and the car roars to life with a deep, baritone exhaust note that lets everyone know you mean business. After all, this amazing car can go from 0 to 60 in just 4.5 seconds, with a top speed of 191 miles per hour.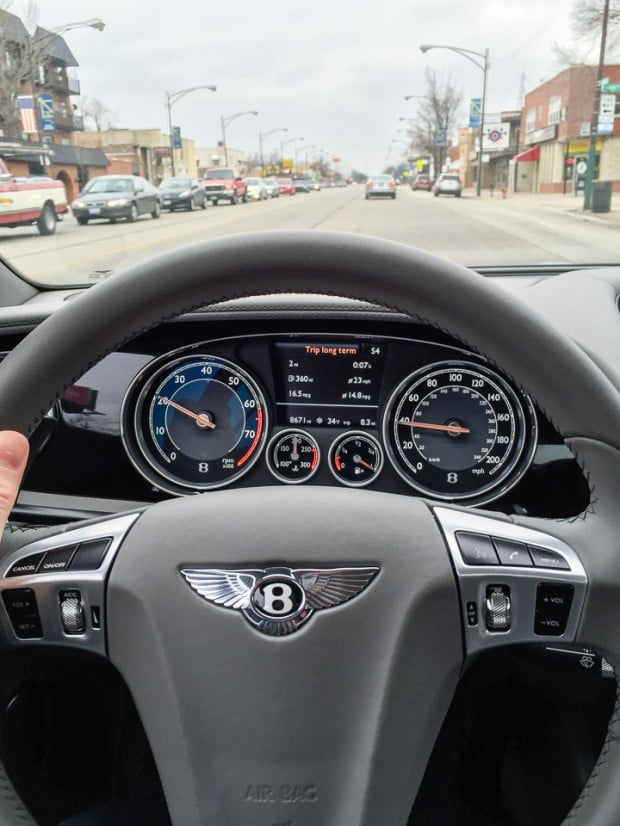 Riding in the Continental GT V8 S is an incomparable experience, from the tremendous sense of momentum when you put your foot down, to the velvety smooth ride when you're cruising along at highway speeds. But this Bentley isn't just for touring. Its continuously adjustable dampers let you fine tune your ride between several levels from soft shock absorption, to agile sports handling. Adjustable air suspension lets you raise and lower the car as well, not only protecting the car from speed bumps, but further dampening the ride.
The driving experience – in a word – is sublime. Despite weighing more than 5,400 pounds, the GT V8 S is unexpectedly nimble, with incredible power on demand, quick and sporty shifts from its ZF 8-speed gearbox, and steering that goes exactly where you want it to. And on a long highway drive, the car's radar-guided active cruise control kept the car at just the right speed while my right foot got a well deserved break.
In its convertible variant, the Continental GT V8 S can drop its quadruple-insulated top in about 20 seconds, which let me drink in the occasional glimpse of Chicago November sun and warmth, while at the same time greeting the countless people on the street who expressed their envy of this beautiful blue grand tourer. Glacier Blue isn't your color? Bentley lets buyers choose from 17 standard and 100 premium colors, or the option to order a completely bespoke paint scheme.
Inside a Bentley, you're placed in the lap of luxury, surrounded by creamy smooth leather, thickly padded surfaces just about everywhere, and the most comfortable front seats I've ever sat in. Not only do they offer numerous adjustments, heat, ventilation and air-blown neck warmers, you can have a back massage while you're driving. Not a single detail is overlooked. Every stitch precise. Every wood and metal surface perfectly smooth and precisely fit into place. The Breitling clock in the piano black veneer dashboard is something you'd go to a fancy watch store to buy. And that textured shift knob with the trademark "B" on it? Damn that's sexy. Equipped with an 11 speaker, 900-watt Naim audiophile grade sound system, I felt like I was right in the middle of a concert arena. Even the multimedia system's 8-inch touchscreen interface is done in the Bentley typeface also is found on the gauges and tactile controls. I can't think of another car with this sort of attention to detail.
What can I say? It's a Bentley. My expectations were high, and the Continental GT V8 S delivered on the promise of its brand. The car is simultaneously smooth like butter and mean like a grizzly bear, combining extreme luxury with extreme performance.