Rolls-Royce Phantom Drophead Coupé Nighthawk
convertibles | rolls-royce | February 3, 2015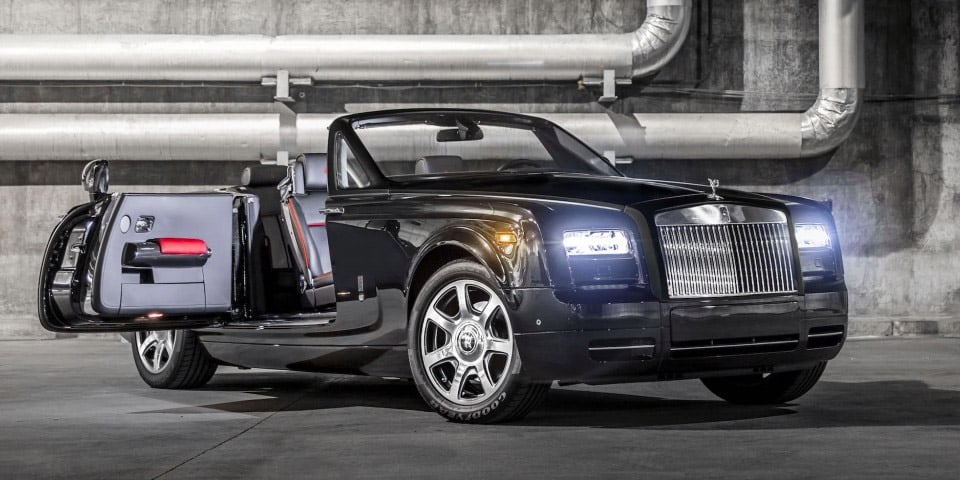 Think of automotive excess. Luxury, power, branding and of course the kind of price tag that makes $40,000 bottles of single malt seem quite reasonable. That's why the Rolls-Royce Phantom Drophead Coupé Nighthawk exists – to make you see your BMW 7-Series as a plebeian set of wheels. Having just debuted in Phoenix, Arizona and having plastered its bespoke mug on your flatscreen during Superbowl XLIX, the Nighthawk is so unnecessarily opulent in a dark sort of way, it might just qualify as Knight Rider's ride of choice if he were 65 and filthy rich.
It takes the "standard" Drophead Coupe and covers it like blackest night, and that includes rich Diamond Black Metallic paint, Matte Diamond Black bonnet (hood for us Americans), carbon fiber dash and door panels, full grain black leather with Hotspur Red accents (insert whipping sound here), adaptive LED headlamps, and a windscreen surround infused with stealth fighter inspired radar absorbent material. Copious amounts of carbon fiber are used throughout the dashboard panels and coach door panels, which marks use of the sporty, high-tech material for the very first time in a Rolls.
The Nighthawk gets its groove on with a Powered by a 6.75-liter V12 engine that churns out 453 horsepower, which will move the very dark, very pricey ($569,000 USD) slab to 60 in 5.6 seconds. And to call it a limited edition is a bit of an understatement since only nine will be made.