First Drive Review: 2016 Scion iM
hatchbacks | scion | July 29, 2015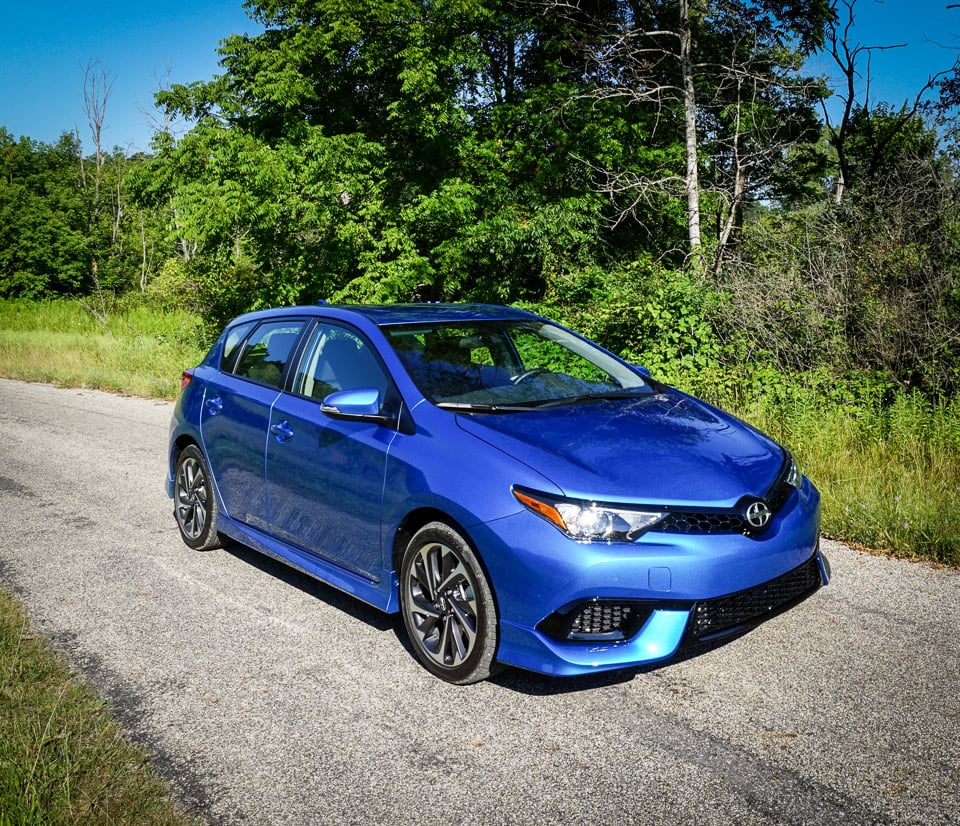 2016 Scion iM

Powertrain: 6-speed manual or CVTi-S automatic
Engine: 1.8L 4-cylinder
Horsepower: 137
Torque (lb-ft.): 126
Drive Configuration: Front-wheel drive
Curb Weight (lb): 2,943(MT) / 3,031(CVT)
Wheelbase (in): 102.4
Total Length (in): 170.5
Width (in): 69.3
Base Price (USD): $18,460 (MT) / $19,200 (CVT)
For the first time that I can remember, Scion is releasing two new car models at the same time. While the Scion iA compact sedan is targeted at urban daily drivers, the iM is made young adventurers who like to get out and hit the road. Based on the popular European Toyota Auris, the iM is a fun hatchback with playful driving dynamics and some great features for its sub-$20,000 price. I had the opportunity to take the iM out in the city and country around Grand Rapids, Michigan, with a day to put the car through its paces.
A bold front fascia, honeycomb grille and flared edge along the side of the car all give it a particularly sporty look. Its front end that fits more directly in with the Toyota line than with Scion, but that only makes sense given its source. Of the six colors being offered at launch, my favorite is the Electric Storm Blue, which has a nice metallic sheen to it, and stands out on the street.  Of particular note are the black-accented 17-inch alloy wheels, which not only look great, with a real sense of movement, but come standard with the iM, if you can believe it.
The Scion iM has a 137hp, 1.8-liter 4-cylinder engine under the hood, connected to a front-wheel drivetrain via either a 6-speed manual or a CVT which approximates a 7-speed automatic. Given its size and relative light weight, its drivetrain feels pretty nimble for everyday driving. Handling is more notable than power, with tight electric power steering offering good feedback, especially in Sport mode. If I have any complaint about the drive at all, it's that there's more road noise in the cabin than I'd like.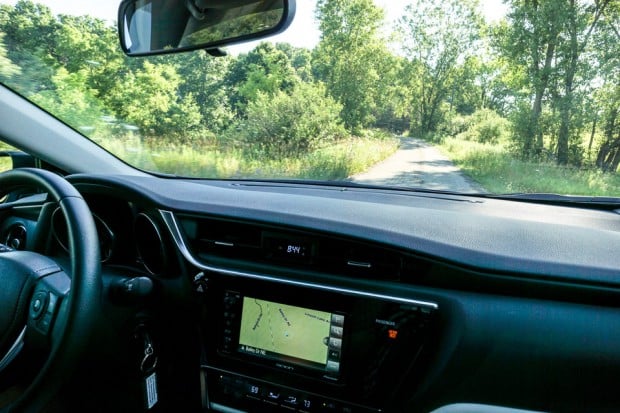 The 6-speed manual shifts easily, though the bite point on the clutch is a little later than I prefer. The CVT is surprisingly good, without that annoying vacuum-cleaner sound that I normally associate with the tech. And the system that's in place to simulate shift points is quite convincing. You'd be hard-pressed to tell the difference between a standard automatic and this CVT, plus you'll get better mileage than with the manual. Speaking of fuel economy, the iM gets up to 36mpg on the highway with the manual, and up to 37 with the CVT.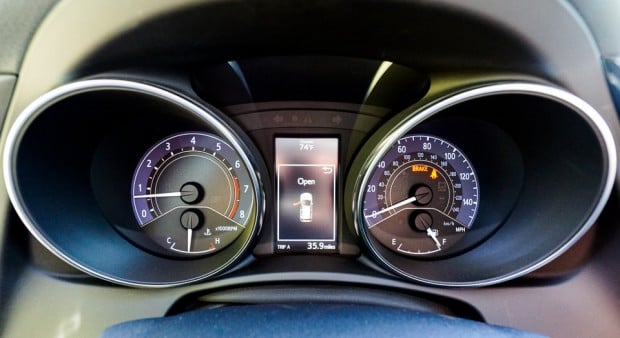 Inside, the iM is well appointed for its price, with a clean and modern dashboard, circular side air vents, and leatherette trim to provide contrast. Both the steering wheel and shift boot are leather covered, and there's a 7-inch Pioneer touchscreen audio system in the center of the dash. An upgraded audio system with navigation is also available as one of the few add-ons. The system has a bit of an aftermarket look to it, but like other Toyota and Scion vehicles, the sound quality is very good.
A couple of other features that you don't usually get at this price point are also standard, including dual-zone climate control, and power folding mirrors with heat and LED turn indicators. A backup camera is also standard, along with remote keyless entry.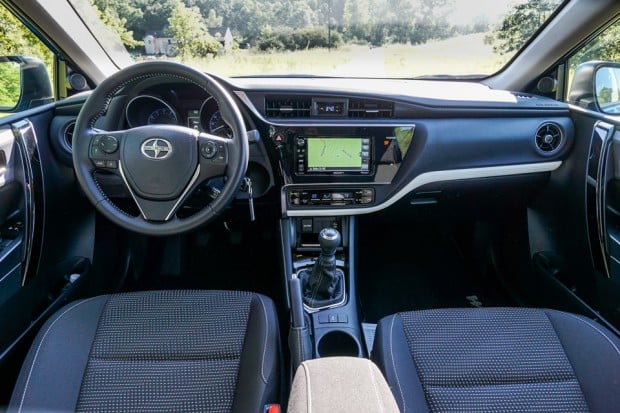 Legroom and headroom is comfortable for both front seat occupants, and the rear can actually be used by adults. Sure, it's not hugely spacious, but you could definitely take your friends around in this car for city jaunts or day trips. The hatchback area isn't huge at 20.8 cubic feet, but certainly is sufficient for grocery getting or a few small suitcases, and is actually more room than you get behind the rear seats in a Range Rover Evoque. In addition, the rear seats can fold in a 60/40 split for added space. I also like that there's a lid included to cover up whatever cargo you might be carrying in the rear.
Scion (and Toyota) have made a really great starter car with the iM, and it's a welcome addition to their U.S. lineup. It offers distinctive styling, fun driving characteristics, a comfortable cabin, reasonable cargo capacity, and more. I'm particularly impressed with the number of features that Scion includes as standard – especially the 17″ alloys, which would normally add at least $1200 to $1500 to the sticker price. With Scion's simple pricing scheme, you don't have to worry about a ton of options either – you basically choose a paint color and a transmission. In addition, you get 2 years or 25,000 miles of complimentary maintenance and roadside assistance as part of the purchase, further adding to the value.