2022 Kia Sorento Hybrid Review: A Fuel-Efficient Family Hauler
2022 | crossovers | kia | kia sorento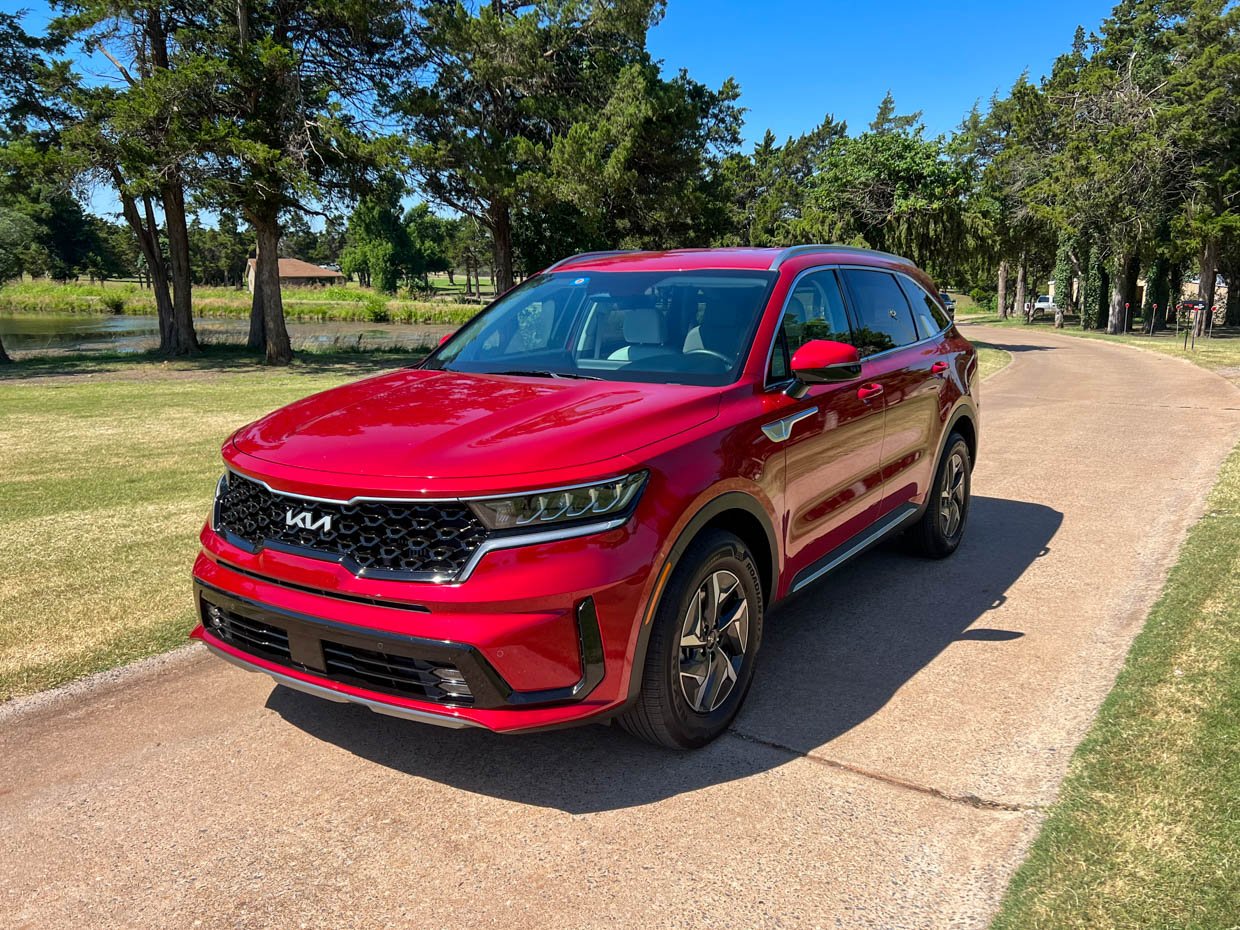 When it comes to family-friendly crossovers, there are more choices on the market today than ever. The 2022 Kia Sorento Hybrid aims straight down the fairway with its design, fuel efficiency, comfort, and technology. Over the years, the Sorento has stretched out to accommodate three rows of seating, providing space for 6 to 7 passengers. Its styling is modern and sleek, with crisp body lines with one of the most appealing grille designs in a sea of overworked and giant grilles.
The regular gas-powered Sorento comes in eight, count 'em eight different configurations, starting with the base LX and moving up the line with S, EX, SX, and SX Prestige trims in both front-wheel drive and rugged X-Line all-wheel drive versions. The Sorento Hybrid I tested comes strictly in EX, and SX trims with a choice of front-wheel or all-wheel drive.
Under the hood, there's a 1.6-liter turbocharged 4-cylinder engine working in concert with an electric motor to produce 226 horsepower and 196 lb-ft. of torque. Combined with a 6-speed automatic transmission, it accelerates smoothly, if not quickly, making the run from 0 to 60 mph in about 8 seconds. But if you're shopping for three-row family crossovers, speed is probably not at the top of your list. On the other hand, if you're shopping based on fuel economy, you're in luck. The Sorento Hybrid is rated at 39 mpg city, 35 mpg highway, and 37 mpg combined. In my week of driving on primarily wide-open country roads and highways, my loaner achieved an above-sticker 40 mpg combined. You can expect that to drop by a couple of mpg in the all-wheel drive models.
Despite its SUV looks, the Sorento drives like a sedan, with easy-to-handle electric power-assisted steering and a smooth-riding multi-link rear suspension sopping up bumps. Body roll is well controlled for a vehicle of this size and height, and the cabin is well insulated from road and wind noise.
The interior of the Sorento EX is quite delightful, offering a serene space with upscale styling. The synthetic leather seating material looks as good as genuine leather and will be easier to clean if the kids spill something on it. Dual-zone climate control is standard, and I really appreciated how the Auto setting has three different fan levels, so you don't have to get blasted with freezing air when it's hot outside.
I really like the creative use of plastics in the interior design – rather than some non-descript and shiny plastic pieces, Kia's interior design team came up with a quilted material with a finish that looks like metal to the untrained eye. Combined with a two-tone color scheme, everything looks more luxurious than the Sorento's price tag would lead you to believe.
All Sorento Hybrid models in the U.S. come in a six-seat configuration with captain's chairs in the second row for maximizing hip room. There's plenty of legroom and headroom in these seats, and anyone sitting in them will be comfortable even on a long road trip.
The third row also seats two but is decidedly more cramped, with no space between the seats and limited legroom and headroom. It's fine in the back for kids and adults with more petite frames, though.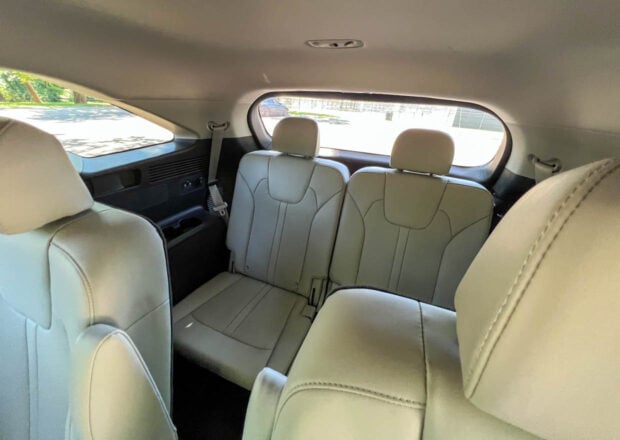 Technology to support both comfort and safety is abundant here. Front and center is a 10.2″ touchscreen display that provides fast and intuitive access to vehicle, media, climate, and navigational controls. Apple CarPlay and Android Auto support come standard too. Driver-assist technologies include forward collision avoidance assist, blind-spot collision avoidance assist, rear cross-traffic alert, lane-keeping assist, park distance warning, and more. The EX trim adds highway driving assist, which works in concert with the adaptive cruise control system and GPS data to provide smooth acceleration and braking that adjusts automatically based on traffic and curves in the road; it also helps you keep centered in your lane without ping-ponging between the lines. In addition to USB ports in all three rows, the EX has a wireless phone charger up front.
A hands-free liftgate makes accessing the cargo area a breeze if your hands are full with groceries. As long as you have the Sorento's key fob with you, the liftgate will automatically open if you stand behind the vehicle. It beeps and flashes the taillights as a warning before opening, and you can cancel it by just walking away.
Cargo space varies dramatically based on how many passengers you plan on carrying. The second and third rows can both fold flat, resulting in a maximum cargo capacity of 75.5 cubic feet. If you're using the second row, you'll get an acceptable 45.5 cubic feet, but with all three rows in use, that space drops to a car-like 12.6 cubic feet. It's enough room for grocery bags or backpacks but not much else.
One thing that continues to set Kia apart is the company's exceptional warranty. With a 10-year, 100,000-mile powertrain and hybrid electric component coverage, you don't have to worry about the cost of major breakdowns. Most other components are covered by an above-average 5-year, 60,000-mile warranty; you also get roadside assistance for that period.
Kia continues to offer great value and styling throughout its line, and the Sorento Hybrid is a worthy competitor in the mid-size crossover space. Its design is modern and appealing, its interior is comfortable and has premium looks, and its tech and safety features are impressive. Plus, fuel economy approaching 40 mpg for a 6-person people mover is a welcome thing given today's gas prices. The base price for the 2022 Kia Sorento Hybrid EX FWD is $35,990. Our vehicle had just two add-ons: Runway Red paint and Carpeted floor mats, for a $36,645 subtotal before freight and handling, which brought the total to $37,820.