Review: 2016 Hyundai Tucson
hyundai | hyundai tucson | August 19, 2015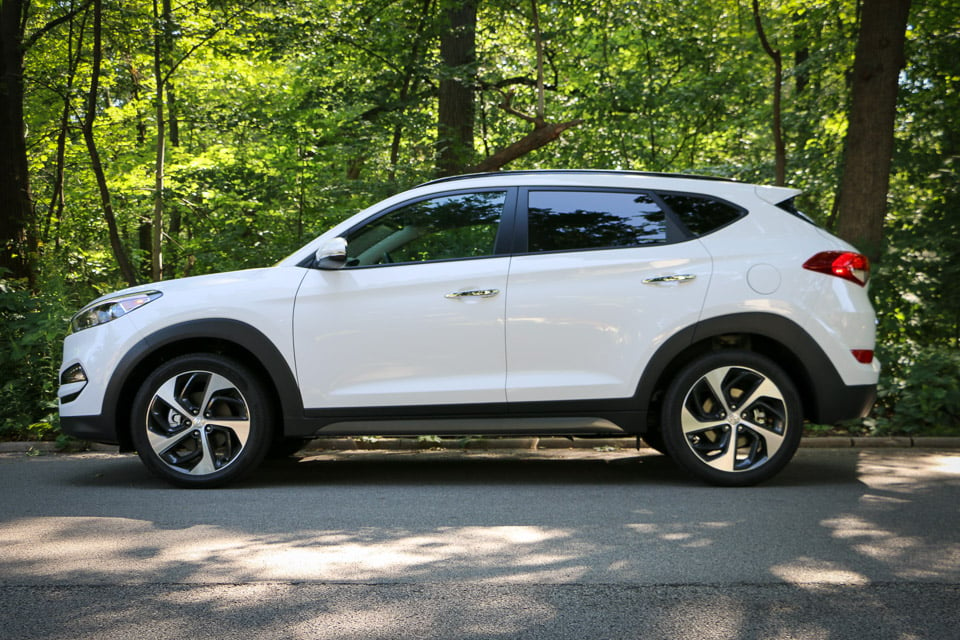 2016 Hyundai Tucson

Engine: 1.6-liter turbocharged 4-cylinder
Horsepower: 175
Torque (lb-ft.): 195
Transmission: 7-speed dual clutch automatic
Drive Configuration: FWD or AWD
City/Hwy/Combined MPG: 24/28/26
Curb Weight (lb): 3,499-3,710
Wheelbase (in): 105.1
Total Length (in): 176.2
Width (in): 72.8 (w/o mirrors)
Base Price (USD): $31,300
Price as Tested (USD): $32,510
In the burgeoning world of crossovers, a new member taking to the fray isn't exactly surprising. It's like adding another "Housewives of ___" series, really. So, Hyundai's wholly new Tucson doesn't exactly call for the 21-gun salute as it steps onto the stage, since everyone and their automotive journalist brother has expected the new CUV for quite a while. Combine this with Hyundai's vast improvements across their other models (Santa Fe, Sonata, Genesis sedan, Elantra, Azera), and frankly the new Tucson's changes inside and out are consistent with what the consumers expect and desire. Hyundai took what was decent (but not great) and turned it into a truly desirable smaller CUV that delivers the goods regardless of which of the four iterations you choose.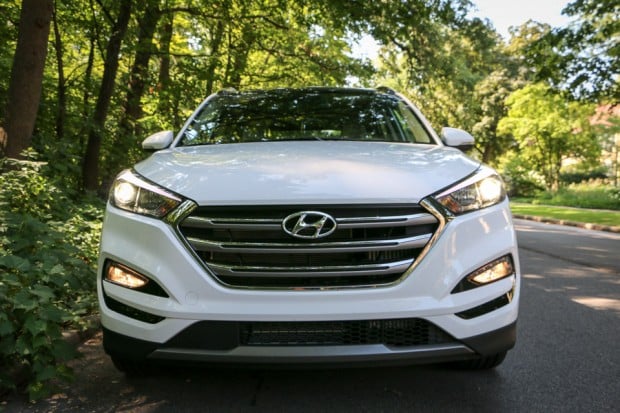 The Santa Fe's baby brother, like virtually all younger siblings have a right to, is better looking than the larger CUV thanks to a cleaner fascia and even more rakish sheet metal. On our Winter White tester, the contrasting black stands out, whereas the previous Tucson looked unresolved and a bit lithe, the new model has real presence and visual heft without looking bloated. The proportions work so well on the new CUV that it pretty much upstages anything else the Korean automaker has made recently, and that's a bold statement given their almost universally praised design language. In fact, the Tucson is the oldest model in Hyundai's stable that had yet to be redone, and the effort shows. We hate it when we wait for a totally new redesign, and a manufacturer comes up with something like the Toyota RAV4.
The interior of the Tucson is pretty similar to the Santa Fe, which is a good thing since the design is clean, visually pleasing and quite user friendly. The HVAC knobs are actually easier to use than the Santa Fe's vertically oriented temperature buttons. Thankfully, the Tucson's seats don't feel nearly as flat-bottomed as the Santa Fe's, either, the one aspect of the larger CUV that bugged us the most. And though the Tucson doesn't get every standard feature we can think of, even the base model comes standard with heated cloth seats, a touchscreen audio interface, a backup camera and handsome 17-inch alloy wheels.
Our 1.6-liter turbocharged 4-cylinder Limited model upped the ante with 11 more horses (175) than the base SE model (164), a 7-speed EcoShift dual clutch transmission, all-wheel-drive with locking differential for those rough Chicago winters, selectable drive modes, heated and cooled leather seats, premium audio, 8-inch touchscreen with navigation, dual zone HVAC, panoramic moonroof, 19-inch salad shooter-style wheels, full LED headlights and taillights, blind spot detection with rear cross-traffic alert, lane change assist, and a brilliant handsfree "smart" liftgate that doesn't even require your foot. Whew. That's a long list – and fully loaded, it's just a smidge over $32K.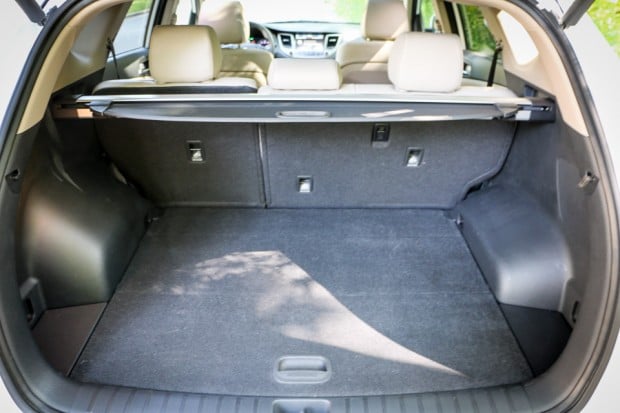 Really, the only things it lacks in comparison to its bigger brother are 91 horses, more room and the hill descent control In fact, you could easily say that the Tucson looks better than the Santa Fe (a big achievement), the seats are more comfortable and the UI and nav are much improved over already user-friendly systems. So unless you're hauling more gear and/or bigger passengers, require more speed and do steeper declines than a ramp at your local parking garage, the Tucson is a brilliant choice as far as amenities are concerned. Aesthetically it's more pleasing than pretty much all of the smaller CUVs in its price range.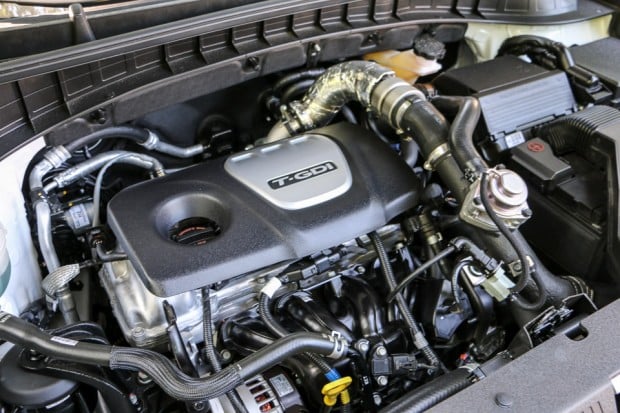 When it comes to the driving experience, however, the Tucson lacks excitement, which is not completely unexpected. Though the 1.6-liter engine is smooth and quiet and has sufficient punch for passing, the throttle response and turbo lag are noticeable, and the steering is on the light side, similar to the Santa Fe. The Tucson is quiet at highway speeds and easy to manage in urban environments, so it's just as good for shorter road trips as it is for the daily commute. The 1.6-liter turbo AWD is good for 24 city/28 hwy/26 combined mpgs, so it's more than livable when it comes to the price of fuel. The Mazda CX-3 gets 31 mpg highway and drives better, but it also has less space than the Tucson and its 5-Year/60,000 mile powertrain and 3-Year/36,000 mile bumper-to-bumper warranties pale in comparison to the 10-year/100,000 mile powertrain and 5-year/60,000 mile bumper-to-bumper for the Tucson.
For customers looking for a truly attractive smaller CUV that's rife with amenities at a fairly affordable price, the new Tucson should slot at the top of the list. There isn't a smaller CUV that's better outfitted at this price point, nor is there one that's handsomer. Hyundai has a winner on its hands.