Ford Patents Unicycle That Borrows Your Car Tire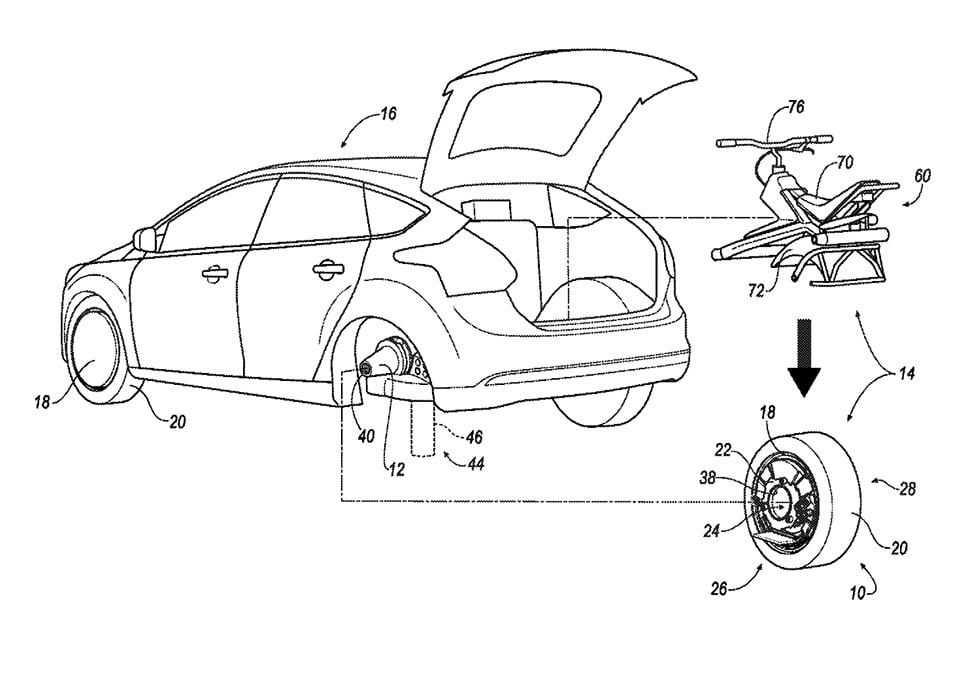 Continuing their push into overall human mobility, Ford has filed for a patent that is for a very, very weird way to get around without your car. The patent shows something that looks like a Batman gadget, if the Caped Crusader was on a budget and moonlighted as a clown. Here's the patent abstract:
A multi-modal transportation system comprising: a suspension system for a vehicle; and a self-propelled unicycle for selectively engaging the suspension system for use with the vehicle and selectively disengaging the suspension system for independent use; the self-propelled unicycle including a hub, a wheel rotatably coupled to the hub, and a motor coupled to the hub and the wheel for rotating the wheel; the hub including a central bore for selectively engaging the suspension system; wherein the suspension system includes a center wheel lock and wherein the central bore receives the center wheel lock.
The patent diagram show a system where you can take the rear wheel off your car, connect it to a unicycle frame, and drive off. I guess this would be better than being stranded on the side of the road, and would get you to work if you had to park far away.
The catch is that you have to take off the rear tire. In the Texas heat changing a tire can be a very sweaty activity, you'd probably be better off just walking. Don't expect to see this on a real car, like ever.