Is This the Next Nissan Armada?
nissan | nissan armada | nissan patrol | February 5, 2016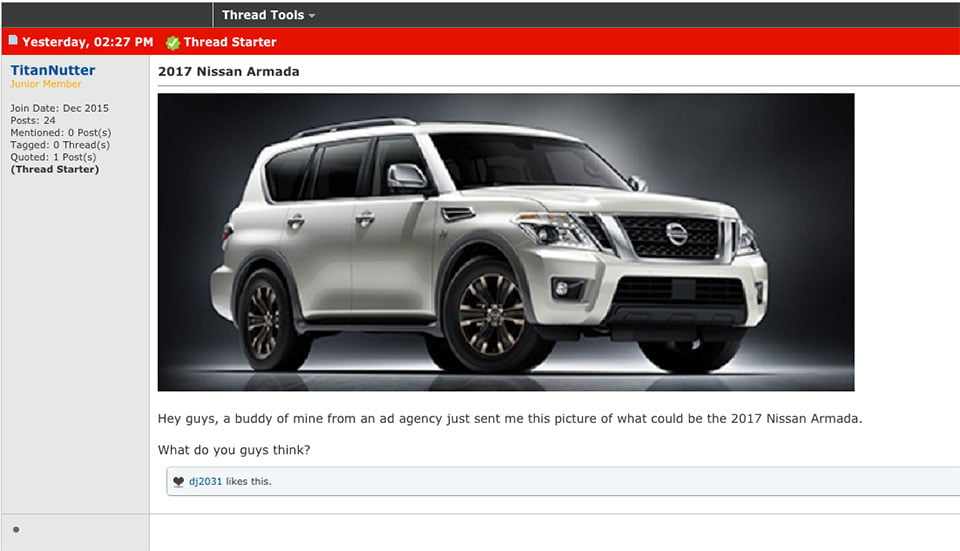 Online forums aren't known for being founts of accurate news about coming new car models, but this is an interesting rumor nonetheless. If this supposedly leaked image is to believed, the new Nissan Armada will be moving away from its Titan truck roots.
The rumor actually makes sense too when you consider the new Titan truck is here, and Nissan has been pulling its SUVs off truck platforms over the last few years and putting them on their own more car-like platforms. This is exactly what Nissan did with the new Pathfinder that was originally based on a Nissan mid-size truck.
The image you see here is claimed to have come from a source at an ad agency working on the program for the new 2017 Nissan Armada.
If this rumor is correct, the next-gen Armada will get a new platform having nothing to do with the Titan and being the same as the overseas market Nissan Patrol and the Infiniti QX80 that is already available in the US. Word is that base price for the new Armada will start at about $39,000 and the 400 hp gas V8 will be the only engine available. I was rather hoping for the diesel Cummins in the new Armada.