Lamborghini Centenario Has All the Sexy, ALL OF IT
2016 Geneva Motor Show | lamborghini | Lamborghini Centenario | March 1, 2016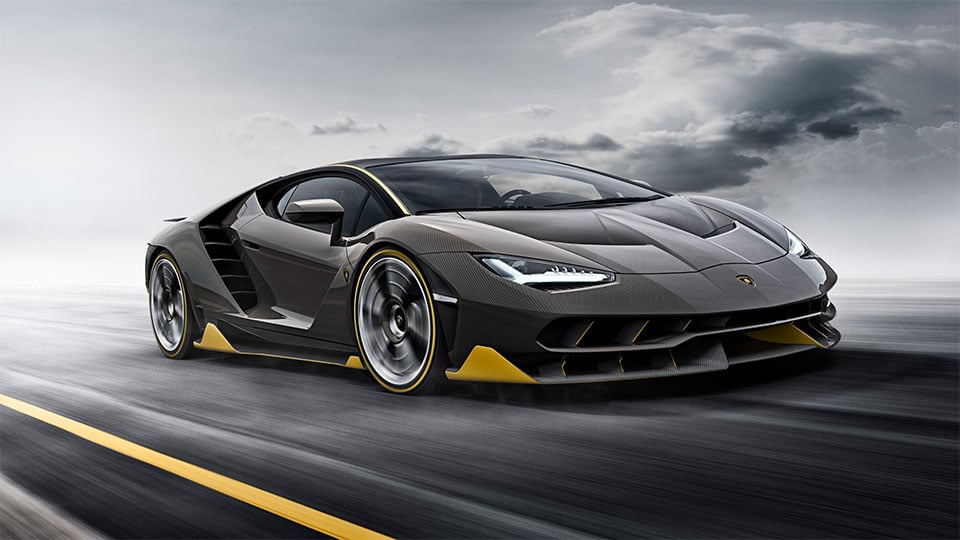 Lamborghini has gone official with the Centenario at the 2016 Geneva Motor Show and the car is one gloriously sexy beast.
The Centenario is pushed along by a 770hp V12 engine and can run from 0-62 mph in 2.8 seconds on its way to 186 mph in 23.5 seconds. The top speed of the car is over 217 mph. With a car this fast, brakes are important and the Centenario can go from 62 mph to a standstill in the space of 98 feet. The car is constructed primarily from carbon fiber with exposed weave on the outside and weighs about 3351 lb.
Other features include permanent all-wheel drive and the car has a new Lambo rear-wheel steering system. At low speeds, the rear wheels can turn so the car corners better. At high speeds, the rear wheel steering adds stability and vehicle response.
Lamborghini plans to build only a few of the cars with 20 coupe and 20 roadster versions to be produced. Sadly, even if you have the 1.75 million euro entry price, all 40 of the cars have already been sold.