Porsche Dealership Accident Puts 911 GT3 RS into the Drink
crash | fails | gulf livery | porsche | porsche 911 | porsche 911 gt3 rs | March 31, 2016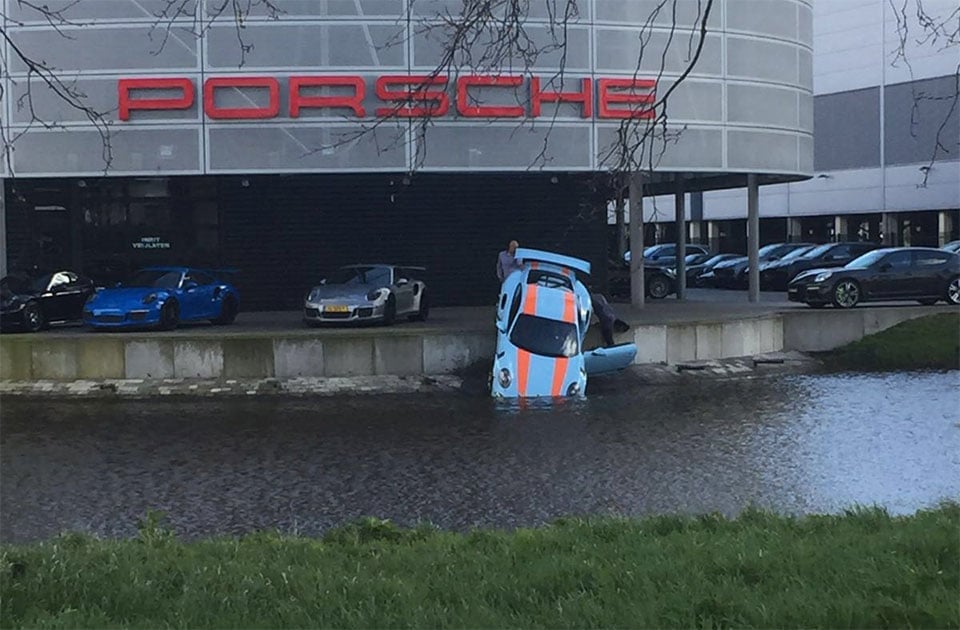 I'd wager we have all done something silly behind the wheel of a car that we really knew better than to do. Sometimes things happen. Mine came one Saturday at the racetrack after changing the brake pads on my Mustang to race compound pads in the August Texas heat. I forgot to pump the pedal a few times after pushing the pistons back to get the stock pads biting again. I dropped the car off the jack stands, put it in reverse and almost rolled into a guy's Ferrari after I was unable to stop.
Apparently, a Porsche mechanic had a similar goof, only his was caught on camera and caused some damage. He somehow managed to drive a fantastic looking Porsche 911 GT3 RS off an embankment and into a canal in front of the dealership. In case you're keeping score, the GT3 RS starts at about $175,000, so I'm sure this wasn't a cheap mistake.
I will go out on a limb and say he probably thought he had the PDK in reverse and gassed it a little too hard. The dealership says the damage is minimal and the car will be fixed and sold. I love the colors on that car, the Gulf livery scheme is one of the best in cardom.