Review: 2017 Jaguar F-PACE 35t R-Sport
jaguar | jaguar f-pace | August 14, 2016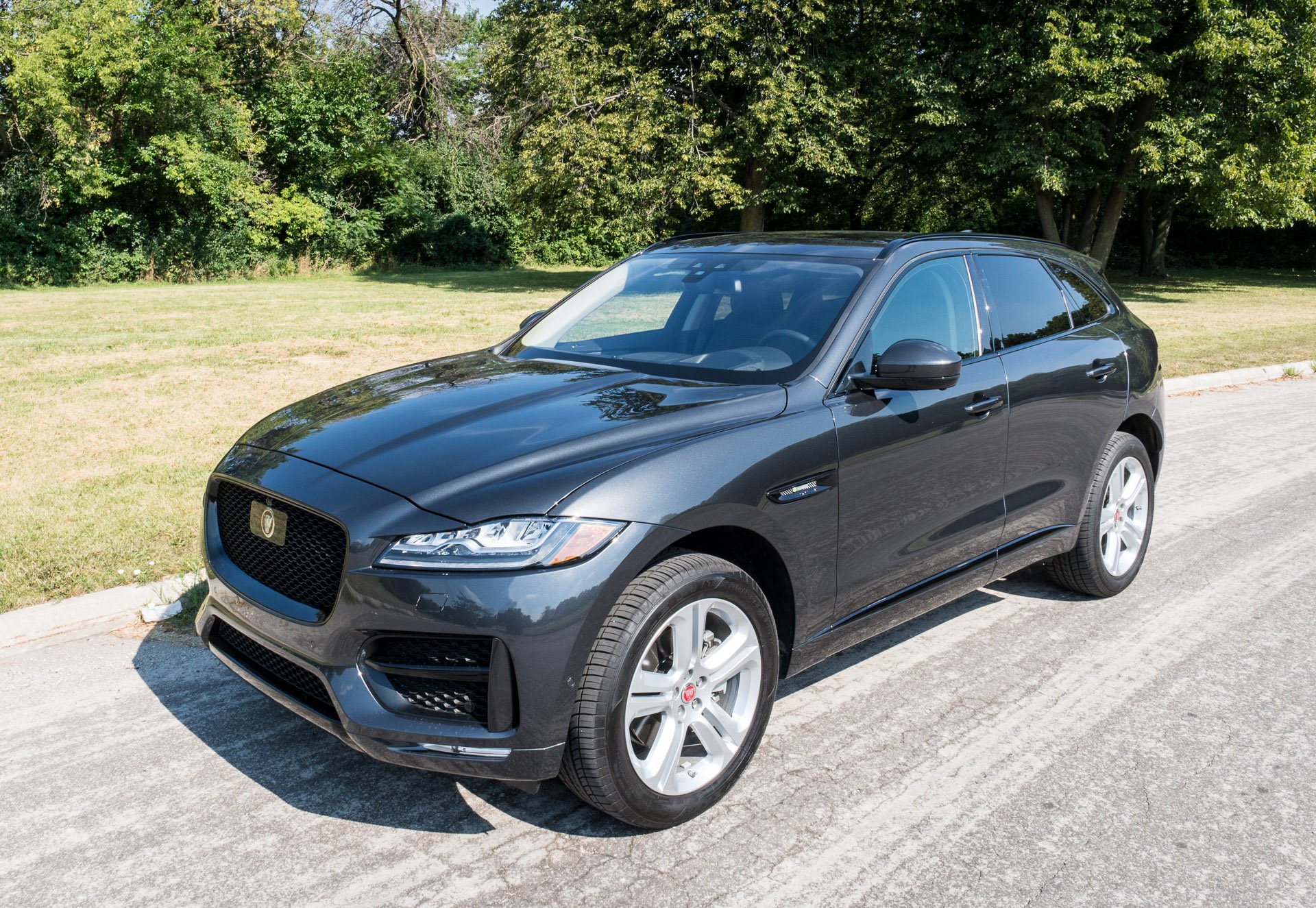 2017 Jaguar F-PACE 35t R-Sport

Engine: 3.0L Supercharged V6
Horsepower: 340
Torque (lb-ft.): 332
Transmission: 8-speed automatic w/paddle shifters
Drive Configuration: AWD (rear-biased)
0-to-60 Time (secs): 5.4
Top Speed (mph): 155
City/Hwy/Combined MPG: 18/23/20
Curb Weight (lb): 4,015
Wheelbase (in): 113.2
Total Length (in): 186.3
Width (in): 81.5
Base Price (USD): $55,300
Price as Tested (USD): $70,735
When Jaguar first announced that they'd be entering the already crowded luxury SUV market, there were lots of people out there wondering if it would be the right move for a brand whose heritage is steeped in sports cars like the classic E-Type and the modern classic F-TYPE.
Well, now that I've spent a few days living with the new F-PACE, I'm happy to report that they've jumped right into the deep end of the SUV pool with one of the best on the market. Not only does the F-PACE look fantastic, it drives great, and is more practical than some of its direct competitors.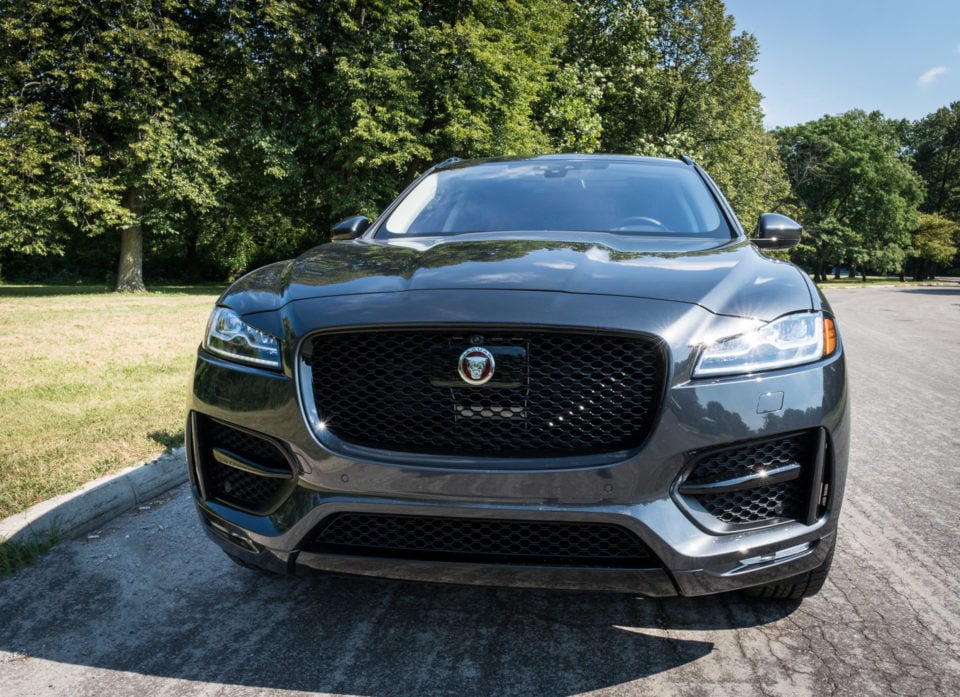 Designed under the leadership of Sir Ian Callum, the F-PACE embraces all that is right about today's Jaguar designs – bold, athletic looks that aren't busy or likely to become dated. The front end features the largest version of the rounded corner trapezoid grille found on all of Jaguar's current cars, surrounded by sharply sculpted headlights with LED running lights along the bottom and outside edges. The base model F-PACE comes with 18″ wheels, while the R-Sport gets 20″ alloys, along with distinctive bumpers, body-color door claddings, satin chrome details, and full LED headlamps.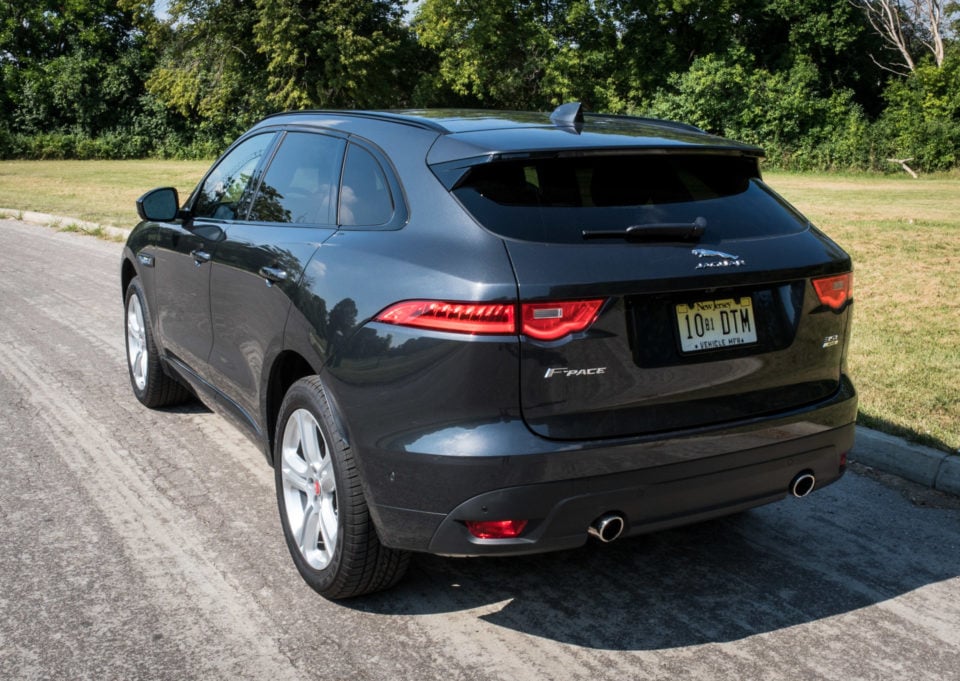 Out back, the F-PACE borrows heavily from the sports car that inspired it, with the same distinctively skinny taillamps that wrap around the edge and cleverly pay tribute to classic round brake lights. A thick roof spoiler helps with aerodynamics, and the dual chrome exhaust certainly helps round out the sporty look. When parking the F-PACE and an F-TYPE side by side, the family resemblance is obvious and immediate: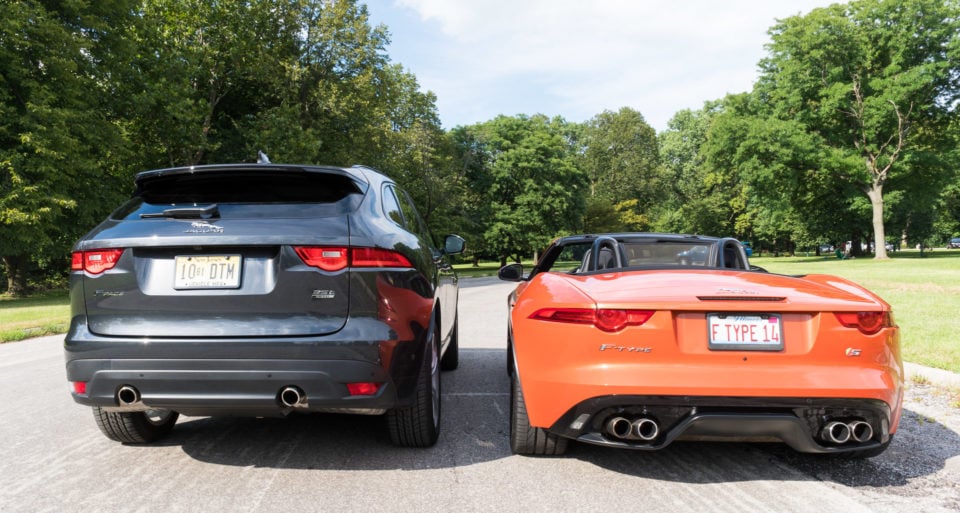 The F-PACE can be had with three different engines, the one in my "35t" loaner being what is likely to be the most popular – the same 3.0-liter, 340 horsepower supercharged V6 found in the entry-level F-Type. Those looking to minimize fuel usage might consider the "20t," with its 180 hp diesel, and those with a need for speed should definitely think about the "S" which comes with a 380 hp variant of the V6.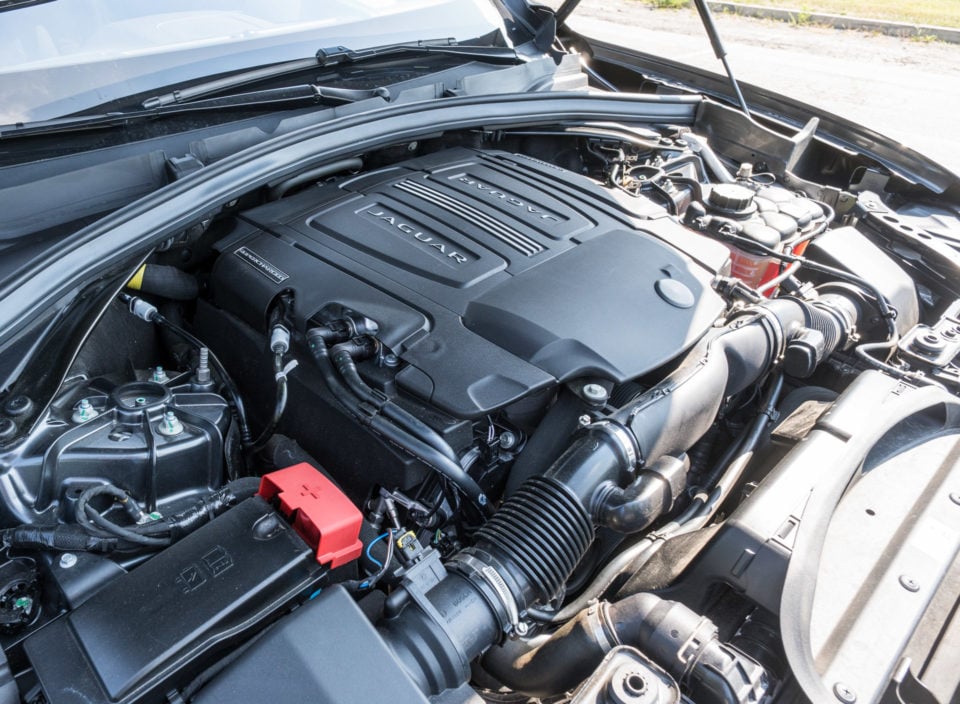 The 35t AWD model can launch from 0-to-60 in just 5.4 seconds, an impressive feat for a vehicle that weighs 4,000 lbs and can comfortably carry 5 adults and cargo. While I don't anticipate most owners will get anywhere near the 155 mph top speed, it's nice to know that this SUV tops out just shy of a Mustang GT. The 380 hp variant has the same top speed but cuts  0-to-60 time down to 5.1 secs. The diesel engine has almost the same amount of torque as the gas engines, but it needs 8.2 seconds to get to 60 and tops out at 129. Needless to say that you'll want to go with one of the V6s if you're interested in getting the most Jaguar ride out of this cat. On the other hand, fuel economy in the V6 isn't great – I got around 17 mpg in mixed city and highway driving. With a smallish 16.6 gallon tank, you'll be hardpressed to hit 300 miles between fill ups.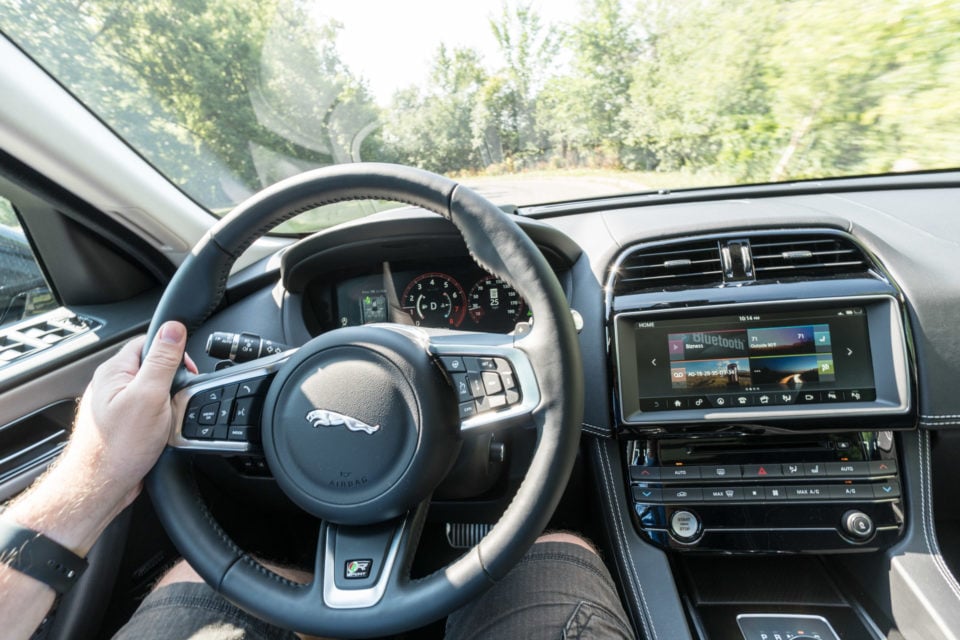 Shifts are smooth as butter, thanks to the brilliant ZF 8-speed automatic. It's especially good when you put the F-PACE in dynamic mode with sport shifting enabled. Acceleration is wonderfully satisfying, giving you all the passing power you'll ever need, and the ability to quickly put the great majority of other cars on the road in your rearview mirror. While the exhaust certainly doesn't make the sort of wonderful racket we've come to worship from the F-TYPE, this SUV does produce a pleasing "vroom" as the RPMs increase – though the sound insulation is so good the exhaust note is best enjoyed by those outside the car.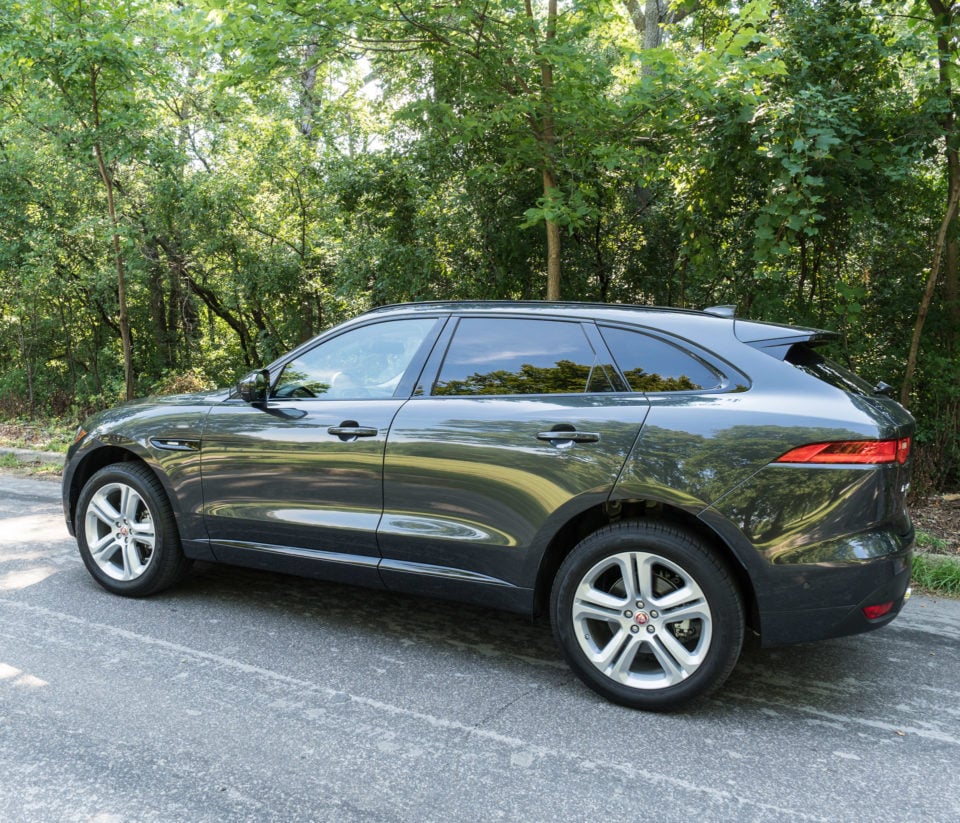 Overall handling dynamics are more sporty than the average SUV, thanks in part to a rear-biased all-wheel drive system. Power is sent primarily to the rear wheels, and only added up front when needed for extra traction. Since the F-PACE has a near perfect 50/50 weight balance, and its chassis is quite stiff, it feels great going into corners, and you never have that "I'm gonna roll this over" sensation that is often the case with tall vehicles. The ride is softer than I expected it to be, sopping up bumps and potholes like they're nothing, but reducing the connection to the road just a bit. Still, with its power and cornering chops, the ride is extremely engaging.
While I didn't have an opportunity to take the F-PACE off road (and I'm not sure many customers will), it does have an impressive 8.4 inches of ground clearance, and All Surface Progress Control – a feature that's similar to Crawl Control in Toyota's off-road vehicles. This system helps the vehicle move smoothly forward, backward, uphill or downhill on precarious surfaces like ice, snow, grass, gravel, sand or mud, while you focus on steering.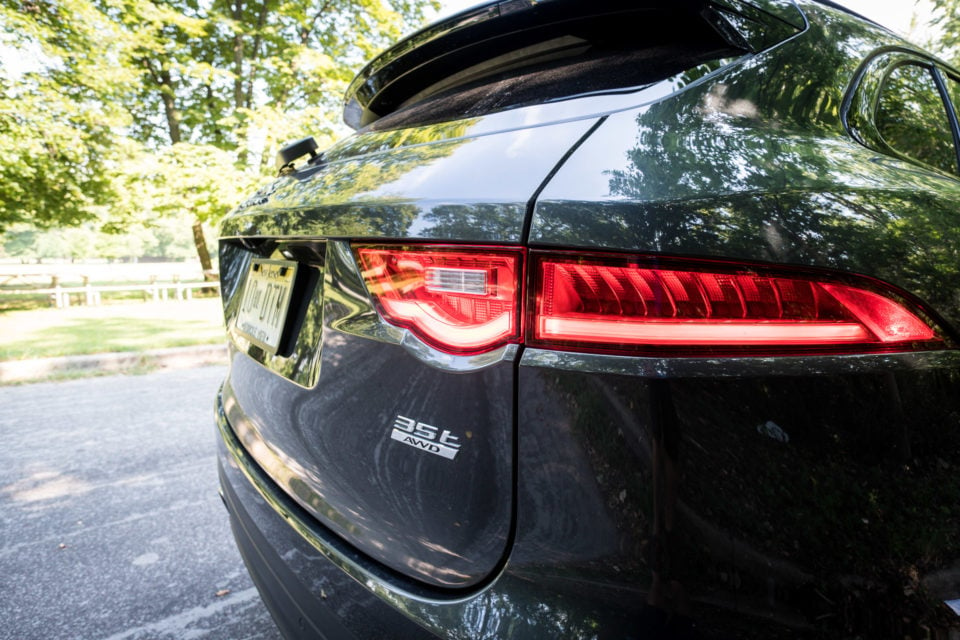 The interior of the F-PACE is an exercise in restrained luxury, which is one of my favorite things about modern Jaguars. Everything serves a purpose, and there's not a single extraneous knob, button, or interface. The dashboard is clean and modern, with a pair of widescreen LCDs powering the instrument panel and the infotainment system. A sliding panoramic roof is standard, bringing lots of light into the cabin. There's stitched leather in all the right places, and if I've got any complaint, it's the shiny piano black plastic bits in the center console area. For now, you can opt for an ash burl veneer that replaces the biggest chunk of plastic around the shift knob, but I'm hoping that Jaguar offers carbon fiber or aluminum options down the road.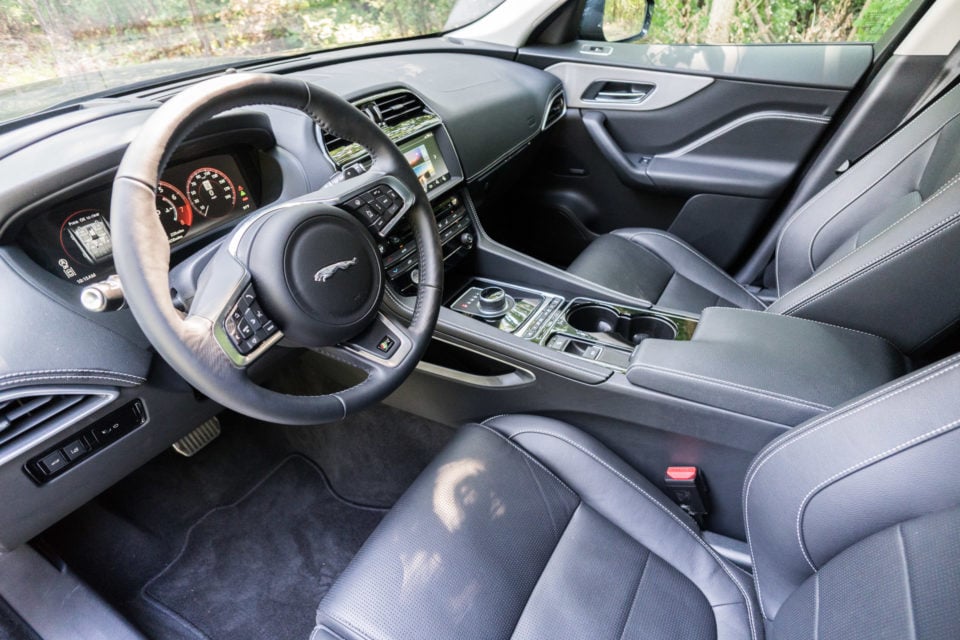 The R-Sport package has seriously supportive sport seats, with 14-way adjustability for both driver and passenger. Some other journalists have said the seats are too firm, but I found them to be perfect for my tastes, and were plenty comfortable on long drives. When equipped with the Comfort & Convenience package, the front seats get heat and cooling, which was extremely welcome in the sweltering humidity of August in Chicago. Rear passengers get their own dual-zone climate control if you go for the Luxury Interior package.
For this model year, Jaguar has updated its infotainment system with a new UI which is both faster and more visually appealing than the stark screen on their prior system. It works intuitively enough for navigation, climate control, radio listening,  and controlling the vehicle's various systems. That said, the system is so new that it has a few quirks – on occasion, I'd connect a Bluetooth device and it thought that every music track had the same name. I'm pretty sure that not every song on my iPhone is Bruce Springsteen's Hungry Heart. I couldn't fully test some features, like the InControl Apps, traffic, or satellite view, since my loaner didn't have a wireless SIM card installed. Regardless, it's a marked improvement over the JLR's outgoing system.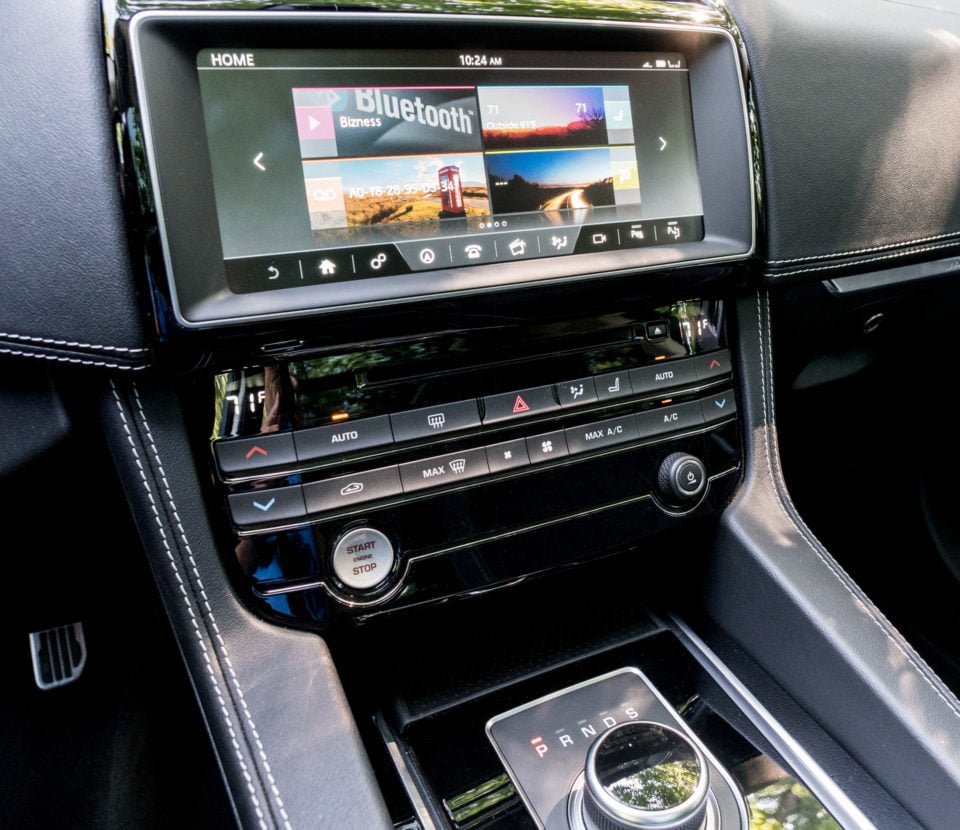 The F-PACE is offered with a huge array of available technology, and my R-SPORT included the vast majority of these features, including lane keep assist, blind spot monitors, reverse traffic detection, collision alert with autonomous emergency braking, a 360º camera, traffic sign recognition, parallel and perpendicular park assist, and possibly the brightest and easiest to see heads-up display I've laid eyes on. Another cool option worth considering if you're the outdoorsy type is the Activity Key. This tech lets you leave your car key locked in the console, and activates a splashproof wristband for locking and unlocking the vehicle. This is great for heading out on a bike ride, rafting, or other activities where you don't want to worry about losing your key fob or getting it wet.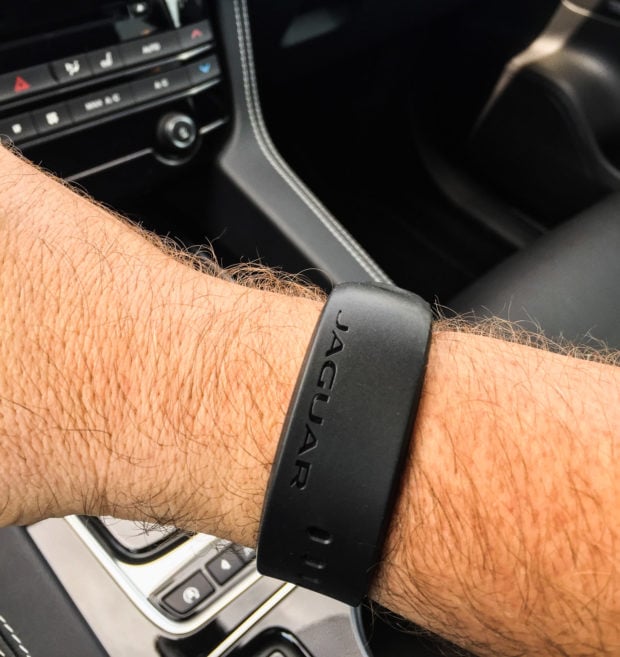 One of my other favorite touches is the configurable ambient mood lighting, which completely transforms the look of the cabin at night. These lights can be changed to just about any color you want – except in Dynamic mode. In Dynamic mode, everything turns red, which is how it should be.
Lest I forget that the F-PACE is an SUV, it's also an impressive people and cargo hauler. Rear seat legroom and headroom is quite good, comfortably seating tall and long-legged people. Cargo space is also very good at 33.5 cubic feet with the seats up. The area behind the back row is nearly twice what you get in a Porsche Macan, and 40% more than the Cayenne. That space increases to 61.4 cubic feet with the back row folded. There's also an adjustable cargo tie-down system, and a spare tire underneath. You can even tow up to 5,290 lbs with the V6 model.
Jaguar's first SUV is a winner. It looks amazing, drives like a dream, is fast, comfortable, sporty, and surprisingly useful. This is one ride that's equally happy hauling kids, groceries, or ass.