Porsche Cayman Gets a Coyote Heart
customs | ford | ford mustang | porsche | porsche cayman | tuners | September 9, 2016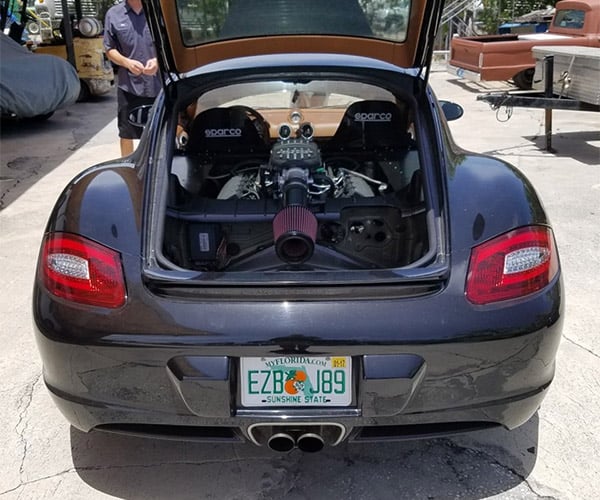 The owner of this slick little Black Porsche Cayman took the car and decided to remove the stock flat six. I can only assume that reason was that the Porsche engine broke and it cost too much to fix. This is a common problem for people who drive old, used Porsches hard. Rather than put another flat-six in the engine compartment, what he ended up doing was cramming a 5.0L Ford V8 from a Mustang in sort of the middle of the car, with the tuning assistance from Power by the Hour Performance.
The result is a V8-powered Cayman that makes 428 hp and 364 lb-ft. of torque at the wheels. That is way more power and torque than the car had from the factory. We have no idea what transmission is used in the car.
The fit of the big V8 isn't exactly ideal since it is so much larger than the Porsche engine that started in the car. But I'm still impressed that the builder managed to pull this off, and I'd like to drive it. Check out the video for more details on this crazy build.