Review: 2017 Honda Accord Hybrid
honda | honda accord | hybrids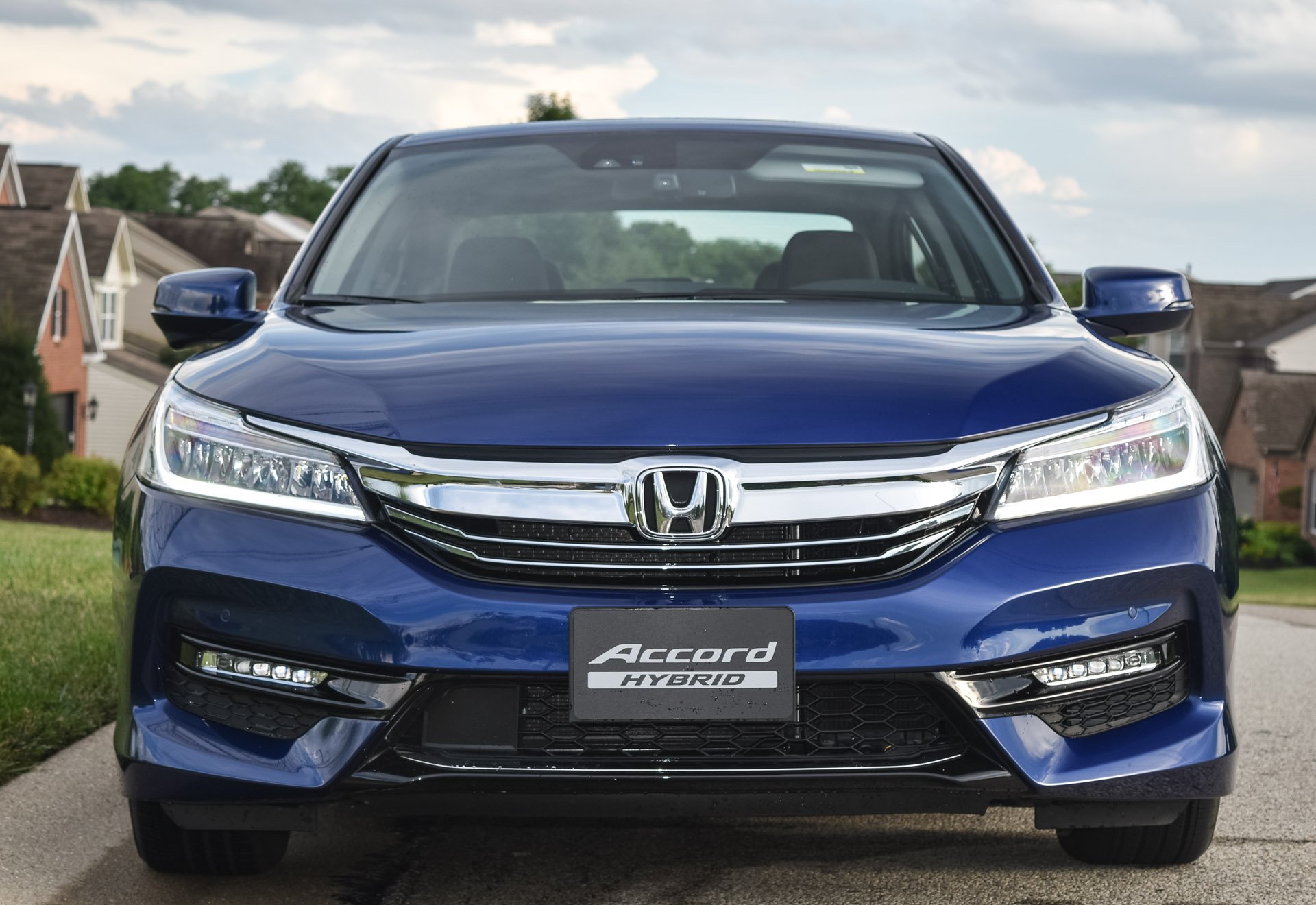 The Accord Hybrid is back, and better than ever. To account for a change in production, the best-selling sedan in America didn't come as a hybrid last year. This Accord is now produced overseas in Japan rather than Ohio like all the other Accords. The year off helped the Accord Hybrid improve upon itself – in a big way. Without sounding too superlative, the 2017 Accord Hybrid may be the most ideal hybrid car in this model year and possibly ever.
It has everything you could ask for – looks, build quality, power, interior comfort and incredible fuel economy. But it's my job to be critical, so to be fair, it's not flawless. The clunky infotainment is downright frustrating, and the though it's more powerful than some hybrids, it still lacks some punch and can be loud when fully accelerated. I'm definitely not used to an Accord being loud.
Kudos to Honda's engineers for not overthinking the design of the Accord Hybrid. It's attractive and resembles the standard Accord. Why reinvent the wheel? The Accord is known for its conservative, timeless design and it certainly has that. Other than the badging, there's nothing that distinguishes the Accord Hybrid as being different from the standard midsize Accord. That is not a negative, but rather a positive. A pet peeve of mine is when car makers feel the need to "hybrid up" the looks of these cars. It usually means weird or quirky designs, but that's not the case with this car.
The narrow grille flows well with the narrow, squinty headlights which have daytime LED running lights. The profile of the Accord is conservative and could use some more pizzazz, but that's not Honda's way. The pointed back end is sharp. The angular rear bumper is probably best exterior feature of the Accord.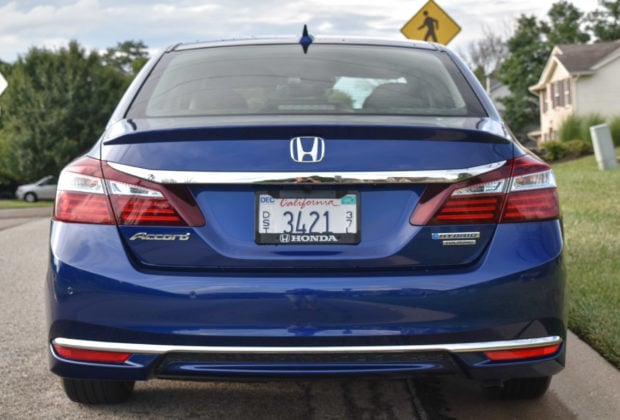 After a year's hiatus, the Accord Hybrid returns with more power and an improved drivetrain. A 2.0-liter four-cylinder along with two electric motors (powered by lithium ion batteries) help make 212 horsepower. This is 16 more horsepower than the 2015 Hybrid, but significantly less than the V6-powered Accord. It takes some getting used to, but frankly, it feels more powerful than those numbers. Off the line it's not pokey like some other hybrids. On the highway, it drives much more like a regular Accord. Other than the aforementioned loud engine, when under faster acceleration speeds, the hybrid drives like the regular Accord.
For anyone who has driven the 2015 Accord Hybrid, they'll definitely notice the improved power and performance. I'm not a hybrid guy, but this is one that I could fully endorse for just about anyone. There's a continuously variable transmission that seems to work well with the hybrid system. You know I like a car's performance when I'm singing the praises of a CVT.
Obviously the reason to consider this car over the regular Accord is the fuel economy. In this area, it's superb. It has an EPA rating of 49 mpg/city and 47 mpg/highway. In a week's worth of mixed driving, I averaged more than 48 mpg. The Accord Hybrid is a real fuel sipper, and will ensure fewer stops at the gas station. Not having to forego that much power or performance and still get this kind of fuel economy is why I'm singing this car's praises.
Inside, the hybrid version feels very much like the regular Accord. That's a good thing, unless you're expecting to be blown away with luxury. There are soft materials used throughout which help improve the overall feel. Everything is clean and organized, but there's nothing spectacular – that's not a bad thing. There's just no wow factor within this car. The front seats are comfortable and there's clear sight lines for the driver. The back seat would fit three adults, although two would be ideal. Legroom is ample for those passengers. Rear headroom is a little lacking due to the angular styling of the C-pillar. In this regard, one of the Accord's better styling points works against rear comfort in a small way.
The trunk has 13.5 cubic feet of space. This is a nice-sized trunk, especially for a hybrid that houses a rear battery pack. But, because of that, the rear seats don't fold down and that limits versatility. Without a pass through, the overall cargo area is less impressive. See, I can be critical of this car.
Speaking of being critical, the Accord's infotainment system is one of my least favorite on the market. While aesthetically pleasing to look at, the seven-inch touchscreen system is not intuitive and frequently is slow to respond. There are too many virtual buttons that don't respond well, which becomes a distraction to the driver. The simple task of changing a radio channel should be a breeze, but required several frustrating taps or agonizing seconds to react. The controls and organization of information on the steering wheel help overcome some of the system's shortcomings. Smartphone integration is easy as the infotainment system employs Apple CarPlay and Android Auto.
The Accord Hybrid comes with the Honda Sense package, usually an added-on option for the regular Accord. This includes such sensor-based safety features like adaptive cruise control, collision avoidance, lane assist and road departure mitigation. The lane keeping system is overly aggressive. One could even call it annoying. I disabled this feature as it would noticeably sway the car back with any slight variance, including changing of lanes without a turn signal (which I know I should do, but how many of us do it every time diligently?) Still, much praise to Honda for making these features standard.
There are three trim levels: Base, EX-L and Touring. My tester was the top-of-the-line Touring trim which adds the sharp LED headlights, a sunroof, parking sensors, heated rear seats and an advanced navigation system. Most of these are merely just cosmetic additions, but the LED lights are sharp and the sunroof is welcome. The average consumer will be satisfied with the EX-L trim which has plenty of perks including the seven-inch touchscreen and heated front seats. It's also about $3,000 less than the Touring. My tester had an MSRP of $36,790, compared to the $33,000 price tag of the EX-L and the under-$30,000 price of the Base.
It's rare when an already established car like the Accord can significantly better itself. But really, you'd be hard pressed to convince me that you shouldn't just opt for the more fuel-efficient hybrid over the regular model this time out. There's little downside in comparison. With the 2017 Honda Accord Hybrid, you get everything you expect from an Accord, only with less stops to refuel.