Review 2017 Volvo XC60 T6 Dynamic
volvo | volvo xc60 | January 23, 2017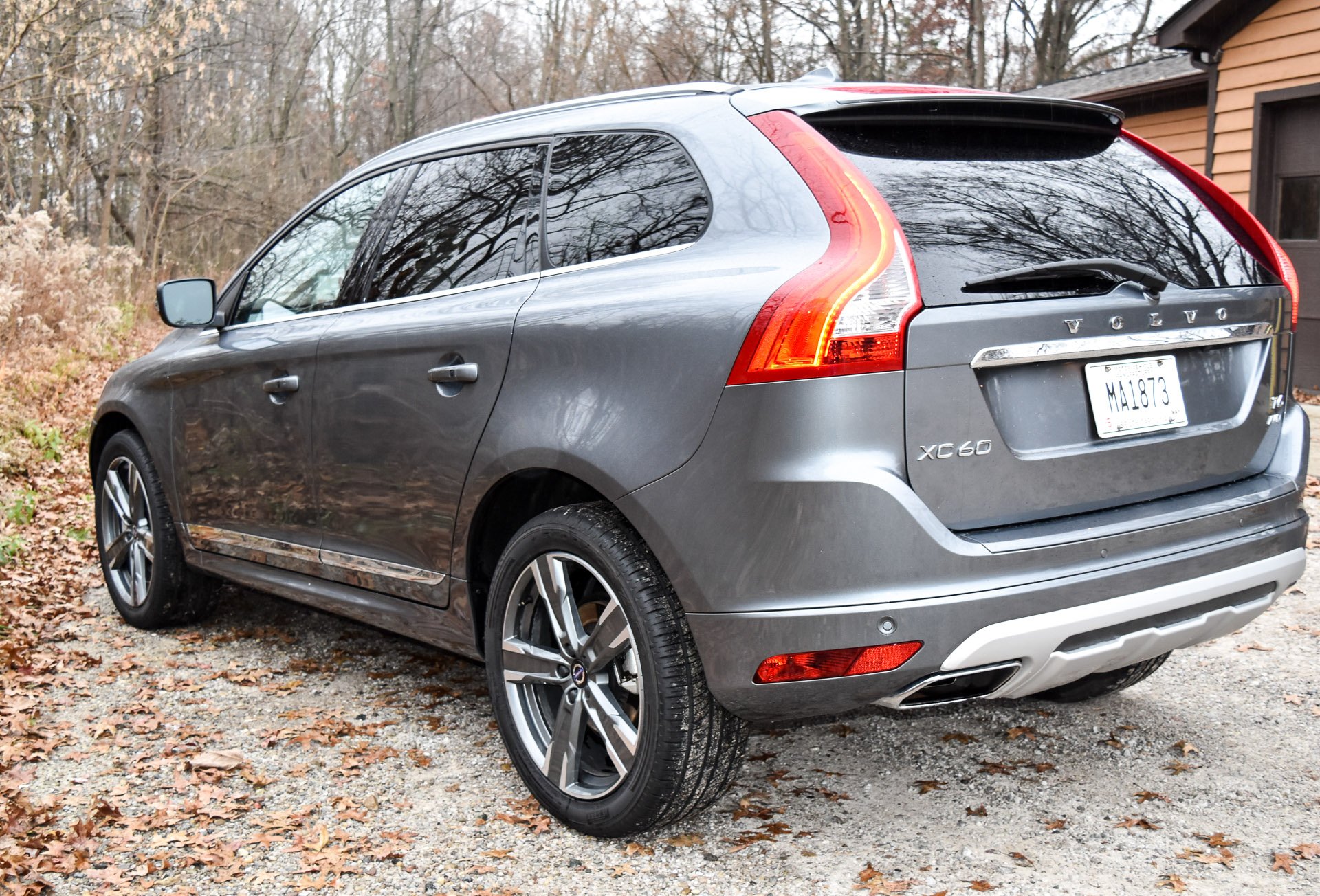 2017 Volvo XC60 T6 Dynamic

Engine: 2.0-liter 4-cylinder turbo/supercharged
Horsepower: 302
Torque (lb-ft.): 295
Transmission: 8-speed automatic
Drive Configuration: FWD or AWD
Top Speed (mph): 125
City/Hwy/Combined MPG: 20/27
Curb Weight (lb): 3959
Wheelbase (in): 109.2
Total Length (in): 182.8
Width (in): 74.4
Base Price (USD): $46,350
Price as Tested (USD): $52,455
Before I get into this review, I want to state that I generally am not a fan of Scandinavian things. ABBA makes me beg for silence. IKEA means an all-day battle with allen wrenches, missing parts and impossible directions. I don't like the movie Frozen, or even cold weather. Even Swedish meatballs are overrated. Despite all those dislikes, I'm always intrigued by the Volvo brand. It's thoroughly Scandinavian despite the Chinese ownership of the brand.
Last year, the Volvo XC90 won North American Truck of the Year, and was my favorite vehicle of 2016 too. This week, I got behind the wheel of the smaller, XC60 to see how it compares to the XC90 and to see if it can continue to change my opinion about Scandinavian things.
Remember how Volvos used to be the last bastions of sporty station wagons? They were more safety focused than stylish. Volvos in the '80s and '90s were true family station wagons. But as that fad died away, the company continued to modify their product line and started making crossovers that had interesting style, combined with segment-leading safety.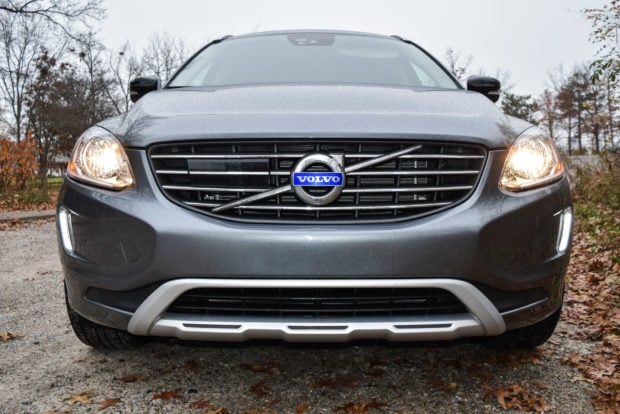 True to form, the XC60 is a stylish, luxurious modern-era station wagon. The five-passenger XC60 is significantly smaller than the XC90, and also feels less luxurious.
On looks, the XC60 is similar to many other luxury crossovers on the road today. It doesn't get too garish with the styling and is generally pretty conservative. It's neither aggressive nor overly masculine. It's certainly designed for mass appeal and it achieves that. The highlight, as is the case with all new Volvos, are the lights. On the grille, the headlights are still less aggressive than the XC90 or S90, but do come with daytime running LEDs. On the back, the taillights are sculpted in such a curvaceous way that they are truly distinctive at night. Volvo always focuses on lighting as an integral part of the vehicle's design and aesthetics.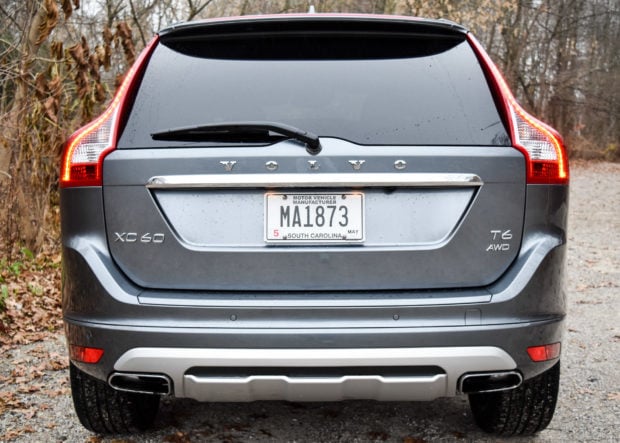 Roofracks show off the utilitarian side of the XC60. The rear spoiler flows well with the tail lights and the back side is this crossover's most attractive side. The "plastic-looking" skid plate that sits between the dual exhausts could use some chrome to give it a more upscale feel though.
Volvo gives the consumer options when it comes to the engine. A 2.0-liter, turbocharged 4-cylinder engine is standard. It makes an adequate amount of power at 240 hp and 258 lb-ft. of torque. However, for both the T6 and R-Design trim, there's also a turbo- and supercharged option that zooms up the power to 302 hp and 295 lb-ft. of torque. My tester was the T6 and it was peppy off the line and with an 8-speed automatic transmission, it was capable at all gears and varying speeds. There was no noticeable turbo lag.
The XC60 comes as both front-wheel drive and with all-wheel drive. My tester had all-wheel drive and offered nimble, athletic performance. Its performance reminded me of the older Volvos in a way, as it was comfortable and smooth, but had enough pep and power and grip to make it feel European and sporty. The Scandinavian influence here is noticeable – and good. Fuel economy for the AWD XC60 is 20 mpg/city and 27 mpg/highway. FWD versions achieve 23/30. Without a doubt the more aggressive T6 loses some in fuel economy, but the turbo-supercharger combo is so smooth and amazing it's worth the sacrifice in gas.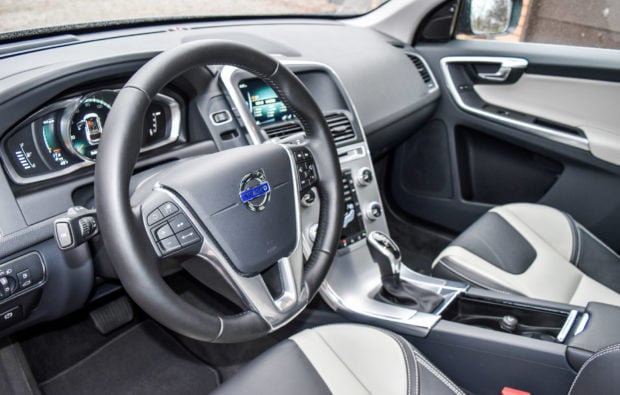 Inside, the XC60 separates itself from other crossovers. The market is saturated with competitors in this segment, but few can offer the quality materials, quiet cabin and luxurious vibe as the Volvo XC60. Sure, some Lexus, Infiniti and Buick crossovers may offer similarities, but the way the interior feels is just different – in a good way.
The distinctive style has a fresh, mature feel. Soft touch points and high-quality materials exude luxury. The hand stitching on the leather seats is an outstanding touch. In the back seat, passengers are treated to contoured, angled seats that are supportive and well cushioned. Thanks to the angle, legroom is ample. Headroom is also fantastic, and even tall rear passengers will be comfortable. Three adults can fit in the back seat. When only two passengers are there the middle seat folds out to reveal a compartment to hold devices and two cup holders. Clearly, this is designed with the family in mind, an area Volvo excels at.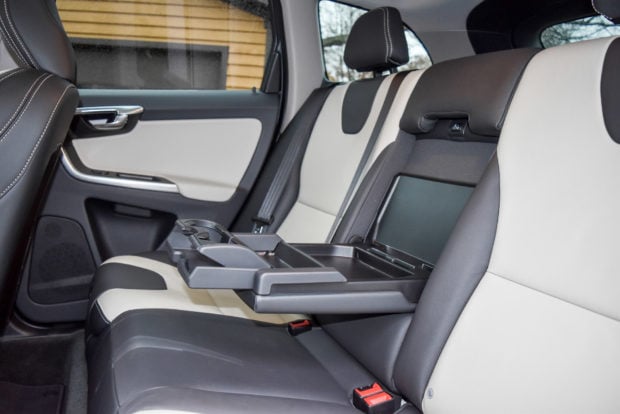 The panoramic sunroof is impressive. The all-glass roof allows natural to flow in, but a screen can cover it for less glare on bright days. Navigation is standard for all trims, which is nice, but I found the infotainment system to be cumbersome, with numerous menus to travel through to do basic tasks. All of this is navigated with a knob that is mounted on the dashboard. It's not a very intuitive location for it and all-in-all, this infotainment system disappoints.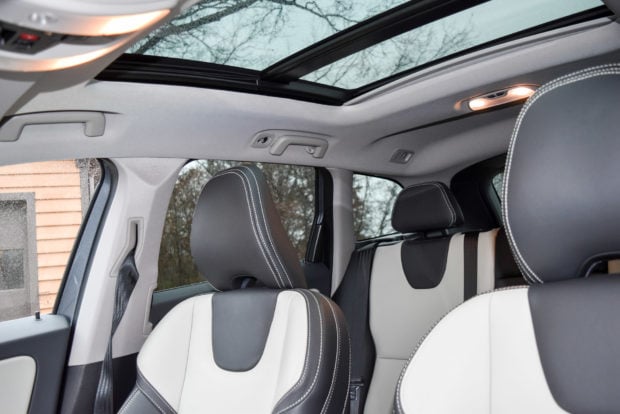 I wouldn't be doing a proper review if I didn't mention the start-stop technology. Generally, like ABBA and Swedish meatballs, I generally don't like this fuel-saving tech. But in this XC60 it is downright intrusive and aggressive. It shuts off aggressively and at even the subtlest of stops, there's a long pause before it re-engages. This makes for pulling out in an intersection more of a challenge. Sure, there's fuel economy to be gained by this technology, but the tuning of it needs some tweaking.
There are three trim offerings for the XC60 – Dynamic, Inscription and R-Design. My tester was the T6 engine with the Dynamic trim. Standard features on this trim include LED running lights, panoramic sunroof, heated mirrors, collision warning, leather upholstery and a power rear liftgate.
Starting MSRP for the Dynamic trim is $46,350(USD). With options like adaptive cruise control, blind spot monitoring, and heated front seats and heated steering wheel, my tester had a final MSRP of $52,495.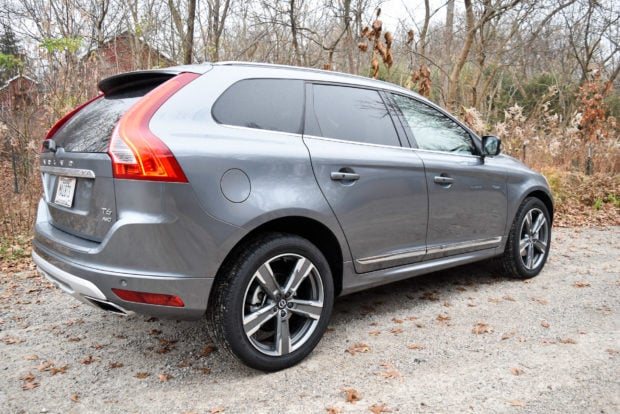 The XC60 is wholly different than the award-winning XC90 in looks, technology and interior. But, in the ultra-competitive, saturated compact SUV segment, the XC60 offers plenty of distinction. A lot has changed for Volvo throughout the years, but one thing is certain, they're still nice, quality, luxurious, safety-conscious vehicles that are ideal for families.
Will the XC60 change my opinion of other Scandinavian things? Let's just say I won't be playing an ABBA on my way to IKEA any time soon. But I also won't forget how enjoyable the Volvo XC60 was to drive.