2017 Toyota Camry Hybrid SE Review: The Good Old Gold Standard
2017 | hybrid | sedan | toyota | toyota camry | June 14, 2017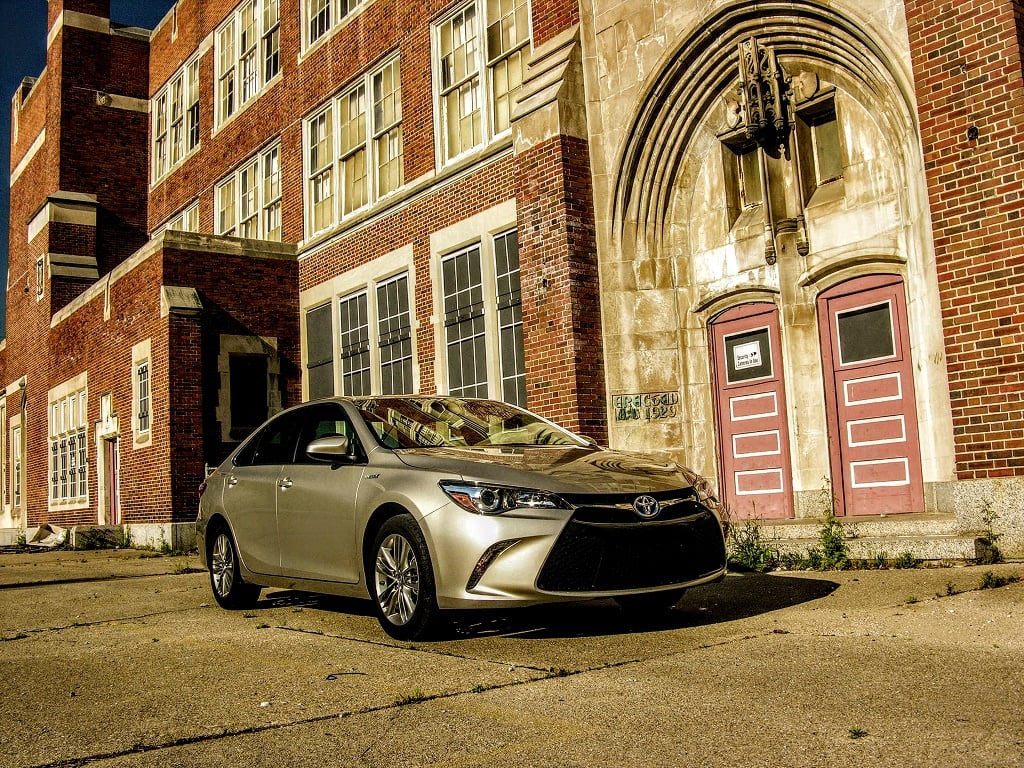 Specs at a Glance

Powertrain: ECVT
Engine: 2.5-liter 4-cylinder with a Hybrid Synergy Drive electric motor
Horsepower: 200
Torque (lb-ft.): 199
Drive Configuration: Front-Wheel Drive
0-to-60 Time (secs): 7.2
Top Speed (mph): 117
City/Hwy/Combined MPG: 38/40/37
Curb Weight (lb): 3,516
Wheelbase (in): 109.3
Total Length (in): 190.9
Width (in): 71.7
Base Price (USD): $27,995
Price as Tested (USD): $29,605
Toyota has done a lot in recent years to distance itself from the old stigma that it only makes bland automobiles. Hell, even Akio Toyoda publicly announced that they weren't going to be building boring cars under his watch, a bold claim for a company that has long benefited from the perks of designing safe, unassuming vehicles.
So with the all-new 2018 Camry rocking double-wishbone aluminum suspension, a globally structured chassis, and sharply scalloped lines straight from the Lexus line, we have it on good faith that Japan's largest power player is destined to hold fast to Toyoda-san's word. Yes, it is true that sedan sales are down, but if you look at the best selling cars in America year-after-year, the Camry still is the fourth best selling automobile, right behind the trucks from The Big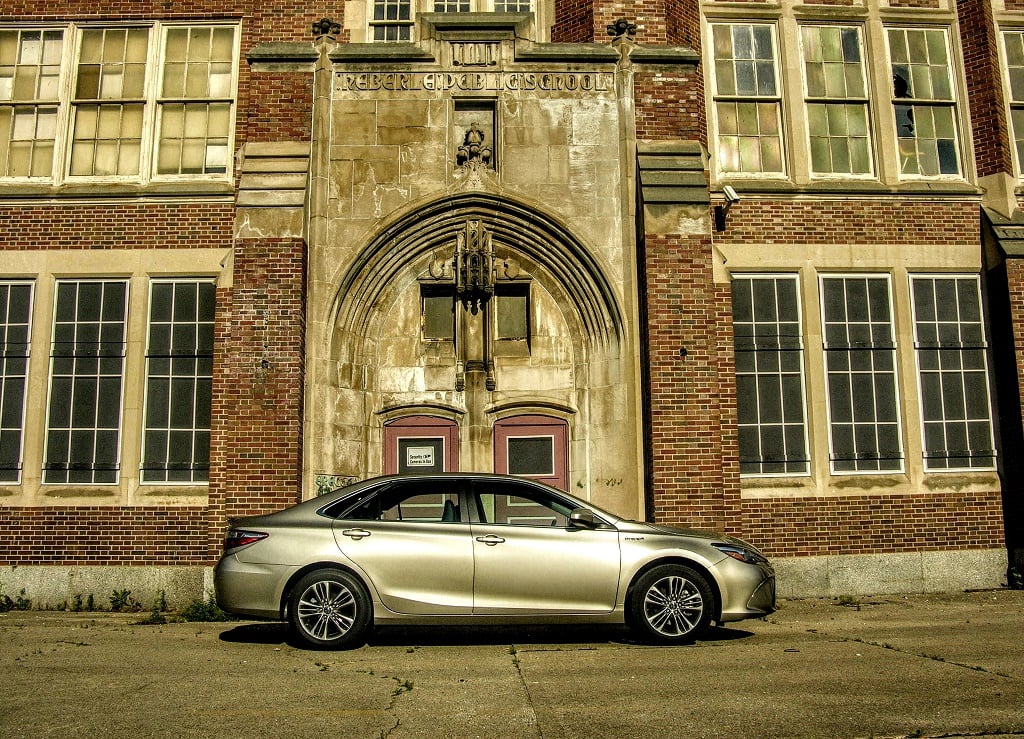 Playing it safe and blending in is something that this vehicle has specialized in doing since day one. Nothing says I don't give a damn about performance or automotive-induced sex appeal quite like a Crème Brulee coated Toyota Camry in hybrid trim. Even though it features a delicious sounding hard-candy shell and a sporty "SE" badge on its backside, everyone knows this beige blob of conformity is tailor-made to appeal to people who don't give a hoot about having fun behind the wheel.
In order to get a better feel for what all the fuddy-duddy fuss was about (and to re-familiarize myself with the outgoing model prior to driving the new one), I opted to take possession of this unassuming slab of sensibility for a week. To say that I was underwhelmed would be a bit off base. Despite its devout pedestrian appearance, there is a lot of intelligent infrastructure in this machine that you can tell has been passed down from generation to generation, like a set of loafers that grandpa once wore. They may not be the hippest set of shoes in the closet, but by Jove are they comfortable and easy to slide into every time, making them an ideal option any given day of the week.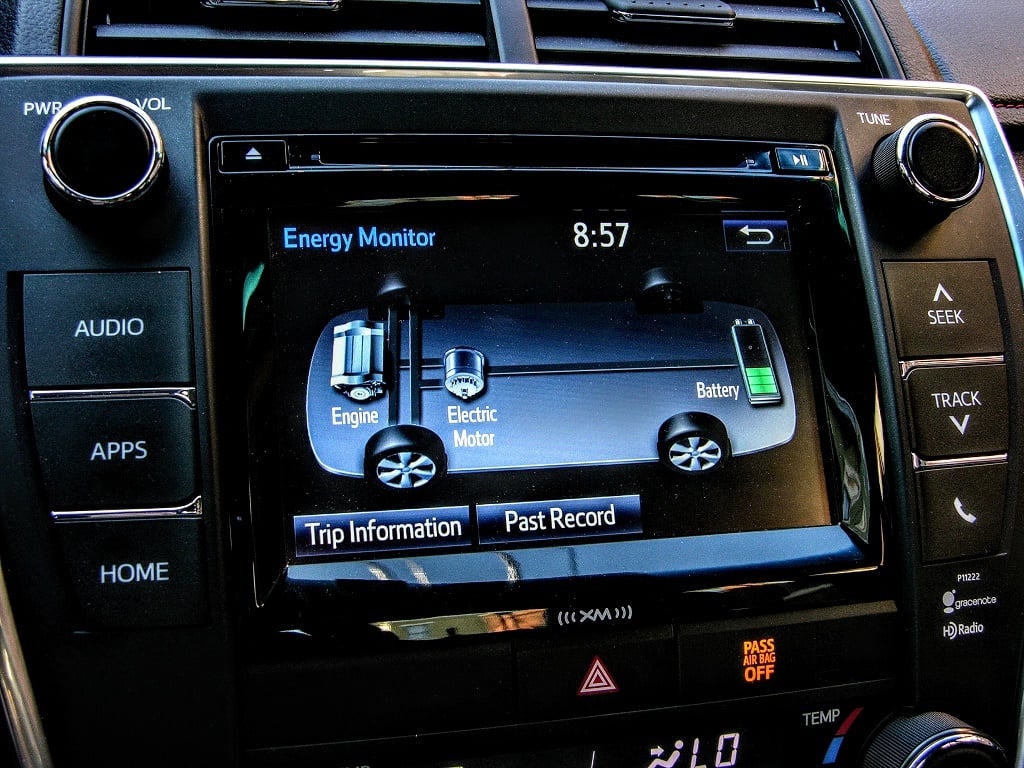 Here is a car that gets 40 mile-per-gallon averages in the city, 37 on the freeway, features a quiet cabin and an easy driving experience, and will likely outlive 90% of the Earth's population. It's a solid, safe, utterly indestructible automotive option and for that you have to give Toyota a massive nod of respect. Give the people what they want long enough and you will have car buyers for life. Offer them more for the money than anyone might expect, and their kids are going to want one as well.
After a few days of puttering around in this cushy ball of unabashed blandness, I came to a conclusion: people aren't just buying hybrid Camry's for their efficiency anymore, but for their extra pep as well. The days of hybridized motors adding additional pounds and offering little in return across the performance board are officially over. In the case of the 2.5-liter unit stuffed beneath the hood of this model, getting up to speed is a surprisingly rewarding experience, even if it is engineered to be just enough for the average commuter.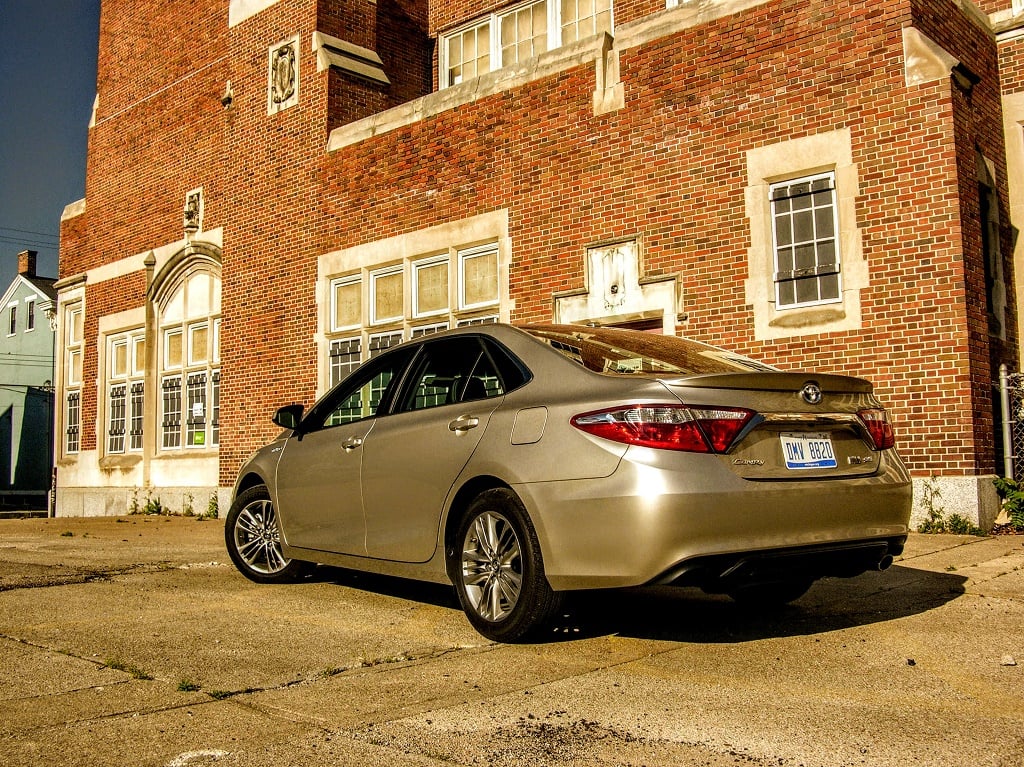 Now there are some certain drawbacks to this car that cannot be ignored, starting with the hybrid battery's hindrances. Not only does it add a lot of additional weight to the rear of the vehicle, but it also takes up precious cargo space in the trunk, and prevents the folding of the driver's side of the back bench. Fortunately, a pocket window behind the passenger side can be opened a in order to slide slender objects through, but it's tight fit leaves little wiggle room for bulkier items.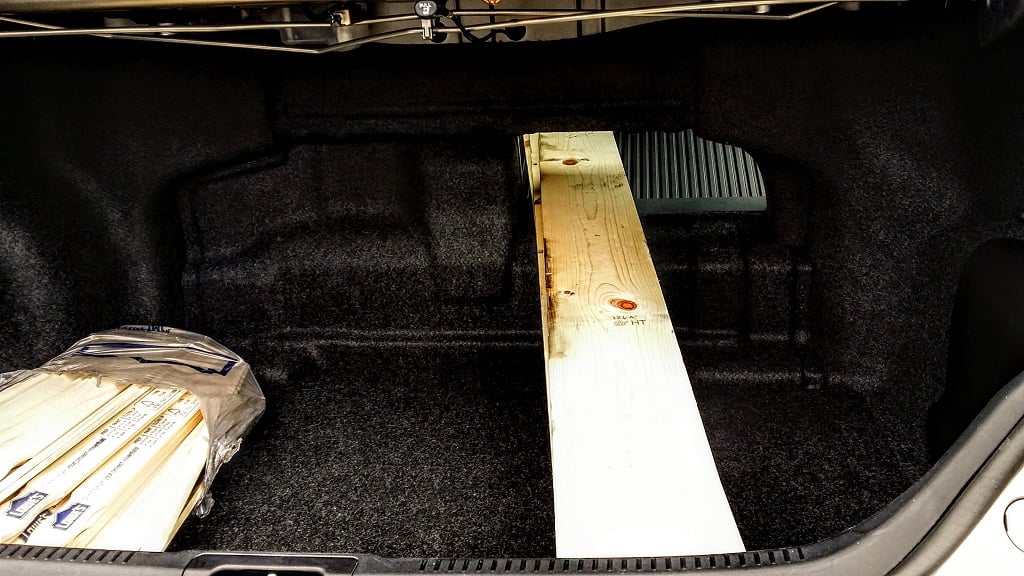 There's also the interior of the cabin, which is arguably more pedestrian than the external styling. A splash of sporty red stitching and some meatier leather touches do little to convince you that the "SE" stands for "sport edition" or "special edition." It's a fairly comfortable, but completely dated looking cabin that does little for the imagination, and has just enough practicality and technology that you are forced to forgive it for being such a snoozer.
Handling and steering are what one would expect as well. Although the steering has been considerably weighted for a sportier feel, it is still disconnected, and even with recalibrated suspension  loads of tire squeal and body roll emerge in the corners. Hard compound, energy efficient tires, coupled with miscalculated steering and suspension tuning make for a drive that makes you feel like the vehicle is indeed trying, but has taken a tactless approach to tackling the problem. It's something that not all drivers will be quick to pick up on, but once you notice it there's no going back.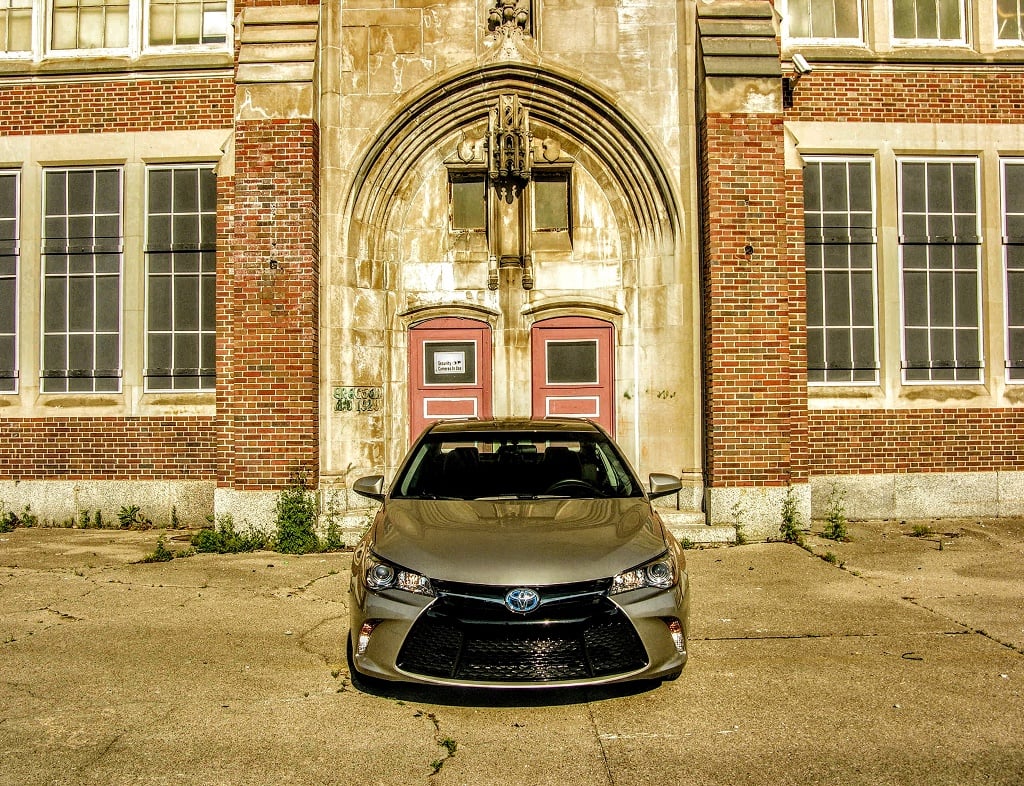 So the question now is do you buy the outgoing Camry when prices plummet due to the new generation's arrival, or do you plop down the cash on the completely overhauled 2018 version? Stay tuned, because before long, we'll be able to spill the beans on what the latest and greatest Camry can offer, to help you decide whether to go with the new, or opt for old faithful here.