2018 Toyota Camry First Drive Review: Say Bye, Bye Bland
2018 | toyota | toyota camry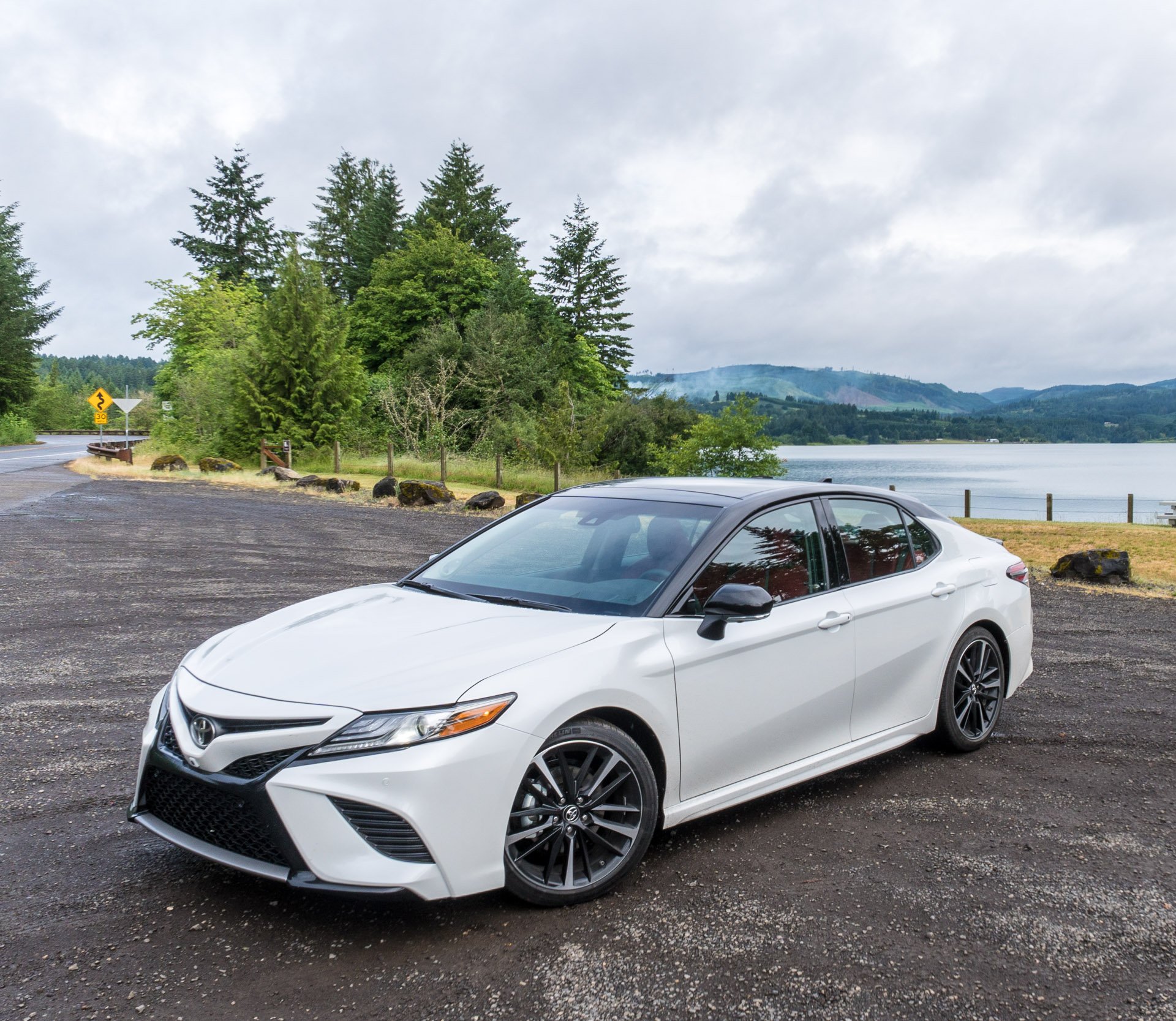 2018 Toyota Camry

Engine: 2.5L 4-cylinder, 3.5L V6, or hybrid
Horsepower: 4 cyl: 203 (LE/SE/XLE) / 206 (XSE), 6 cyl: 301, Hybrid: 208
Torque (lb-ft.): 4 cyl: 184 (LE/SE/XLE) / 186 hp (XSE), 6 cyl: 267
Transmission: 8-speed automatic (Gas) / CVT (Hybrid)
Drive Configuration: FWD
City/Hwy/Combined MPG: 4 cyl: 29/41/34 (L) / 28/39/32 (LE/SE/XLE/XSE), 6 cyl: 22/33/26 (XLE) / 22/32/26 (XSE), Hybrid: 51/53/52 (LE) / 44/47/46 (SE, XLE)
Curb Weight (lb): 3,241-3,549
Wheelbase (in): 111.2
Total Length (in): 192.1 (L/LE/XLE), 192.7 (SE/XSE)
Width (in): 72.4
Base Price (USD): $23,495 (L) / $24,000 (LE) / $25,200 (SE) / $28,450 (XLE) / $34,950 (XSE V6) / $27,800 (LE Hybrid) / $29,500 (SE Hybrid) / $32,250 (XLE Hybrid)
Despite its wild popularity and success since first launching in 1982, the Toyota Camry has long been the car you go with if you want something safe, reliable, and… ordinary. But we live in an era where car buyers demand something more when it comes to styling and performance from their vehicles. With that in mind, Toyota CEO Akio Toyoda and his team recently set out on a mission to make "no more boring cars." With the 2018 Camry, I think – for the most part – they achieved their lofty goal.
The Camry family is available on two primary style branches – the sporty SE/XSE and the more conservative L/LE/XLE. I spent all of my time behind the wheel of the premium XSE and XLE trims, but no matter which Camry you choose, it benefits from major structural, styling, and driving improvements compared to the outgoing models.
Of all of the trims, Toyota really came out swinging with the Camry XSE. The primary distinguishing characteristic of both the SE and XSE is its bold and angular hourglass grille, flanked on each side by modern, sculpted headlamps.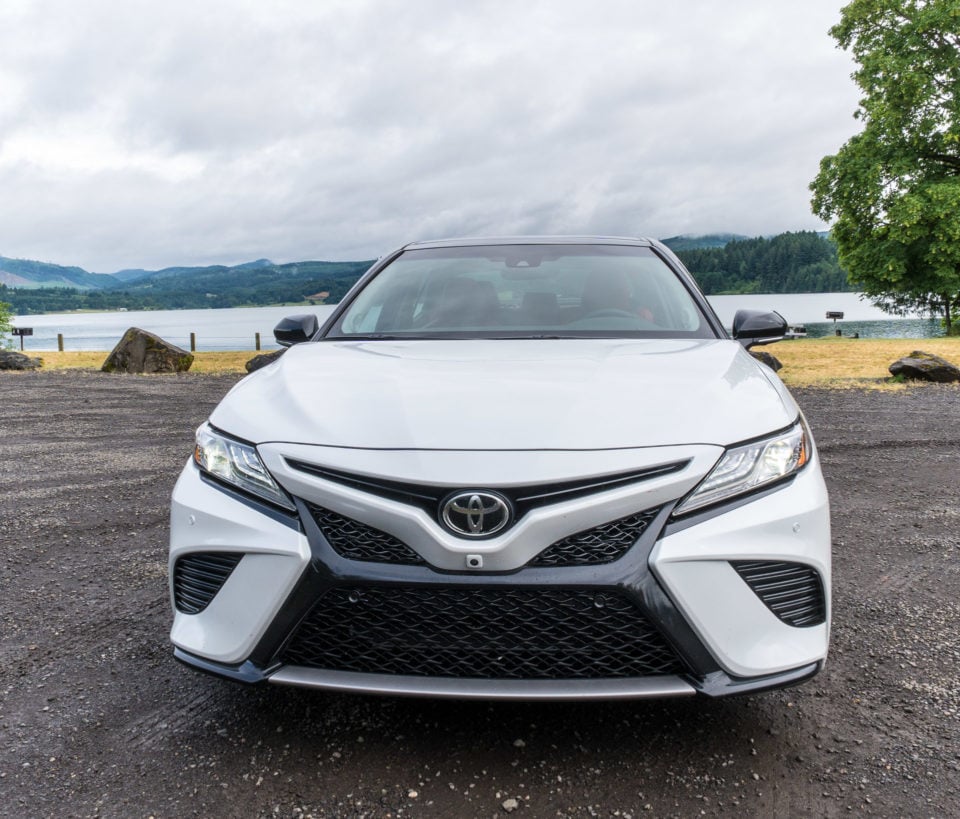 Unique to the XSE is the available two-tone paintjob, which looks especially great with the white body and black roof shown here. All Camry models start out with LED daytime running lights, LED taillights, and Bi-LED combination headlights. The XSE gets full LED headlights, and smoke tinting on both its headlights and taillights. Around back, you'll see the first ever application of quad exhaust tips on a production Camry. Sure, they don't put out much in the way of an exhaust note, but they look quite spiffy.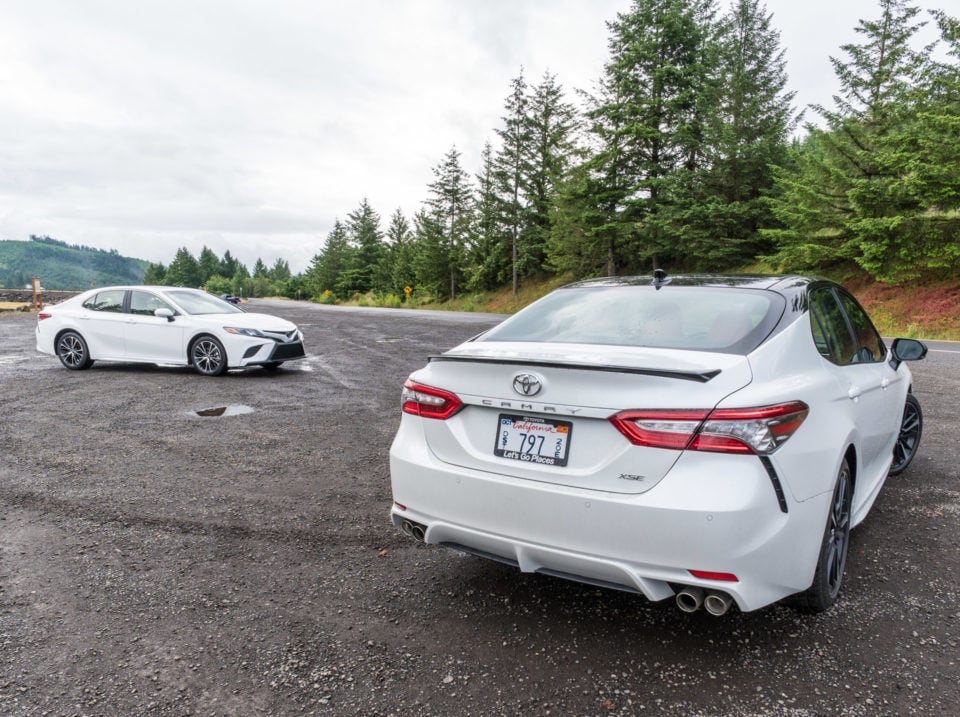 Under the lowered new hood, you can choose from three drivetrains: an all-new 2.5-liter 4-cylinder "Dynamic Force" engine with 203 hp and 184 lb-ft. of torque, a 3.5 liter V6 engine (XLE/XSE only) with 301 hp and 267 lb-ft. of torque, or a gas/electric hybrid. The hybrid's 2.5-liter 4-cylinder engine produces 178 hp and 163 lb-ft. of torque, combined with a 118 hp electric motor that makes 149 lb-ft. of torque, though you don't add up the numbers to get net horsepower on a hybrid – that figure is 208 hp.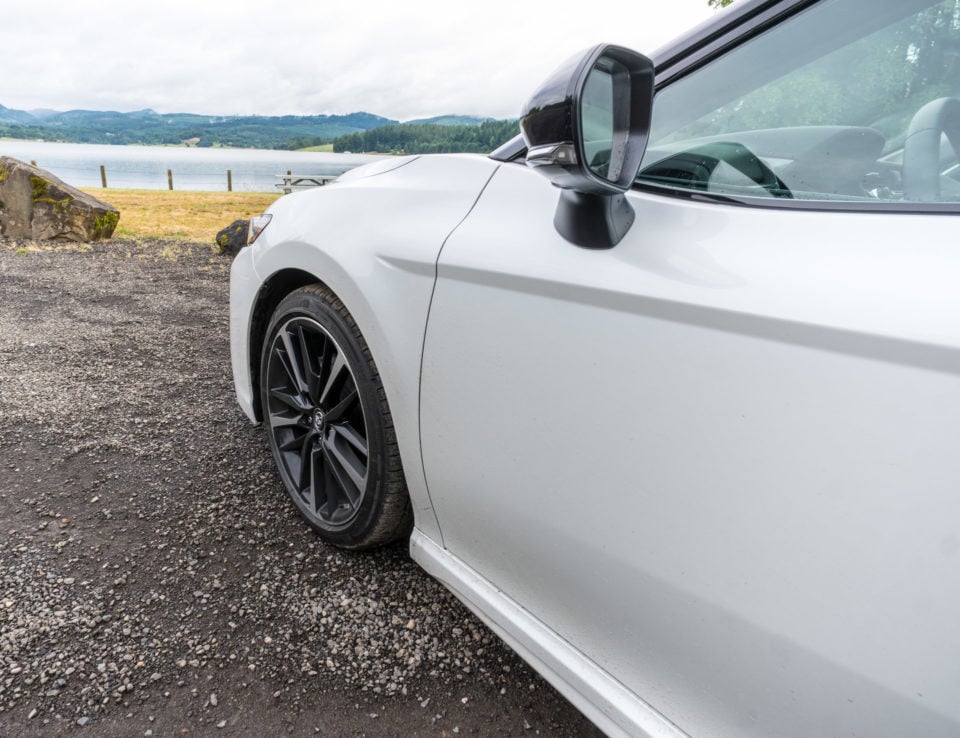 It's interesting that there's no turbo engine here, as that's where much of the industry is moving. However, Toyota's naturally-aspirated 4-banger doesn't feel underpowered, and still turns in competitive fuel efficiency numbers. That said, the 6-cylinder is definitely more satisfying, and doesn't have to work nearly as hard as the 4-cylinder does. The V6 offers up way more zip and zoom than I'm used to experiencing in Camrys, though I still don't think it'll crack 6 seconds from 0 to 60. I'm just thrilled that Toyota didn't put a CVT in, and stuck with a proper automatic transmission. It's a brand new direct-shift 8-speed unit that shifts quickly, quietly, and predictably.
The 4-cylinder model turns in very good fuel economy numbers at 28 city / 38 highway / 32 combined mpg. The V6 drops down to 22 city / 33 highway / 26 combined for the XLE, and trims one more mpg off the highway number on the XSE – presumably due to equipment weight. I'll save the mpg numbers for the Hybrid until a little further along in the article, but suffice it to say, they're really impressive.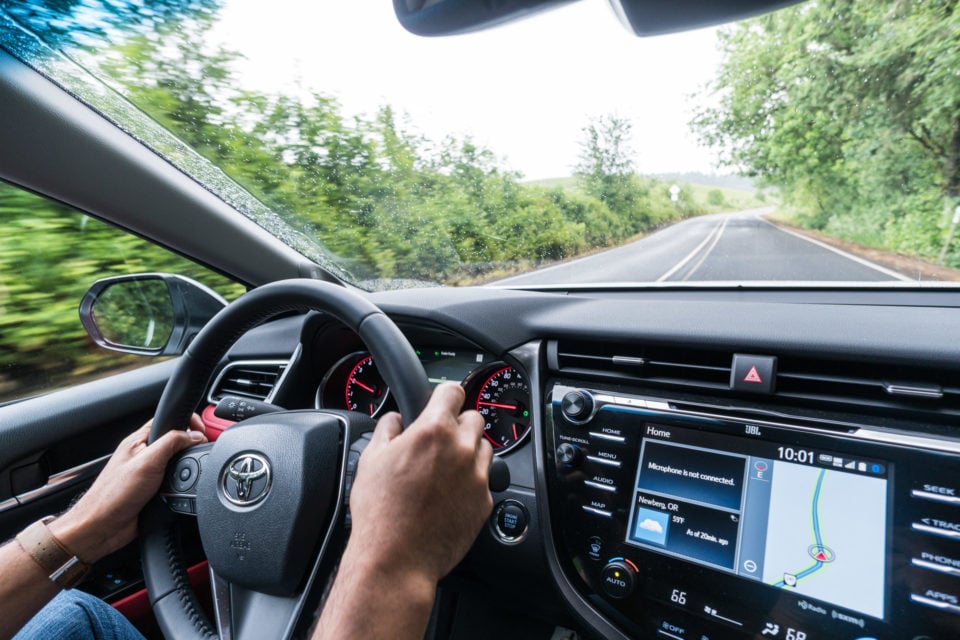 Beyond its dramatic styling improvements, the next best thing about the 2018 Camry is the way it handles. Toyota says its chassis has 30% more torsional rigidity than the outgoing model, but figures like that mean little to most, including me. In practice, I found all three models that I drove provided a much more stable, direct, and engaging ride than past Camrys. Toyota managed to lower the car by a full inch, and lengthened its body by up to 1.8″ and its wheelbase by 1.9″, each of which contribute to its improved driving dynamics. The new double-wishbone rear suspension doesn't hurt either. Steering feel is nice and neutral – offering enough feel to connect you with the road, but it doesn't make you work too hard either.
There's a little bit of body roll into the corners, but overall the Camry remains remarkably flat and compliant, and offers a better cornering feel than most other front-wheel drive sedans I've driven. It's certainly more enjoyable to drive than either the Hyundai Sonata or Ford Fusion, and right up there with the Kia Optima.
Inside, the new Camry is a whole new animal compared to its past persona. The new dashboard features sweeping, asymmetric lines, and provides a clear differentiation between the driver's cockpit area and the comfortable, stylish area for the front seat passenger. Front visibility is excellent, thanks to the lower hood line and tapered new A-pillars.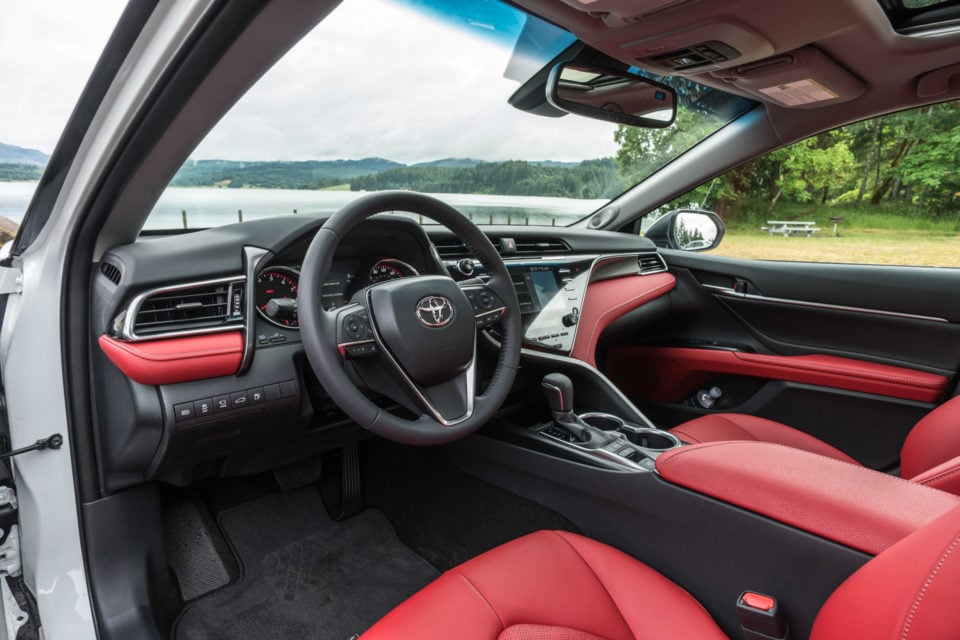 The XSE I drove was decked out in eye-catching red leather – something I never thought I'd see in a Camry – and it looks great. While the dash and doors feature soft-touch surfaces, there's still a reasonable amount of plastic in the cabin though. There's a bit of a faux carbon fiber-ish trim on the passenger side which looks sporty, but I much prefer the real deal.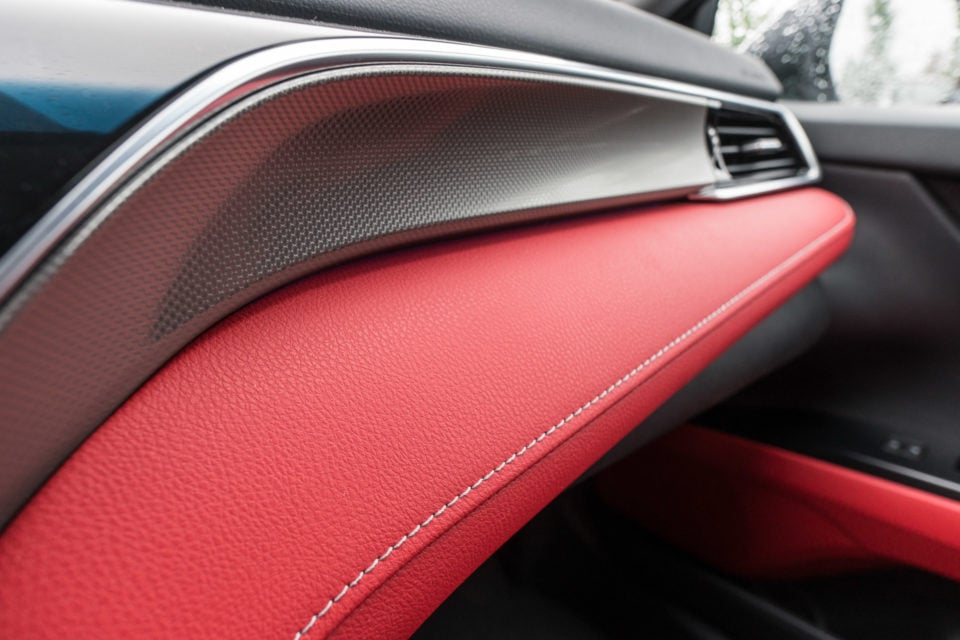 The optional dual-pane panoramic sunroof brings in a nice amount of light into the cabin, though there's definitely more wind noise with that option compared to the solid roof. Overall cabin noise is well managed, though I noticed a bit of extraneous wind noise coming off of either the mirrors or A pillars. There's very little road noise, and each Camry I drove offered up a smooth ride on bumpy country roads, and at highway speeds.
Interior space is ample for all passengers, offering up great legroom for both rows, though headroom in the back row is limited. Seats are well padded and comfortable for long drives, though I wouldn't mind slightly more aggressive side bolstering on the SE and XSE models.
As boldly styled as the XSE is, the XLE is sophisticated and premium in its look. The horizontal bar grille should be more familiar to current gen Camry owners, though it's topped off by a wing-shaped, raked hood this time out.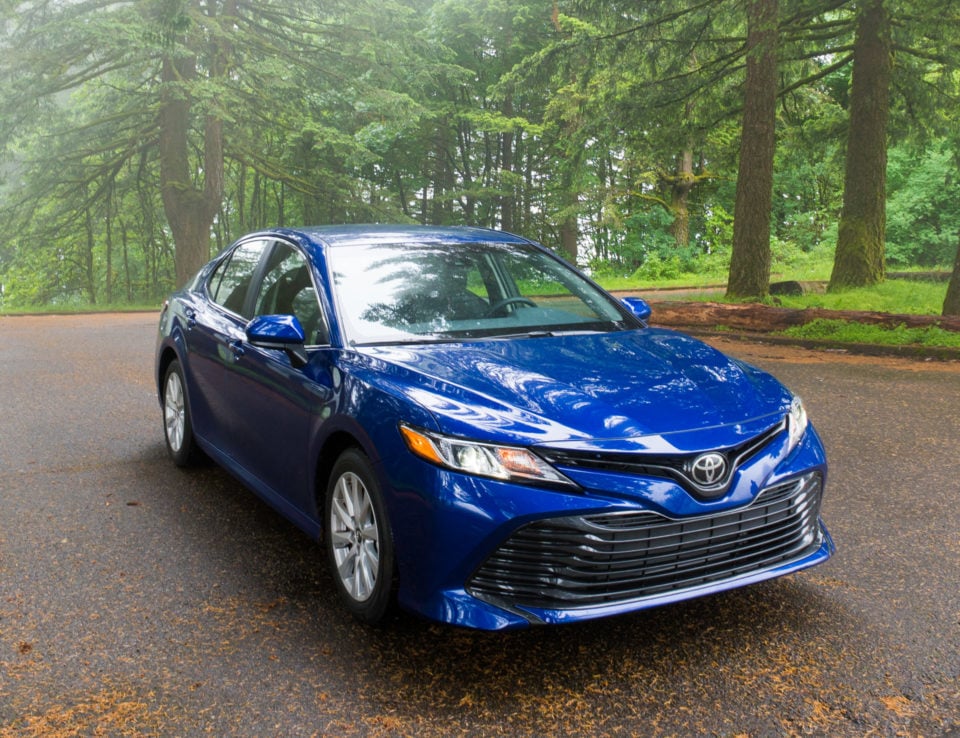 Despite a slightly different suspension tune, I found the driving characteristics of both the XSE and XLE to be nearly identical, and that's a good thing. Too often brands decide to soften up the non-sport trim too much, resulting in a mushy ride. That's not the case with the Camry XLE, which I though was just as satisfying to drive as the XSE.
The the entry level L, populist LE, and fancy-schmancy XLE share the same character lines up front, and the main differences are inside. While the L and LE have cloth seats, the XLE gets leather seats, wood and metal trim.
There are tons of available safety and convenience features, and the 2018 Camry gets Toyota's Safety Sense suite no matter which model you buy. That means you'll get a pre-collision safety system with pedestrian detection, lane departure alert with steering assistance, automatic high beams, and dynamic radar cruise control all standard. XSE and XLE models also get blind spot monitoring with rear cross-traffic alert, intelligence clearance sonar, and rear cross-traffic braking.
The 2018 Camry is the first Toyota to get the new Entune 3.0 system, which offers an improved user interface, and standard app-based GPS integration. Toyota has yet to jump on the Apple CarPlay or Android Auto bandwagon though. Both the XLE and XSE come equipped with an upgraded JBL 9-speaker sound system, which offers up lots of dynamic range and crisp, clean sound. 2018 is also the first year you can get a heads-up display in a Camry, and the 10″ projected screen is bright, easy to read, and provides lots of useful information without need to take your eyes off the road. There's also an available "bird's eye view" camera, which stitches together images from four cameras to provide a full 360º view of your vehicle to make parking safer and easier.
I've gotten in the habit of talking about hybrid models after the gas version of cars, and perhaps I need to stop this practice now. That's because the new Camry Hybrid is outstanding. Not only does it handle every bit as well as the gas models, it's got the most direct acceleration feel from a stop, and is incredibly fuel efficient. Are you ready for this? The 2018 Camry LE Hybrid gets 51 mpg in the city, 53 mpg on the highway, and 52 mpg in the city. Those are Prius-like numbers on a mid-size sedan. The more fully-equipped SE and XLE trims see those numbers drop to 44 city/47 highway/46 combined, but they're still damned impressive. I only wish you could get the hybrid with the sporty XSE trim, though it is available as an SE.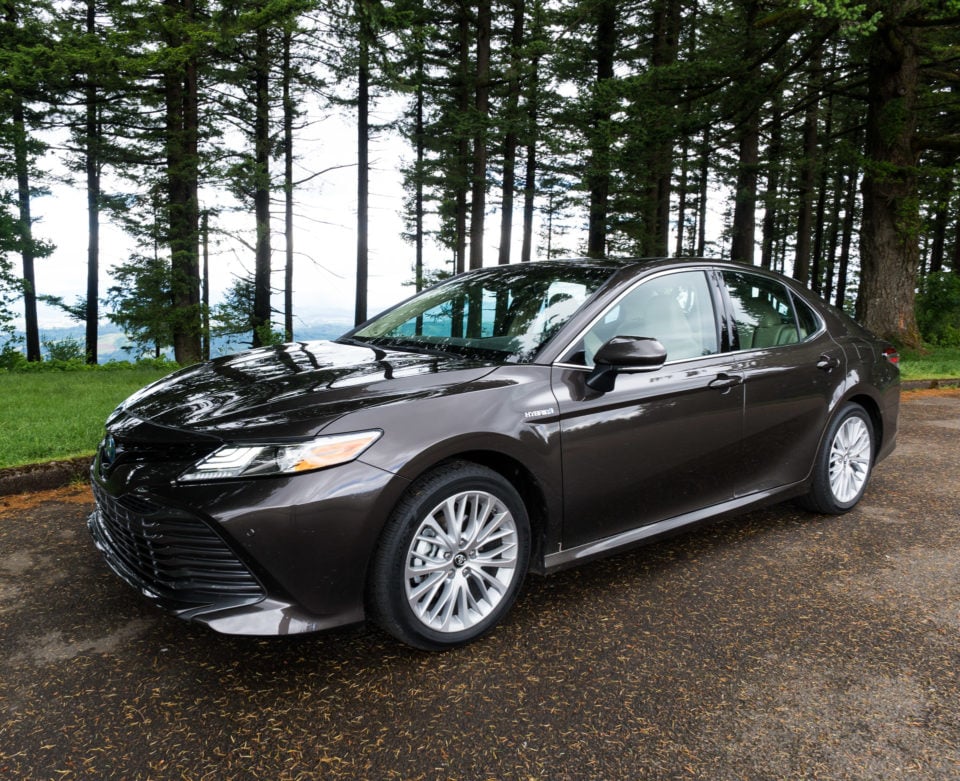 While many hybrids (including the old Camry Hybrid) lose trunk space to make room for their battery packs, Toyota engineers managed to hide the battery pack under the rear seat this time out. So the Hybrid's trunk space is still 15.1 cubic feet – the same as its gas-powered brethren. The hybrid also gets a 60/40 split fold-down rear seat for the first time.
With the 2018 Camry, Toyota has pulled off something that's very difficult to do, taking a car which is critical to their bottom line, and reinventing it to breath new life into it. There's plenty to like about the new Camry's styling both inside and out, but it's the way it drives that really makes it feel like a whole new car. While the base models aren't as exciting in the acceleration and feature departments, they still benefit from the most significant improvements to the car's aesthetics and dynamics. The XSE V6 is the fastest and most visually appealing in my opinion, but the real surprise here is the Camry Hybrid, a car which offers outstanding fuel economy, without sacrificing driving feel or cargo space.