2017 Audi S6 Review: A Grade "S" Sport Sedan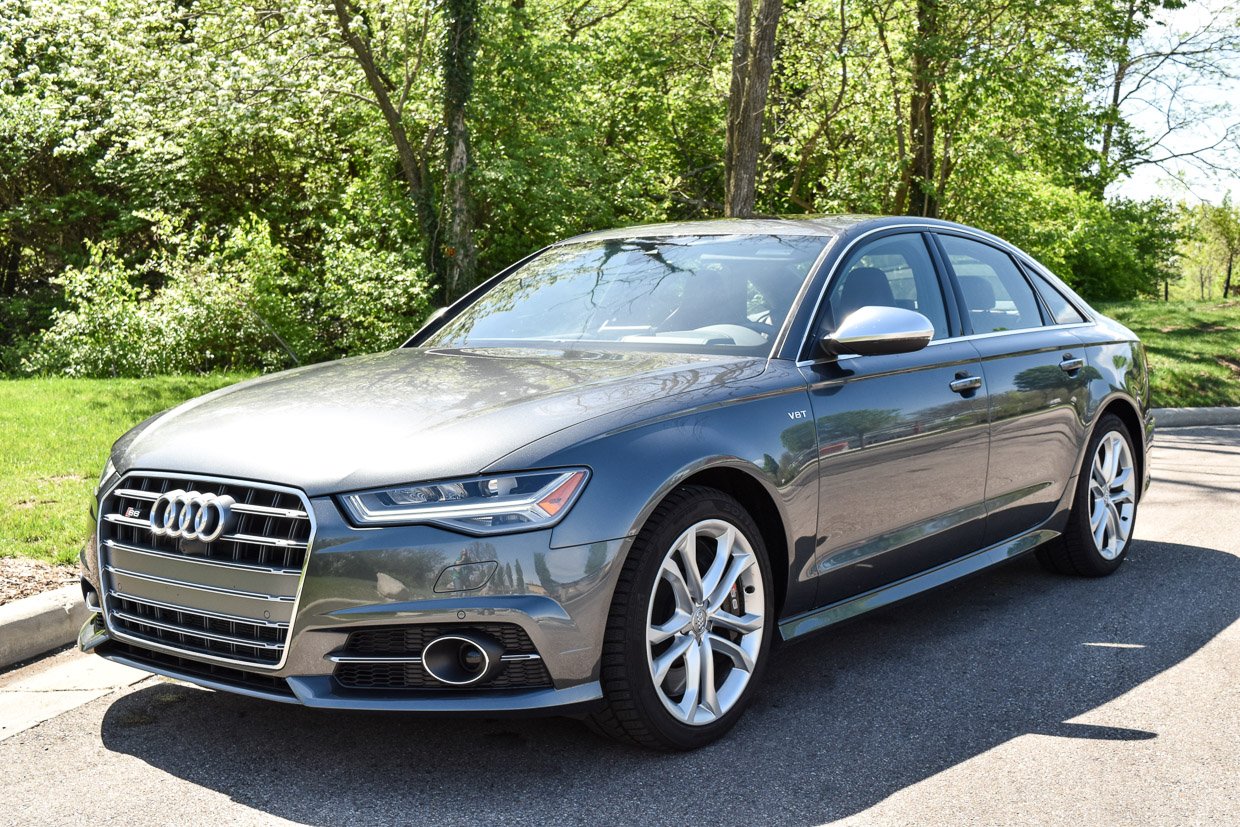 2017 Audi S6 Prestige

Engine: 4.0-liter V8
Horsepower: 450
Torque (lb-ft.): 406
Transmission: 7-speed automatic
Drive Configuration: AWD
0-to-60 Time (secs): 4.4
Top Speed (mph): 155
City/Hwy/Combined MPG: 18/27/21
Curb Weight (lb): 4,398
Wheelbase (in): 114.8
Total Length (in): 194.4
Width (in): 73.8(w/o mirrors)
Base Price (USD): $70,900
Price as Tested (USD): $82,425
In standard grading scales, nothing gets better than "A," right? Well, my tester this week will show that, common core be damned, there is a letter better than "A" and that's "S" – as in the Audi "S" series. The Audi S6 is the sportiest side of the solid and steady A6 sedan. If the A6 is good, the S6 is great.
For the 2017 model year, the luxury midsize sedan only received a few minor changes and updates. There's a new competition trim level and a more advanced parking system that uses a front and rear camera as well as sensors all around the vehicle. Plus, Audi provided a nice tweak to their already fantastic infotainment system by adding Apple CarPlay and Android Auto.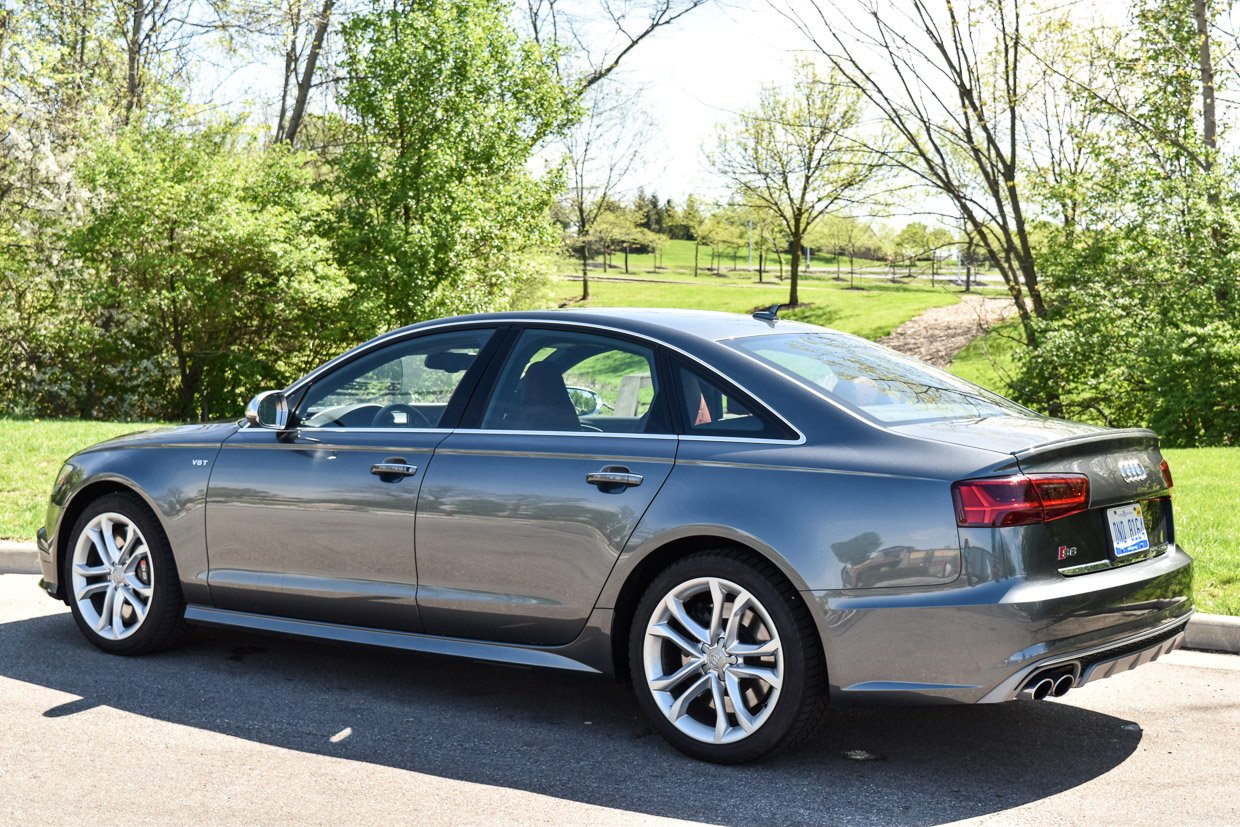 As refined as the A6 is, the S6 shows off the mid-size sedan's wild side. The perfectly designed front end of the S6 offers balance with just a hint of aggression. The S6 doesn't stray too far from the A6's refined and sophisticated styling, with touches like 19-inch, 5-spoke alloy wheels, wrapped in sharp-looking performance tires, and sporting red brake calipers that hint at what is underneath the hood. Out back, quad exhaust pipes are a stunning design feature to the otherwise subdued back side of the S6.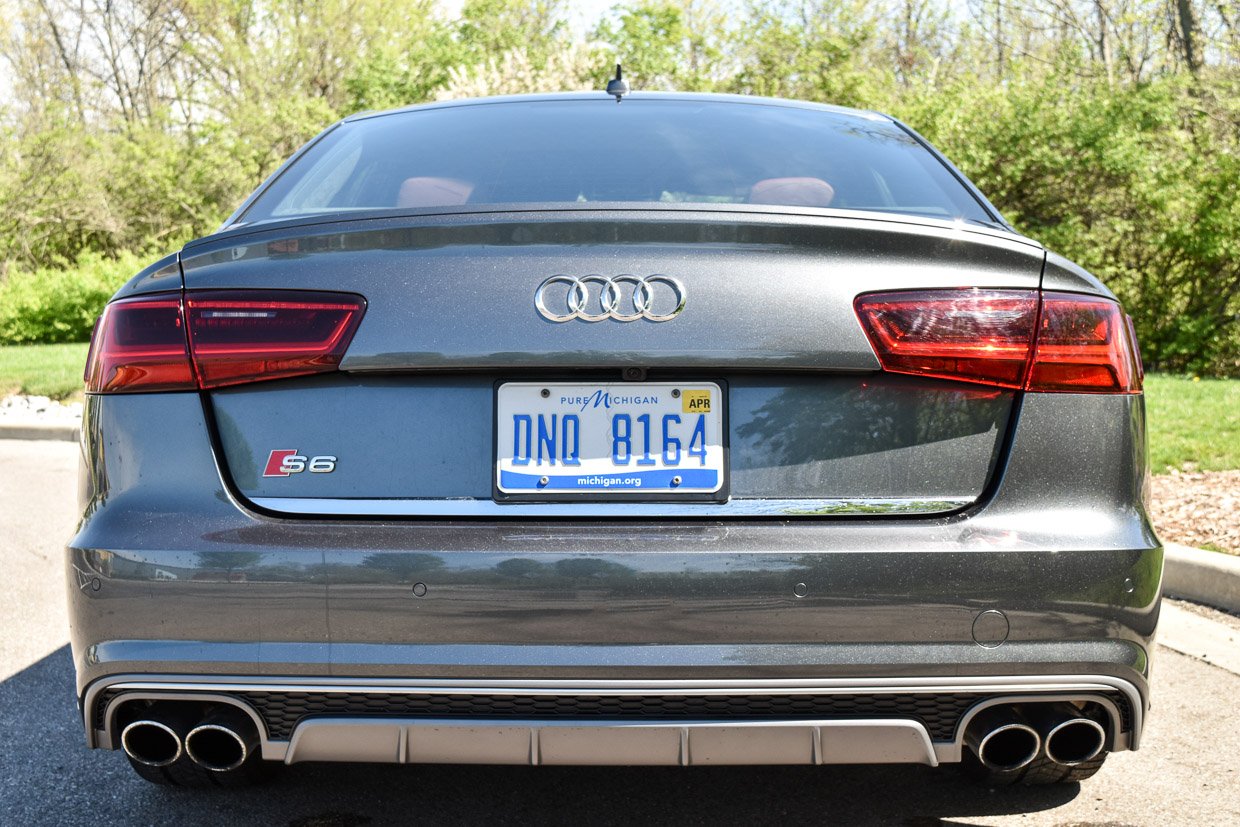 Audi is known for their lights and the S6 doesn't disappoint. At night, the S6 at night looks incredibly sexy, as it whips around turns. The distinctive and distinguished-looking front LED headlamps are unmistakable. These new LED lights consume less power than before, and give a more focused beam at night. There's even night vision technology that can detect passengers or animals on the road ahead within 1,000 feet.
As smooth and powerful as the standard A6 is, the S6's performance is truly special. This beast packs a 4.0-liter turbocharged V8 engine, making 450 horsepower and 406 lb-ft. of torque. Combined with a seven-speed automatic transmission, it has no turbo lag whatsoever, and offers smooth, clean shifts. Off the line, the S6 is a speed demon. The only thing that keeps its 0-60 speed down is the start-stop technology. During the week I spent with the S6, I disabled this feature. It's nice to have this fuel-saving technology, but it seems a waste on such a fast, sporty car. Speaking of speed, the S6 has a top track speed of 155 mph, and does 0-to-60 in just 4.4 seconds.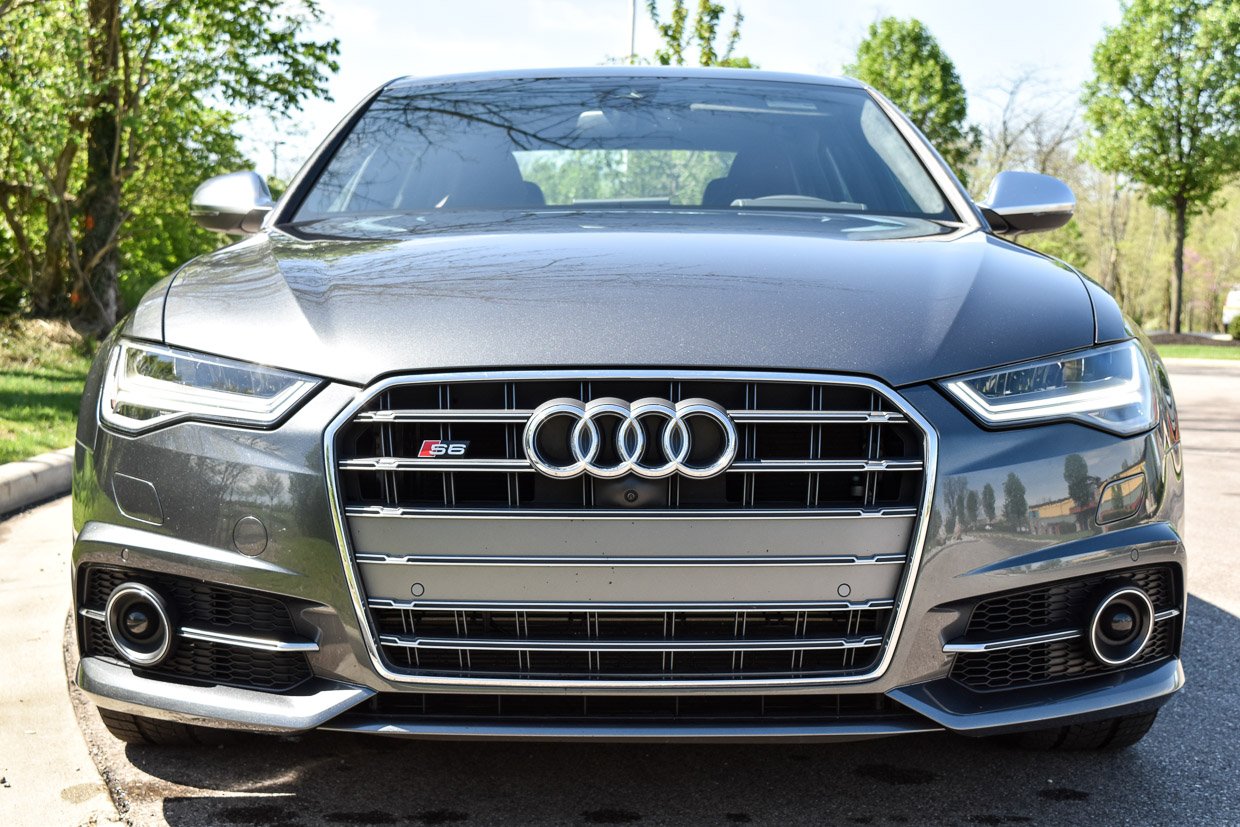 The EPA gives the S6 a rating of 18 mpg/city and 27 mpg/highway. In a week's worth of heavy-footed driving, I averaged a little over 21 mpg. It's my job to discuss fuel economy for every car, but in a vehicle like the S6, it's not something you give much attention to. Perhaps I could've gotten a little better fuel economy had I left the start/stop technology engaged. But frankly, I wanted to have maximum fun in this car – and I did!
Audi's all-wheel drive Quattro technology keeps the S6 gripped to the road. Through twists and turns, the S6 is one of the best-performing midsize sedans I've driven. It handles like a dream and is good on the straightaways too. Plus, the S6 is great in a wide variety of weather conditions.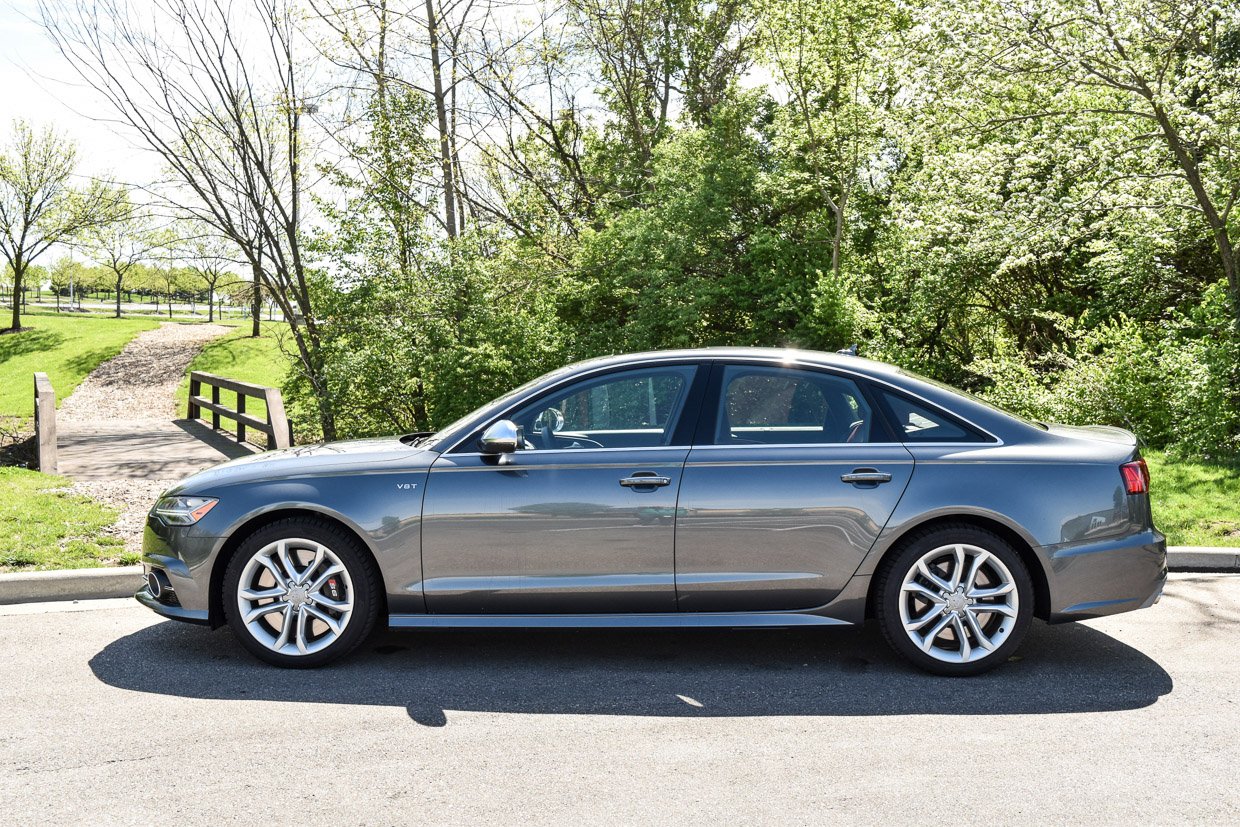 Inside, the S6 is everything you expect from a performance luxury sedan. Diamond-stitched red-leather seats are an eye catcher. There's nothing subtle about the bold interior design which includes birch wood grain inlays, an Alcantara headliner, a highly-stylized carbon-fiber looking dashboard and a flat-bottom, leather-wrapped steering wheel. All of the touchpoints are high quality. Heating, cooling, and massaging functions are available for front seats, as well as heat for rear seat passengers. The Prestige trim adds LED interior ambient lighting and rear sunshades as well.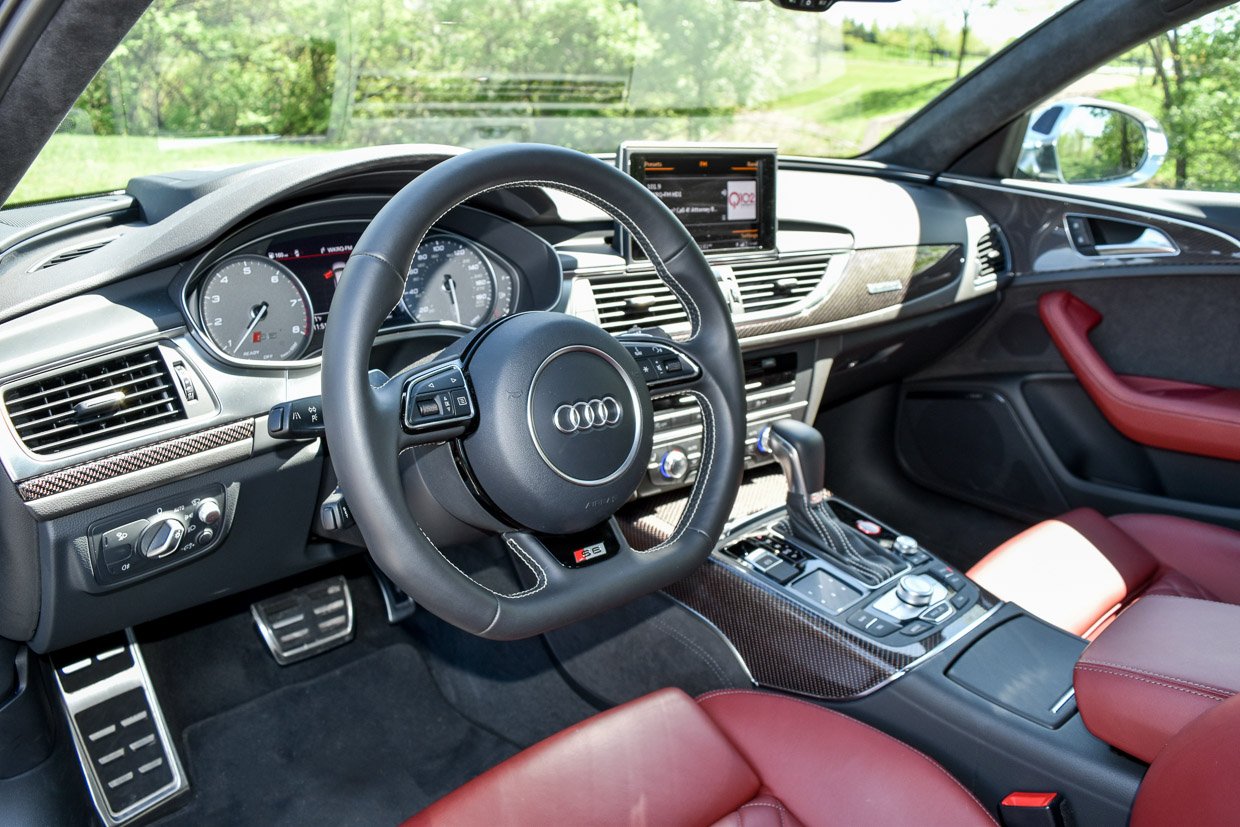 Additionally, the Prestige S6 has a 15-speaker Bang & Olufsen sound system. There's a 7-inch touchscreen display that controls all this. Audi continues to lead the industry with their infotainment technology. Though it can be complicated to figure out initially, once you master it, you realize how cool the MMI infotainment system is. There are features like a scribble pad that allows you to write certain commands, including navigation addresses. The navigation system uses familiar Google Earth maps, and there's 4G LTE and Wi-Fi connectivity. This allows for live weather and traffic updates, among other things. The addition of CarPlay and Android Auto makes smartphone integration even smoother this time around.
Audi's technology advancements are most evident in their heads-up technology. Relevant and customizable information is beamed above the steering column so you can monitor the information that could otherwise be distracting or force you to look toward the center console for. This is not only a tremendous safety feature, but it's ultra-cool.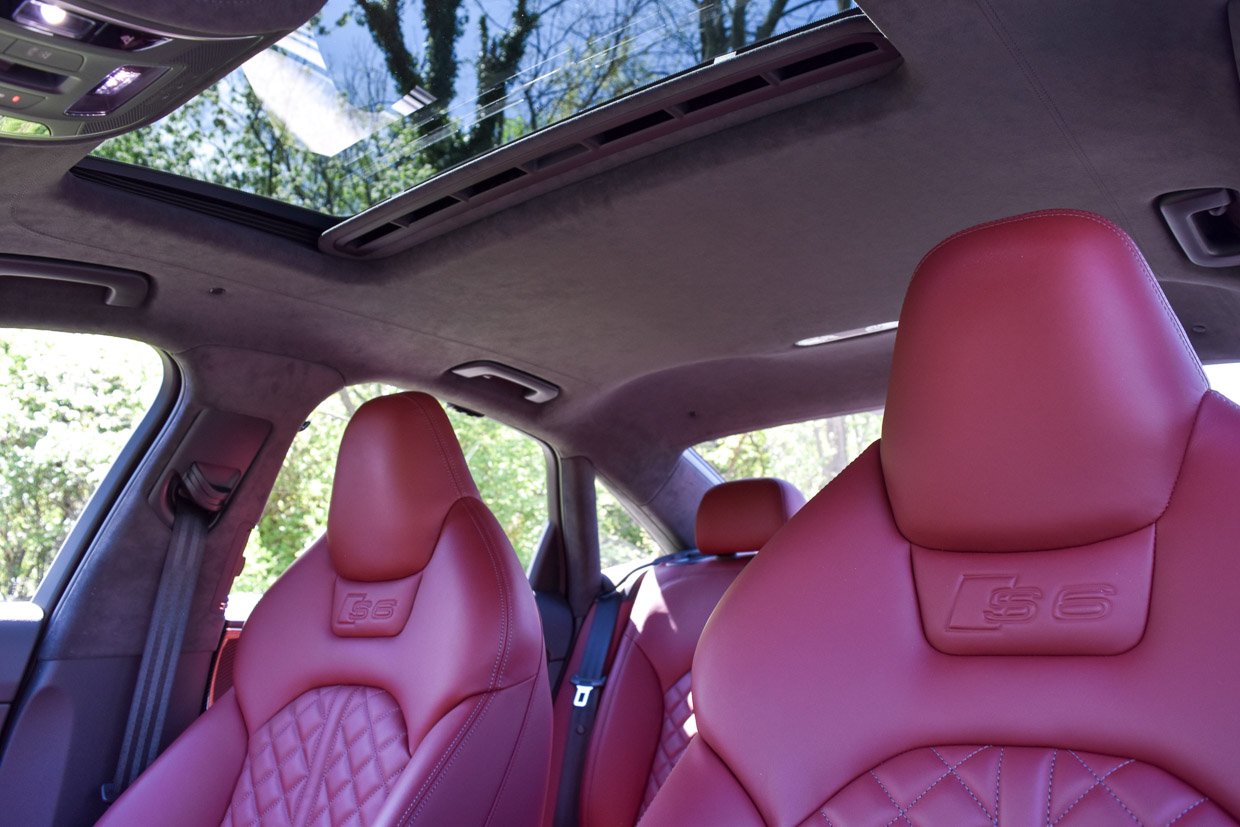 Accessing the 14.1 cubic foot trunk is easy with a power trunk lid, available on the Prestige trim. The rear seats have a 60/40 split folding option to add to its storage capabilities. But, let's face it, nobody is buying this sports sedan to run to the hardware store.
The S6 has a starting price of $70,900. The Prestige package adds another $3,200 as does the black Alcantara headliner. Other options include the driver assistance package and the Audi design package. My tester's final price was $82,425 which is more than $20,000 over the price of a well-equipped A6. So, the sportiness and prestige of the S6 comes with a much steeper price tag, but it's totally worth it if you ask me.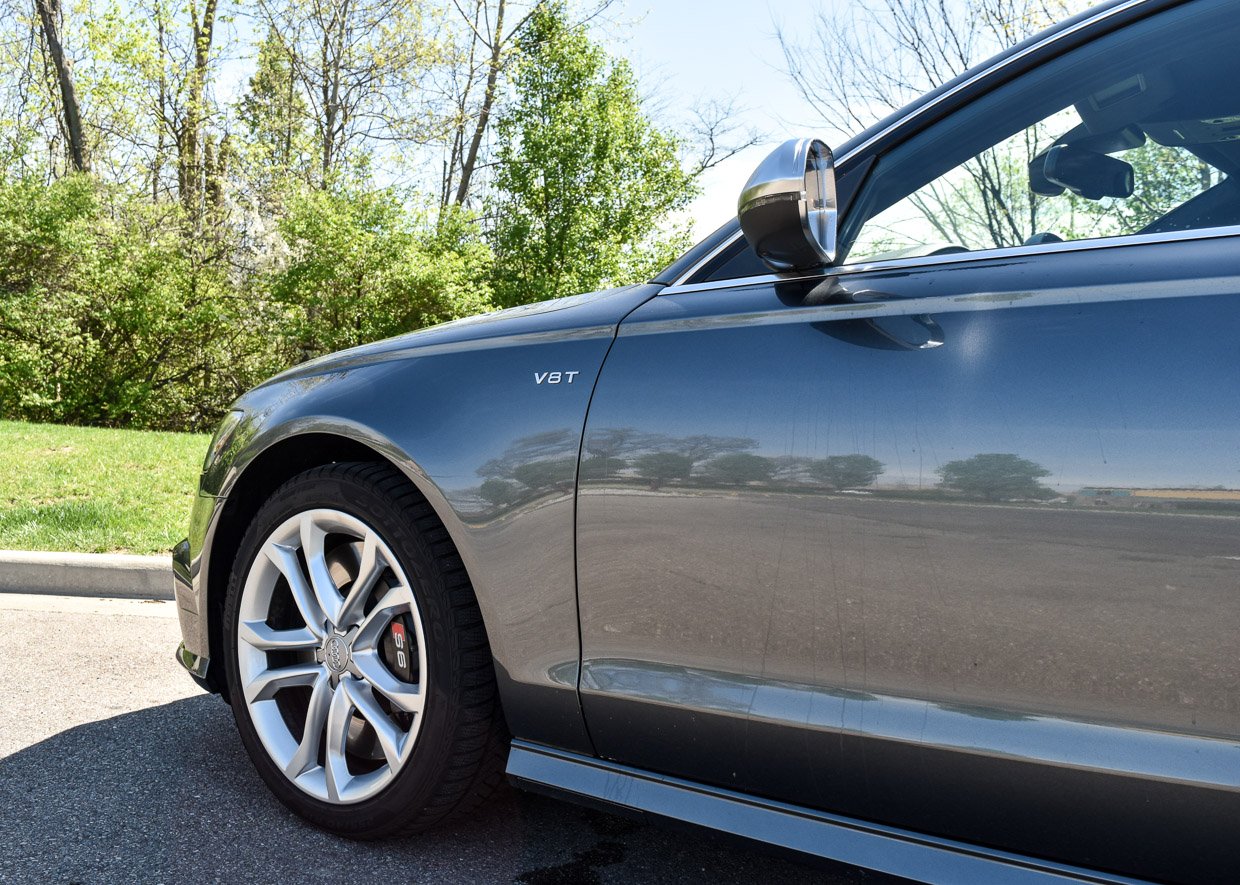 I've loved the A6 as a midsize, safe, somewhat conservative luxury sedan, for many years. But the S6 takes this car, which gets high marks, and improves upon it even further. So, the next time you're told you're an "A" student, correct them and say, "I'd rather be an 'S' student."