2017 Nissan Pathfinder SV Review: Stout and Proud
2017 | nissan | nissan pathfinder | September 1, 2017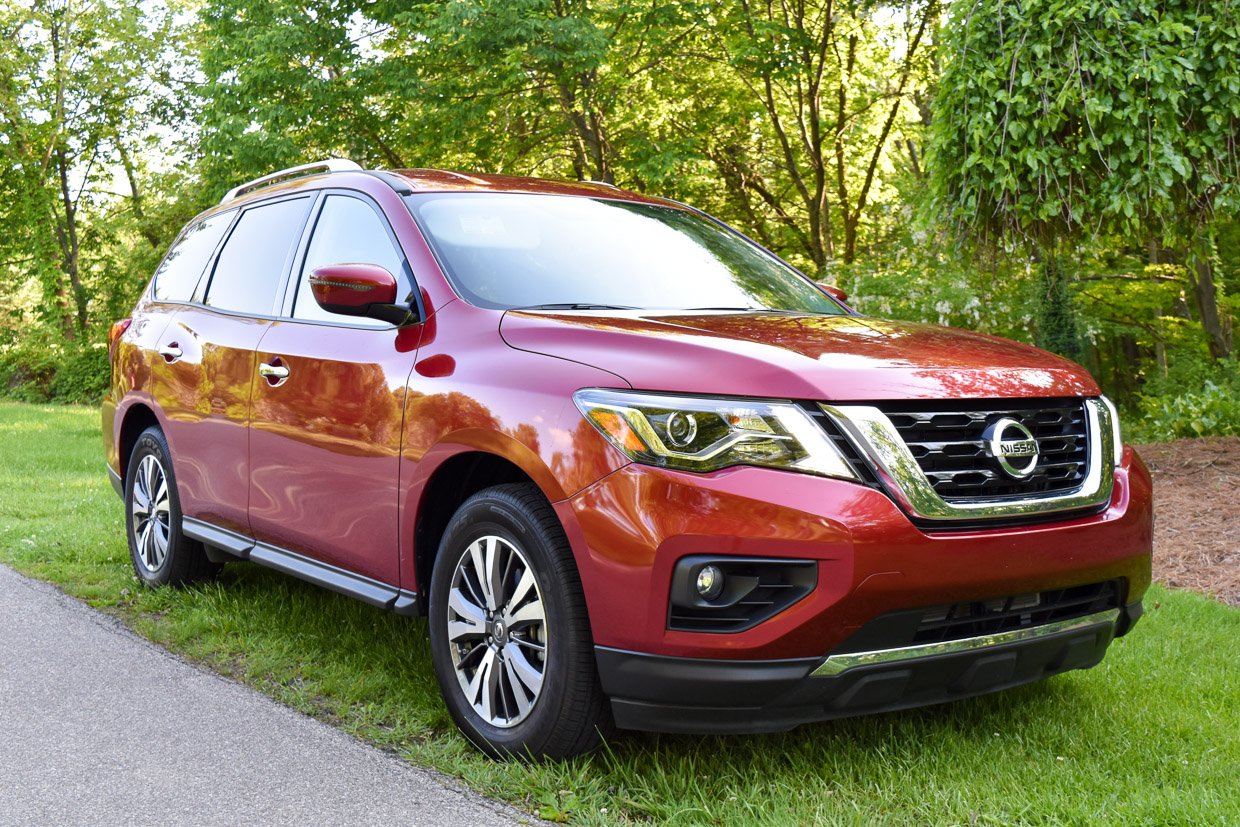 2017 Nissan Pathfinder SV

Engine: 3.5-liter V6
Horsepower: 284
Torque (lb-ft.): 259
Transmission: CVT
Drive Configuration: FWD or 4WD
Top Speed (mph): 115
City/Hwy/Combined MPG: 19/26
Curb Weight (lb): 4,447
Wheelbase (in): 114.2
Total Length (in): 198.5
Width (in): 77.2
Base Price (USD): $34,370
Price as Tested (USD): $37,045
Seven-passenger SUVs are everywhere. Look out your car window right now, and I'll bet you'll see one. One entry in this segment may not roll off the tip of your tongue, but that has upped its game, is the Nissan Pathfinder. For 2017, the Pathfinder is late into its fourth generation. Yes, this means it needs an update, and it will get one soon when the fifth-generation Pathfinder debuts for the 2019 model year. For now, Nissan has done an admirable job of keeping the Pathfinder relevant.
Given recent styling updates to some of Nissan's other SUVs, it's not surprising that the Pathfinder has received minor tweaks keep it looking youthful. For 2017, the Pathfinder received a facelift and some new added features, including a new engine and increased towing capacity.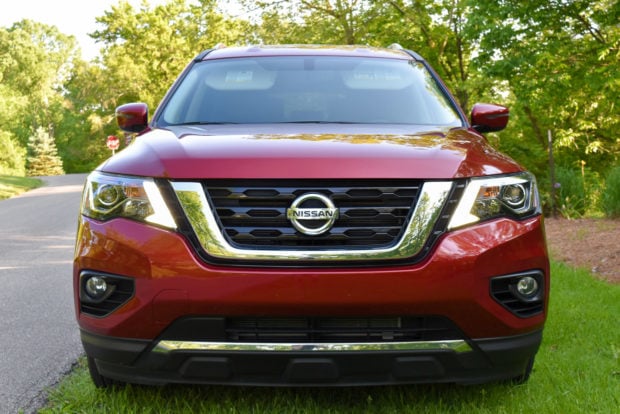 There's nothing wrong with having some work done, and on the Pathfinder, it's impressive. Take note, Hollywood types, the Pathfinder's had work done too, but it looks great and helps finish off this fourth-generation in a beautiful way. The front grille looks more modern thanks to new headlights and LED running lights. As one of the OG SUVs, dating back into the 80s, the Pathfinder also remains to true to its roots, opting for a tall posture, and true SUV looks. In my opinion, that's a good thing. Today's SUVs seem to be over-styled, with too many sloped angles that just detract from what an SUV is meant to be. They don't have to be boxy, but they don't need to look silly either. The Pathfinder holds true to much of its old-school form, while still remaining fresh.
More impressive than the new looks is the improvement to the Pathfinder's performance. The 2017 version has more horsepower and a bigger towing capacity than before. For a vehicle with a curb weight that exceeds 4,400 pounds, that bump in power was needed. At 284 horsepower, the new 3.5-liter V6 engine feels like just enough power. It's not quick off the line, and the continuously variable transmission definitely has some flaws, but overall the Pathfinder performs well. Mated with all-wheel drive, it feels controlled and refined. The CVT seems to hold back in the lower RPMs and lags a bit as it heads into lower ratios. As such there's some excess engine noise during these periods and that can detract from the overall performance.
With the new engine, the Pathfinder has improved fuel economy. It increases by almost 2 mpg from the last year's model. EPA rating for the 2017 Pathfinder is 19 mpg/city and 26 mpg/highway. I averaged 22.3 mpg in a week's worth of suburban driving. The improved fuel economy for this model year is a real bonus for this SUV.
A new suspension also helps add to the comfort and road manner of the Pathfinder. It feels more comparable to other crossovers and less like a truck, as it did in year's past. Plus, all of these changes to the 2017 version allows the Pathfinder to tow 6,000 pounds, which makes it quite competitive within the segment. One of the segment stalwarts, the Toyota Highlander can only tow up to 5,000 pounds.
As nice as the exterior updates are and the new engine helps keep the Pathfinder competitive, the interior seems to be showing its age. The Pathfinder lacks the modern pizzazz that makes the Murano special. And when compared to other competitors like the Honda Pilot and Kia Sorento, the interior is just not as nice. I mentioned the CVT issues that result in pervasive engine noise, but generally other road noise seems to make for a louder-than-normal ride. The leather-wrapped seats are nice, but they are firm. With the comfortable seats found in other Nissan vehicles, I hope the next generation follows suit.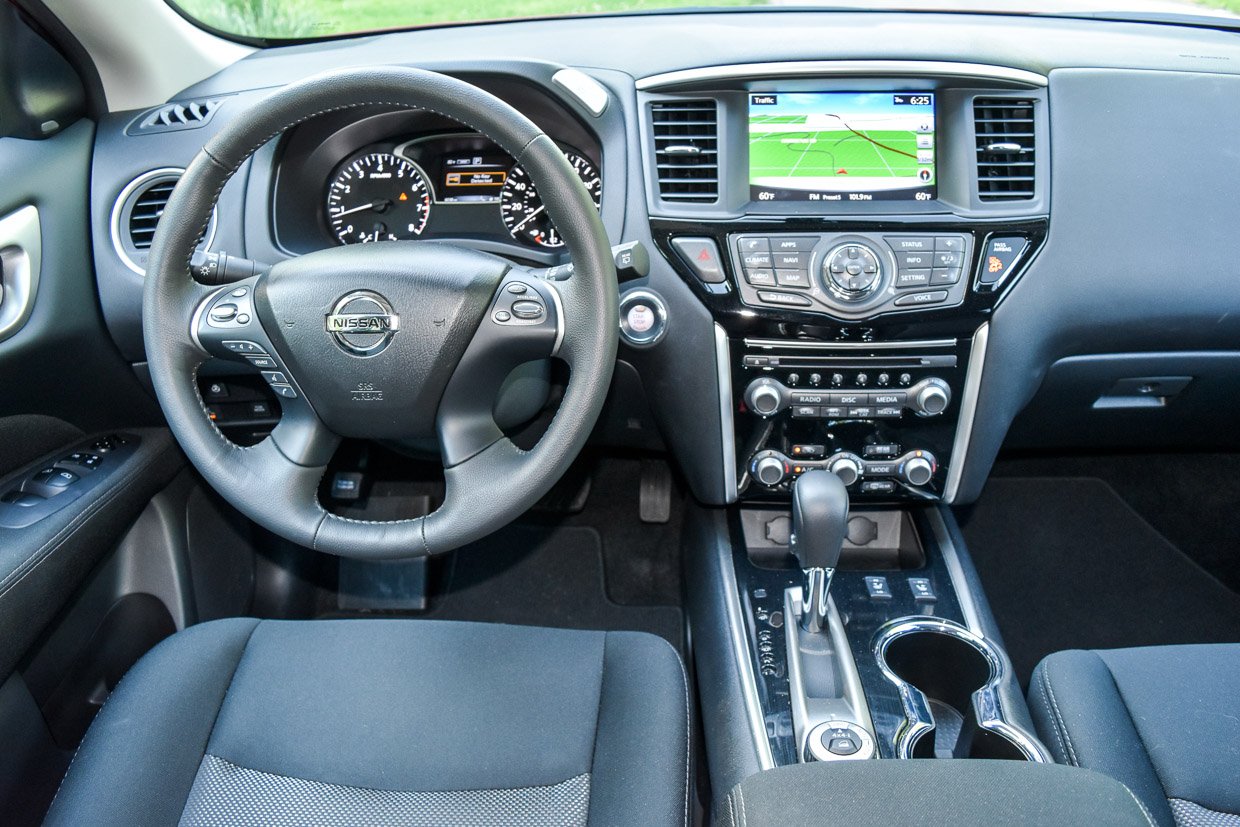 There are some nice technology improvements for this model year, including a responsive new 8-inch touchscreen. It's an intuitive system that bridges the gap between techies and novices. The existence of actual knobs for things like volume control is a bonus too, compared to touch based controls. There's a USB connection, but there's no Apple CarPlay or Android Auto which limits smartphone connections to calls and playing music. Wireless charging is also available.
Interior space is adequate. The second row offers plenty of legroom and headroom. Thanks to its squarish exterior, the Pathfinder doesn't have any sloping angles or curves that take away from cabin space. So, rear passengers will find the shoulder room and headroom to be good. Three adult passengers can fit comfortably in the second row. However, the third row is intended for children only.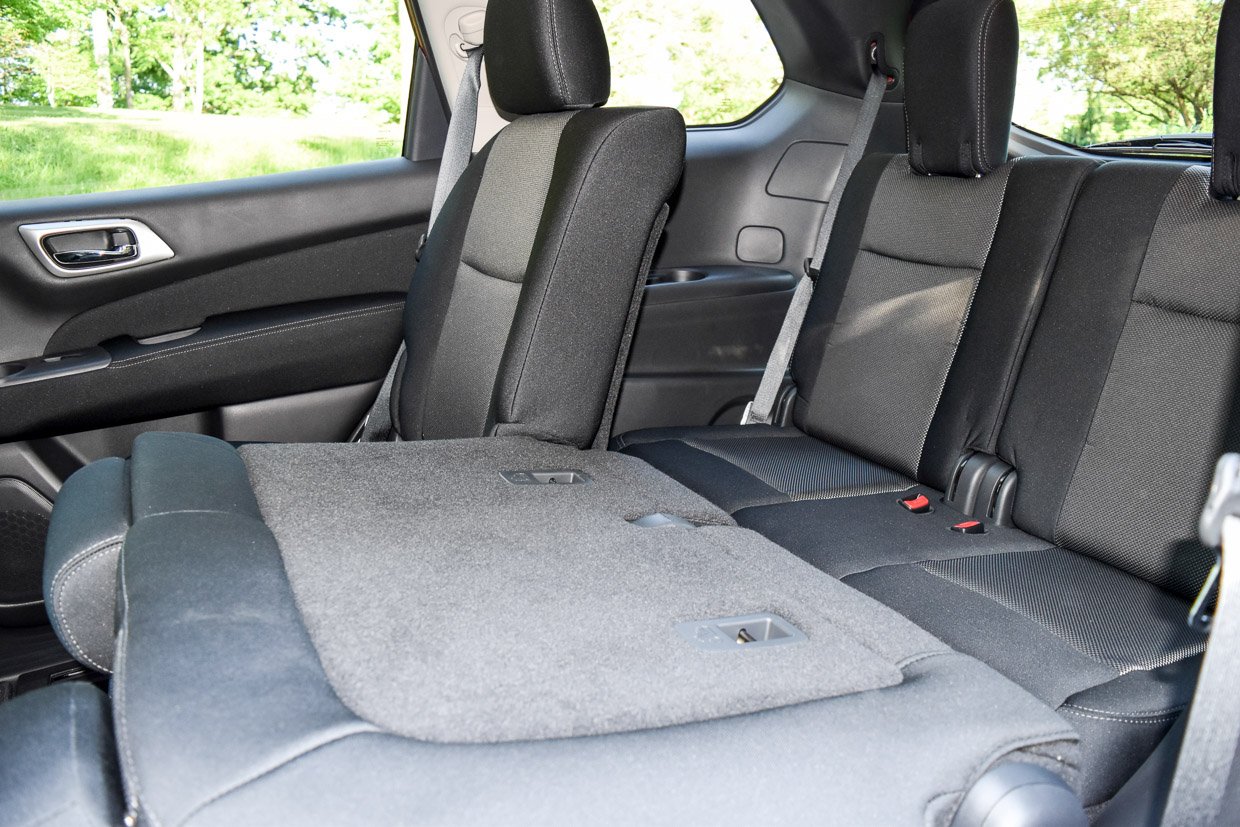 There is minimal cargo room with the third-row seats upright. Fold those seats flat and there's 47.8 cubic feet. With the second row folded flat, there's 79.8 cubic feet. That's an average number within the segment, but lags behind both the Pilot and Highlander by just a bit.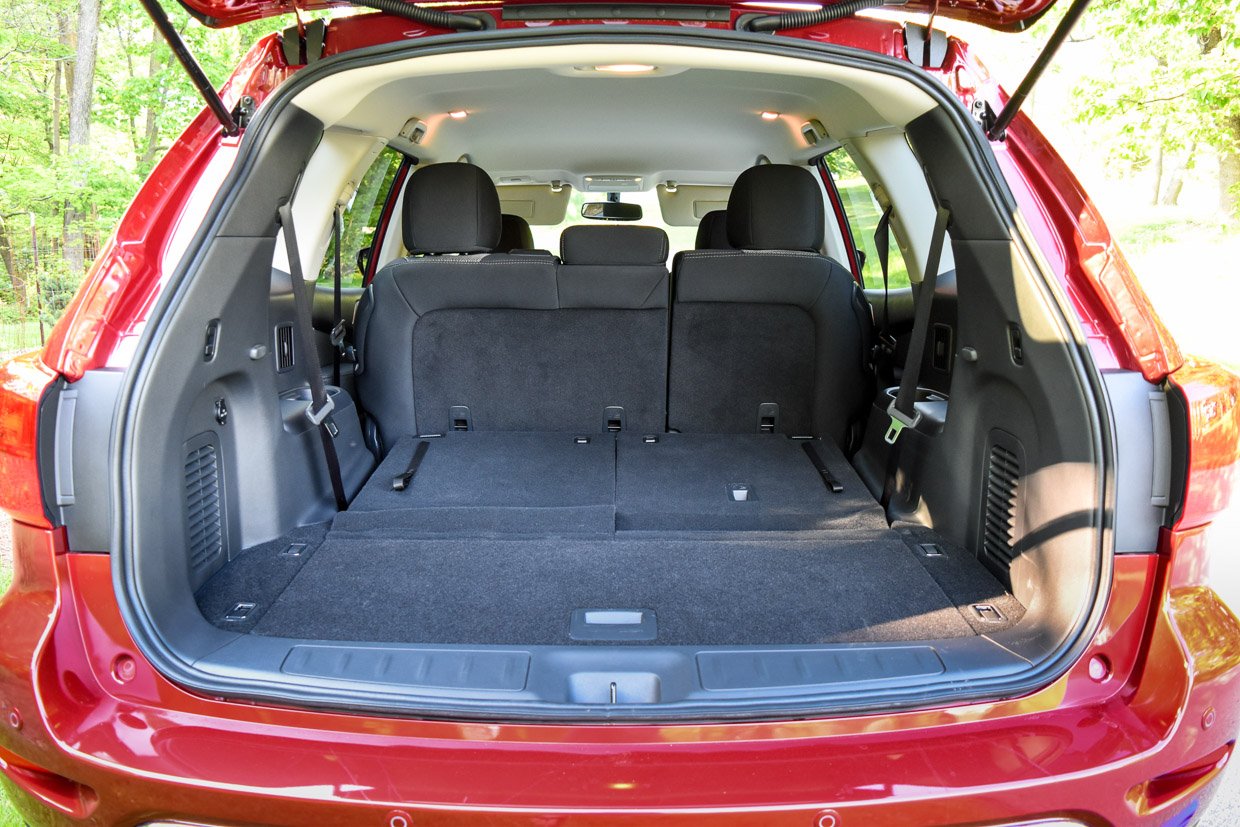 There are four available trim levels for the Pathfinder. S, SV, SL and Platinum each offer various levels of amenities. My tester was the SV trim which includes an advanced navigation system and technology package. This package does make the infotainment system better and more up to speed with others in the segment. But it comes at a cost of $1,150. The SV trim has blind spot monitors as well. My tester came with a cold weather package which included heated front seats and a heated steering wheel. On frigid days, this a great option to have. Ventilated seats are also available as an option. Base price for the Pathfinder SV is $34,370. With all the trims and options, my tester had a final MSRP of $37,045.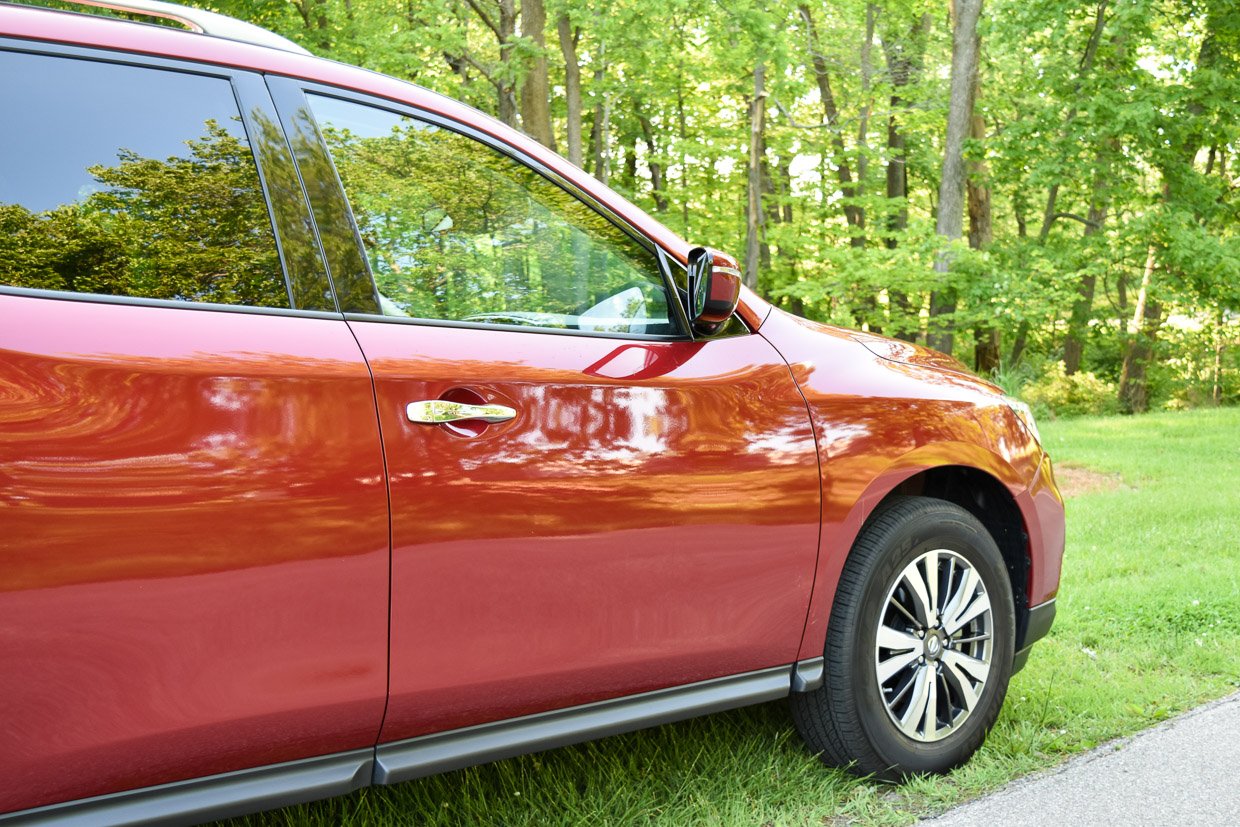 The Nissan Pathfinder is both a glimpse of SUVs in the past, but also hints at the outstanding direction Nissan is taking their product line. It's a solid SUV, but a little old school – but more good things are coming for this SUV.