2018 Dodge Durango SRT: The World's Most Practical Sports Car
2018 | 2018 dodge durango srt | dodge | dodge durango | srt | November 12, 2017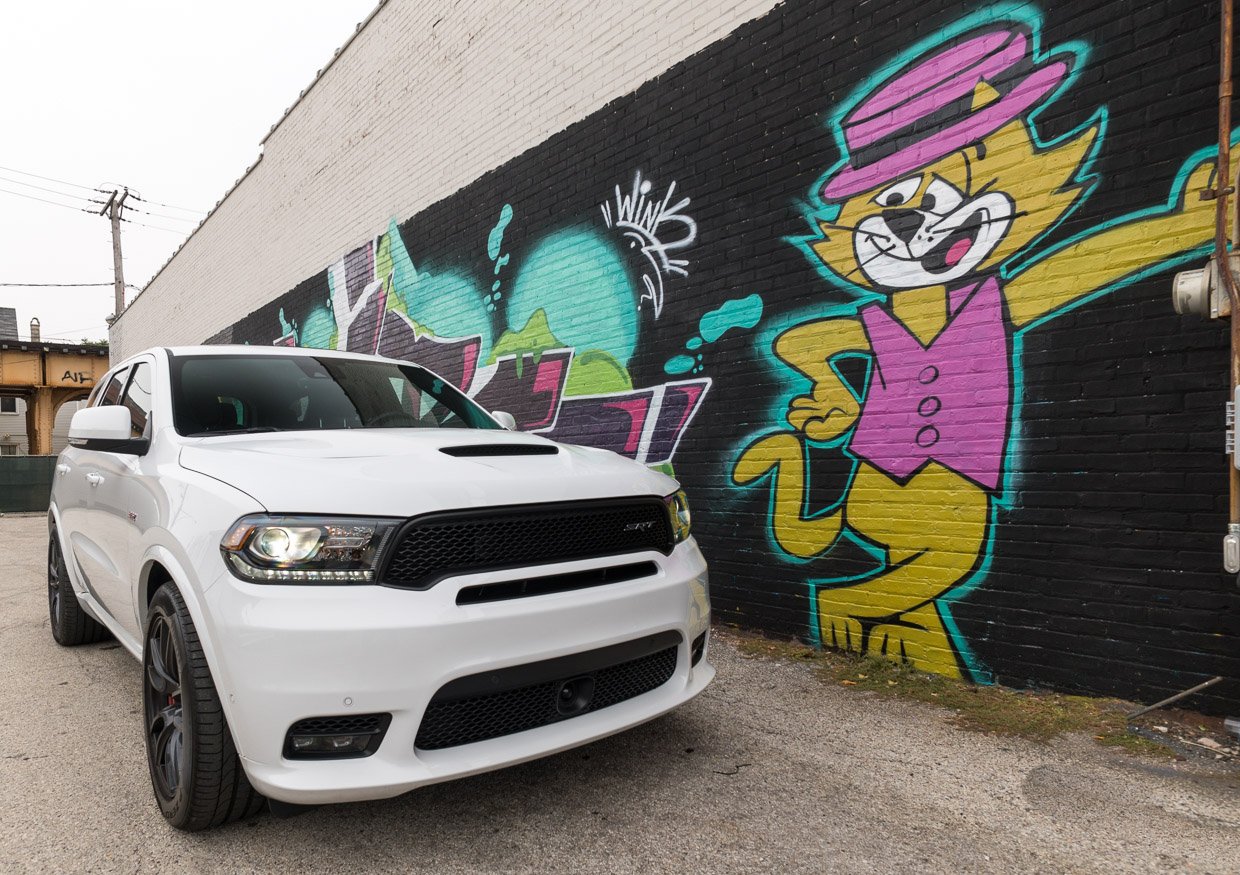 2018 Dodge Durango SRT

Engine: 6.4L V8 HEMI
Horsepower: 475
Torque (lb-ft.): 470
Transmission: 8-speed automatic w/paddle shifters
Drive Configuration: AWD
0-to-60 Time (secs): 4.4
1/4 Mile Time (secs): 12.9
Curb Weight (lb): 5,510
Wheelbase (in): 119.8
Total Length (in): 201.2
Width (in): 77.1 (w/o mirrors)
Ground Clearance (in): 8.0
Base Price (USD): $62,995
Price as Tested (USD): $72,365
If there's one thing that Dodge is doing well these days it getting the most out of its line-up. Despite the challenges of aging platforms like the ones underpinning the Charger, Challenger, and Durango, all three vehicles continue to be relevant and desirable thanks to the prowess of Dodge and SRT's engineering and design teams. With impressive muscle cars like the Challenger Hellcat and Demon, the company is firing on all eight of its HEMI-powered cylinders these days. So when Dodge first announced that it was working on an SRT variant of its three-row family hauler, I had every bit of confidence they'd pull it off, despite how crazy the idea first sounded.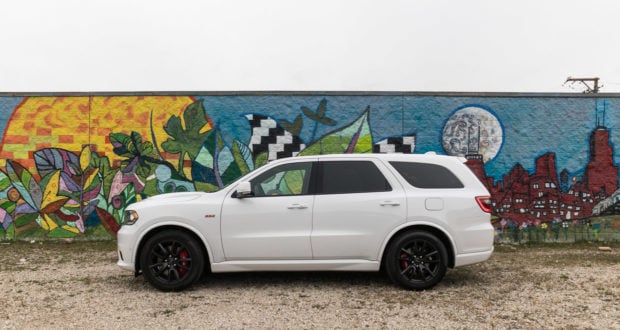 Fresh for the 2018 model year, the Durango SRT 392 features aggressive looks which only serve to tease the tremendous power burbling beneath its hood. The bold SRT-branded grille forgoes the cross design found on other Durangos, and a large cold air intake in the hood further drives home the point that this is no ordinary SUV.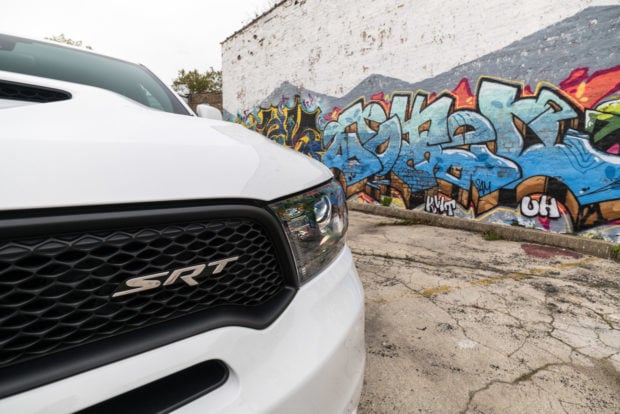 Dodge and SRT have gone the extra mile to ensure the Durango SRT isn't just some appearance package, but that it's got the mechanical chops to back up its look. To that end, you'll find a ginormous 6.4-liter V8 HEMI under the hood, packing 475 horses and an impressive 470 lb-ft. of torque. Despite the Durango's 5500+ lb. curb weight, that engine rockets the full-size SUV from a standstill to 60 mph in just 4.4 seconds. Put your foot down, and this beast roars to life with a rich, throaty exhaust note and a launch that's as rewarding as some of the most powerful muscle cars on the road.
The ZF-sourced 8HP70 8-speed automatic transmission in use here continues to be one of the best on the market, shifting smoothly, quickly and predictably. The all-wheel drivetrain means that coming off the line feels faster and more predictable than rear-wheel drive sports cars too. Plus, the massive torque output here means it can pull a trailer with the best of them, with an 8700 pound towing capacity. Oh, and it can do 4-wheel burnouts too.
While the Durango SRT shares some of the underpinnings with the older Jeep Grand Cherokee SRT, the Durango's handling feels more properly sorted, in part thanks to its slightly lower ride height, and what feels to me like a more sporty suspension tune. I was particularly impressed with how well it cornered for a vehicle of its size and height. Sure, there's some unavoidable body roll, but it's very well controlled here, and the overall driving sensation is one of confidence and control – something you definitely want with this much power under the hood. It doesn't hurt that it rocks Bilstein adaptive dampers, a proper limited-slip rear differential, and an impressive 52/48 front-to-rear weight distribution.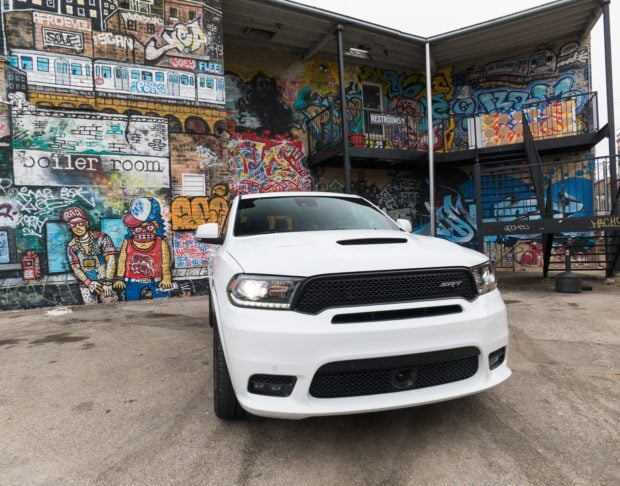 There's a whole lot to love about the Durango SRT, but fuel economy isn't one of them. In the city, I only managed to muster about 10 mpg, and 15 mpg on the highway. With cruise control active, though, I did manage to take advantage of the HEMI's cylinder deactivation, which opportunistically drops down to 4 cylinders, and saw MPGs as high as 23, but that was pretty rare in my experience. Even with a 24.6 gallon tank, you'll be hard-pressed to break 300 miles of range, especially if you're lead-footed.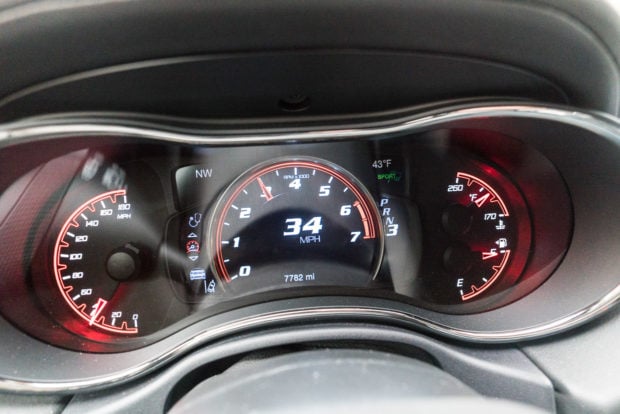 While the power and performance is fantastic, what really makes this vehicle special is that it manages all of that without sacrificing its utility one iota. It still seats six people, and offers amenities like seatback entertainment systems for the kids, and super comfortable seating for all. While the Durango SRT can be equipped with full leather seating surfaces, I'm a huge fan of the microsuede material on the seating surfaces of my tester vehicle. It looks extremely premium, while also being technical. Real carbon fiber accents are also available in the cabin, though they add $1500 to the price tag.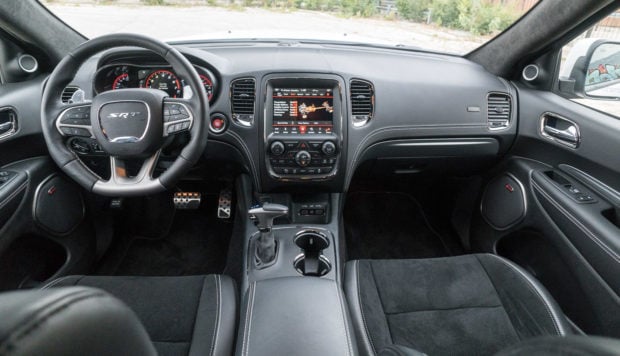 The second row of seats provide good legroom and headroom for passengers of all sizes, while the third row is definitely a little more cramped and harder to get into, making it better for kids and small adults. That said, I'm 6 feet tall, and I did manage to get back there, but wouldn't want to be in that row for a long trip.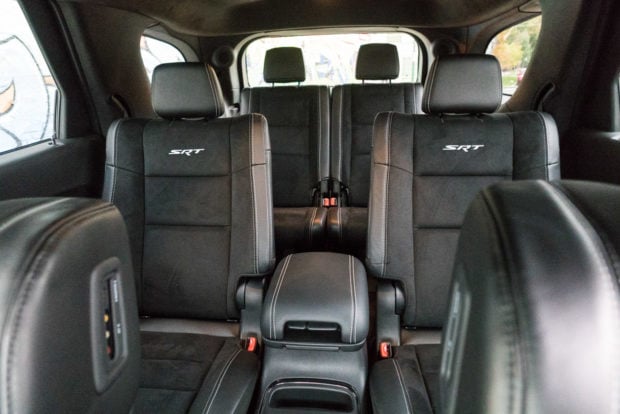 There's lots of other stuff to like here too, like the latest version of FCA's exceptional UConnect infotainment system running on an 8.4″ display, complete with Apple CarPlay and Android Auto support, and a rump-shaking Beats audio system. Front seat passengers get heated and ventilated seats, while the second row gets heat, and there's also a heated steering wheel, which came in handy when the temperature dropped into the 20s for a couple of days during my review period.
Fully kitted out with the Tech package, you'll get safety and convenience features like adaptive cruise control with full stop capability, advanced brake assist and forward-collision warning for avoiding rear-end collisions, blind spot monitoring with cross-path detection, and more.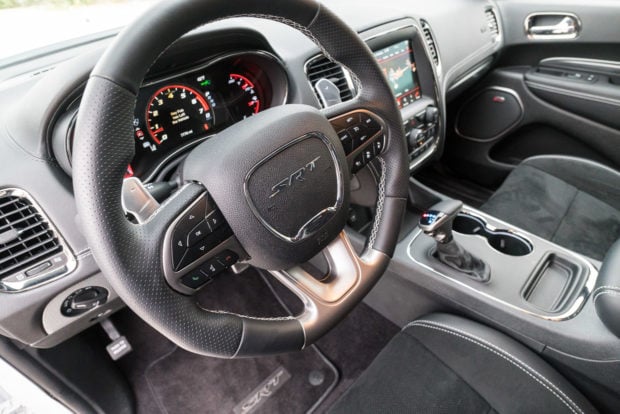 There are lots of bells and whistles for performance geeks too, including fully-adjustable vehicle dynamics so you can tweak steering, acceleration, and handling to your heart's content. SRT Performance Pages offer details on your acceleration, G-Forces, power output, and engine conditions as well. Plus there's a launch control mode which provides an added traction advantage if you choose to do some 0-to-60 runs in this bad boy.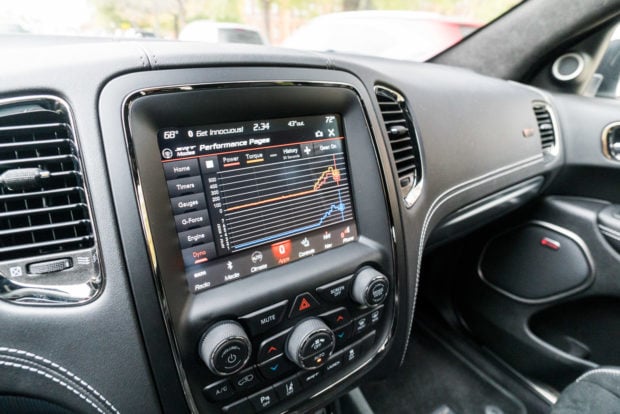 Of course, being a large SUV, you expect it to have cargo capacity too, and you're looking at 17.2 cubic feet behind the third row, 47.7 cubic feet behind the second row, and a cavernous 84.5 cubic feet if you fold both rows. The seats don't fold completely flat, but there's still plenty of load height for taller objects.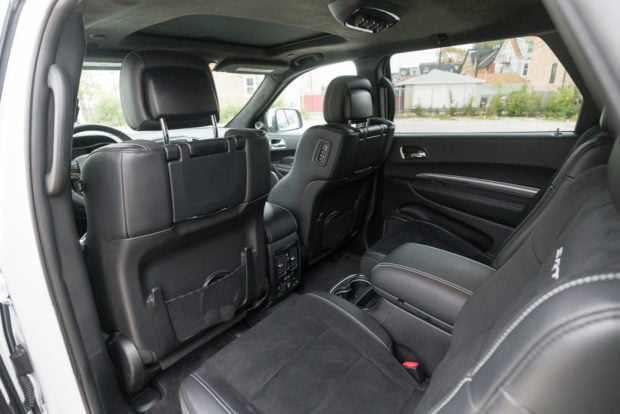 Base price for the Durango SRT 392 is $62,995, making it more than double the entry price point for a Durango SXT, but for that money, you get both a full-fledged sports car AND a family SUV, and you'll only take up one garage space doing it. It's a fantastically fun car to drive, offering all of the thrills of a serious muscle car, with the added benefit of seating six, and a wide variety of creature comforts too. It's THE perfect vehicle if you're torn between a powerful sports car for yourself, and a trusty and functional vehicle for your family. The Durango SRT proves you can have your cake and eat it too.