Inside the Infiniti Q Inspiration: The Future Looks Fantastic
infiniti | infiniti q inspiration | naias 2018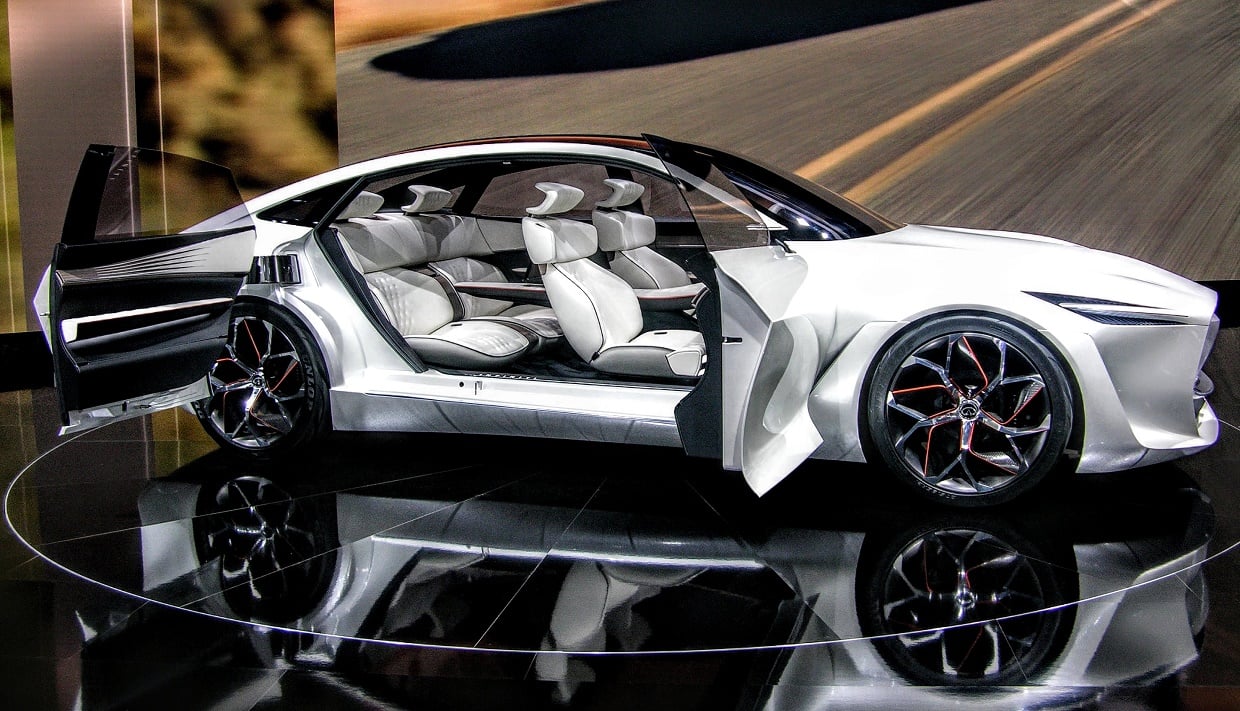 Rarely do I get all antsy in my pantsy over a concept car, but when Infiniti rolled out its "Q Inspiration" creation at the 2018 NAIAS in Detroit, I was flat-out floored. Packing more smarts and sex appeal than Jennifer Lawrence at a wine tasting, and rolling out on stage under its own power, the sensationally shaped 2+2 sedan is exactly the kind of creativity many of us wish to see in the brand moving forward.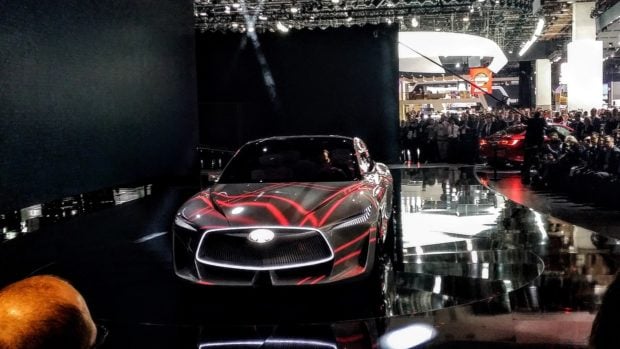 In order to get a better grasp of what all of this futuristic foreplay means for the luxury Nissan offshoot, I sat down with the new Executive Design Director for the brand, Karim Habib, and came away with a healthy cache of key insights. In less than half a year, the former BMW mastermind has gone from staring at a lump of clay, to walking me around this sensational sedan, and he's only getting warmed up.
Here are a few choice highlights that helped this amazing machine outshine every other concept car at this year's Detroit Auto Show, accompanied by a few thoughts on what they might mean for future Infiniti endeavors.
1. Dressed to Compress
Habib explains that when he first transitioned over to Infiniti half a year ago, the first thing his team focused on was sculpting the Q Inspiration concept from the bonnet back. The variable compression turbo (VC-T) engine is the future of propulsion for the Infiniti line, and with news of electrification piggybacking atop of this powerplant by 2021, the need to sculpt every aspect around propulsion was a key focus from day one.
2. Get Back in Line
"How do you create an elegant shape with a short hood?" Habib asks. Simple. By embracing the use of an elongated greenhouse, the use of rear quarter glass, lowering shoulder lines, and going wide on all four corners. Proportionally balanced, yet stretched to the point where it garners full-size sedan status, the Q Inspiration packs sharp beltlines, flat lower shoulder profiles, and a triangulated center air dam accent out front that mirrors the brand's sloping 3D badges.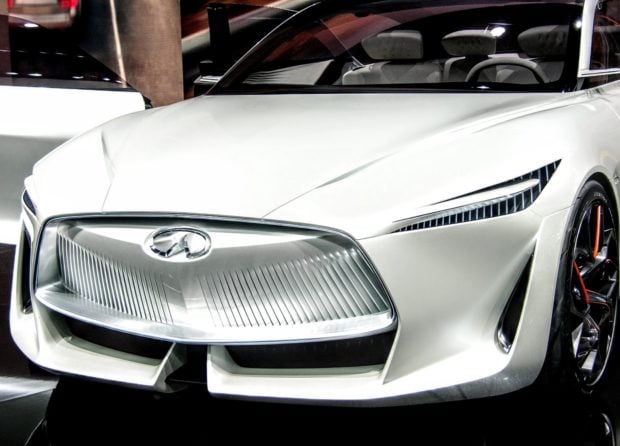 Although the car's profiled simplicity morphs from mild to wild as you approach or change your viewpoint on the vehicle, the nose of the concept sedan is all angles and aggression. With mirrored LED accents tucked deep beneath headlight sconces, angled teardrop air ducts, and a front lip that borders on being brazen, subtlety is not a word that comes to mind when looking at the Q Inspiration's front fascia – and I flat-out love it.
3. The Long-Forgotten J30 Revival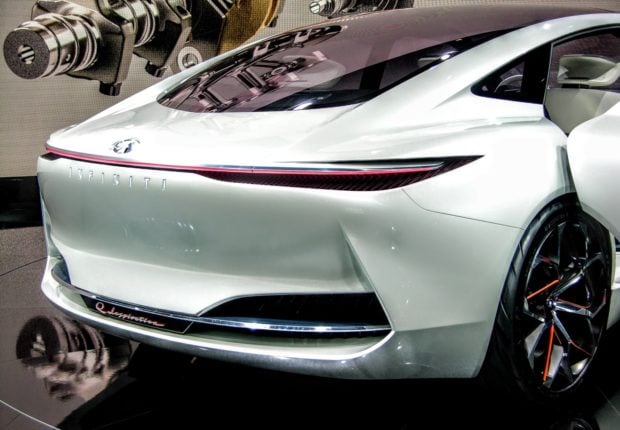 Who here remembers the Infiniti J30 from the 1990s? Probably not many of you. The lumpy and frumpy sedan experiment ceased to exist almost two decades ago, and while it was by no means a looker or a performer, its rounded rear-end played a crucial role in the Q Inspiration's conception. By taking the most appealing proportions from the extinct sedan's posterior and blending them with sharply carved lines and modern LED mastery, Habib and his team were able to turn one of Infiniti's early design failures into a resounding modern success.
4. Interior Tactics and Intuitive Tech Tenacity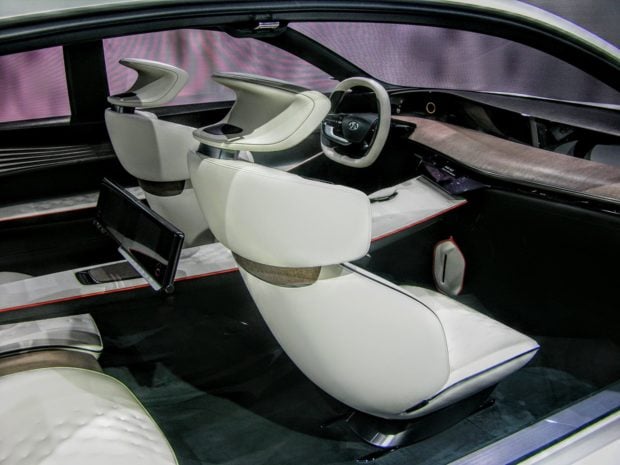 Unlike many concept cars, this one features some really nifty functional touches. Take the dual-screen rear infotainment center for instances. When not in use it can be folded flat, giving rear occupants a table surface that is accented with wood and metal. Passengers also have access to a guided meditation mode in order to help leave stress in the rearview mirror, and the car can even monitor passenger biometrics for increased care.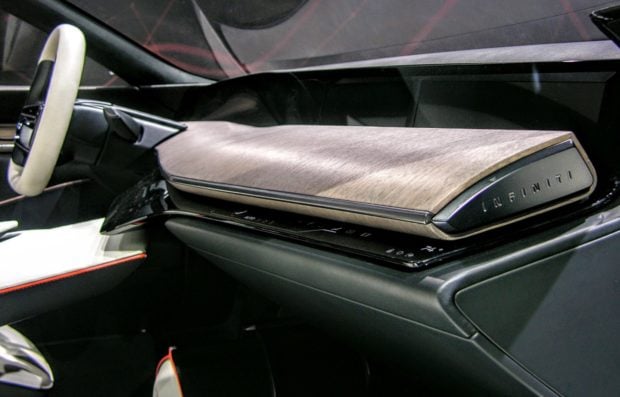 This is an extremely inviting interior, and although the tricked-out wrap-around display dash and all those swanky tech touches add a whole new tech level to the equation, some of the best selling points are quite small. The dash and aforementioned fold-down table feature kabazakura wood (Japanese cousin to the birch), which when finished in tactile matte form grain patterns can still be felt. Infiniti has even gone as far as patenting its own dot-quilting process for this vehicle, a slightly more unorthodox approach to the traditional diamond Chesterfield sofa look. Add in some coral orange leather pinstripes to match the accents on the wheels and rear bumper applique, and both subtlety and strength flow seamlessly together.
5. Ancient Craft Meets Modern Conductivity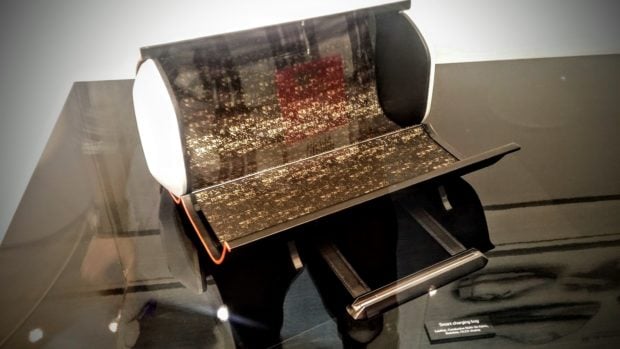 Perhaps one of the most unique takeaways from this entire vehicle and my time with Mr. Habib was when he pointed toward the lining along the door pockets and explained what made them so special, in the process blowing my mind. The design team contracted a 400 year-old kimono maker in Kyoto, Japan in order to produce the shimmering material, and what they got in return is nothing short of spectacular.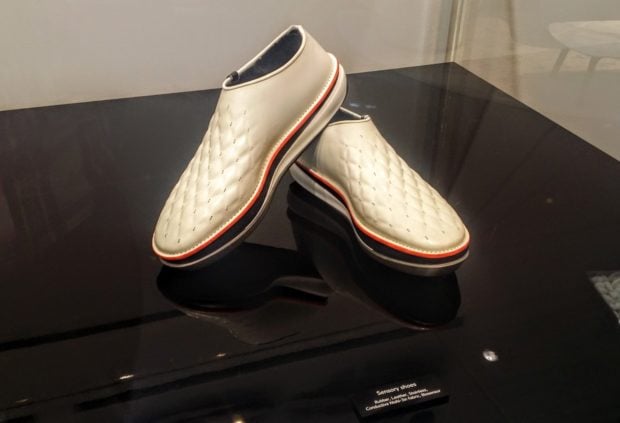 The blended golden material is a mixture of shredded paper and the finest silk thread, and when touched glows thanks to the use of conductive light and futuristic fibers, a touch that brings traditional design into the modern realm and then pushes it into the future. This is the same material that adorns the insides of the bespoke handbag and shoes seen here, additional touches that someday may be included with Infiniti orders.
6. This is the Complete Package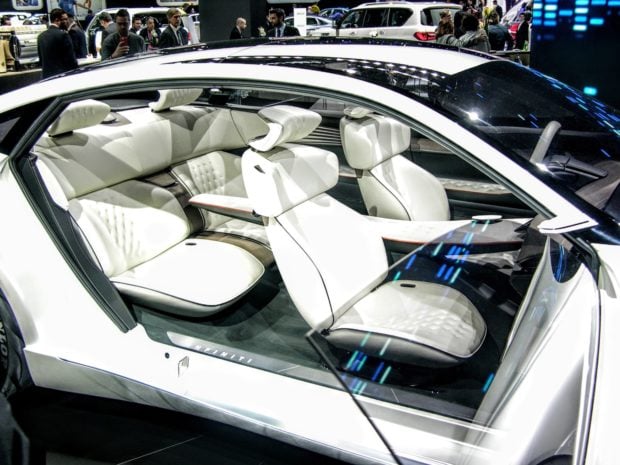 Although everyone else seems to be atwitter over the Q Inspiration's use of advanced ProPILOT autonomous technologies, the tangible side of this machine is just as impressive. From the use of a heavily padded, suede-like carpet and the engraved logos in door hinges, to the floating center armrest running above a non-existent floor tunnel, design details in this concept are both beautiful and brilliant.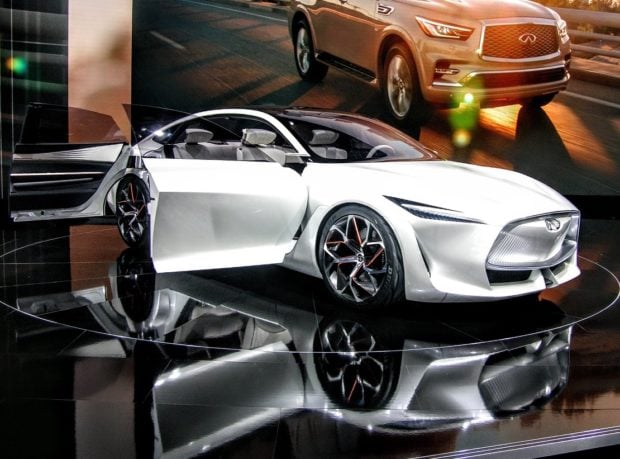 Factor in those orange-accented 21-inch carbon fiber/alloy wheels and beastly R35 GT-R brakes, and it's clear that Infiniti has a new focus on performance that goes well beyond what we have seen in the past. Here's to hoping that we get to see some of these sensational attributes in production vehicles in the near future.