10 of the Sexiest Lines from the 2018 Chicago Auto Show
2018 chicago auto show | bmw | cadillac | design | jaguar | kia | lamborghini | mercedes-benz | rolls-royce | subaru | volkswagen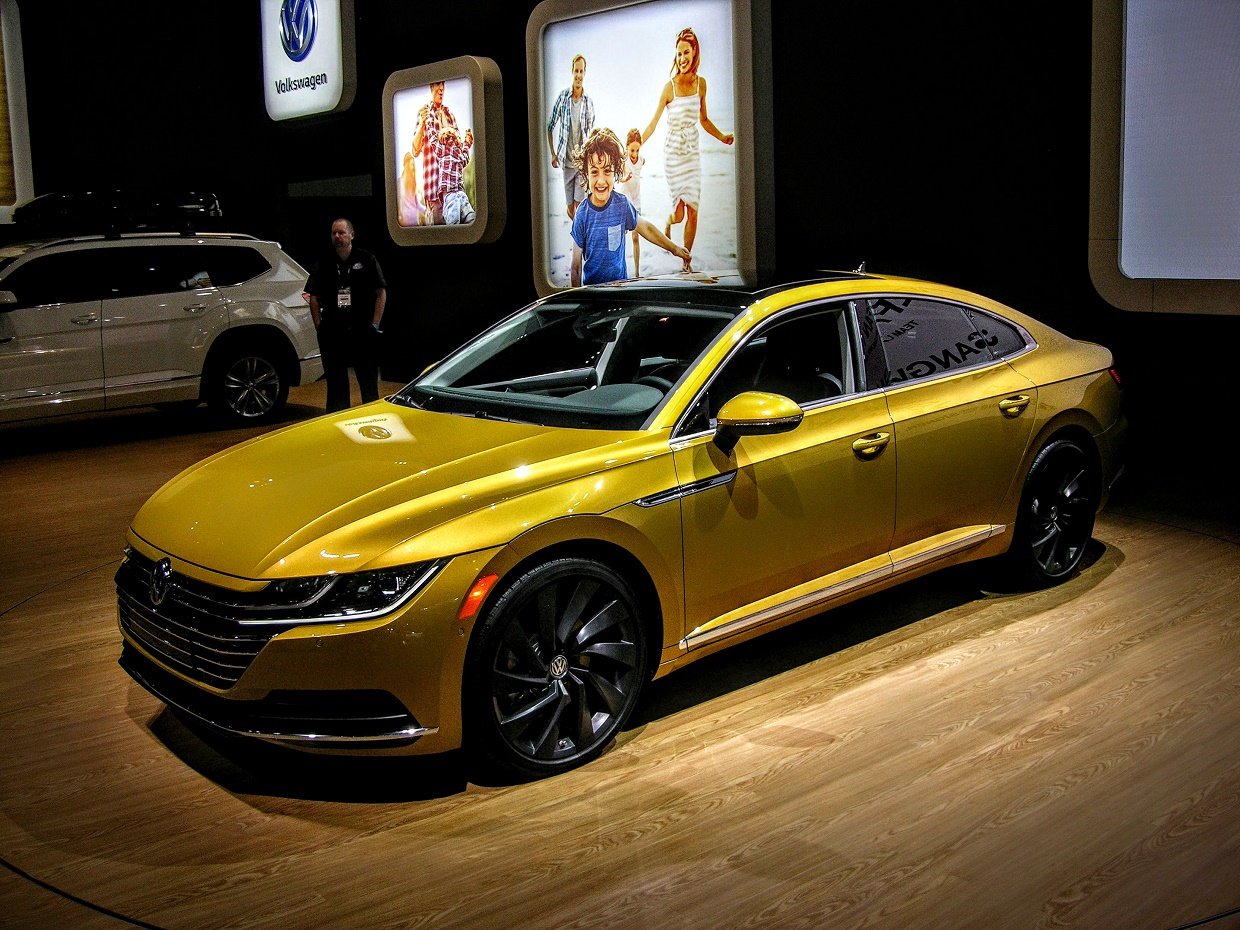 If cars are indeed your thing, then what is the equivalent of having tasteful amounts of sex appeal? Does it go beyond beltline curves, carbon fiber, Alcantara, and aluminum? The vehicular landscape is one that comes littered with both staggeringly good and bad design touches, and while concepts like Infiniti's insanely sleek Q Inspiration stirred the Detroit auto show this year, there's a lot to love about Chicago's shindig a couple weeks later as well.
Chicago's McCormick Place is the sort of split-hall structure that can accommodate throngs of buyers and journalists alike, a vaulted wonderland hell-bent on giving your feet blisters and an automotive experience like no other. It seems befitting that The Chicago Auto Show (the largest annual auto show in North America) is held in the nation's most monolithic convention center, a testament to the greatness of both the American dream and the industry as a whole.
But I digress. Today's topic is about the lines, materials, and magic that are encapsulated within an automobile. A particular vehicle may not rock the looks you like in all areas, and its powerplant may seem inadequate, but when someone finds an undeniably striking line it's hard to stop staring. Here are ten faves from CAS 2018 that caused us to pause, may they be concept, stock, or anything else in between.
1. BMW i8 Roadster
Seeing this car up close is a real treat, and while it may not be the right time of the year for hooning around town with the top down, the BMW i8 Roadster already looks poised for spring. Our favorite sexy line on this machine has to be where the rear pillar slopes backward, creating a floating deck lid over the athletically-lined rear fender wells. With "Roadster" badging in place, and curves for days, this convertible looks spectacular in person and demands to be inspected up close.
2. Kia Stinger GT Federation
Unveiled at SEMA last year, Kia's Stinger GT Federation is without a doubt one of the cleanest Stage 1 builds to ever emerge on the scene. Featuring piano black aero upgrades from Air Design USA that are instantly noticeable but not garish in any way, the duckbilled decklid spoiler, dynamic rear diffuser, matching hood vents, and tapered side skirt triangles up front all look right at home on the Stinger. From the 20-inch TSW wheels and the aero kit's mounting hardware, to the car's lower ride height and Borla quad exhaust, there isn't a line on this vehicle we don't admire, with the rear-end in particular grabbing our attention.
3. Lamborghini Urus
Some people may not dig the look of Lamborghini's SUV option, but we like it. With its broad stance, tasteful contrasting colors, and distinctive storm trooper appearance when in white, it's a super SUV for the multi-millionaire market. To us, the sexiest lines on this machine  are all up front. Sleek air ducts, a contrasting lower splitter/air dam, and canard-like accents on each side that look like devilish pitch forks all win sexy points in our book.
4. Volkswagen Arteon
This car was arguably the star of the show for CAS 2018, and for obvious reasons. Replacing the now defunct CC, but retaining some its more intriguing characteristics, the Arteon by Volkswagen is an exercise in beauty and balance. Note how the hood wraps down the side fenders and stops right below the beltline, and how the rear end flows up and outward for a more athletic look. This car is sexy on almost every level and we cannot wait to drive one.
5. 1937 Rolls-Royce Phantom III Aero Coupe
Where do you even start with something this massive and amazing? Lines like these stir thoughts of late night burlesque clubs, smoking jackets and expensive cigars, bottles of bubbly, and a chauffeur who goes by the name of Coddlesworth. It may be a bit… Rubenesque… and will more than likely cause you to crave a can of grape Fanta, but the Klairmont Kollection's 1937 Rolls-Royce Phantom III Aero Coupe is still a stunner like no other.
6. Mercedes-Benz S63 AMG
It may appear a bit unassuming, but the S63 AMG by Mercedes-Benz is a 600 horsepower hellion on wheels. But we can cover the propulsion portion at another time, because the door panels on this vehicle deserve praise today. Carbon fiber upper inlays, machined aluminum buttons and tweeter covers, loads of lush leather, and contrasting colors that both pop and blend fluidly together make for one of the slickest modern automotive entrance-ways on the market today.
7. Cadillac Escala Concept
Cadillac has done a stellar job over the years of blending classic design ques with contemporary creativity, and then mixing in a fat dab of futuristic finishing touches. The Escala Concept is no different, and makes for one stunning model for a photo shoot. Although the taillights and tightly carved grille both stand out, it's the way in which the mixed media dash curls over like a breaking wave that wins it a spot on today's list. Needless to say, we are quite excited to see how Cadillac's design language utilizes these accents going forward.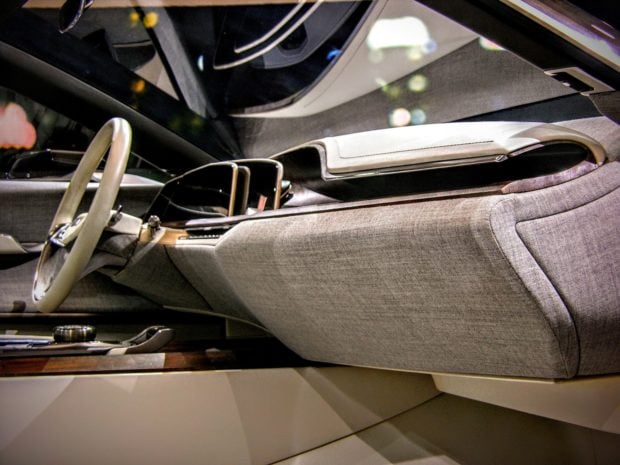 8. Subaru BRZ tS
It may not be rocking the boosted engine buyers have been pining for since day one, and certainly packs a premium price, but the tS version of Subaru's rear-wheel drive BRZ sports some tastefully done and fully-functional upgrades. From the 18-inch wheel/tire combo and all of the lower ground effects, to the big Brembo brakes and numerous chassis reinforcements, there are a lot of performance enhancements to this coupe that deserve discussion. Our personal fave has to be the exclusive, two-way adjustable carbon-fiber wing, which features attractive mounting arms and hardware, sharp angles, ghosted STI logos on each side, and a super sexy carbon weave.
9. BMW M4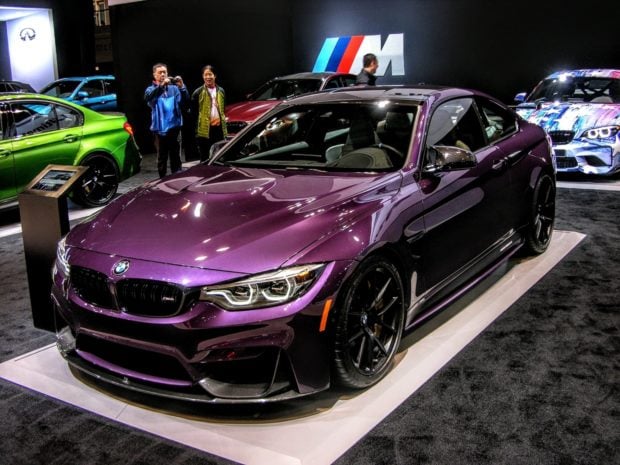 Sprayed in a unique "Purple Silk" pigment and outfitted with almost the entire M Performance parts catalog, this BMW M4 draws you in regardless of what angle you approach it from. Equipped with an exhaust made purely from titanium and carbon fiber, this coupe comes complete with just the right amount of performance and aero enhancement. Although the matte black 763 wheels in a 19- and 20-inch staggered configuration certainly were a centerpiece, it was the color of the car itself that made it all pop for us/
10. Jaguar F-Type 400 Sport
Our final entry today features Jaguar's revised headlamp assembly, a bright "400" logo in yellow up front, and a centrally-mounted exhaust layout. Featuring 400 horsepower and limited production numbers, this special edition scores sexy points for its exclusive "Santorini Black" metallic paint scheme, dark satin grey 20-inch wheels, and unique interior touches. All said, we dig every angle on this machine and feel that it remains one of the most amazing cars to have ever been produced.