2018 Cadillac CT6 Review: Super Cruisin' in the Lap of Luxury
cadillac | cadillac ct6 | technology | March 15, 2018
---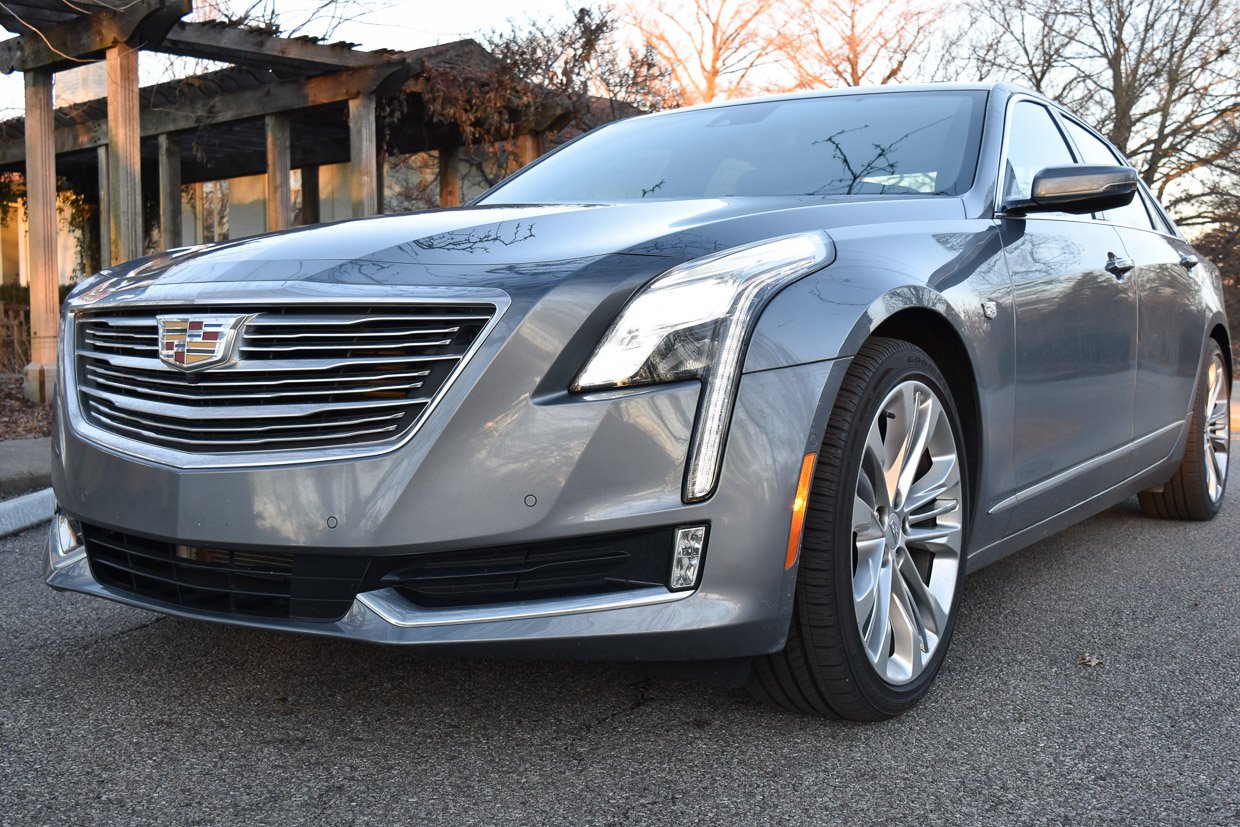 2018 Cadillac CT6 Platinum

Engine: 3.0-liter twin-turbo V6
Horsepower: 404
Torque (lb-ft.): 400
Transmission: 8-speed automatic
Top Speed (mph): 130
City/Hwy/Combined MPG: 18/26/22
Curb Weight (lb): 4399
Wheelbase (in): 122.4
Total Length (in): 204.1
Width (in): 74.0
Base Price (USD): $88,295
Price as Tested (USD): $88,295
We are two years away from 2020, and despite what we thought when we were kids, we're nowhere close to flying cars, or even Back to the Future-like hoverboards. The Cubs did win the World Series, so the future doesn't seem that far-fetched any longer. Even though there are no flying cars hitting the skies any time soon, there are self-driving and semi-autonomous cars on the road today. It was an automotive bucket list item of mine to get more experience with these cars. Check one thing off the ol' list now, after spending a few days in the 2018 Cadillac CT6.
On top of this car being incredibly luxurious, what makes it more noteworthy is the semi-autonomous feature it possesses during highway driving – as in, hands-free, foot-free driving. Yes, that's right, this car will and does maintain lanes, takes turns, maintains speeds, and slows down with the flow traffic. They CT6 offers the first-of-its-kind Super Cruise system, which works on many of America's highways. This offering from GM is a more glorified version of adaptive cruise control, mixed with lane departure. But to simplify it as such is dumbing it down and also taking away the wow factor to this car.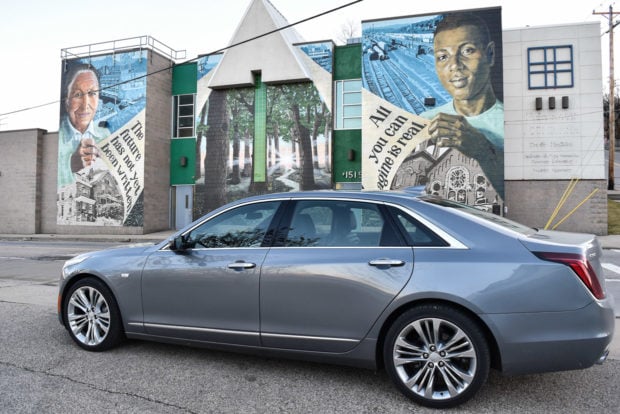 My friend and 95octane colleague Micah Wright drove this car last summer from Cleveland to Memphis and wrote about it in-depth. I was jealous of him then, but I'm so glad I got to experience this car. And you can be sure I used the Super Cruise every chance possible, including a two-hour road trip up I-75 from Cincinnati to Findlay, Ohio. It took some time to remain calm and put my trust in the technology, but I was also in awe of how amazing Super Cruise is. The future is so cool for the automotive industry, my friends! This is just the beginning.
Super Cruise (super cool) technology aside, the CT6 is still memorable. This full-size luxury sedan is a good blend between old-school Cadillac and new-school. It's big and stout like Cadillacs from the past. But its aggressive and modern styling shows the direction Cadillac is going. I said it once and it bears repeating: the future is bright even in this regard, as the CT6 is handsome, sturdy and exudes luxury. You could strip the Cadillac badging off this car and you'd still know it was a luxury vehicle.
The grille is not as aggressive-looking as the one on the CTS, but it still has that familiar "new" Cadillac look. The boomerang like front headlights flow with the chiseled styling on the front quarter panels. The hood indentations are another attractive design element. The back end is shorter and less heavily styled. This is about the only disappointing aesthetic of the CT6.
Whether the Super Cruise is engaged or not, the CT6 has fantastic performance. My tester was the more-powerful of the two engine options. The 3.0-liter twin-turbocharged V6 offers tremendous power. An 8-speed automatic transmission does a great job handling the power, and the system demonstrates no turbo lag. Off the line it's strong, especially for a full-size car. 404 horses are more than enough to power this car, despite its size and weight. Its handling is good too, considering the car's 204-inch length. The overall performance is so good, you won't want the Super Cruise to drive you, but you'll want to take control and see how strong of a performer this car really is.
The EPA gives the all-wheel drive CT6 a rating of 18 mpg/city and 26 mpg/highway. This is average fuel economy for the segment, but considering the power and the AWD, it's acceptable in my book.
Inside, the CT6 is as luxurious a sedan as almost any on the road. High quality materials are used throughout. The leather seats and a leather steering wheel offer comfort and elegance. Even the back seat has comfortable, reclining leather seats. On the Platinum trim, rear passengers enjoy massaging seats, as will the driver and front passenger. This is truly an executive-style car with the vast back seat. Spread out a laptop on a long business trip or kick back and relax with a heated massage. This is what makes the CT6 special. As you'd expect from a luxury sedan, is extremely quiet inside the cabin. Even with gunning the engine, there's no noticeable engine noise. Clearly there's a significant amount of noise-deadening materials as there's no road noise either, even in the back seat.
A panoramic sunroof runs the full length of the roof which adds to the special vibe of this car. Due to the smaller back end which I mentioned, the trunk is actually on the small end when compared to other full-size cars. The 15.3 cubic feet of trunk space is adequate, though its usefulness is aided by a 40/20/40 split of the back seat. It will easily fit golf clubs and groceries, but may not be the most resourceful weekend warrior car. But that's also not really the intent or purpose of the CT6.
A 10.2-inch touchscreen operates Cadillac's CUE system. While tricky to figure out, once you learn all of its nuances, CUE is one of my favorite infotainment systems. It is presented very well visually and has all the technology you could want including Apple CarPlay and Android Auto integration. There's also a 4G wi-fi hotspot, two USB ports, a 110-volt outlet, and wireless smartphone charging. My tester came with a rear entertainment system making that back seat even more enjoyable.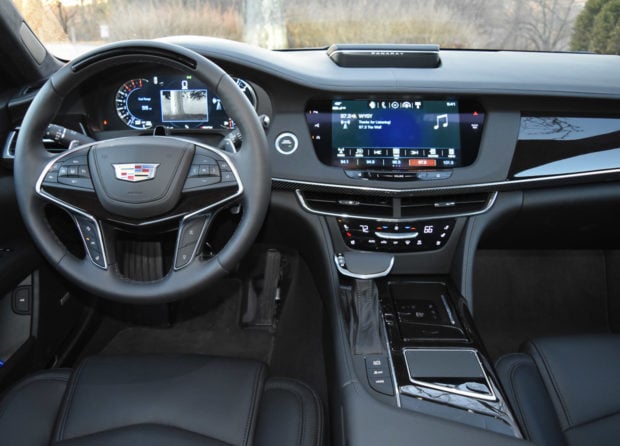 In addition to the Super Cruise feature there's an almost-as-cool night vision feature. This infrared sensor system beams images right behind the steering wheel (near the tachometer) that shows animals or humans that are ahead that you might not see. I regularly drove with that feature on at night. It initially comes off as distracting, but you quickly adapt to it and realize what a life saver it can be. Plus, did I mention it's very cool?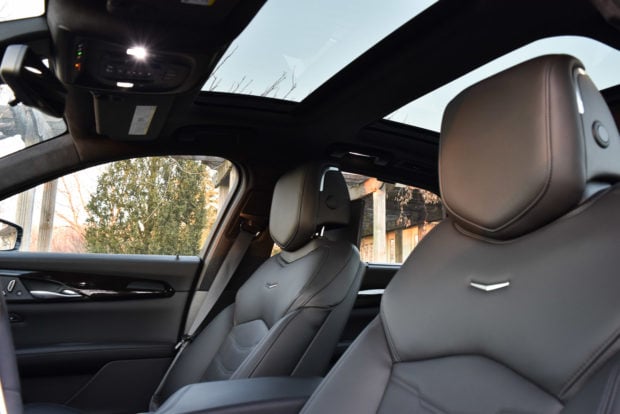 As for the Super Cruise system, Micah did a great job giving it a full review, but I'd be remiss if I didn't touch on it a little more, especially about two major limitations with it. Super Cruise is a driver assistance system, meaning it's not meant to be fully autonomous. The moment a sensor located right on the steering wheel detects you aren't paying attention (fiddling around on your phone or turning your eyes away) it disengages the Super Cruise system and you have to take control again. Also, at one point during my drive, there was salt on the road. There was no snow or ice or inclement weather, but the roads had been treated. Some salt and grime had covered a couple of the sensors and the Super Cruise wouldn't engage until I cleaned off the car. I specifically asked Cadillac about this to give them a chance to respond and here is what they said:
"We do not recommend using Super Cruise in bad weather conditions. If any of the detection sensors is not cleaned or is covered by ice, snow, mud, or dirt, the system cannot be engaged. This is why the driver needs to stay engaged when Super Cruise is active, and make sure that they do using our proprietary the Driver Attention System."
That's the best thing to realize about Super Cruise. It's great as a driver assistance on the highway but realize it's not a complete self-driving system. The technology is great, but also has limits.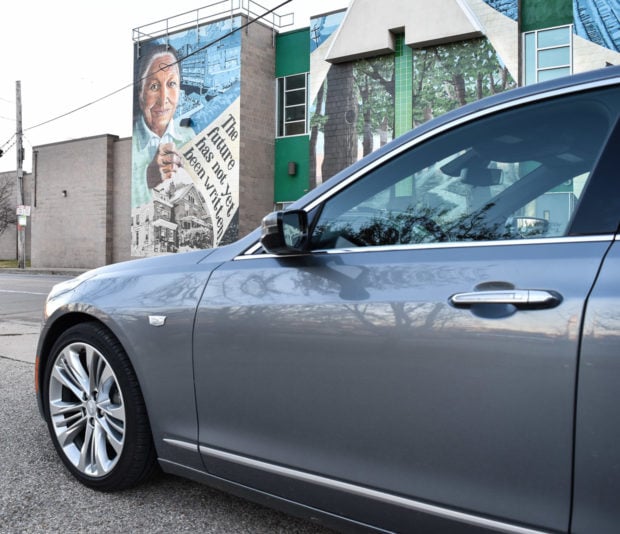 The top-of-the-line Platinum trim comes at a hefty price tag (technology and luxury don't come cheap). My tester had an MSRP of $88,295, putting the CT6 at the top of the market in the US large luxury sedan segment. But few have the perfect blend of technology and luxury that this does either.
I've driven a lot of vehicles. And many don't last long in my memory bank. But my time with the Cadillac CT6 will be stay with me for a while. It was my first real foray into semi-autonomous technology. I'm all in on this idea, and look forward to what the future holds in this regard. Cadillac has a very cool offering and one that makes it one of the most advanced cars on the road today.