The 2016 Cadillac CTS-V: A Gentleman and a Monster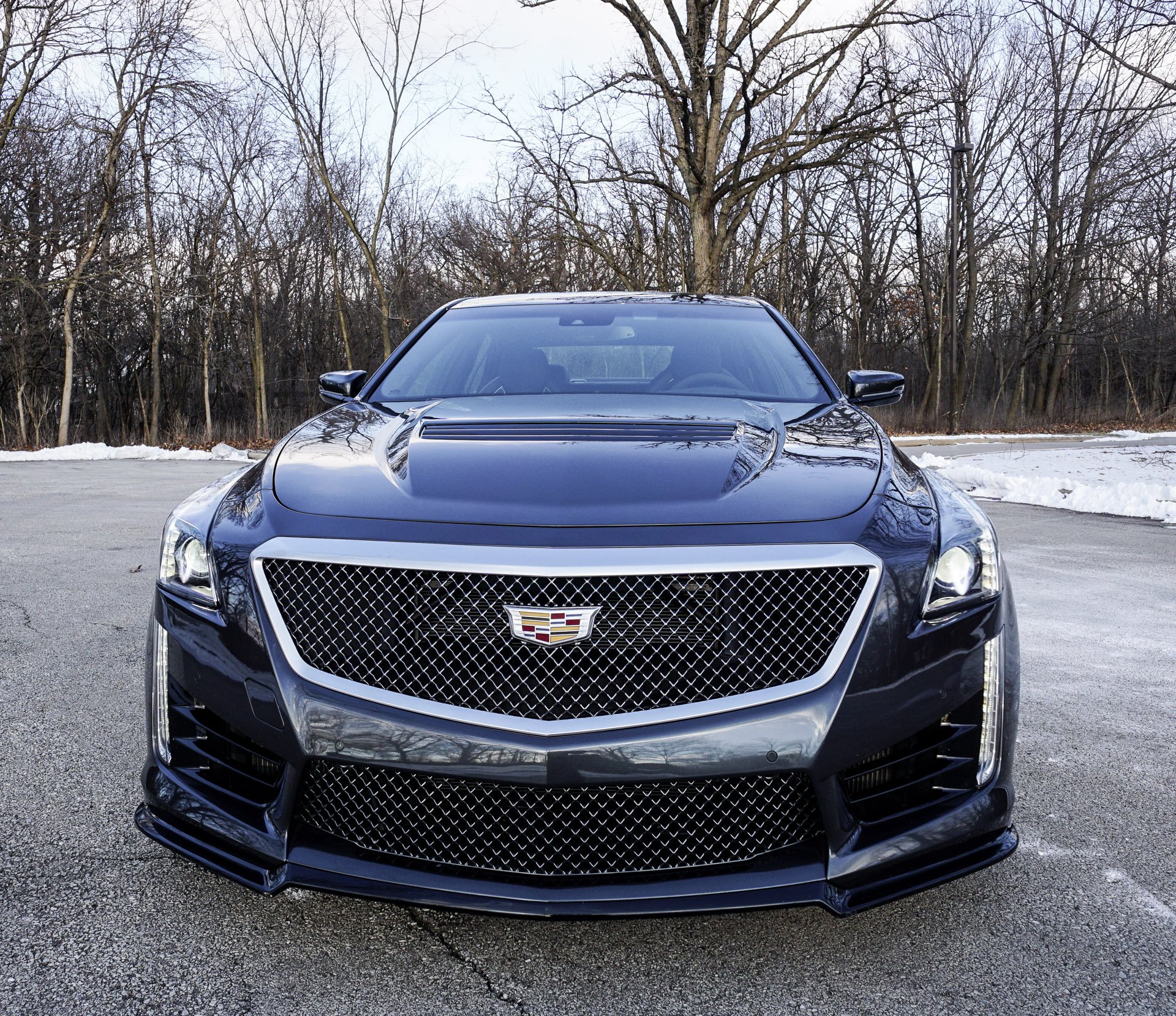 Specs at a Glance

Engine: 6.2L Supercharged V8
Horsepower: 640
Torque (lb-ft.): 630
Transmission: 8-speed automatic w/paddle shifters
Drive Configuration: RWD
Top Speed (mph): 200
City/Hwy/Combined MPG: 14/21/17
Curb Weight (lb): 4,145
Wheelbase (in): 114.6
Total Length (in): 197.6
Base Price (USD): $83,995
Price as Tested (USD): $91,385
Cadillac has been going through quite a renaissance in recent years, moving from cars that were known primarily for their luxury and size, to a brand that makes some truly stellar vehicles that not only are packed with deluxe features and tech, but offer amazing performance. After recently spending some time in the ATS-V (and loving it), I was given the rare privilege of driving its truly special bigger brother, the CTS-V for a whole week. Now I want one.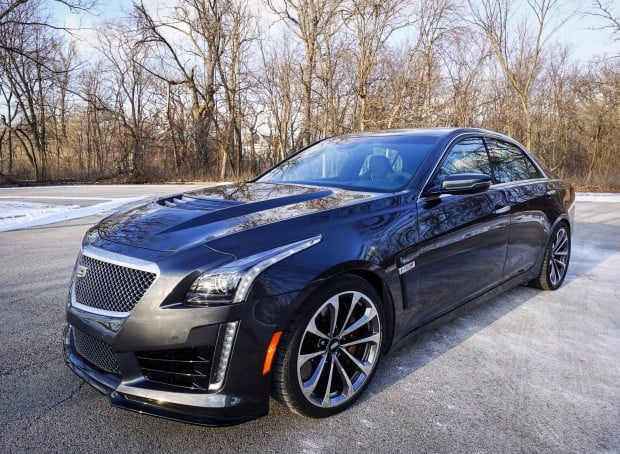 From the side, the CTS-V is an elegant, full-size 4-door, but move around to the front and its true nature surfaces. Its menacing front end features sharp and aggressive lines, with its grille and other air intakes consuming the vast majority of its facade. And it needs all that airflow to help tame the beast snarling beneath its hood. The front splitter, rear diffuser and rear spoiler all help with aerodynamics, and the quad exhaust pipes look and sound great.
In fact, Caddy has equipped the CTS-V with sufficient cooling that it's more than happy on the track. There are big, functional heat extractors on the hood, and vents ahead of and behind the front wheels to help with cooling off the Brembo performance brakes.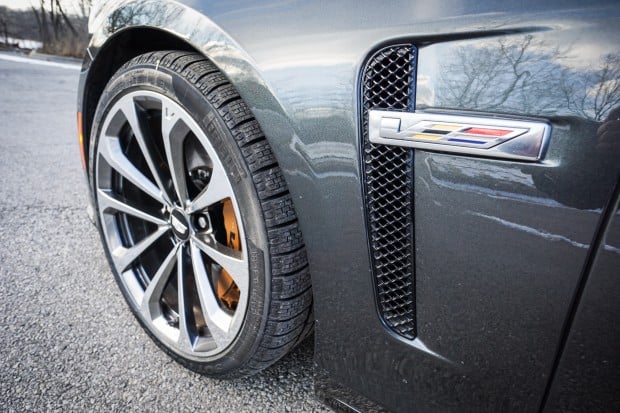 Under the lightweight carbon fiber hood resides the heart of the beast, a 6.2-liter Supercharged LT4 engine that pushes out 640 hp and 630 lb-ft. of torque. If that sounds familiar, that's because it's the same engine found in the completely bonkers Chevrolet Corvette Z06.
I certainly don't recall ever driving a 4-door sedan that weighs over 4,000 pounds, yet could go from 0-to-60 in just 3.7 seconds. And while I certainly didn't get the opportunity to push the CTS-V anywhere near its limits, Cadillac claims it can do a top track speed of 200mph. There are multiple driving modes for touring, sport, track, and snow/ice which adjust steering, suspension, acceleration, traction, and exhaust to adapt to different driving conditions. In touring mode, the engine can dynamically deactivate half its cylinders to reduce fuel consumption.
A push of the stop-start button and the gearhead heavens open up, as the CTS-V comes to life with a mighty burble that only gives a small hint of what lies ahead. Shift into gear with the quick-shifting 8-speed automatic, and even a slight push on the gas pedal pushes you along with a feeling like being strapped to a rocket booster. And I mean that in the best way possible. This car offers Hellcat-class torque, but in an elegant luxury sedan.
Thanks to GM's extraordinary Alpha platform (also found in the Cadillac ATS, CTS, and Gen-6 Camaro), the CTS-V offers an extremely rigid chassis. Even in the larger format, there's minimal body roll for its size and weight. Add to that standard Magnetic Ride Control, and the suspension handles like a dream, offering a comfortable ride on bumpy roads, and stiff and precise control when cornering.
ZF currently makes my favorite electric power steering systems, and they're behind the steering in the CTS-V. The result is an impressively powerful car that can still follow a line. That said, the incredible amount of torque going to the rear wheels does make the car a bit tail happy if you've got a lead foot, though the traction control nannies did a good job keeping me out of trouble.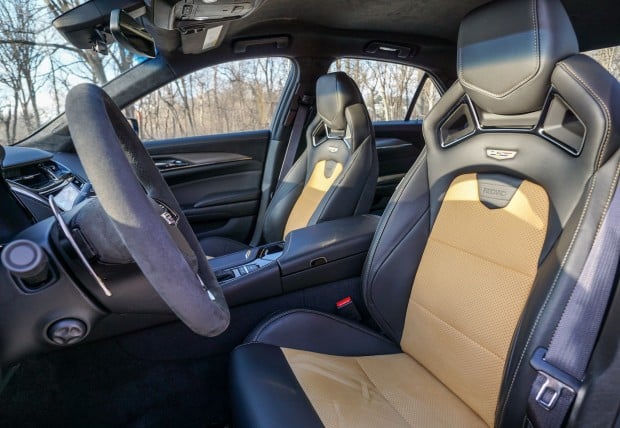 To help keep passengers safe and supported, whether on the street or at the track, the upgraded Recaro performance seats are great – offering fantastic bolstering and side support, while still being extremely comfortable on long drives. The microsuede inserts not only provide contrast from the leather sides, they help keep you from sliding around when pulling G's, and aren't as likely to burn your backside on hot Summer days. That's good since the Recaros only offer heating. The standard seats come with ventilation though.
The cabin of the CTS-V is among the nicest I've experienced. Nearly every surface from the seats to the doors to the dash and headliner is covered in premium materials, including perforated and stitched leather, carbon fiber, and aluminum. I'm still not crazy about the piano black plastic Cadillac likes to use around its center console controls though. I find it to glare too much and it's a fingerprint and dust magnet too.
One thing that makes the CTS-V a truly special car is that it not only is insanely powerful, but it can seat five actual full-size adults. Yes, there's a real back seat, and it really has legroom. In addition, its trunk seemed deceptively more cavernous than its spec'd 13.7 cubic feet.
Being a top-of-the-line car, the CTS-V is chockful of technical wizardry. Every vehicle comes with an 8″ color touchscreen media center, a Bose premium audio system, 4G LTE connectivity, Apple Car Play and Android Auto tech. There's also a 12.3″ configurable instrument cluster and a heads-up display providing easy access to relevant info for the driver. Safety tech includes a standard backup camera, parking sensors, curbview cameras, blind-spot monitors in the side mirrors, collision avoidance, and lane departure avoidance tech, among other things. If you plan on taking the CTS-V to the track, the $1300 Performance Data Recorder is worth considering to track your lap times and other racing telemetry.
The tech on the CTS-V doesn't end on the inside. Up front are dramatic, boomerang shaped LED accent lights, adaptive high-intensity headlamps. The door handles also have LEDs that light up to help guide your way when approaching the car at night.
With a starting price of nearly $84,000(USD), the CTS-V isn't exactly an inexpensive car. But it is an extraordinary car, offering bold and imposing styling, and performance to back it up. Never have I driven a car that is simultaneously so comfortable and extravagant, while at the same time being a track-capable beast.