2019 RAM 1500 Pickup First Drive Review: The Strong, Silent Type
2018 | ram | ram 1500 | March 18, 2018
---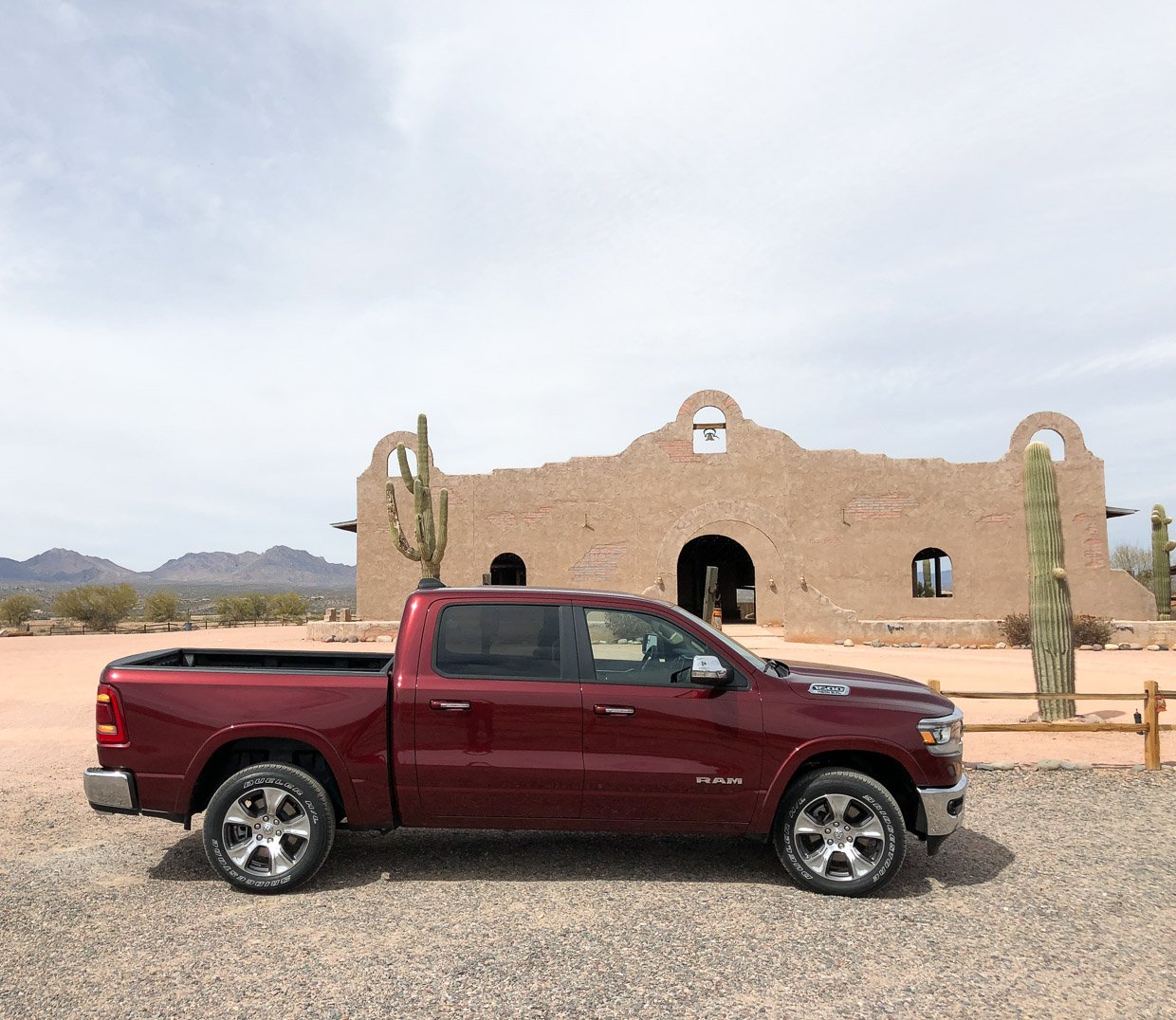 Just a few weeks back, I had the opportunity to live with the 2018 model of the RAM 1500 Limited, and thought it was an excellent and very comfortable premium truck. Now, I've driven the 2019 model, and it's even better than before in many ways. For the new model year, the 1500 has received a myriad of upgrades both big and small, while retaining the burly, yet composed personality of the last generation.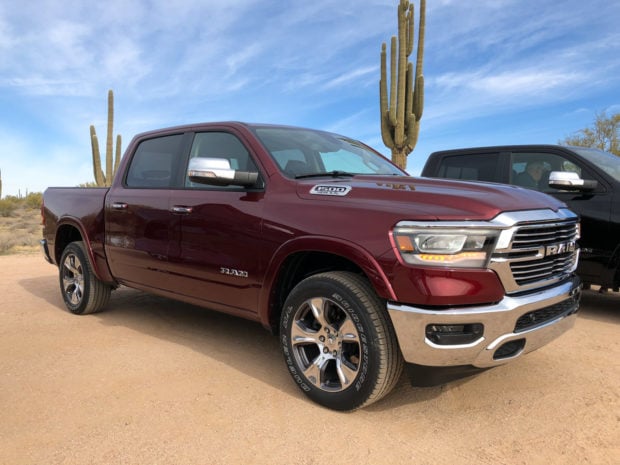 The 2019 model's most noticeable exterior changes come with the elimination of the old Dodge crossbar grille found in some trim levels, replaced with a bold and muscular RAM horizontal grille on every truck. Each pickup also gets a big Ram's head logo on the tailgate. Whether you choose the entry level Tradesman, the mid-line Bighorn and Laramie, the off-road ready Rebel, the luxo-country Longhorn, or the urban-sophisticate Limited, you'll get this fresh new look.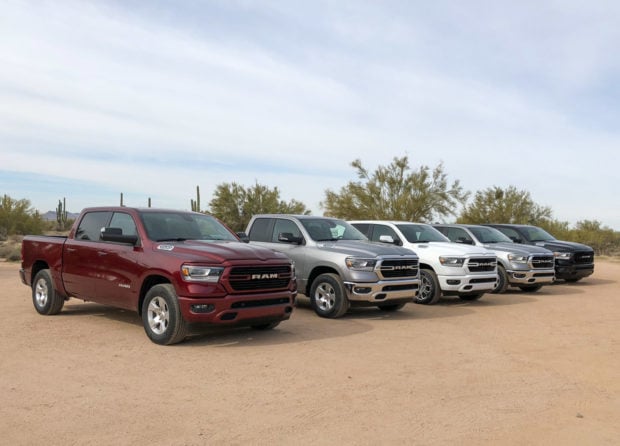 When kitted out with an array of Mopar enhancements, the truck looks exceptionally slick and ready for adventure. But the changes to the RAM 1500 go far beyond cosmetics. The real enhancements come to the vehicle's structure – which is not only stiffer thanks to the use of high-strength steel, Crew Cab models are 4″ longer than before, both in overall length and wheelbase. The bed height has been raised by 1.5 inches, along with a half inch increase in overall width.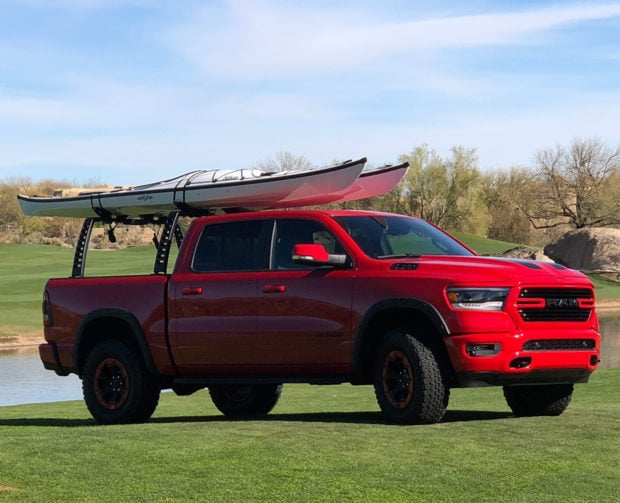 These changes provide not only more confident handling and better overall balance, but a big upgrade in space for the rear seat passengers and interior storage. About 225 pounds of weight have been shaved – without sacrificing bed durability – and aerodynamic improvements help with both fuel efficiency and driving dynamics.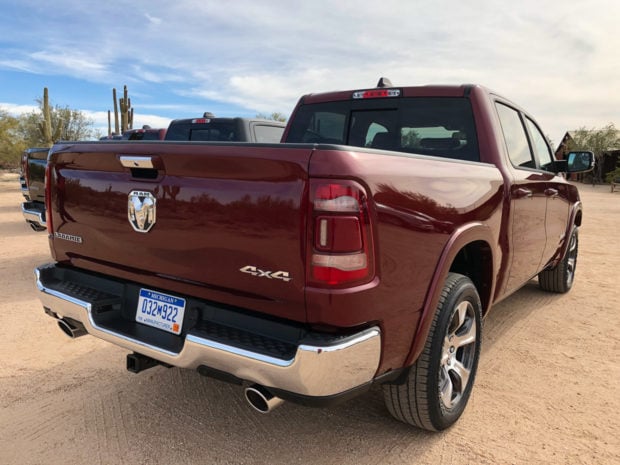 I also spent a bit of time hooning about on a sandy Arizona trail in the new RAM 1500 Rebel, and it was more than up to the challenge of pulling itself through the loose and challenging terrain. Once I built confidence meandering through the sand and dirt at about 25 mph in 4-wheel Low mode, I kicked things up a notch into 4 High, and channeled the skills I picked up driving a Class 10 Baja buggy. The Rebel's mighty HEMI, chunky 33″ Goodyear Wrangler DuraTrac tires, and all-wheel drive system put down the power, and I was quickly doing nearly double the speed I had achieved in the lower gear setting. It doesn't have the ferocity or agility of a Raptor, but its Bilstein remote-reservoir shocks soaked up every bump, and the engine's great torque made quick work of steep hills. If you prefer the styling of other trims, you can order the Rebel's off-road package on every RAM trim level this time out.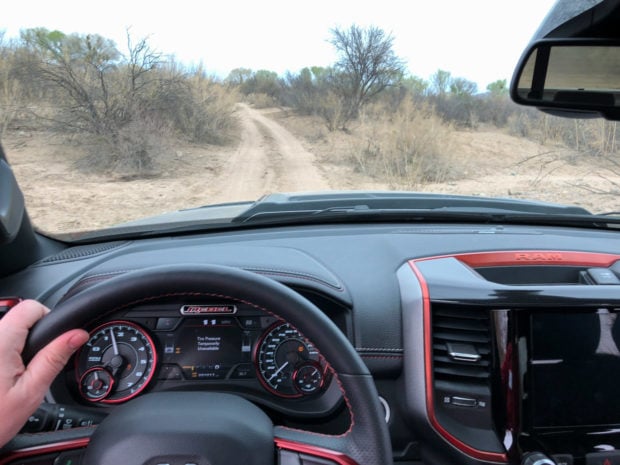 Speaking of engines, the new RAM 1500 will be offering up two new engine options both with an eTorque mild hybrid system which can boost initial torque substantially. The 305 horsepower Pentastar V6 will get this feature, which adds up to 90 lb-ft of torque and 12 horsepower, while the HEMI V8 can get it as an option which adds up to 140 lb-ft of torque and 16 horses off the line. Sadly, neither eTorque-based engine was available for our tests. The trusty 5.7-liter, 395 hp V8 HEMI isn't exactly fuel efficient, but it has no problem hauling the 1500's substance, while offering a satisfying amount of sporty oomph. The reliable and quick ZF 8-speed gearbox is just as good here as ever, and has seen some tweaks to its shift maps.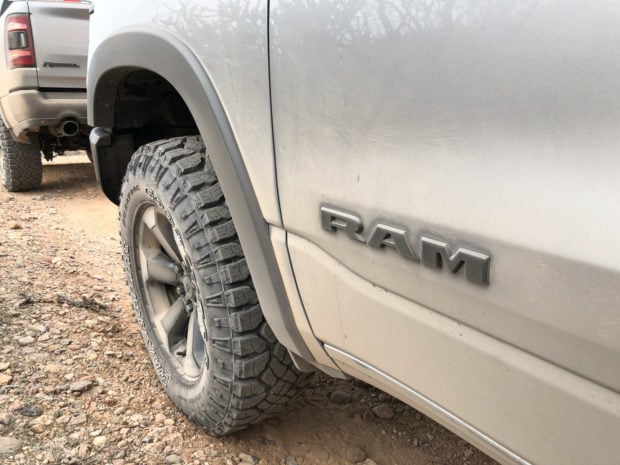 Depending on how you configure the new RAM 1500, it can offer up to 20% more payload and towing capacity than before – with a maximum of 2300 pounds of payload, and up to 12,750 pounds of towing capacity. Changes to the suspension, like frequency-response damping have resulted in an even smoother and more cushioned ride than the prior model. I was surprised to discover that the coil suspension Laramie I was driving for most of the day felt just as soft and cushy as the air suspension that was in the 2018 Limited. This upgrade results in an extremely comfortable ride whether on the highway, or off the tarmac. Keep in mind that with pickup truck ride height and this kind of ride softness comes body roll, and the 1500 still has a good amount of that. Regardless, it's a pretty well behaved vehicle for its size and weight.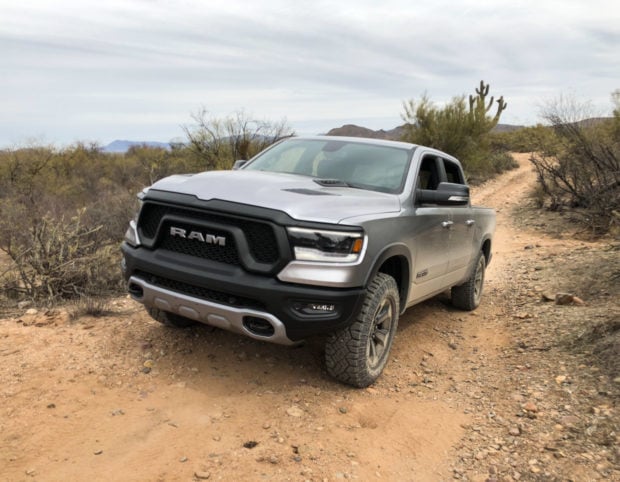 Before I move on to the interior improvements – of which there are many – I'd be remiss to not mention just how incredibly quiet the interior of this truck is. While I can't speak to the lower-end models, the interior of the Laramie was as silent and devoid of engine, road, and wind noise as some of the best luxury sedans I've driven. With all of this push towards increasing comfort, the RAM is a fantastic place to spend the day – something you want if you spend your days working out of your truck.
I won't go into the details of what every single trim level provides, but suffice it to say that the Laramie, Longhorn, and Limited are quite premium in feel, with materials like leather and suede, wood trim, and the like. I particularly love the colors and textures available in the Longhorn edition.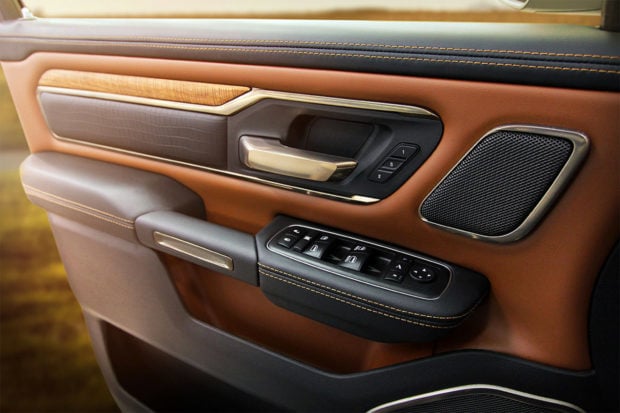 The new dashboard is definitely more evolutionary than revolutionary, but controls are well-placed, and I do like the changes they made to the shift dial to better separate it from the radio and climate controls.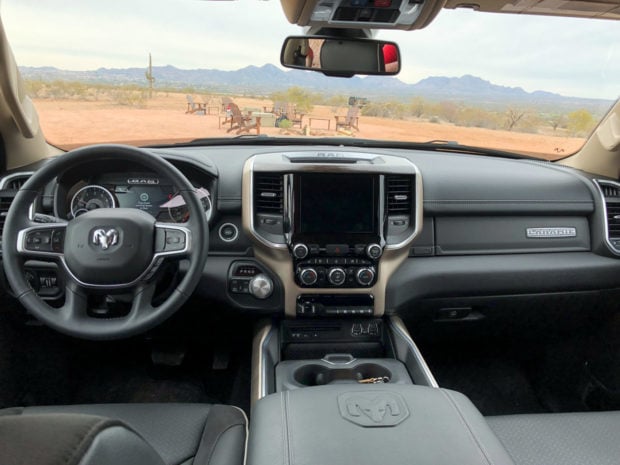 Among the many new tech bells and whistles available in the RAM 1500 is a new 12″ touchscreen display, running a 4th-generation version of UConnect which supports both Apple CarPlay and Android Auto. It can display either a single application or split-screen of two different applications, such as radio and navigation at the same time. While the display's enormity is cool to geek out over, it can get quite overwhelming when it's loaded up with too many virtual buttons – especially since the screen itself is flanked by physical buttons. Plus, it's an enormous fingerprint magnet right there in the center of the dashboard. There's also a 360º surround view camera, and a great sounding 19-speaker, 900-watt Harmon Kardon audio system available as an option.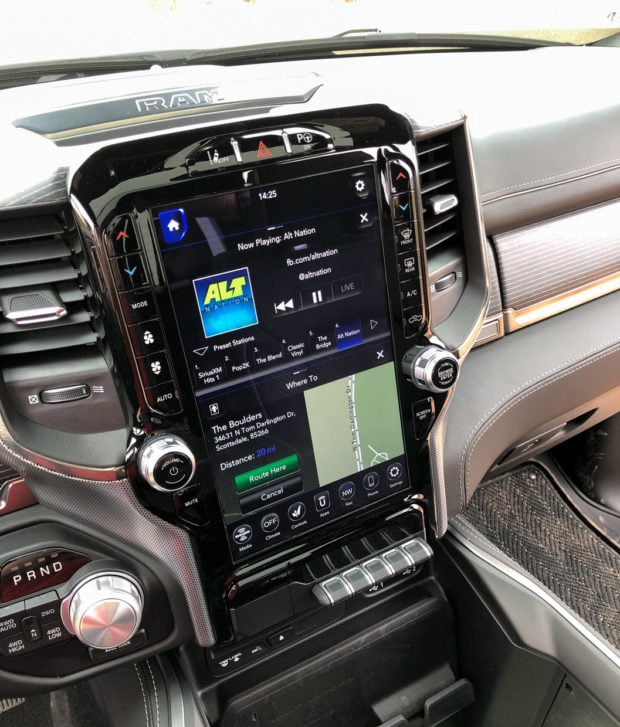 There's also a 360º surround view camera, and a great sounding 19-speaker, 900-watt Harmon Kardon audio system available as an option. The big changes to the interior come in the areas of storage and space. The center console features a cavernous bin in the middle which is big enough to hold a 15″ laptop in its bottom, and offers a sliding cupholder and storage tray. The RAM's smart and useful cell-phone display mount is back, and wireless charging is available as an option too.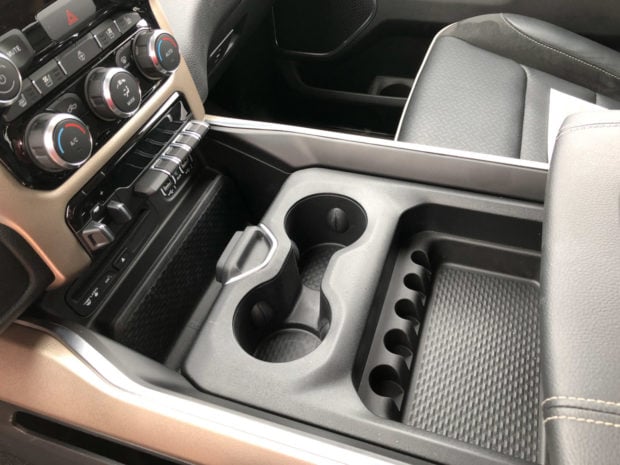 The center console is also home to five USB ports (three in front and two in back), each of which supports both USB and USB-C connections for quick charging. The rear seating area of the Crew Cab benefits from the truck's increased length more than any other part of the truck, with increased legroom, sliding/reclining seats, and unlike the previous generation, a truly flat loading floor when the seats are folded.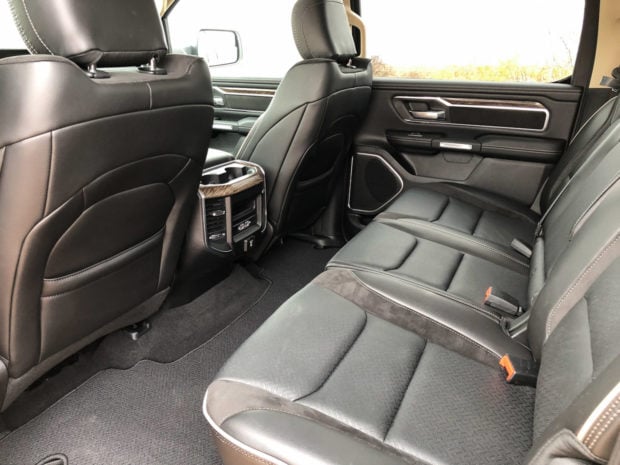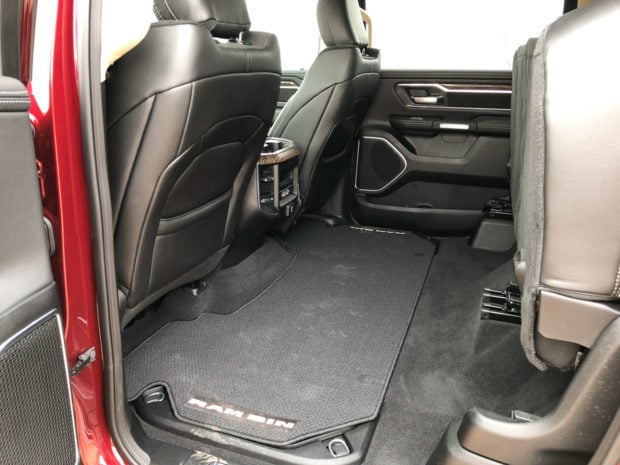 Under the flat loading area's rug, you'll find tie-down points on top of a duo of under-floor RAM Bins, which are 5.5 longer than before. And if you want some extra storage space, you can option out the bed side walls with the sturdy, lockable RAM Box which served as the perfect beer cooler when our day of driving was done.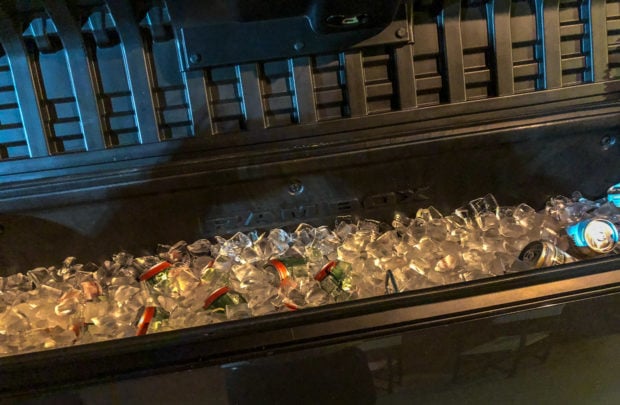 With the 2019 RAM 1500, the Auburn Hills truck maker has taken a pickup that was already very good, and refined it, offering notable improvements to ride comfort, interior space, storage, and technology. If you're looking for a sturdy and capable vehicle which doubles as a sanctuary on wheels for its occupants, you can do no better.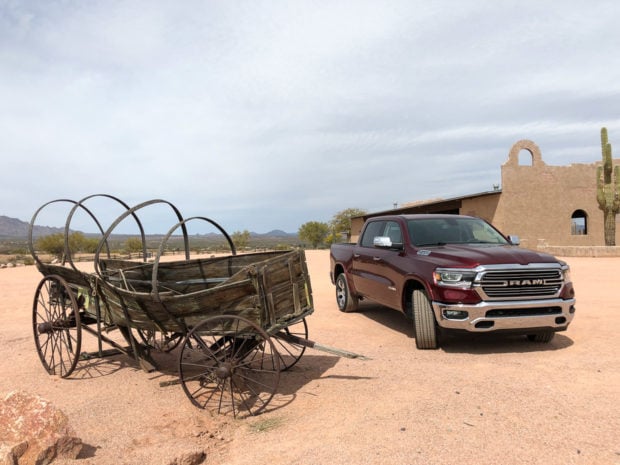 Pricing for the 2019 RAM 1500 starts at $31,695 for the base 4×2 Tradesman Quad cab, all the way up to $57,690 for the long wheelbase Crew Limited 4×4. V8 HEMI models are on their way to dealers now, with the eTorque engines coming later this year.