2019 Jaguar I-PACE First Drive Review: Electric Dreams Come True
2019 | crossovers | EV | jaguar | jaguar i-pace | June 19, 2018
---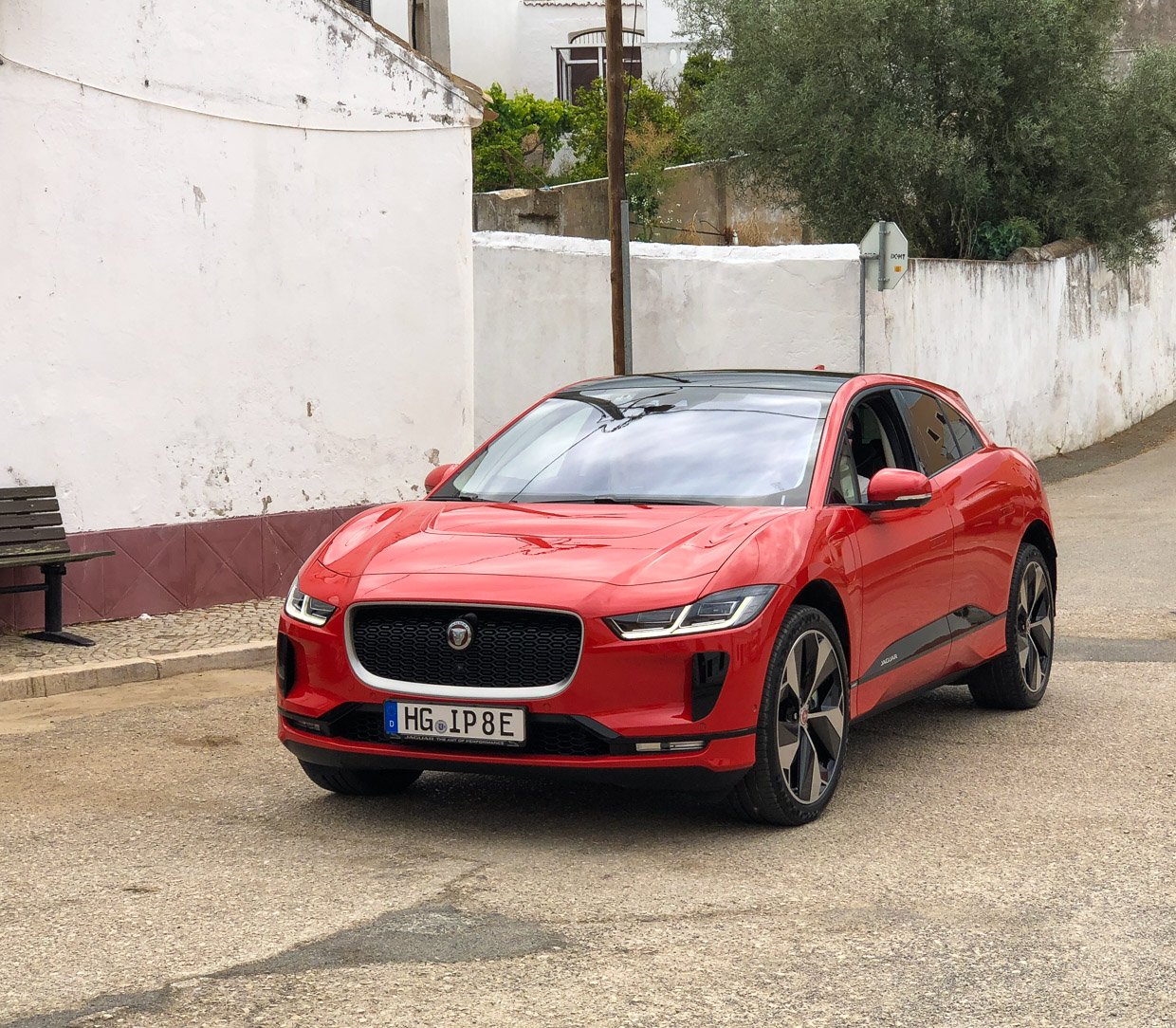 Specs at a Glance

Engine: Dual synchronous permanent magnet electric motors
Horsepower: 394
Torque (lb-ft.): 515
Drive Configuration: AWD
0-to-60 Time (secs): 4.5
Curb Weight (lb): 4784
Wheelbase (in): 117.7
Total Length (in): 184.3
Width (in): 84.2 (w/mirrors) / 79.2 (w/o mirrors)
Driving Range (mi): 240
Base Price (USD): $69,500
Tesla, there's a killer cat about to pounce and a stomp on your tail, and it's called the Jaguar I-PACE. The Coventry car builder's first ever pure-electric ride is a fantastic entry into the fledgling luxury EV space, offering plentiful power, sports car handling, cabin comfort, and tech that's at the top of its game. Yes, the I-PACE is a properly sorted vehicle on just about every level, and it'll go an EPA-estimated 240 miles (or more) on a single charge.
Like all current Jaguars designed under the leadership of Sir Ian Callum, there's no question of the beauty of this vehicle. On looks alone, It handily defeats the Tesla Model X, which at best has questionable aesthetics. The I-PACE is unmistakably a member of the Jaguar family, with its iconic cathead-embellished grille, curvaceous good looks, bold J-blade headlamps, and sleek horizontal taillamps with the now trademark "chicane" line, which take inspiration from both the classic E-TYPE and modern F-TYPE.
Sure, it takes a minute to get used to the idea of a Jaguar without an elongated front end, but with no big V8 to cram under the hood, it allowed the I-PACE's designers to expand the passenger compartment, providing equivalent interior space to some vehicles one size class up. And for as many design decisions that could have been compromised in a quest to reduce aerodynamic drag, you wouldn't know it from how sexy the I-PACE looks.
One of the car's most clever touches – a true meeting of the minds between exterior design and engineering – is the grille. While there's no real need for a front grille on an EV (as Tesla seems to like), Jaguar wanted to incorporate their brand-identifying grille, so they kept it, while adding a wide channel that runs from its top edge through an opening atop the hood. This allows air to flow smoothly up and over the windscreen and onto the roof, improving aerodynamics without sacrificing style.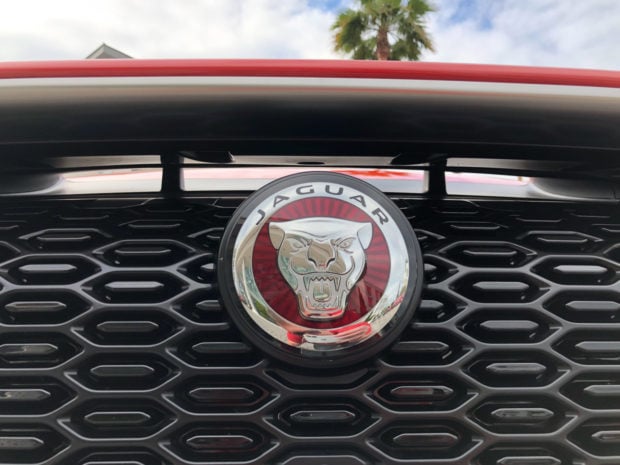 Thanks to the enormous battery pack running beneath the cabin, the I-PACE has an extremely low, car-like center of gravity – a whopping 5.12" lower than the Jaguar F-PACE. Combined with a perfect 50/50 front-to-rear weight balance, and the stiffest chassis that Jaguar has ever built, it offers a more sporty handling experience than pretty much any other crossover or SUV on the market.
While putting the battery at the bottom might keep the Jaguar planted, it's the exceptional suspension system, which borrows heavily from the F-TYPE's double wishbone up front, and uses an integral link setup in the rear. Combined with the optional adaptive damping system (which was the only way our test cars were configured), it's able to dynamically adjust ride firmness based on driving conditions and drive mode selected. An air suspension system comes standard, which can lower the I-PACE up to 1.57" for easier access, and raise it by 1.96" for off-roading – the result is a Jeep-like 8-plus inches ground clearance at the top of its range. That system also hunkers the vehicle down by about half an inch at highway speeds to reduce aerodynamic drag.
Thanks to a pair of powerful motors that make a combined 394 horsepower, the I-PACE can launch from a standstill to 60 mph in just 4.5 seconds. Combined, they produce a supercar level of torque too – 515 lb-ft. to be precise, and that fires up instantaneously thanks to electric power. What that means is breakneck launches without any lag, and one of the most direct pedal-to-acceleration connections out there. Push your foot down, and this thing launches like a rocketship, courtesy of both its instant torque and all-wheel drivetrain.
The only thing missing is Jaguar's typically angry exhaust note. In place of that is either the nearly silent whirr of electric motors, or something a little more fun – an electronically-augmented whooshing sound that's pumped through the car's speakers. It's a well-executed approach to providing some driver feedback, and can be adjusted to your preference if you don't care for it. I'd love to see Jaguar offer a downloadable sound pack with an F-TYPE exhaust note for fun. Maybe I'll convince them.
Quick acceleration is where the similarity to Tesla ends. The I-PACE isn't just good in a straight line. It handles brilliantly, cornering more like a giant go kart than a 4784 pound 5-passenger crossover. Its electric power steering is sharp, weighty, and connected, and it offers up just the right amount of roll into the corners to keep things fun without feeling uncontrolled. Torque vectoring by braking helps keep cornering sharp too, though it would have been neat if they had a way to unevenly distribute torque to each wheel. Instead, the AWD system selectively send s power to the front or rear axle. But keep in mind that for optimal performance, it's best to do an even 50/50 split, since you lose some power when changing the torque balance with a motorized setup compared to a traditional drivetrain and differential.
Thanks to its perfect balance and superbly stiff chassis, the I-PACE is best handling crossover I've ever driven. It's right up there with the all-wheel drive F-TYPE, and beats out both the F-PACE and E-PACE in terms of precision and ride feel.
For those who desire the greatest driving range, there's a high-regeneration "single-pedal" drive which increases the desire of the motors to turn into generators and feed power back to the battery pack. In this mode, the car slows down immediately as you release your foot from the accelerator, rather than coasting. In low-regen mode, it behaves more like a traditionally-fueled car, but the tradeoff is a little less driving range. There's also a mode which allows the I-PACE to creep forward when you let your foot off of the brake, something that EVs don't normally do.
I drove the I-PACE in a variety of situations en route to Portugal's daunting Autodromo Internacional do Algarve race circuit. On the twisty, turny countryside roads, it proved its agility over and over. On an off-road course, it handled the bumps, loose dirt, and hills with aplomb, in part thanks to its Land Rover derived terrain management tech. The All-surface Progress Control system acts like off-road cruise control, allowing you to focus on steering while the car smoothly manages acceleration and braking.
What shocked me most was that Jaguar set us loose on this rough and rugged course on the First Edition's absolutely enormous 22" carbon-trimmed wheels, wrapped in Pirelli P Zero performance tires – and did it without damaging either. We even took this EV through a creek to demonstrate its ability to safely wade up to 19.7" of water. Sure, most owners will never take the I-PACE off-road, but it's good to know that a bit of sister company Land Rover's DNA dwells within this sleek crossover.
On the track, Jaguar's electric kitty really showed its prowess, deftly maneuvering through the highly technical 4.7km long Portimão circuit, with confident braking into each corner, and whip-smart acceleration as I departed every apex. On the long front straight, it didn't take long to reach the F-PACE's top speed of 124 mph, its low center of gravity yet again demonstrated its value, keeping everything smooth and stable at that speed.
The battery that comes standard on every I-PACE is a 90kWh pack, comprised of 432 lithium-ion cells, banded together into 36 12-cell packs. It can be charged to 100% capacity from empty on a home (7 kW, 230VAC) level-2 charger in about 12 hours, but it'll reach 80% of capacity in just 40 minutes at a 100kW DC quick charging station. Jaguar provides the ability to schedule home charging based on when energy prices are lowest, and can also pre-condition the battery to keep it warm in the hours leading up to your drive. This results in overall better power efficiency. In addition, the interior climate can be pre-conditioned using grid power, so your car will be comfortable when you get inside, without sacrificing driving range.
The interior is a properly British affair, blending modern design, premium materials, and technology quite smashingly. In the base S model, there are standard Luxtec (simulated leather) sport seats, while the higher end models get real leather or an optional premium wool/suede textile called Kvadrat. Those who go for the exclusive First Edition get luxury treats like real ash wood and aluminum trim, a suedecloth headliner, and full color ambient lighting. But even in the standard trim, the I-PACE is a very nice place to be, and the fit and finish of materials is extremely good. The upgraded carbon trim looks particularly slick.
There's tech aplenty inside the I-PACE as well. For starters, there's a large 12.3' digital instrument panel which can even display maps between the digital speedometer and energy gauge. Front and center, there's the same In Touch Duo system we first saw in the Range Rover Velar. It's simply the best use of dual screens that any OEM has done to date, incorporating typical infotainment controls into the top 10" touchscreen, and climate and other vehicle controls into the lower 5.5" touchscreen, which is flanked by a pair of really intuitive tactile controls for temperature settings for both the HVAC and front seats, which can warm or cool backs and backsides in a fully-equipped I-PACE.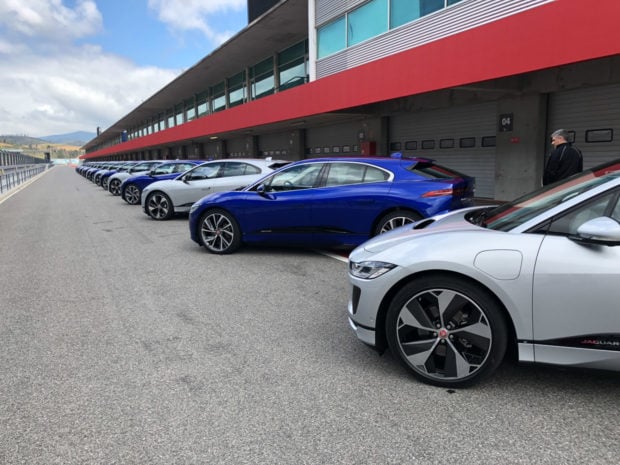 One other bit off tech wizardry is the standard navigation system, which not only successfully guided us around the many confusing roundabouts of Portugal, but displayed the predicted charge remaining in our battery at each of our upcoming waypoints. Plus, it can be set to direct you to the nearest EV charging stations along a drive route. I did encounter one quirk I've seen before in the In Control navigation where it sometimes takes a long time to resume a driving route after restarting the vehicle, and there's some slight lag in the system's responsiveness, but its overall clean and intuitive interface design puts In Control ahead of BMW, Mercedes-Benz, and Tesla for usability.
Other tech smarts include a system which not only stores your seating and mirror positions, but can learn your climate and music listening preferences and get everything set when you approach the car with the Bluetooth-enabled key fob. Jaguar also has an Amazon Alexa skill which works with their In Control remote app to do things like lock and unlock doors and check charging status remotely using voice commands. Apple CarPlay isn't available quite yet, but will be coming as an over-the-air update late in the year.
Interior space is quite good for a vehicle of this size too – it comfortably seats 5 full-size adults plus there are six USB ports and two 12 VDC ports, in recognition of today's always-connected world. Headroom is excellent for front seat passengers, with plenty of room before you come anywhere close to the expansive panoramic moonroof floating overhead. And yes, that glass roof comes standard on every I-PACE. The rear seats have good legroom and can be equipped with heat, though headroom is a little shorter in the back than some taller SUVs. There's also a respectable amount of cargo space, with 25.3 cubic feet behind the second row, and 51 cubic feet with those seats folded. There's also a cavernous 10-liter center console, tablet/laptop storage beneath the rear seats, and a little storage bin under the hood that adds 0.95 cubic feet, which is perfect for a few grocery bags or other small items. Jaguar calls this little bucket the "frunk" (front trunk) or the even sillier "froot" (front boot) in the UK.
Base price for the F-PACE starts at $69,500 for the S trim, with the SE starting at $75,900, the extremely nice HSE at $80,500, and the top of the line First Edition priced at $85,900. While certainly not inexpensive, those prices are generally about $10,000 less than a similarly equipped Tesla Model X.
Add to all of this one of the best warranties in the luxury car business – a 5-year/60,000 limited warranty, complimentary scheduled maintenance for the same period, plus an 8-year/100,000 mile warranty on the battery pack, and that just pushes the whole shebang over the edge into must-have territory.
Jaguar may not have the first mover advantage in the luxury EV market, but they do have decades of manufacturing, design, and engineering expertise which makes them a serious threat to Tesla, and the overall package you get here is bound to make some Tesla buyers and prospects consider this far more aesthetically-pleasing and dynamic alternative from the Brits.