2018 MINI Countryman Cooper S E ALL4 Review: An AWD PHEV Go Kart
crossovers | hybrids | mini | mini countryman | September 14, 2018
---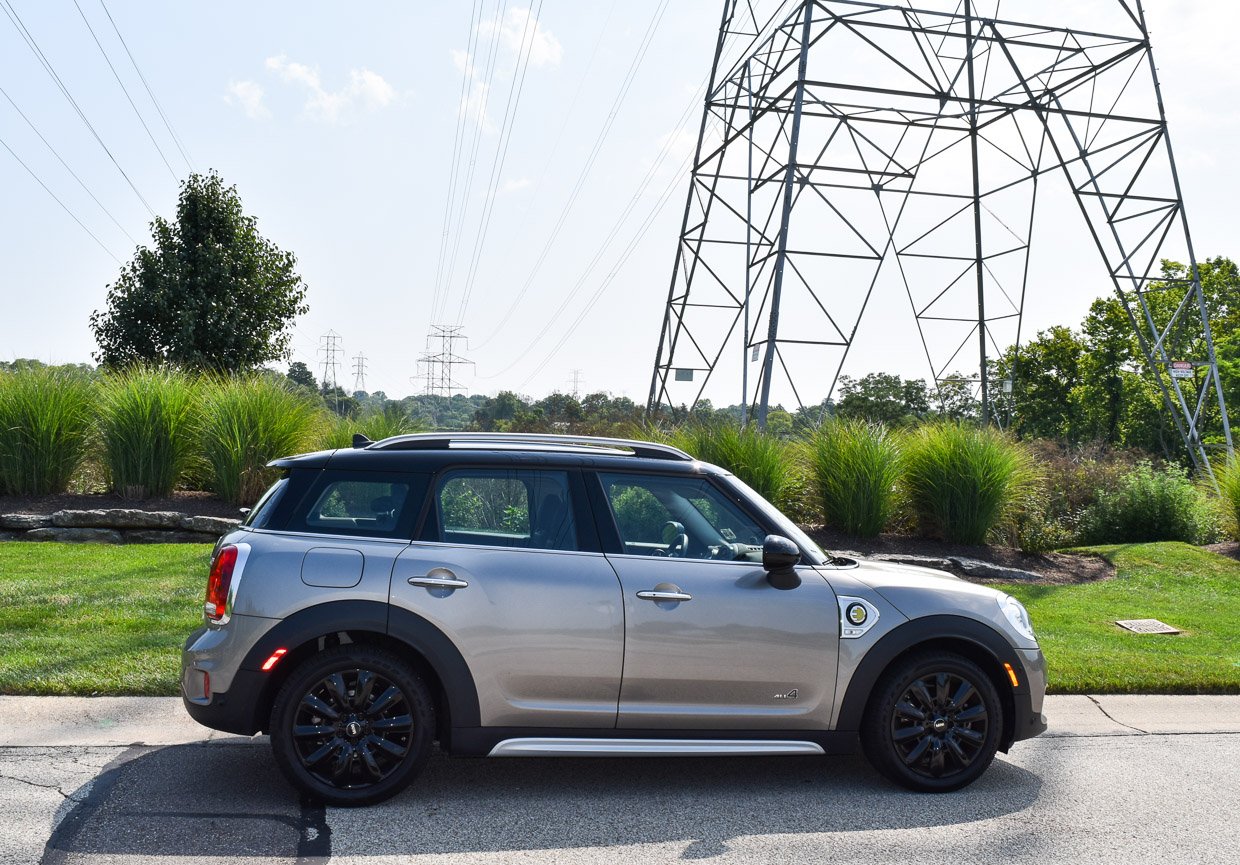 2018 MINI Countryman Cooper S E ALL4

Engine: 3-cylinder turbo with electric motor
Horsepower: 221 (system total)
Torque (lb-ft.): 284 (system total)
Transmission: 6-speed automatic
Drive Configuration: AWD
0-to-60 Time (secs): 6.8
Top Speed (mph): 120
City/Hwy/Combined MPG: 65 mpg/combined
Curb Weight (lb): 3948
Wheelbase (in): 105.1
Total Length (in): 169.8
Width (in): 71.7
Base Price (USD): $36,800
Price as Tested (USD): $40,000
I'm conflicted this week. I really am. I often dislike compact crossovers. If find many of them lacking in distinction or personality. But I also generally like quirky and small vehicles that have pep and good handling. Therein lies my internal struggle with this week's tester. It's a little crossover, but handles like a go kart. If you guessed it's a MINI, you'd be right. This week I drove the 2018 MINI Countryman Cooper S E ALL4. The MINI has always been a guilty pleasure of mine. Yes, they're quirky and a little goofy, but they also have bold styling and drive with a similarly distinct personality.
So the Countryman looks different and it drives different. I'll take it, especially in a segment dominated by vehicles with little pep or driving character. If the MINI Countryman was a Tinder profile, I'd swipe right on it and hope like heck, that I wouldn't be disappointed when we eventually met up in person.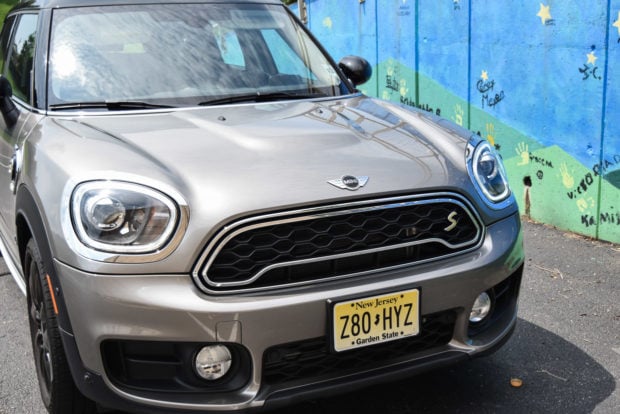 Superficially, it's a great looking crossover. The small grille removes any aggressive posturing from this vehicle, and the bulbous front headlights give it a playful attitude. It has European flare for sure. There's nothing domestic-looking from the Countryman. Unlike the car-like regular Cooper, the Countryman sits up higher with a longer mid-section. The roof rack gives it a family car vibe. This isn't your typical family station wagon, but it does have some of the utilitarian aspects that make the small crossovers so popular. Unfortunately, some of the stylish looks fizzle out around back. It just looks too bland from the backside and that's really the vehicle's only downfall when it comes to aesthetics.
I've always appreciated how MINI vehicles drive. They have pep, even if they don't have crazy amounts of power. Sort of like how many Mazdas drive, the same applies for the MINI and for this Countryman. For this model year there's a new electric plug-in hybrid version. It will only give you around 12-15 miles on pure electricity, but it also packs more punch to the 1.5-liter 3-cylinder turbocharged engine. Combined, the engine and motor make 221 horsepower which is more than adequate. And really, off the line and at highway speeds it feels even more powerful than its numbers on paper.
Sadly, the six-speed automatic transmission connected to the gas portion of its all-wheel drivetrain is disappointing. It definitely needs an update as there's some weird shift habits, and some noticeable turbo lag. The right-sized Countryman really snugged the corners and handled itself well through twists and turns with responsive steering.
What seemed almost ridiculous was the charging time-to-total charge ratio. It took eight hours plugged in to a standard 110 outlet to get the car's small battery fully charged. Then it was only good for 12-15 miles of gas-free driving. That seems ridiculously low and pointless here in the suburbs. As an urban vehicle its smallish size and extra fuel economy might work better. On the other hand, the electric assist motor helps propel the Countryman to an impressive fuel economy of 65 mpg.
Inside, the Countryman really differentiates itself from the competition. Too many of these small crossovers just feel cheap. The Countryman has lots of quality touch points. It's not luxury level quality, but it's superior to many in the segment. Plus, it has tons of personality inside, as you expect from MINI. The organization of the center stack alone is bizarre in a wonderful way. The circular multi-function display has ambient lighting around it. A series of toggles add to the quirky vibe of this vehicle's interior. While it looks different and has lots of personality, it can be cumbersome to operate with even some simple commands being unnecessarily confusing.
The high, boxy styling of the Countryman really helps out the cabin with massive amounts of interior space. Rear passengers will enjoy significant legroom and headroom. Two adults can fit comfortably in the back seat along with a smaller passenger in between. Despite there being a battery pack, there's only a minimal difference in cargo room compared to the standard Countryman. This model has 17.2 cubic feet of space with the split-folding seats upright, compared to 17.6 in the gas only model. Fold those seats flat and the cargo expands to 47.4 cubic feet, versus 47.6 in the regular Countryman.
To get the hybrid electric features on the Countryman, you must seek the Cooper S E ALL4 trim. Base price for this variant is $36,800, a roughly $5,000 premium over the Cooper S ALL4. The ambient lighting that I found so appealing was part of an additional package along with park assist and a heads-up display. As such, my tester's final MSRP was an even $40,000. On the plus side, since it's a plug-in hybrid, you might be able to secure federal tax credits up to $4,000, plus anything you can score from your state as well.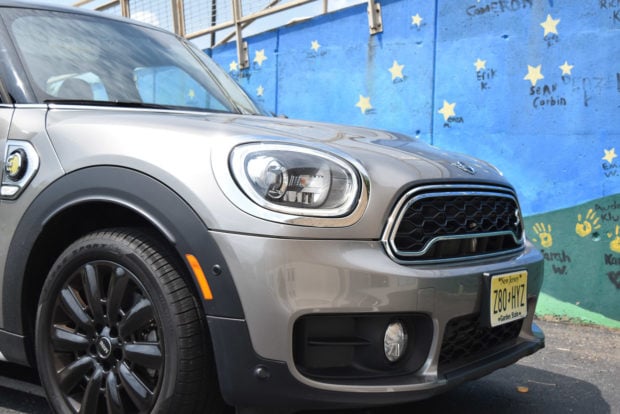 In today's world, personality can be an asset or a liability. That's certainly the case with the 2018 MINI Countryman. Regardless of if you like it or not, the MINI has personality both in its looks, driving dynamics, and performance. That's not a bad thing in today's homogenous world of compact crossovers. The MINI sure stands out in the crowd.
All in all, the 2018 MINI Countryman Cooper S E ALL4 is a fun small crossover to drive. I don't often type those words together, so that alone won major brownie points for me. This segment is full of ho-hum performances, but the Countryman adds plenty of excitement and fun.