Roush F-150 SC Is a 650hp Towing Monster
ford | ford f-150 | roush | Roush F-150 SC
Roush has announced a new truck package that takes the normal Ford F-150 up several notches. The truck is called the F-150 SC, and its big feature is a Roush TVS R2650 supercharger that sits atop the truck's 5.0L V8 engine. That blower brings power output to 650 hp and 610 lb-ft of torque.
Roush is aiming this truck at an off-road and utility crowd and gives it a Roush/Fox 2.0 Performance Series coilover suspension upgrade that raises the front of the truck by 2.0-inches. The custom Roush wheels are wrapped in big Mickey Thompson Baja ATZ P3 LT305/55R20 Hybrid All-Terrain tires, which measure about 34″ in diameter.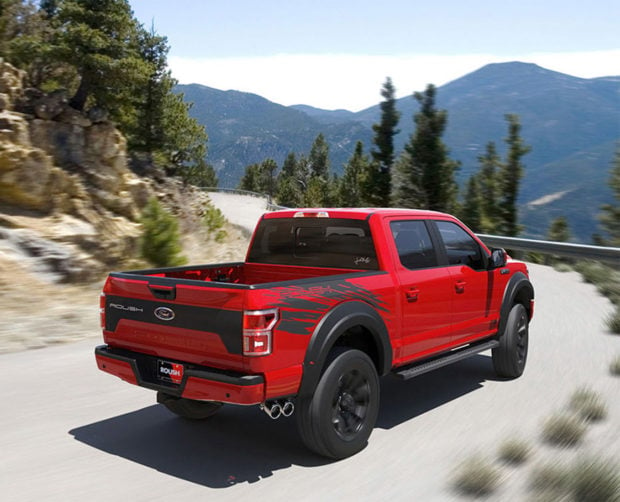 Other touches include a new front grille, front bumper cover, fender flares, molded floor liners, and various badges and graphics. Buyers can add a dual tip active exhaust system with four modes, and a special Roush tonneau cover, and leather seats. The basic Roush F-150 SC package is $22,999 on top of the cost of a standard F-150 truck; there's no word on the cost of additional options.