2018 Toyota 4Runner TRD Off-Road Premium Review: A 4×4 Classic
4Runner | 4x4 | off-road | suv | toyota | toyota 4runner | trd | v6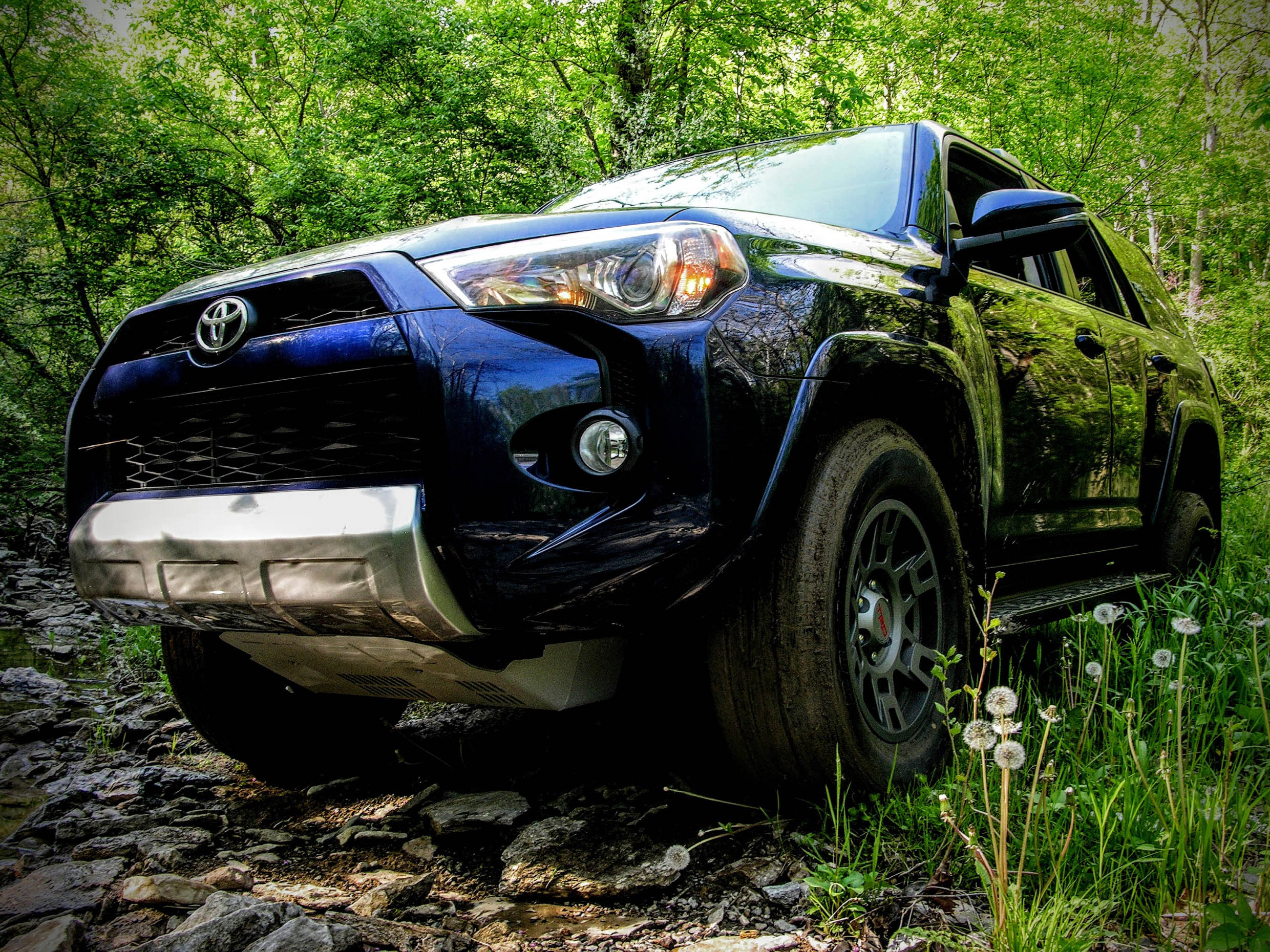 Specs at a Glance

Engine: 4.0-liter V6
Horsepower: 270
Torque (lb-ft.): 278
Transmission: 5-speed automatic
Drive Configuration: 4WD w/ traction modes
0-to-60 Time (secs): 7.5
1/4 Mile Time (secs): 16.5
Top Speed (mph): 115
City/Hwy/Combined MPG: 17/20/18
Curb Weight (lb): 4,400
Wheelbase (in): 109.8
Total Length (in): 191.3
Width (in): 75.8
Base Price (USD): $39,495
Price as Tested (USD): $42,902
With winter pretty much upon us, thoughts of warmer days take hold, and with them memories of various off-road adventures we have undertaken. Take the Toyota 4Runner TRD Off-Road Premium for instance, which serves as a time capsule both in the bright green foliage around it, and within the vehicle itself. This indestructible SUV is perhaps one of the greatest links we have to the vehicles we remember from yesteryear, and with a handful of TRD touches in place, makes for a very capable 4×4 SUV.
With its body-on-frame construction, renowned reliability, spacious interior packaging, and proven off-road capabilities, the Toyota 4Runner is a key cog in the great SUV wheel.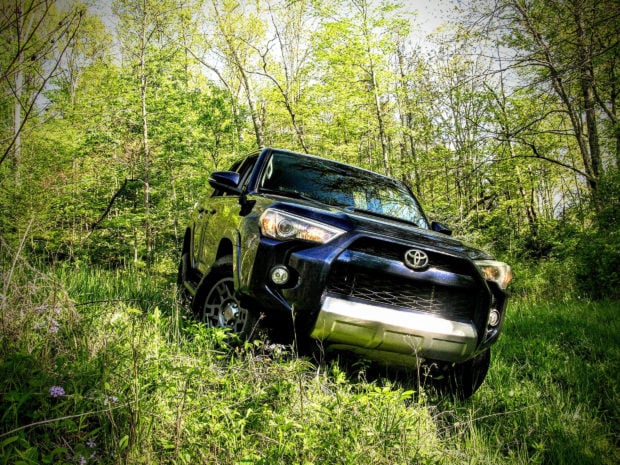 For decades Americans have bought these vehicles by the thousands, with little sign of slowing down, as a recently released Toyota sales report shows that, "4Runner sales increased by 13.2 percent, a best-ever October." However, the current generation is almost a decade old by this point, and consequently carries with it quite a few dated features, so what is it that makes the 4Runner so desirable? And more importantly, is this Premium version worth the money?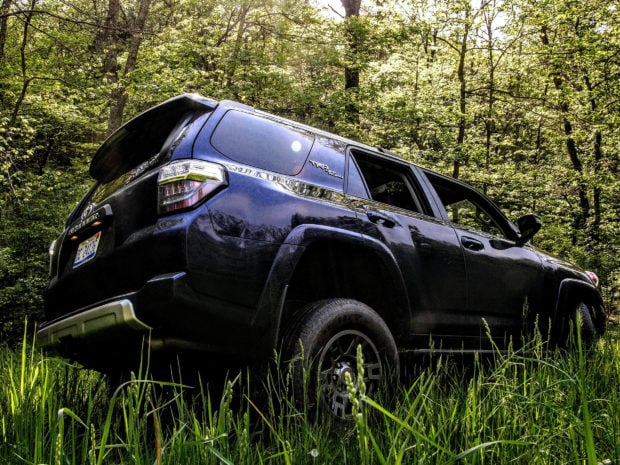 Off-road dexterity is perhaps one of the greatest 4Runner attributes, and in TRD trim this focus gets turned up an extra notch. Packing a part-time 4WD system for milder scenarios, a locking rear diff with various terrain traction settings for tougher encounters, as well as crawl control and both low and high gearing for additional grip, the great outdoors is where the 4Runner belongs.
The downside to this is that the TRD 4Runner's pickup truck DNA causes the SUV to feel a tad rough around the edges, and meandering on-road is a constant concern due to the vehicle's raised suspension geometry and off-road-oriented damper tuning. Even with some of Bridgestone's more asphalt-oriented rubber underneath, the 4Runner's ride feels disconnected with the road, suggesting that upgrading to all-terrain tires might not be a bad idea after all.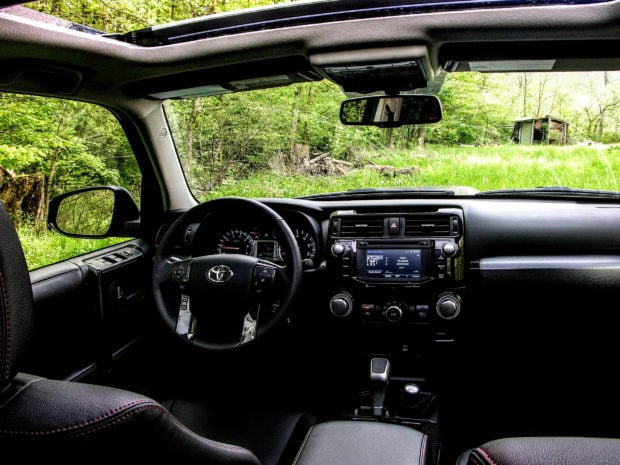 That said, if you value storage smarts and practical packaging perks, the 4Runner does offer a lot of both. Although there are lots of hard plastic materials and visually dated touches within this cabin, the 4Runner makes-up for it with spacious storage in the rear cargo, and on Premium models, a banging JBL audio setup, comfortable leather-like seating, and heated fronts.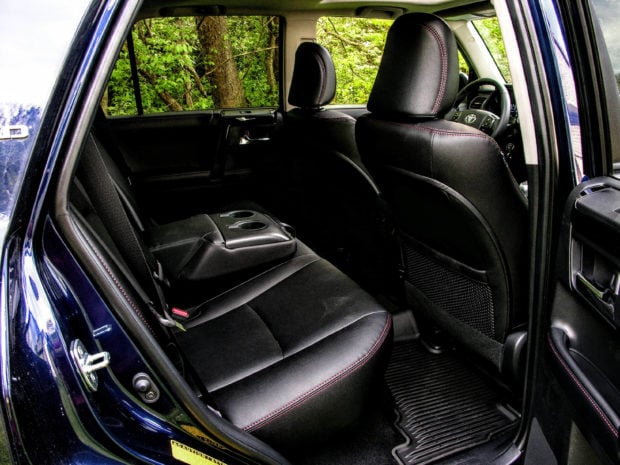 Being a TRD model, you also get things like embroidered headrests, rugged all-season floor mats, branded gearing selectors, and various other unique accents. You also have over-sized control knobs on the center stack that are easy to reach and are glove-friendly, and there are lots of little nooks for stowing smaller items like cell phones and breakfast bars. Another notable interior touch is the number of charging ports, which outside of the one below the center stack are not USB in design but 12V, offered two per-row, with an additional fifth plug in the rear cargo sitting next to a 120V/4oo-watt socket.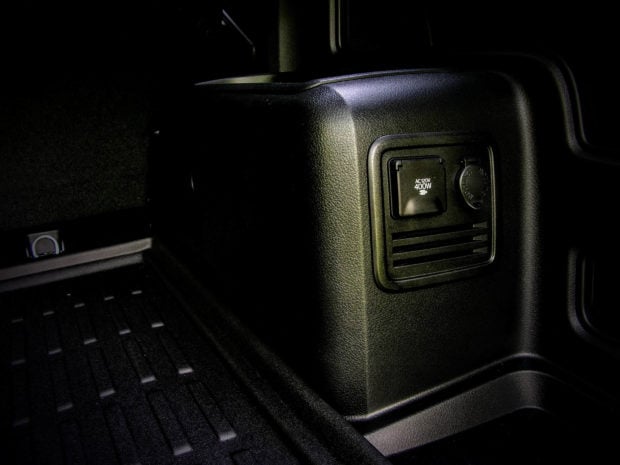 Turning from the interior, and voyaging deeper into the wilderness, the TRD version of the 4Runner treks across rock, mud, stream, grass. and wooded hill, as its lifted height and clever traction settings keep wheel slip to a minimum and the undercarriage protected. Overhead controls give drivers the ability to manually dial-in traction and suspension performance via the twist of a knob or the push of a button, making a strong case for why off-road enthusiasts continue to flock to this vehicle even though it is nearly a decade old.
Break-over clearances, traction, descent control, and ride quality are all good. The attached running boards should be removed during extreme excursions, but they are positioned close enough to the frame that they will clear most obstacles encountered on an average 4×4 jaunt.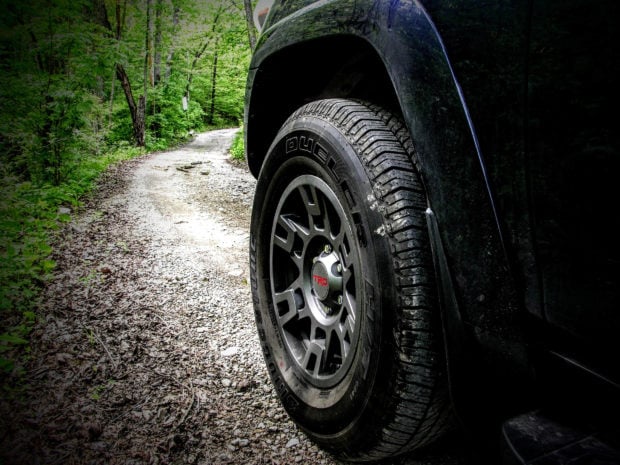 Keeping with tradition, the 4Runner can still be purchased with reinforced skid plates pulled straight from the TRD Pro model, as well as exclusive TRD 17-inch alloys and wheel locks, and mud guards for good measure. My tester also came with a "Wilderness Package," so roof rack cross bars and additional all-weather interior were added to the mix. It's nothing extreme, but a nice array of bolt-ons nonetheless. Although everything from the hood scoop and the headlights, to the large rear spoiler and LED taillights appear as dated as the chassis itself, buyers seem to favor the familiarity these particulars bring. I for one am thrilled that an integrated tow hitch receiver with both 7- and 4-pin connectors is still being utilized, as well as that vintage roll-down rear hatch window, which like in olden days, can retract entirely or can be cracked for a slight breeze.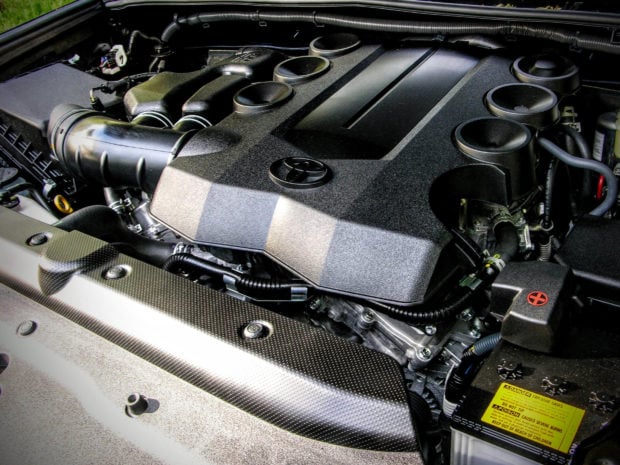 As for the powertrain side of the Toyota 4Runner, buyers get one option: The combination of a 4.0-liter V6 with a 5-speed automatic. Archaic, noisy, and much like the handling characteristics of the SUV itself, frustratingly slow to respond, the 270-horsepower six-pot is functional in its ability to tow up to 5,000 pounds, but it's also incredibly inefficient by today's standards. With an abysmal 18 mpg EPA average, with even poorer returns during testing, the limited gearing within the transmission is perhaps the biggest albatross for this vehicle, making the 4Runner feel light years behind it's far more fluid unibody Highlander sibling.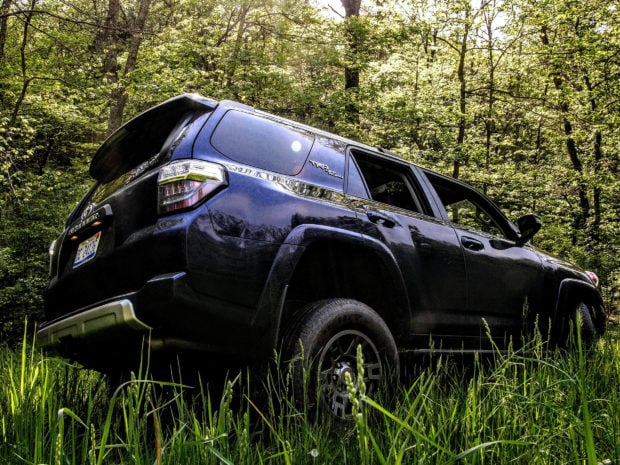 Keeping with my recent interest in animalistic analogies, I shall now compare the Toyota 4Runner to a particular type of wildlife, for what we have here is the automotive equivalent of a crocodile. Primordial and powerful in the wild, it's a creature that's gone unchanged for what seems like a millennia. Having never been labeled as extinct, the 4Runner TRD continues to draw interest based primarily upon its off-road strengths, and its ability to even outlast its owners. The Premium version does offer some nice amenities for the money too, and like many other Toyota models, can be outfitted with a slew of package options for whatever adventure you foresee yourself getting into. So for anyone who remembers riding around in generations long past, know that the nostalgia one feels when that rear hatch window rolls down is intense to say the least, a 4Runner staple that I pray will never go extinct.