2019 Ford Ranger North American First Drive Review
2019 | ford | ford ranger | December 18, 2018
---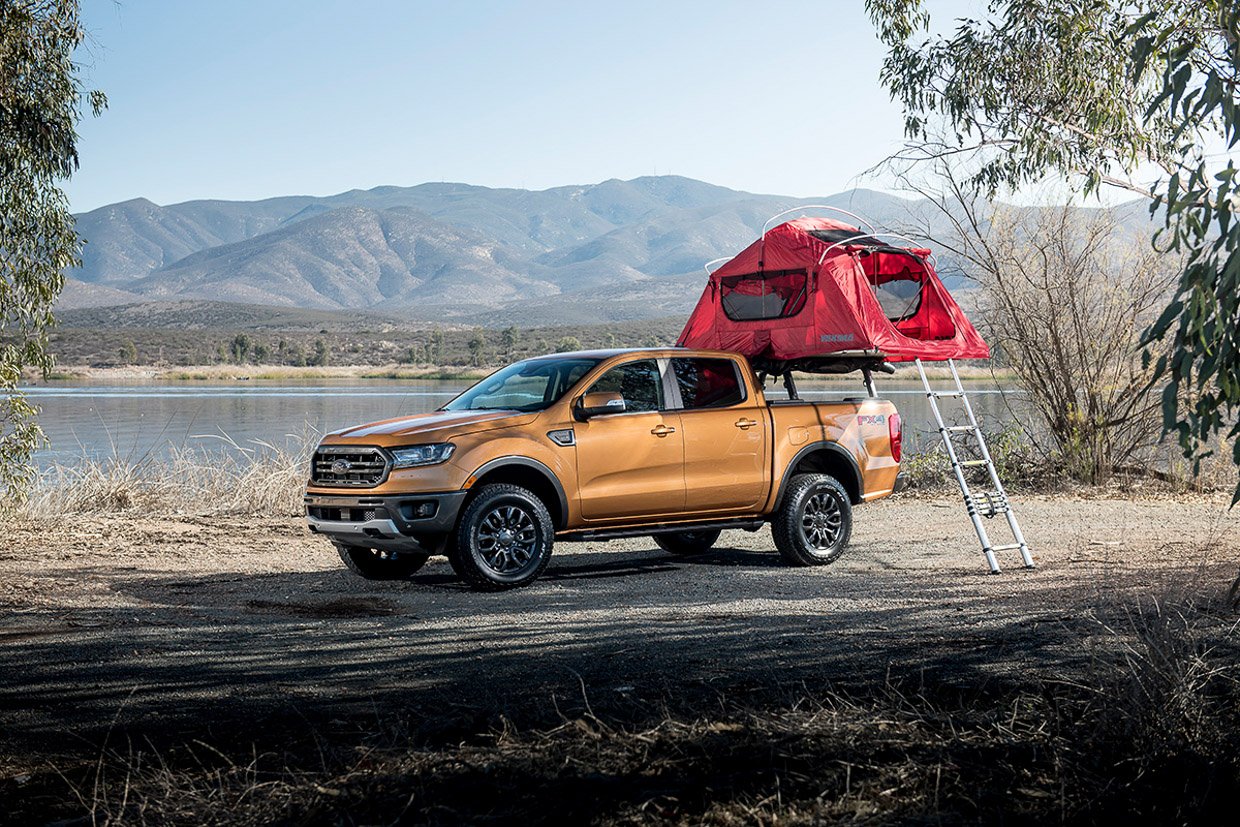 2019 Ford Ranger 4x4 SuperCrew Lariat FX4

Engine: 2.3L turbocharged I4 EcoBoost
Horsepower: 270
Torque (lb-ft.): 310
Transmission: 10-speed Automatic
Drive Configuration: 4WD
Curb Weight (lb): 4,441
Wheelbase (in): 126.8
Total Length (in): 210.8
Width (in): 85.8
Ground Clearance (in): 8.9
Base Price (USD): $38,385
Price as Tested (USD): $44,270
The mid-size pickup market is growing quickly; over 80% in the last four years with Toyota's Tacoma, GM's Colorado and Canyon, and Nissan's Frontier leading the way. Ford, once a dominant player here, decided in 2011 to exit the segment when they killed the last generation Ranger in the United States after seeing sales slide from a high of 348,000 trucks in 1999 to 70,000 in 2011.
Ford decided not to sell the all-new 2012 Ranger in the US and Canada, saving it for global markets where it became a bestseller in Asia, Australia, and Europe. They were worried about cannibalization of F-150 sales and severely misread their consumer research. When they surveyed Ranger owners, they found many bought it because of its low price and assumed those buyers could be shifted to small, inexpensive sedans and SUVs. It's understandable, because compared to the Tacoma of the late 2000s, about the only thing Ranger had going for it was its low price. That didn't mean, however, American truck buyers didn't want a mid-size pickup. They just wanted a good mid-size pickup, and after Ford vacated their home market, Tacoma sales grew from just over 110,000 units in 2011 to more than 200,000 already this year.
Apparently Ford is tired of watching those sales go to its rival from Japan, and armed with new insights about buyers is finally bringing a refreshed version of the global Ranger to the US as a 2019 model. Is it too little too late? We drove the 2019 Ranger in several variants last week in the mountains east of San Diego to find out.
The Ranger is offered in two cab styles, two bed lengths, rear- and 4-wheel drive, three trim packages (XL, XLT, and Lariat in either chrome or black), and the FX4 off-road package which can be added to any trim, but there's just one powertrain option.
Our eyebrows were raised at the lack of engine choices since the competition offers at least a couple. No matter how you spec your truck, Ranger's only engine is a turbocharged 2.3-liter, aluminum inline four that makes 270 horsepower and 310 lb-ft. of torque. It's paired with the same 10-speed automatic that's offered in both the F-150 and Mustang, but this transmission is specifically tuned to Ranger's mission as and outdoor adventure vehicle. Mileage according to the EPA is best in class at 21 MPG city and 26 highway for a two-wheel drive truck. The all-wheel drive FX4 we were driving is rated at 20/24 MPG. Even driving spiritedly we averaged a tad over 20 miles per gallon in our 4×4 Ranger on our morning drive.
Both the engine and transmission are proven and offer excellent performance on and off-road. The EcoBoost is highly modified from its use in the Mustang. The twin-scroll turbocharger, camshaft, oil pump, and cooling system have been revised to deliver torque at lower RPMs. This strategy appears to be effective as Ranger's four-banger develops more torque than either V6 engine offered in Colorado and Tacoma. As a result, Ranger has the most towing and payload capacity – 7,500 and 1,860 pounds respectively – in the class for now. Based on Jeep's claims, Gladiator will surpass it when it goes on sale later in 2019.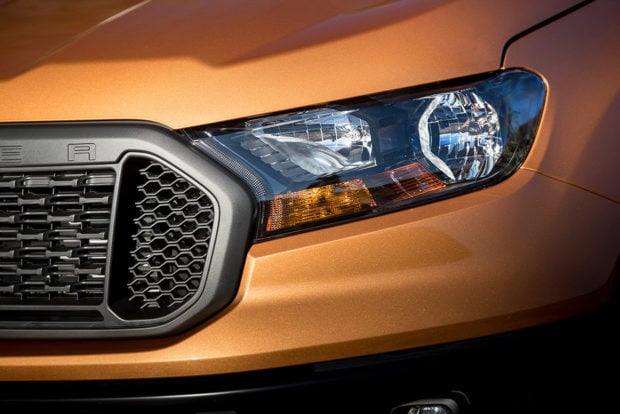 Ford executives made it clear to us that the Ranger is not a work truck. They envision it living its life during the week as someone's daily driver commuting happily to work on city streets. On weekends, its bed will be full of camping gear, dirt bikes, or kayaks. Either that, or a trailer with jet skis, a quad, or a small fishing boat will be hitched up as its owner heads out to pursue his or her passion on another adventure. With the five-passenger, four-door SuperCrew, the bed is just five feet long. Opt for the four-passenger, two-door SuperCab and you get a six foot bed. Neither is really meant to haul lumber and drywall. If that's what you need a truck for, Ford is hoping you'll move up to the F-150.
We were able to drive several versions of the Ranger during our day with the truck in the hills around San Diego. Our day began in a 4-wheel drive Lariat CrewCab FX4 pickup driving about 100 miles from our hotel in La Jolla to the Bradford Ranch where we would test the new Ranger on a challenging off-road course and be able to test it head to head against Tacoma in payload and crawl control demos. The drive to the ranch was uneventful with the truck behaving on road about as we would have expected an off-road tuned pickup to handle. The high points were the engine and transmission which provide plenty of get up and go from stoplights, and deliver good high speed acceleration for passing. Push your foot to the floor, and you hear a subtle throaty growl.
The truck rides well, and even with all-terrain tires was reasonably quiet and smooth over all manner of pavement. Steering weight leans toward the heavy side and is direct, but with very little feedback thanks to its electric power assist components. The FX4 package is tuned for off-road and that shows up mostly in the corners where shock damping is tuned with a little more give, so the truck tends to lean when you drive it enthusiastically through the twisty bits.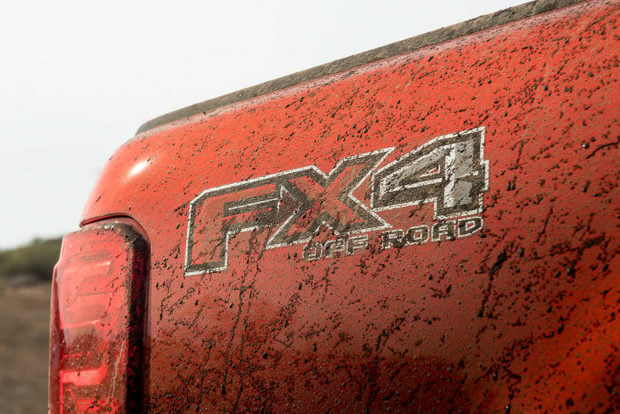 Interior appointments in our high spec truck were what you'd expect for a vehicle that stickered at $44,270. The plastics are high quality, and most of the surfaces are soft-touch with leather trim appropriately scattered around the cabin. The heated and cooled leather seats provide plenty of support and offer enough adjustability to make finding a comfortable seating position easy, and there's a power unit to adjust the seat bottom. It's still a little puzzling, though, why Ford still uses a manual ratcheting seat back adjustment on a vehicle this expensive. Rear seat legroom is more than adequate. We had a 6' 3" passenger riding comfortably in the back with for two hours and he didn't complain much at all.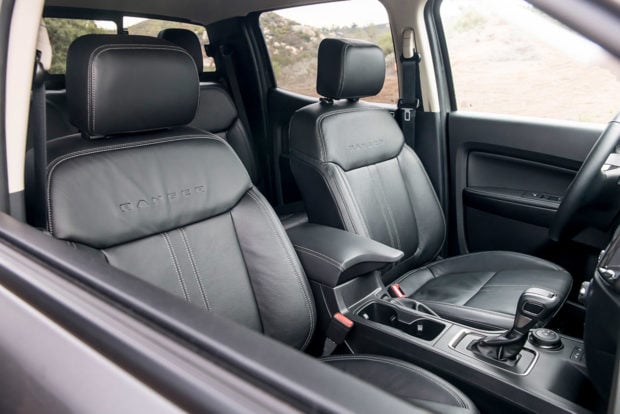 Everything you want from a technology standpoint is here. Ford's Sync 3 system has gotten really good. It's easy to use and operates with very little lag between screens. It's compatible with Android Auto and Apple CarPlay, offers a Wifi hotspot, plenty of USB charge ports, and has Waze integration for iPhones. Driver assist technologies include pre-collision assist with automatic emergency braking, forward and reverse sensors, lane departure warning with lane keep assist, blind spot detection with trailer coverage, adaptive cruise control that goes to a complete stop, auto high beams, and rain sensing wipers. It's an easy truck to drive with great visibility over the hood and manageable proportions.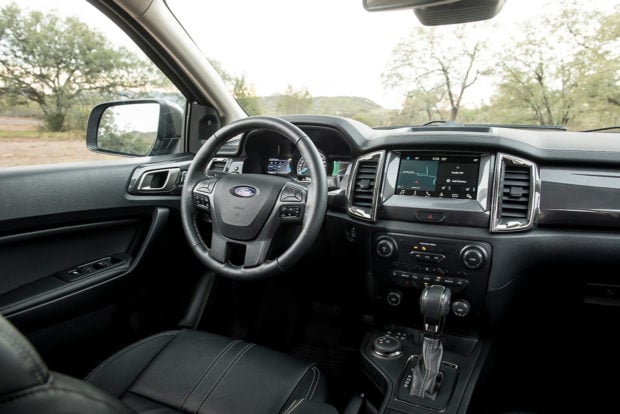 Once at the ranch we made a beeline for the off-road course to see if the Ranger had the chops to compete with the Tacoma. Ranger's four-wheel drive system features an available locking rear differential and a terrain management system with trail control. Twist the knob next to the shift lever to 4H and then push the terrain button just above it and you can toggle between the four drive modes: normal; grass, gravel and snow; mud and ruts; and sand. Trail control works just like a low-speed cruise control. Press the button, set the speed you want, then take your foot off the pedals and let the truck do the work. It applies the brakes and manages traction control, and provides power to the wheels that need it, so all you have to worry about is steering the vehicle. Unlike Tacoma's Crawl Control which only works in 4-Low, You can activate Ranger's Trail Control in 2WD, 4-High and 4-Low and the system works smoothly without the groaning and grinding you hear in the in the Tacoma. After spending time in both trucks, I can say that Ranger feels more modern and is plenty capable.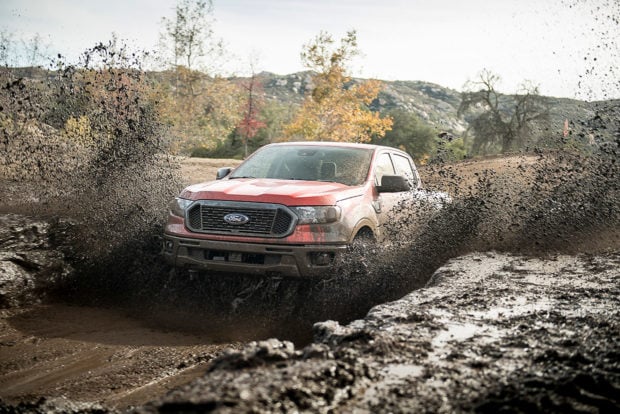 The off-road course – which offered a variety of terrain challenges including hills, ruts, steeply banked corners, and a deep mud pit – was no problem for the Ranger. The suspension is fairly traditional for a pickup with a short and long arm independent set up in the front and leaf springs in the rear. It's surprisingly supple soaking up the bumps without being jarring, yet provided plenty of control over a high-speed washboard section of the course. The FX4 package also includes a steel bash plate up front to help you get through rocks and brush, as well as frame mounted skid plates underneath to protect things like the oil pan from being punctured.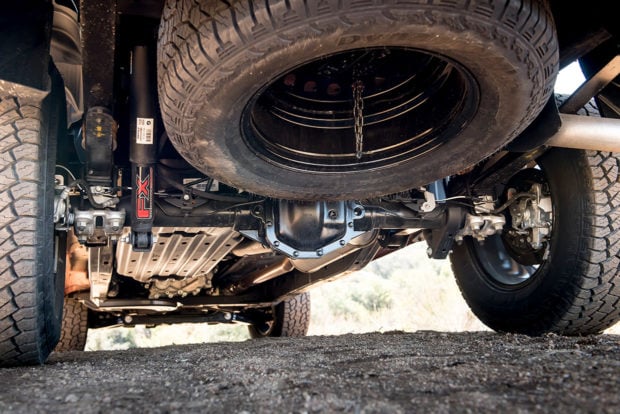 After a few laps around the track we were back on the road in a 4×2 Supercab in XL trim. You could immediately feel the difference in handling in this truck with shocks that are tuned for street driving, keeping the truck more level and composed in the corners. This truck, stickering at $28,900 was basic, but not spartan. If you're planning on putting anyone in the back seat, however, you better make sure they are very small and your trip is very short. With little legroom and a seat back angle that would make the Marquis de Sade proud, it's really more of a space for cargo than people.
In addition to traditional standard features and options, Ranger will have a number of outdoor adventure accessories from Yakima available as dealer installed options. These include racks and extenders to help you haul everything from kayaks, mountain bikes, skis, snowboards, and dirt bikes. The BedRock rack also allows you to mount a tent over the bed so you can camp and keep yourself above the ground and away from snakes and other critters that could make your weekend more of an adventure than you actually planned.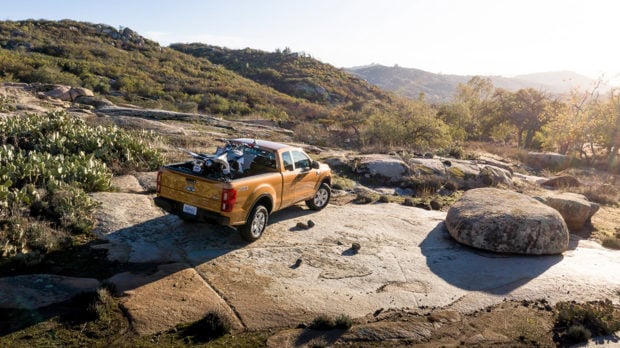 Overall, Ranger is a well-built truck that is a worthy competitor to the Tacoma and Colorado. It will be in showrooms in January with prices ranging from $25,395 for a base 4×2 SuperCab XL, all the way up to nearly $45,000 for a 4×4 SuperCrew Lariat with the FX4 off-road package. Ford may be late getting back into the mid-size pickup truck party, but at least they brought something nice for us to enjoy.
(Photos by James Lipman for Ford Motor Company)