2020 Kia Telluride SX V6 AWD Review: A 3-Row Wonder
2020 | kia | kia telluride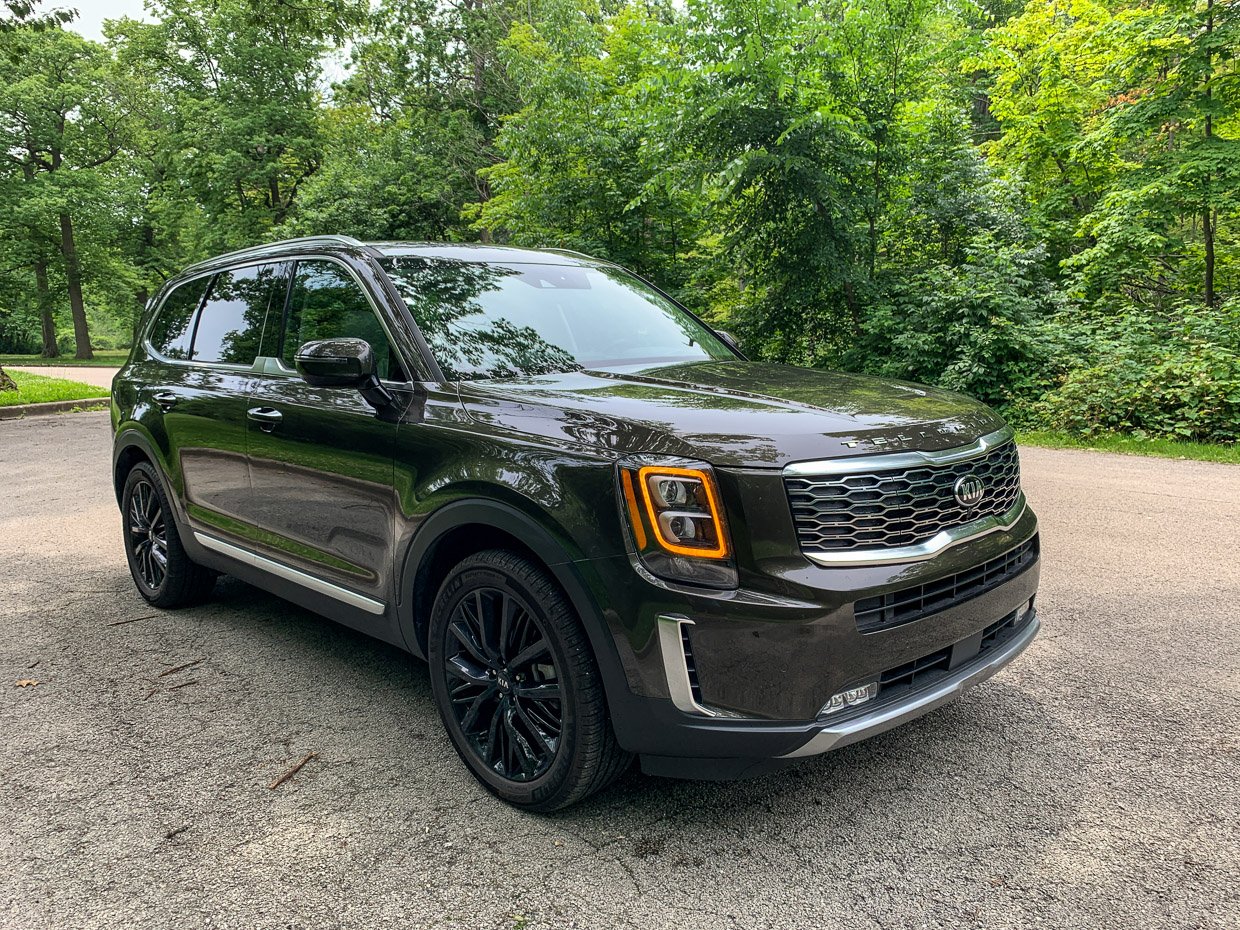 2020 Kia Telluride SX V6 AWD

Engine: 3.8L direct-injection V6
Horsepower: 291
Torque (lb-ft.): 262
Transmission: 8-speed automatic
Drive Configuration: AWD
City/Hwy/Combined MPG: 19/24/21
Curb Weight (lb): 4354-4482
Wheelbase (in): 114.2
Total Length (in): 196.9
Width (in): 78.3
Ground Clearance (in): 8.0
Base Price (USD): $43,490
Price as Tested (USD): $46,860
I first came face to face with the Kia Telluride back in 2016 ago at the Detroit Auto Show, where it debuted as a concept vehicle. At the time, I was impressed with the SUV's striking exterior design and its slick, ultra-modern interior. Now, I've had a chance to drive the production vehicle that was born from that concept, and I'm happy to report that the SUV that Kia managed to bring to market does not disappoint.
Sure, the Telluride you can actually buy doesn't have a sweeping all-digital dashboard, vital sign sensors, or even the hybrid drivetrain of the concept (though maybe someday it will), but it still captures the sense of substance and clean lines of its inspiration. In fact, it looks very much like the concept did from the outside. And while Kia surely had to put back the "B" pillar that's absent in the concept for safety reasons, the front end of the Telluride looks even more like a concept car than the concept did. The dark metallic honeycomb grille spans nearly the full width of the SUV, surrounded by amber accent lighting, full LED projector beam headlamps and neatly-integrated LED fog lights along its bottom edge.
The SX model I drove is simultaneously the most luxurious and sportiest of the trim levels, with features like dual sunroofs and Nappa leather inside, satin chrome trim, and 20-inch black alloy wheels the likes of which normally are meant for sports coupes, not family SUVs.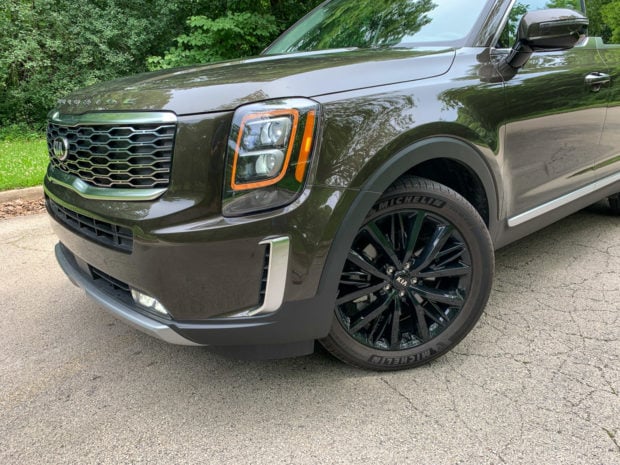 Designed to transport up to seven or eight occupants, depending on trim level, the Telluride manages to feel more like a car on the road than most 3-row vehicles. Bucking industry trends, it gets its power from a naturally-aspirated V6 engine, which pumps out a more than sufficient 291 horsepower. In addition to avoiding the dreaded turbo lag, it helps the Telluride in the towing department as well, with the ability to pull trailers weighing in at up to 5,000 pounds. Paired up with a new and improved version of Kia/Hyundai's 8-speed automatic transmission, it offers up smooth shifts, and better than expected fuel economy – with an EPA combined 21 MPG.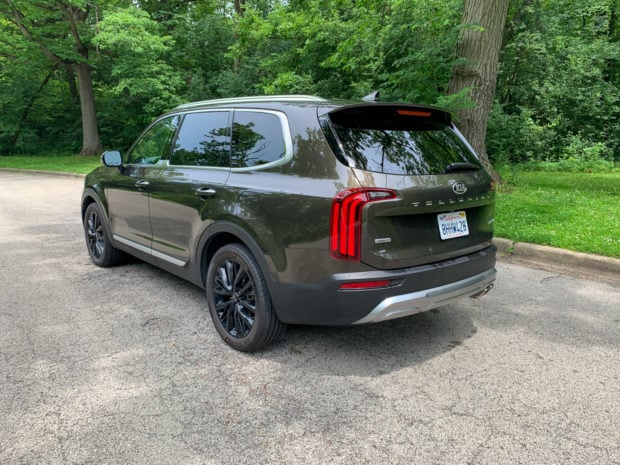 The Telluride is most definitely a vehicle for daily driving, but Kia wants us to know it could take you off the tarmac too. While I probably would want to change out the wheels and tires before driving it over any pointy rocks, it does have a respectable 8 inches of ground clearance, and skid plates in the front and rear to protect delicate components. And like a proper off-road vehicle, it even offers a locking rear differential for its all-wheel drive system.
Overall, the Telluride offers smooth and confident ride characteristics, and an impressively well-behaved chassis thanks to Kia's engineering smarts, and ample quantities of high-strength steel and industrial adhesives used in its construction. Unwanted body roll has been banished, and cornering in the Telluride is better than a vehicle that can hold up to eight humans should be allowed to be. Its interior is also very quiet, with no unwanted cabin noise or vibrations. Fit and finish is excellent, with no squeaks, rattles, gaps, or rough edges.
Inside, the Telluride aims well above its name badge in terms of design and materials, with the higher trim levels offering real wood trim, leather or Nappa leather seats, stainless steel pedals and door sills, a soft microsuede headliner, and colorful mood lighting. Both the front row and 2nd row can be equipped with both heated and ventilated seats, something I've rarely encountered even on high-end luxury vehicles.
Depending on the model you go for, the second row can either come with a bench seat for three, or a pair of captain's chairs. Those decrease seating capacity by one person, but make accessing the rear seat easier, and offers greater comfort for passengers #3 and #4. Speaking of passenger comforts, each and every seat in the Telluride has access to a USB port – something that should be the norm for every vehicle these days, but is not. Even the third row is designed with comfort in mind, offering up ample cupholders, charging ports, and overhead, adjustable vents for the heating and cooling system.
Legroom in the second row is great, and both captain's chairs can slide and recline. The third row is a bit tighter, but not the penalty box that it often is, and even adults can sit back there if need be. Both the second row and third row can fold flat in the Telluride, offering a great amount of cargo space. There's as much as 87 cubic feet with both rows folded, 46 cubic feet with the third row down, and 21 cubic feet with all rows in use. Keep in mind that the Telluride's sister, the Hyundai Palisade has an advantage here, in that its third row offers pushbutton electric folding and unfolding, while the Telluride uses a manual folding mechanism.
Kia packs the Telluride with modern safety and convenience tech too. The SX comes with a nice 10.25″ wide touchscreen that can display up to three applications on screen at once, and like other Kia/Hyundai/Genesis vehicles, its interface is fast and intuitive to use. There's also a surround view camera system, which makes maneuvering the nearly 200″ long SUV in and out of parking spaces a breeze.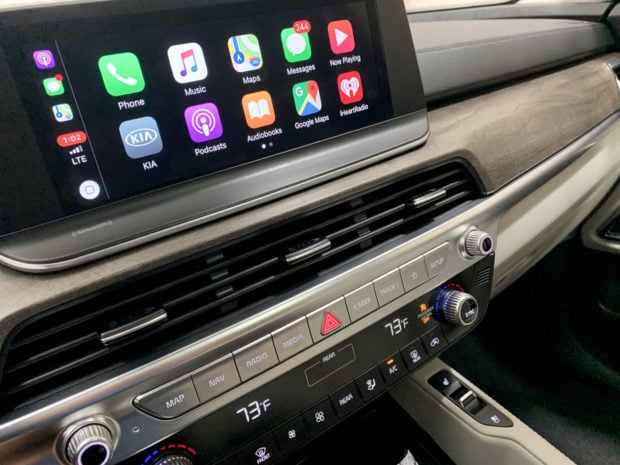 In addition to adaptive cruise control with stop/start, lane-keeping assist, forward and reverse collision avoidance systems, and blind spot monitors, the Telluride has another trick up its sleeves. When you flip on your turn signal to change lanes, a camera sends a picture of the lower half of that side to the display in the instrument cluster, improving visibility of a common blind spot. I found this to be extremely helpful in the city, where all manner of bicyclists, mopeds, and scooter riders might pop up while turning.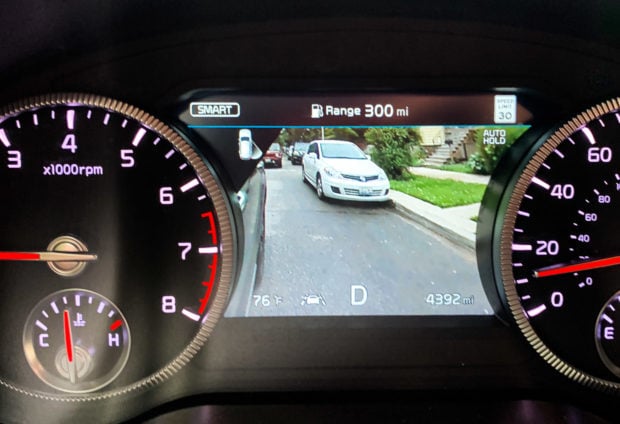 Other features include a great sounding 10-speaker Harman Kardon audio system, Qi wireless charging, Android Auto, and Apple CarPlay. While some of the bells and whistles of the Telluride I reviewed appear only on the higher EX and SX trim levels, you'll be happy to know that even entry-level LX models (which start at $31,690 with front-wheel drive) get the same V6 engine and three-row seating, and look every bit as good as the more expensive models.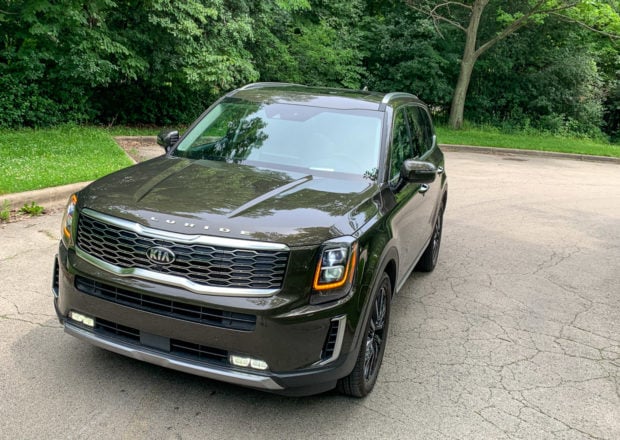 Kia has a real winner on its hands with the 2020 Telluride. It's bold and stands out from the crowded field of three-row SUVs. It's luxurious, offers premium styling and materials, a comfortable ride, versatility, great cargo capacity, and above average towing capabilities. Plus, like all Kias, it's an exceptional value, and still offers the best warranty in the business.
Prefer the looks of the Hyundai Palisade? Stay tuned for our first drive review of the Telluride's sister SUV in the coming weeks.