2020 Corvette Stingray Prices Announced for 1LT, 2LT, 3LT
2020 | C8 corvette | chevrolet | chevrolet corvette | Mid-Engine | prices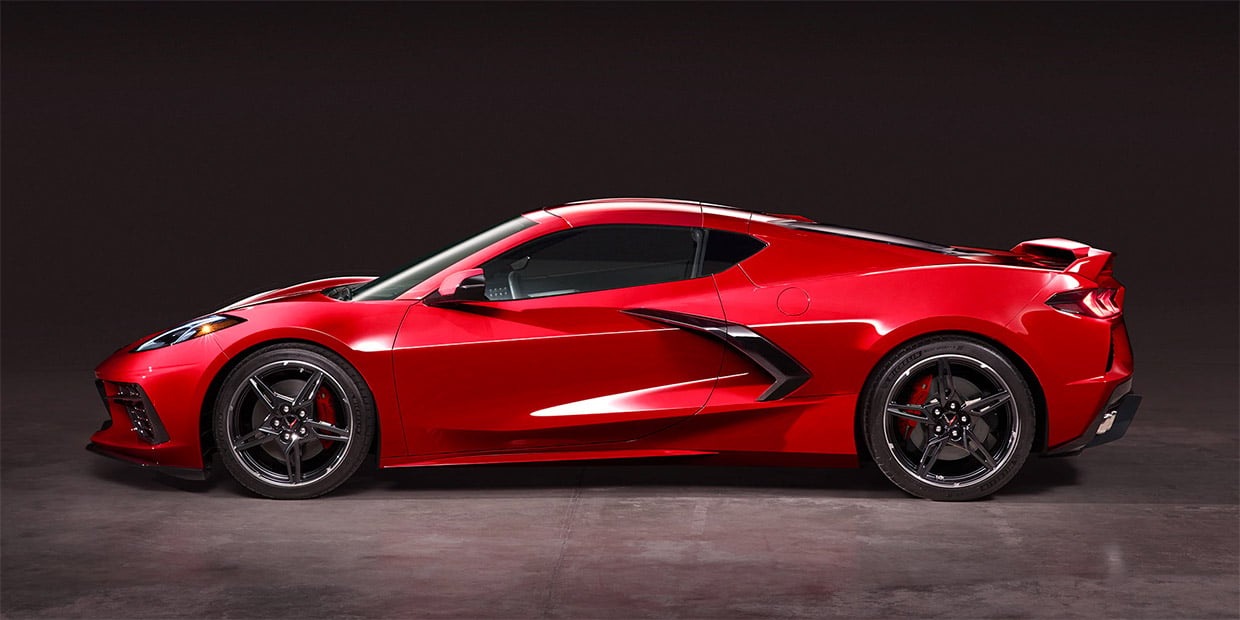 Now that we know what the mid-engine Corvette finally looks like, and have its basic specs, Chevrolet has now revealed full pricing details for the initial batch of Vettes headed our way in 2020.
Initially, there will be three trim levels for the Stingray: 1LT, 2LT, and 3LT, with prices starting at $59,995, $67,295, and $71,945, respectively. All three models get the new 6.2-liter LT2 V8 engine that makes 495 horsepower and 470 lb-ft. of torque, along with an 8-speed dual-clutch automatic transmission. The great news is that it appears that even the least expensive version can still hit that 194 mph top speed, though it sounds like you'll need to opt for the performance exhaust or Z51 package if you want to eke the full power from the engine.
The 1LT is the lightest weight model, and starts out with standard 8-way power seats, a Bose 10-speaker audio system, and all-season performance tires. Upgrade to the 2LT, and you'll get heated/vented seats, a heated steering wheel, a heads-up display, performance data recorder, and optional GT2 Nappa leather seats. For those looking for a bit more luxury, the 3LT gets all of that, plus a leather-wrapped instrument panel, suede microfiber trim, and those Nappa leather seats come standard. As you move up the trim levels, there are more interior color options available as well.
The $5,000 Z51 package is a must for enthusiasts, and comes with Michelin PS4 performance three-season tires, 345 mm front and 350 mm rear brake rotors, upgraded cooling with an additional rear-mounted third radiator, an electronic limited-slip differential, an larger rear spoiler that provides up to 400 lb. of downforce, and performance exhaust.
Other important options to consider include the magnetic ride control and traction management package for $1,895, and the standalone performance exhaust system for $1,195. There's also a $995 engine appearance package which adds carbon-fiber doo-dads and LED lighting to really show off the see-through engine compartment.
There are a variety of removable roof options too, including a removable transparent roof panel for $995, a body-color dual roof package for $1,995, a removable carbon fiber roof panel for $2,495, and a carbon fiber dual roof package for $3,495.
You can play around with your own custom Stingray with Chevy's Corvette configurator, and you can check out all of the detailed options at the 1LT, 2LT, and 3LT pricing guides, which include a number of dealer-installable add-ons as well.
Of course, all of these prices don't include the inevitable dealer markup that comes in the first year of a high-demand sports car, so I'd expect that most buyers will end up paying a good deal more for the 2020 model year Vette.