2020 Hyundai Sonata Hybrid Review: A Sophisticated and Efficient Sedan
2020 | hyundai | hyundai sonata hybrid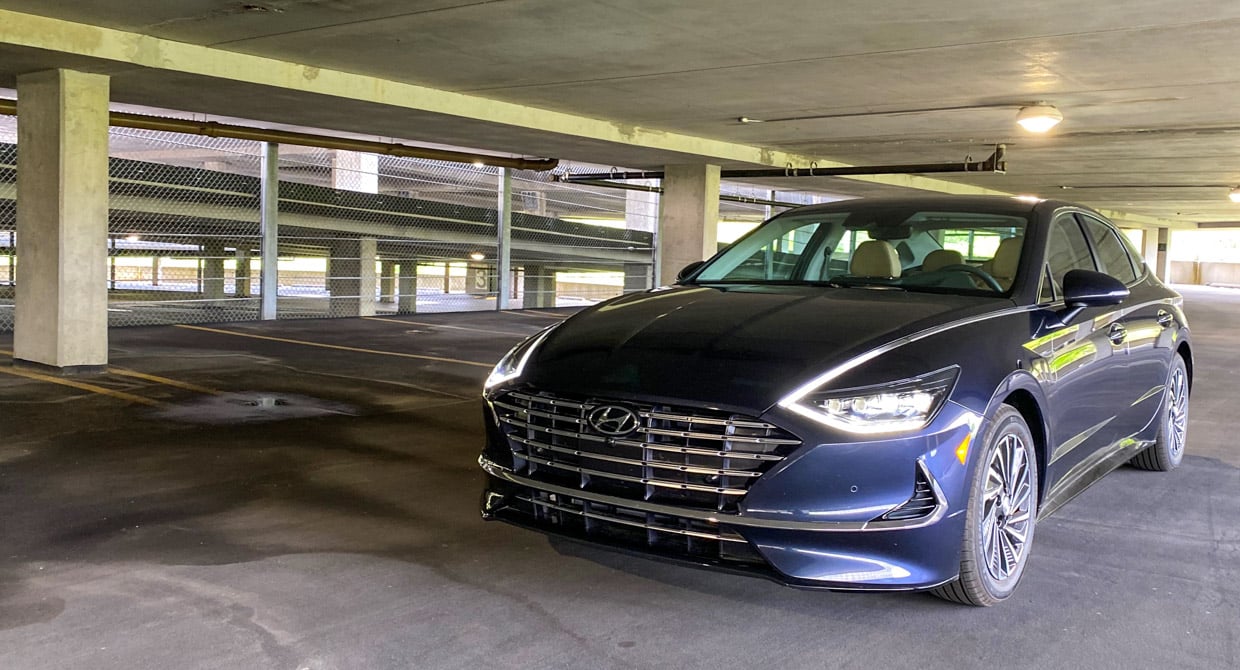 2020 Hyundai Sonata Hybrid

Engine: 2.0L Inline 4-cylinder + electric motor
Transmission: 6-speed automatic
Drive Configuration: FWD
City/Hwy/Combined MPG: 45/51/47
Curb Weight (lb): 3,530
Wheelbase (in): 111.8
Total Length (in): 192.9
Width (in): 73.2
Base Price (USD): $35,300
Price as Tested (USD): $36,430
Despite any rumors that sedans are going away, the 4-door passenger car is alive and well, and as far as I'm concerned, better than ever when it comes to the current selection – especially when it comes to the mid-size segment. With impressive entries in recent years from Toyota and Honda, Hyundai felt the need not only to keep up with the Joneses, but to beat them at their own game. With the 2020 Hyundai Sonata, they're certainly in the running. I recently spent some time behind the wheel of the hybrid variant of the new Sonata, and in general I'm very impressed.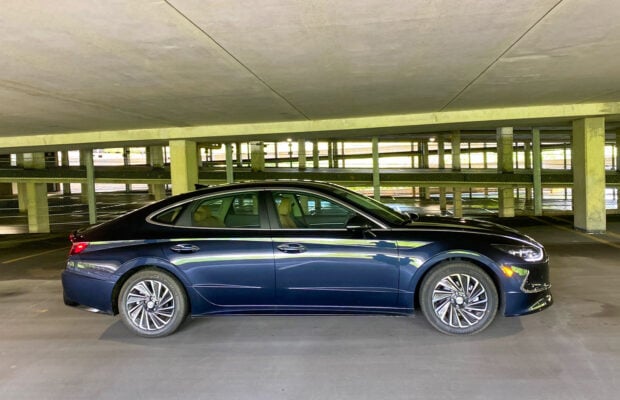 In its top of the line Limited trim, the Sonata Hybrid is, for all practical purposes, a luxury car. It looks fantastic from the outside, with a distinctive front end, flanked by dramatic LED headlights and accent lights, a long and lean profile with short overhangs, a fastback-style rear section, and mix of chrome and black trim that that gives the roof the illusion of floating above the cabin. The 2020 Sonata is one of those rare cars that looks great from every angle.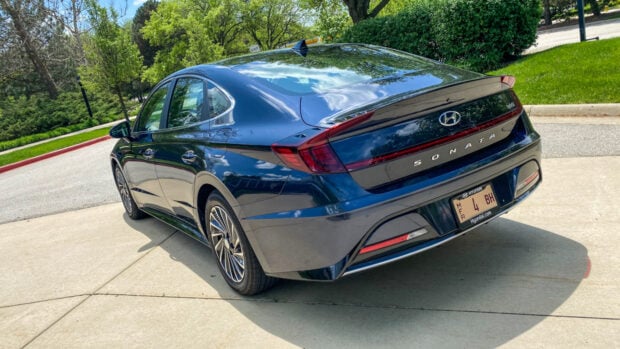 Conventionally-powered 2020 Sonatas come with either a 2.5-liter 4-cylinder engine or a 1.6-liter turbo 4, while the Hybrid gets a 2.0-liter Atkinson cycle 4-cylinder, along with a 51 hp electric motor, that produce 192 total system horsepower – exactly one more horse than the gas 2.5 liter. In other words, the hybrid gives up nothing in the way of power, while improving upon fuel economy to the tune of roughly 15 combined mpg. The SEL and Limited hybrids get a combined 47 mpg, while the more spartan Blue trim manages an even more impressive 52 mpg. Not bad, when you consider that a comparable Sonata Hybrid is only about $2000 more than its gas counterpart.
The hybrid drivetrain sends all of its power to the front wheels, and offers what I would describe as a sufficient amount of power. It's by no means fast or sporty, but it'll get you from point A to point B without a struggle, and is incredibly quiet. Working with a 6-speed automatic transmission and Hyundai's "Active Shift Control" technology, the engine and motor work smoothly together. Overall feel from the electric power steering system is on the lighter side, but does offer a bit more engagement in Sport mode. The suspension is tuned for daily driving, erring on the side of comfort over driver feedback.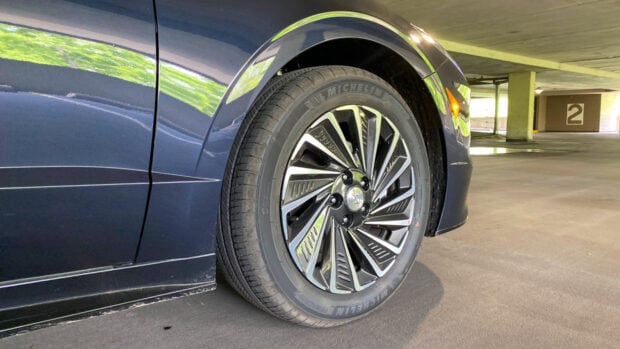 Riding on the rooftop of the Sonata Hybrid Limited is a fairly uncommon feature – a solar array. Not only does it look just as cool as one of those fancy carbon fiber roofs you might find on a sports car, it provides power to the car's battery system. With enough available sunlight, the solar roof can contribute 205 watts of power. This is primarily used to reduce battery discharge when you're using the infotainment or HVAC systems with the engine off, but it can also provide about 2 extra miles of driving range per day. We're still a long way away from solar panels being efficient enough to fully recharge an electric vehicle, but it does make this car just a little more green, and is a great conversation starter.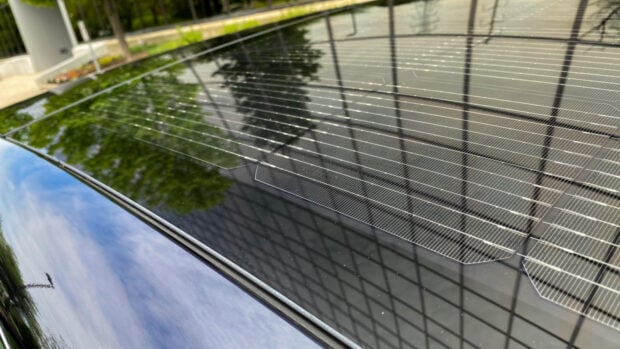 The interior of the Sonata Hybrid Limited is proof that you don't have to have a luxury nameplate to have a luxurious car. At highway speeds, it's whisper quiet inside the cabin. There's soft and comfortable leather wrapping the seats, armrests, and dashboard, and high-end features like heated and ventilated front seats. The driver's seat offers 8-way power adjustability, including power lumbar settings, and there's memory for both the driver's seat and side mirrors.
Since there's no V6 engine available for any Sonata model, Hyundai is able to make its passenger compartment a little more spacious than its competitors. In fact, the Sonata Hybrid beats the 2020 Camry, Accord, and Altima hybrid models in headroom, legroom, shoulder room, and hip room. I had no problem sitting comfortably in the back seat, even as a big guy like me.
Technology abounds, too. I've been a fan of Hyundai's infotainment system for quite some time, thanks to its intuitive, bug-free, and speedy feedback. It's even better when displayed on the ultrawide 10.25″ touchscreen that comes standard on the Limited trim. Apple CarPlay and Android Auto are standard on all 2020 Sonatas too. A surround view monitor, combined with front and rear parking sensors, rear-cross-traffic alert, and parking collision avoidance tech makes it easier than ever to negotiate tight parking spaces and garages.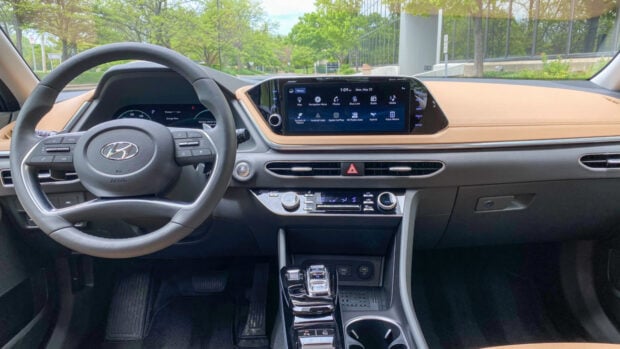 There are lots of other cool doo-dads, including a Qi wireless charging pad, a 12-speaker Bose audio system, ambient lighting, and a digital key feature that lets you unlock and start your car with your smartphone. I also love the design of the 12.3″ full digital instrument panel, which can display all kinds of useful and contextual information, like a diagram of power flow to the drivetrain, and a Blind View monitor, which uses a pair of cameras mounted under the side mirrors to give you a view of your blindspot when your turn signal is on.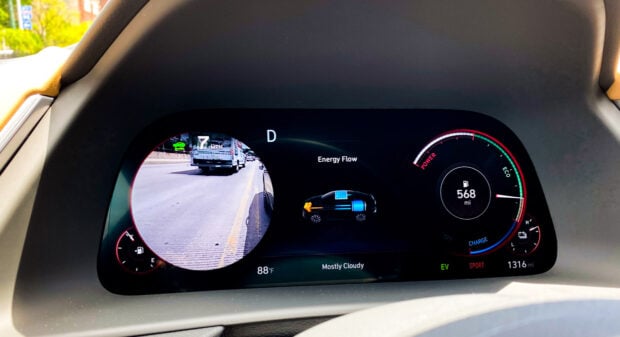 Hyundai continues to deliver on its promise of quality, value, and efficiency, and now takes the style and sophistication to a level that's approaching that of its sister brand, Genesis. While the Sonata Hybrid isn't going to win any awards for performance or driving dynamics, it's a very good daily driver, and well worth consideration if you're looking for a fuel-efficient family car that punches well above its class when it comes to features and luxury.