Living the Life Electric with the 2023 Chrysler Pacifica Hybrid
2023 | chrysler pacifica | minivans | phev | May 14, 2023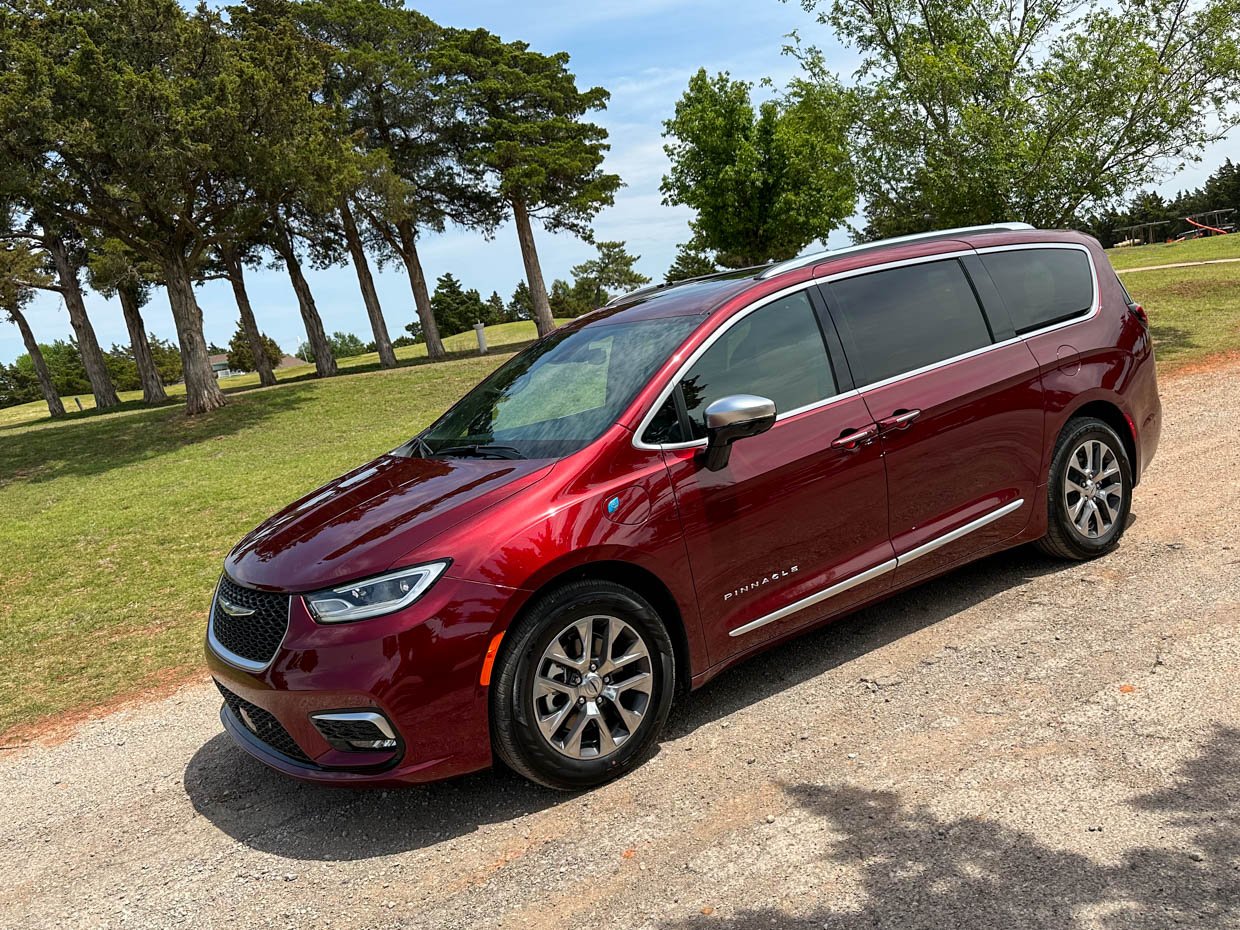 Not long ago, I spent some time driving the Chrysler Pacifica Pinnacle Hybrid. But that time, I didn't get much time to test its pure-electric drive mode. The 2023 version of the Pacifica Hybrid is unchanged from the 2022 model I tested earlier; only this one came slathered in an appealing Velvet Red Pearlcoat paint. So rather than rehash what we already know about Chrysler's fanciest minivan, let's take a look at its electric capabilities and drivetrain.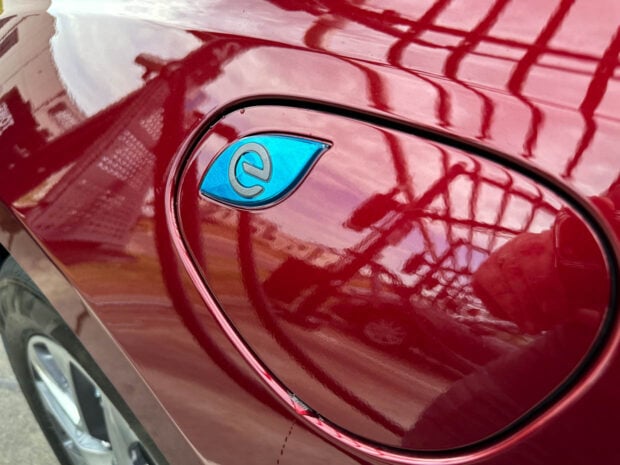 You get the best of all worlds with a PHEV drivetrain – pure-electric daily drives on short trips and no range anxiety on long trips. The Pacifica Hybrid's plug-in capability allows you to charge its 16-kWh lithium-ion battery at home, work, or any public charging station. A full charge takes as little as 2 hours with a 240-volt level 2 charger but can also be achieved overnight using a standard 120-volt household outlet and the included power cord. In my experience, it took about 11 hours to perform this task using a regular outlet on the side of my house. Once fully charged, the Pacifica can travel up to 32 miles solely on electric power, making it great for short commutes or errands around town. Combined with the gas engine, it's got an impressive 520 miles of driving range on a full tank. As a bonus, the Pacifica Hybrid's plug-in electric drivetrain may qualify you for state and federal electric vehicle tax credits, the latter topping out at $7500.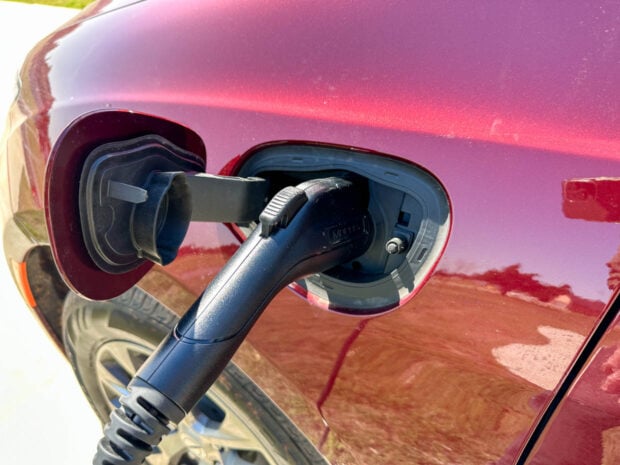 When the battery's charge drops to a certain level, the Pacifica automatically switches to hybrid mode, utilizing both the gasoline engine and electric motor for propulsion. This transition is incredibly smooth and virtually unnoticeable to the driver, preserving the ride quality and performance. Unless you're paying attention to the E-Hybrid display on the center stack, you might not even notice when you've switched between battery and gas modes.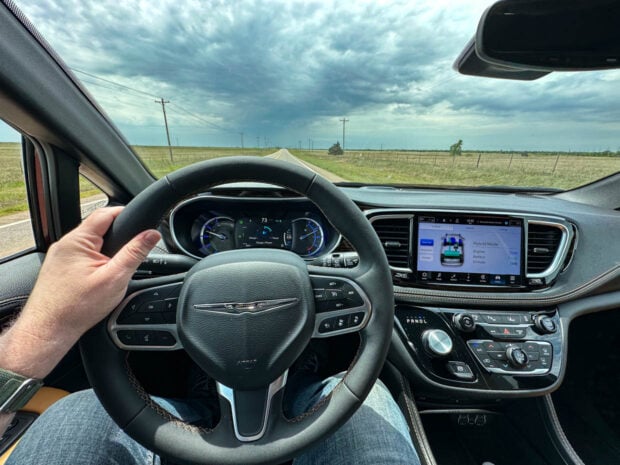 The Pacifica's powertrain control module monitors driving conditions and adjusts the power distribution accordingly, prioritizing electric power at low speeds and during short trips for maximum efficiency. On longer trips or at higher speeds, it seamlessly integrates the gasoline engine to provide the needed power. One thing to remember is that the Pacifica sends all of its power to the front wheels, so if you live in a climate or location where all-wheel drive is a necessity, it might not be suitable for you.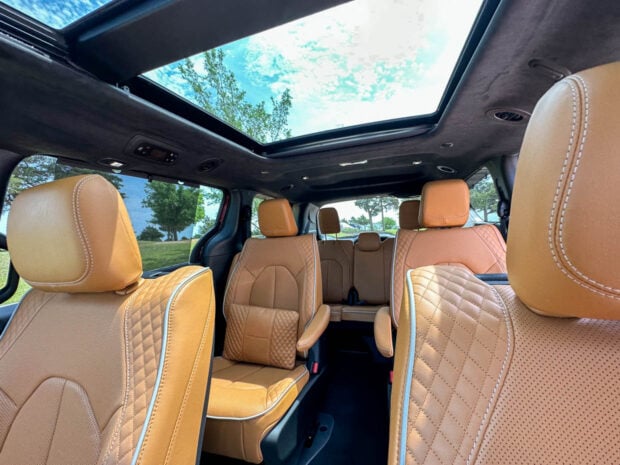 The EPA uses the term MPGe, or miles per gallon of gasoline equivalent, to compare the energy consumption of alternative fuel vehicles and plug-in electric vehicles with the fuel economy of conventional internal combustion vehicles. The Pacifica's impressive EPA rating of 82 MPGe reflects its efficient use of electric and gasoline power. It still gets a respectable 30 MPG when the battery is fully drained.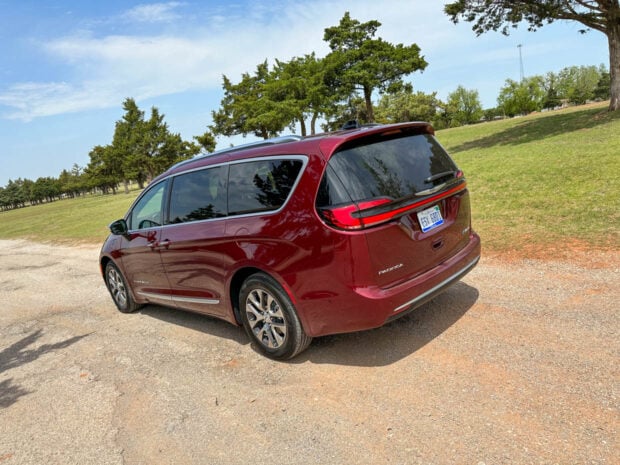 The 2023 Pacifica Hybrid offers excellent fuel economy, an outstanding driving range, and a capacious and comfortable interior. If the majority of your everyday drives are less than 32 miles, the PHEV drivetrain could save you a lot of money and is better for the environment too. Its smooth, quiet ride makes it a compelling choice for those seeking an efficient and versatile family vehicle. The base model Pacifica Hybrid Touring L starts at $50,795, while the Limited starts at $54,895, and the grand luxe Pinnacle reviewed here has a $60,540 base price before any tax credits are applied.