2024 Toyota Tacoma Specs, Engine, Features, and Design Revealed
2024 | toyota | toyota tacoma | trailhunter | May 18, 2023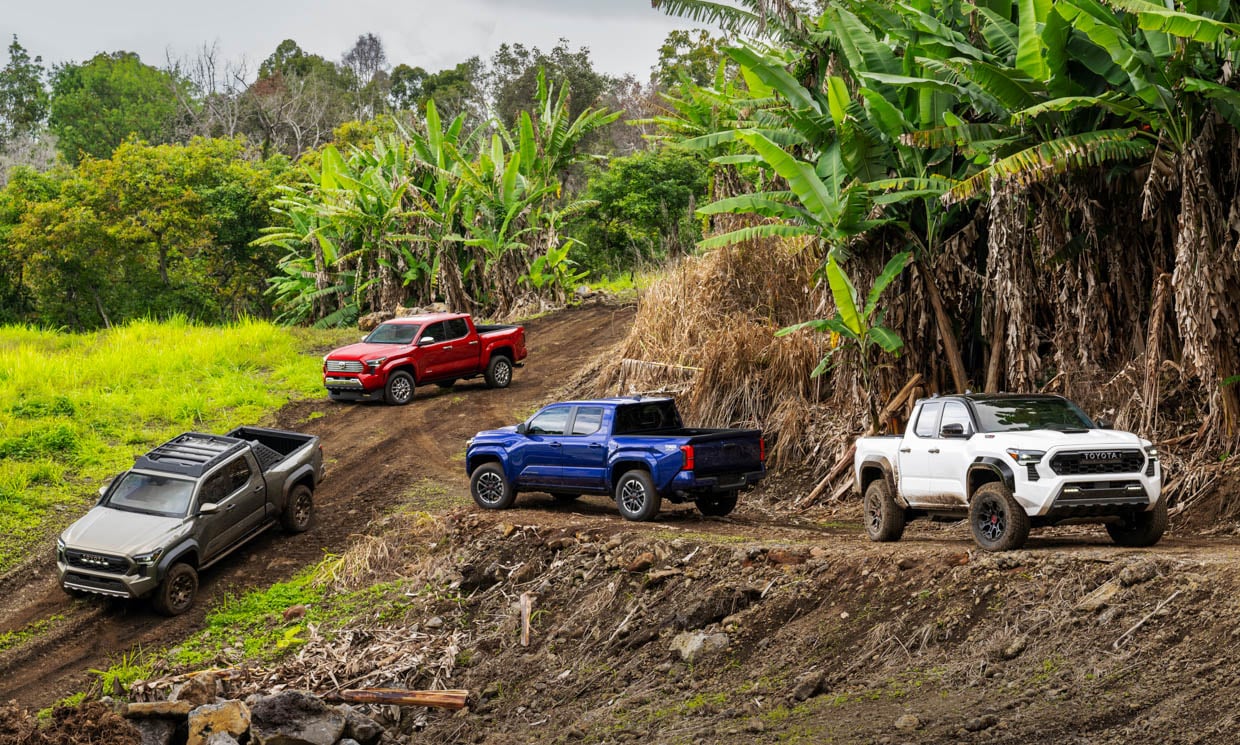 It's been a while since Toyota revamped its Tacoma pickup truck. That's all changed with the 2024 Toyota Tacoma, a top-to-bottom redesign, from its frame to its body to its interior to its powertrains. For 2024, Tacoma is upping its line to eight grades: the SR, SR5, TRD PreRunner, TRD Sport, TRD Off-Road, TRD Pro, Limited, and a badass new model known as the Tacoma Trailhunter.
The new Tacoma offers three powertrain configurations, all incorporating a 2.4-liter turbocharged 4-cylinder engine under Toyota's i-FORCE brand. SR models start with 228 horsepower and 243 lb-ft. of torque, with mid-grade models like the TRD PreRunner getting a 270 horsepower unit with 310 lb-ft. of torque or a 278 horsepower, 317 lb-ft. version, depending on whether you go with the 6-speed manual or 8-speed automatic transmission. Yes, the 2024 Tacoma is available with a manual that includes cheat modes like automatic rev-matching and anti-stall tech. At the top of the engine heap is the i-FORCE MAX, which combines that 2.4-liter engine with a 48-volt electric motor for a significant power boost – 326 horsepower and 465 lb-ft. of torque.
Every Tacoma now has four-wheel disc brakes, with the TRD and above models getting larger front brakes, and i-FORCE MAX-equipped models have larger rear brakes. Different truck grades get different suspensions, with the most impressive setups going to the TRD Pro and Trailhunter variants. The TRD Sport has sport-tuned TRD shocks, while the TRD Off-Road has monotube Bilsteins, the TRD Pro rides on FOX QS3 adjustable internal-bypass shocks, and the Trailhunter has ARB Old Man Emu suspension optimized for overlanding tasks and hauling heavy loads on rugged terrain. All of the trucks have a double-wishbone front suspension, while the SR, SR5 XtraCab, and TRD PreRunner have leaf springs in the back, while other models have a multilink rear suspension. A front stabilizer disconnect feature on the TRD Pro and Trailhunter helps improve wheel articulation and is available as an option on the TRD Off-Road.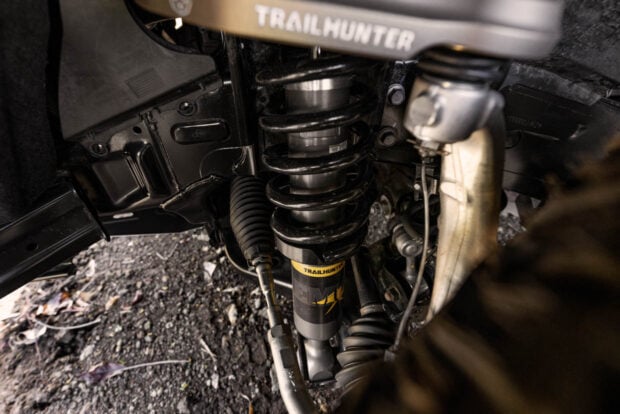 Sharing a platform with the Tundra and Sequoia this time out, the new Tacoma has a similar but more sporty look than its recently-revamped bigger brothers, with a chiseled look and sharp angles throughout its body and trim. There are unique grilles for each truck grade, including a heritage-inspired TOYOTA typeface grille on the TRD Pro and Trailhunter, which gets the bronze treatment on its logo and wheels.
The rear-wheel drive TRD PreRunner represents a good entry point for rugged style, with a lifted front suspension, large-diameter BFGoodrich all-terrain tires, and an electronically-locking rear differential. The TRD Sport has sleeker looks with body-color trim elements, a hood scoop, 18-inch TRD wheels, and aluminum sport pedals inside.
In previous generations, the TRD Off-Road offered the best balance between off-road capability and everyday ride comfort. For the ultimate in Tacoma capability, the TRD Pro is tuned for performance and Baja-style driving, packing not only the i-FORCE MAX engine but a performance air intake and cat-back dual exhaust. At least on paper, the Trailhunter is my favorite configuration with the same i-FORCE MAX engine, heavy-duty suspension, built-in LED light bar, RIGID yellow/white fog lights, and available bed racks with MOLLE connection points.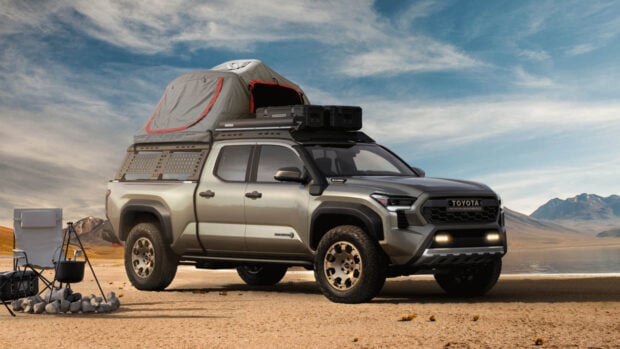 It also has a 2-inch lift up front and 1.5-inches in back, along with 33-inch Goodyear Territory R/T tires, a high-clearance trail exhaust tip, and a high-mounted air intake that Toyota still doesn't want us to call a snorkel. It also has a 2400-watt AC inverter and 12V and USB ports on the rear deck for powering various electrical gear. It's also got an integrated high-output air compressor for refilling tires on the go.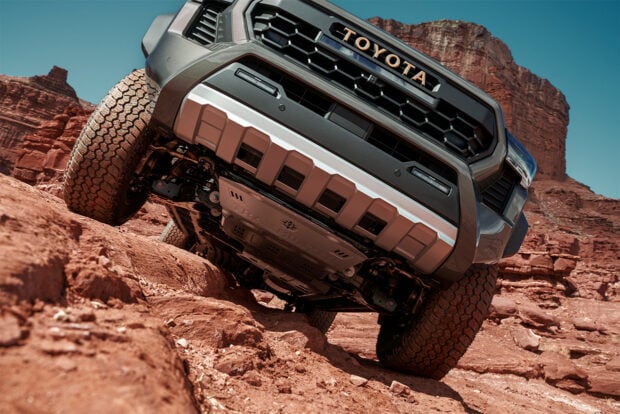 The TRD Pro still has the best off-roading angles, with a 33.8-degree approach angle, a 23.5-degree breakover angle, and a 25.7-degree departure angle – assuming you skip the towing package. This model also has 11 inches of ground clearance. And if you need help negotiating tricky trails, an optional Multi-Terrain Monitor uses cameras to provide a view of the big center display.
Inside, the 2024 Toyota Tacoma has a crisp, linear style and unique trim and color elements depending on grade. The Limited has the most upscale interior and gets standard features like a 14-inch touchscreen, a digital rearview mirror, a power moonroof, and more. It also packs the latest Toyota Multimedia system along with wireless Apple CarPlay and Android Auto. The available JBL audio system has a portable center channel speaker that can be detached and used outside the vehicle.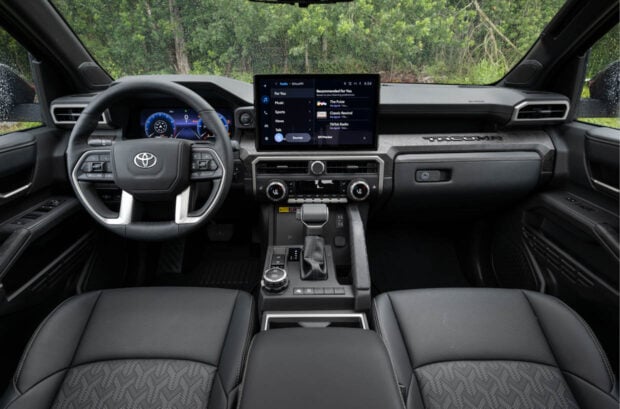 In addition to its bold red accents, the Tacoma TRD Pro gets special IsoDynamic Performance seats, which are engineered to improve comfort and support when off-roading. These seats use shock absorbers to dampen movements and stabilize the view for the driver and front-seat passenger.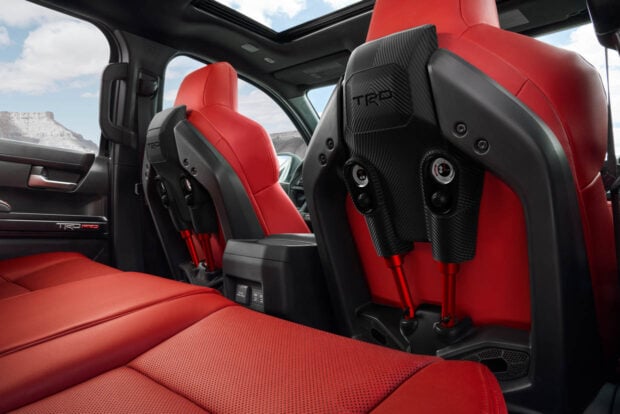 Toyota will offer the 2024 Tacoma in the following configurations: two-door XtraCab with a 6-foot bed, four-door Double Cab with a 5-foot bed, and four-door Double Cab with a 6-foot bed. The i-FORCE models of the 2024 Tacoma are expected to go on sale in Late 2023, while the more powerful i-FORCE MAX trucks will start to arrive in Spring 2024. Toyota has yet to announce pricing for the new Tacoma.