2023 Infiniti QX50 Sport Review: More Smooth Than Sporty
2023 | infiniti qx50 | inifiniti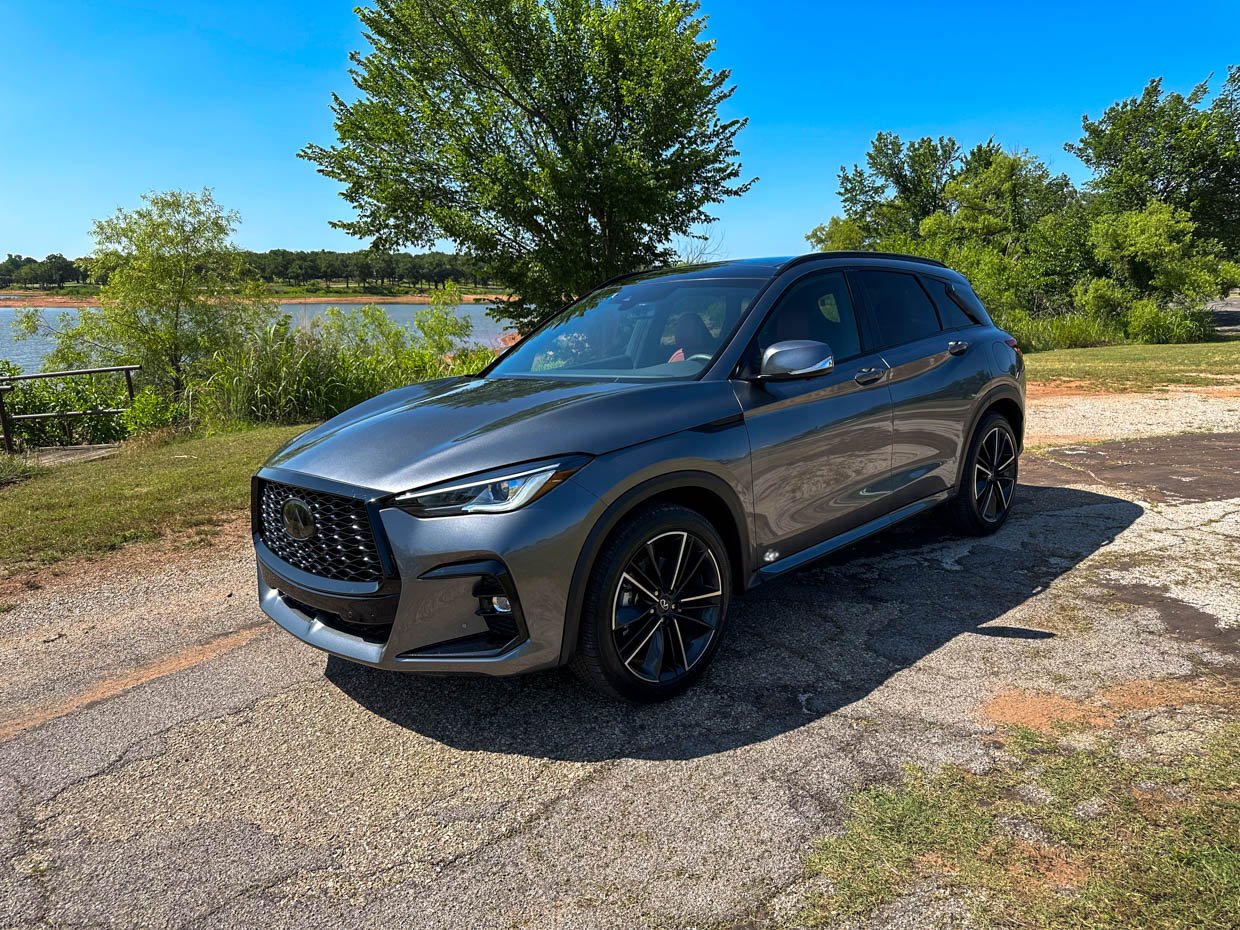 Infiniti knows how to make stylish vehicles, and the QX50 Sport does a good job of looking the part of a sporty crossover. While it has the elements you'd expect in a sport trim, those don't carry over to its performance. But if you're in the market for a handsome luxury crossover and want a comfortable and smooth daily driver, the QX50 Sport could be the ride for you.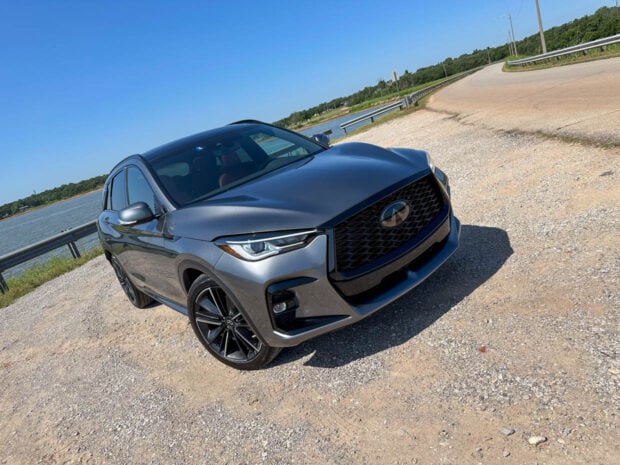 The exterior design of the QX50 Sport is quite appealing, with curvy, sculpted forms, a blacked-out grille and body trim, and rolls on 20″ machine-finished wheels with black paint. The overall look is sleek, especially when paired with this dark grey paint called Graphite Shadow. If the QX50 looks familiar to you, it's because it's virtually the same vehicle as the Infiniti QX55 I reviewed earlier this year. The big difference is that the QX50's roofline isn't as dramatically sloped, so it has a more conventional crossover look.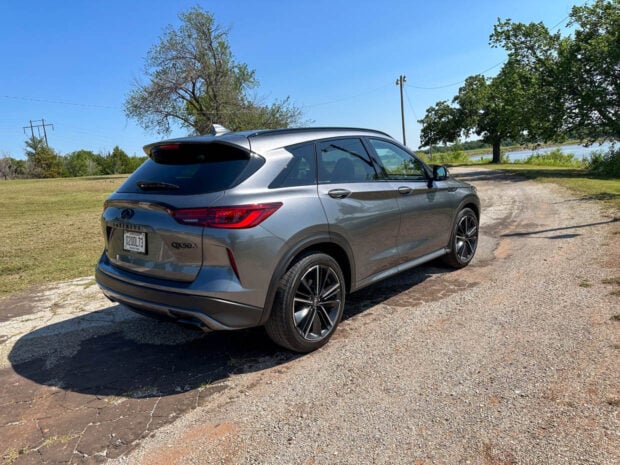 Like the QX55, the engine in the QX50 is a 2.0-liter, variable-compression turbo 4-cylinder that produces 286 horsepower and 280 lb-ft. of torque. While this provides moderately fast acceleration, any hopes of a sporty feel are ruined by the whining sounds of the continuously-variable transmission. And no, the paddle shifters do nothing to help it feel more engaging. Before you assume that I hate all CVTs, I don't. I've driven several other vehicles where the CVT was implemented in a much less obtrusive way. I think Infiniti tried too hard to make this drivetrain sound sporty under hard acceleration, and instead, it just sounds like the engine is straining.
The QX50 Sport's suspension and overall ride quality are smooth and comfortable but not particularly dynamic. If you close your eyes and imagine you're driving a typical mid-size sedan like an Altima or an Accord, that's a pretty good approximation of how it handles. My test vehicle was equipped with an all-wheel drivetrain, which can send up to 50% of torque to the rear wheels for added traction. Though if you live in a place where inclement weather is rare, you could save $2000 and get the front-wheel drive version instead. Tech features include a surround-view monitor and ProPILOT Assist, which does a good job of keeping you centered in the lane and maintaining your speed on the highway when vehicles slow down in front of you.
Overall, I like the interior design of the QX50 Sport, especially the two-tone black and Monaco Red leather seating and matching trim on the center console. The front seats have a sporty profile but aren't too snug. Both have heat and cooling. The stacked touchscreens seem a bit disjointed compared to some of the larger single screens on the market, but they work well, with the bottom screen providing access to vehicle settings and the top screen showing navigation, Apple CarPlay, or Android Auto content. Plus, there's a handy wireless charging tray that works nicely with the wireless CarPlay support.
Curvy trim pieces swoop across the dash and doors for a cohesive and modern look. Every QX50 model has a version of these, but in the QX50 Sport they have a shiny carbon fiber look with an aluminum edge. That fancy-looking metal speaker grille is part of the 12-speaker Bose premium audio system, which provides smooth and powerful sounds throughout the cabin.
The second-row seats are as nicely finished as the front row, though the leg and knee room is tight if you have taller passengers sitting in both rows. Headroom is better back here than in the QX55 since the roof doesn't slope significantly. There are air vents in the center stack, along with USB and USB-C charging ports, but no independent climate controls and heated seats are only available on the more expensive QX50 Sensory and Autograph trims. There's a panoramic sunroof overhead, which helps brighten the space.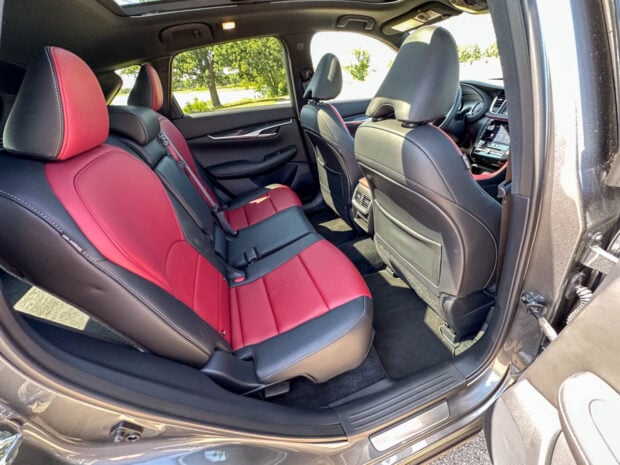 The cargo space in the QX50 also has a leg up over the QX55 thanks to the flatter roof, and with the second row folded down, you can carry just over 65 cubic feet of cargo back here. That's 11 cubic feet more than its more coupe-like brother. This could be the deciding factor if you're trying to choose between the QX50 and QX55.
I'm not a fan of automakers selling sport trims of vehicles that don't enhance performance in any way, and that's what Infiniti has done with the QX50 Sport. It has a smooth ride and comfortable front seats, but it's not nimble or particularly fast. It's strictly an appealing sports appearance package. And that's really what both the QX50 and QX55 have going for them – good looks. For many buyers, that's enough reason to choose a car. However, if you're in the market for a performance-oriented crossover, there are better choices on the market in the same price range, including the Alfa Romeo Stelvio Sprint and Genesis GV70 2.5T. Pricing for the 2023 Infiniti QX50 starts at $40,300 for the entry-level Pure FWD model. The QX50 Sport AWD model tested here had a sticker price of $52,815, including $1,195 in destination charges.