2025 Cadillac Escalade IQ Electric SUV Has More Horsepower than Escalade-V
2025 | cadillac | Cadillac Escalade | cadillac escalade iq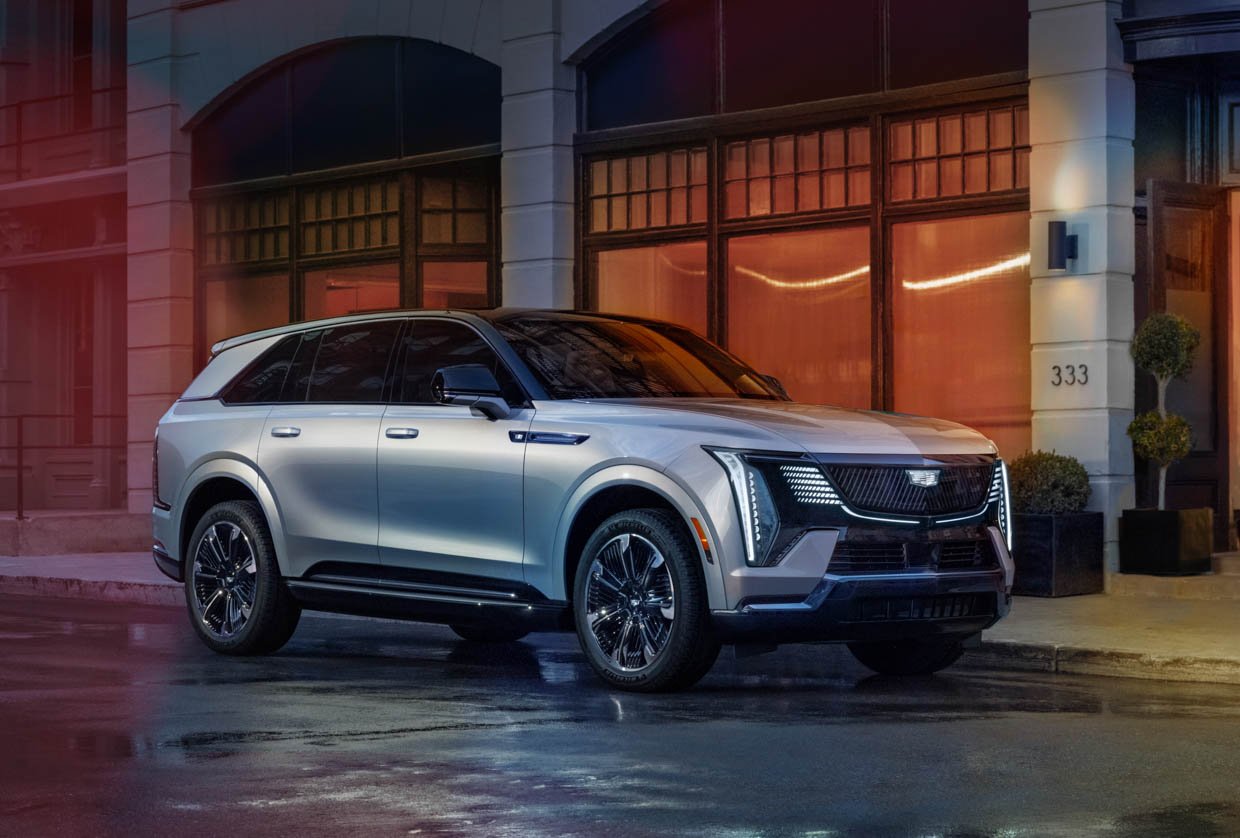 Not long ago, I drove the Cadillac Escalade-V, a $150,000 Escalade with a 682 horsepower V8. Now, Cadillac has revealed a battery-electric version of the full-size SUV called the Escalade IQ, and it can crank out up to 750 horsepower and 785 lb-ft. of torque in its "Velocity Max" mode. If that's not enough, it has a lower starting price than the Escalade-V.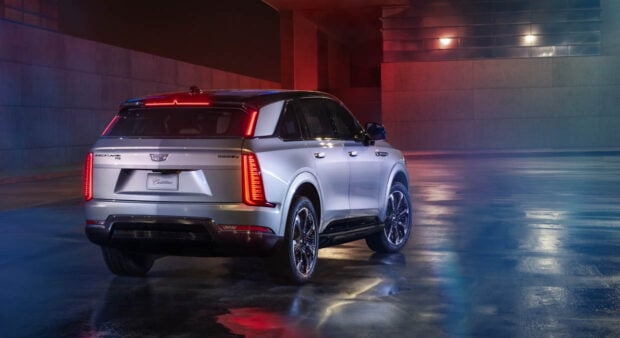 The Escalade IQ shares many design cues with its conventionally-powered brethren, though it has a sleeker, more aerodynamic look overall. That's especially noticeable from its side profile, where you can see that its roofline and tail section slope downward. I'm guessing that impacts its cargo capacity and also helps it with driving range by reducing drag by 15% compared to other Escalades. Speaking of range, Cadillac says the Escalade IQ can go up to 450 miles on a charge thanks to its enormous 200 kWh battery pack. Charging such a big battery on a standard 240V 7.7 kW charger could take up to 30 hours, so it supports 240V 19.2 kW charging in a more reasonable 12 hours. A public DC fast charger can add up to 100 miles of range in 10 minutes. The Escalade IQ also supports bidirectional charging, which uses the vehicle's voluminous battery to power GM's forthcoming Ultium Home products.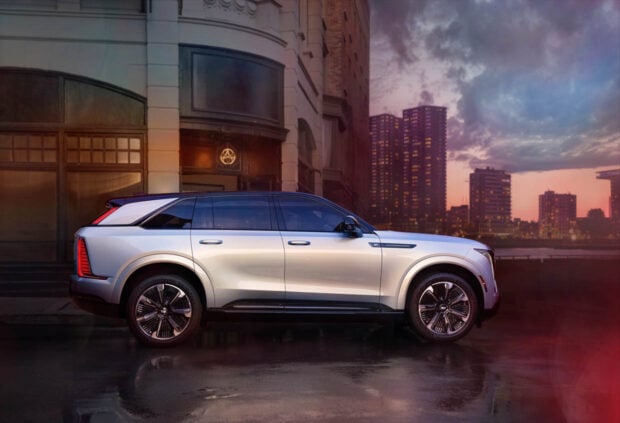 In Velocity Max mode, the Escalade IQ can zoom from 0 to 60 mph in under 5 seconds. In Normal mode, its dual motors can still produce an impressive 680 horsepower and 615 lb-ft. of torque. Thanks to all that power, the big SUV can tow up to 8000 pounds – though I'm confident that would significantly impact its driving range. It rolls on enormous 24-inch wheels wrapped in low-profile LT275/50R24 tires for a more sporty look. So don't try taking this thing off-road. A four-wheel steering capability helps this 224.3″ long SUV turn in a much tighter radius than you'd think – just 19.7 feet – about the same as Cadillac's CT5 sedan. An active air suspension and Magnetic Ride Control 4.0 also dynamically adjusts damping force based on driving conditions.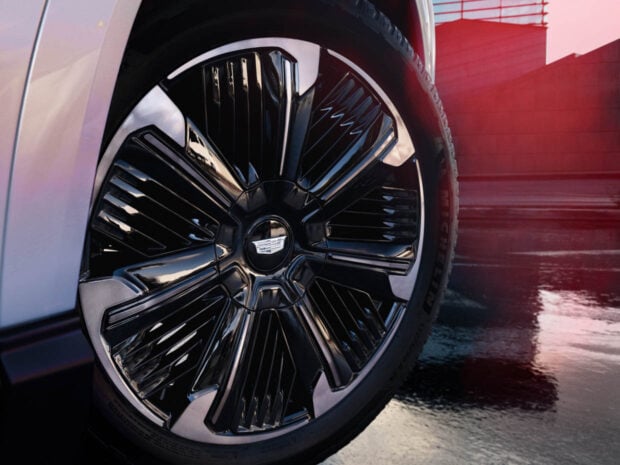 Inside, the Escalade IQ is every bit as luxurious and high-tech as we've come to expect from Cadillac. Its dashboard is one big display that runs across the cabin's width. It's an ultra hi-res 55″ LED screen running Qualcomm's Snapdragon Cockpit Platform, with built-in Google Maps, Google Assistant, and Google Play. Cadillac Super Cruise technology comes standard for hands-free driving on more than 400,000 miles of roads in the US and Canada.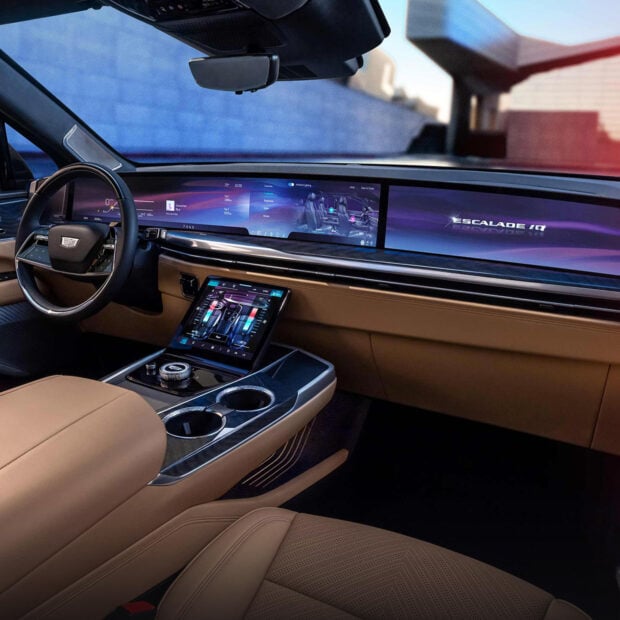 Cadillac offers an executive seating option that turns the second row into a first-class airplane section. That package includes individual 12.6 screens, massaging seats, stowable trays, dual wireless chargers, and a screen for controlling it all from the comfort of your seat. There is a power-folding third row of seats behind that, though I'm guessing headroom is more limited than the boxy standard Escalade.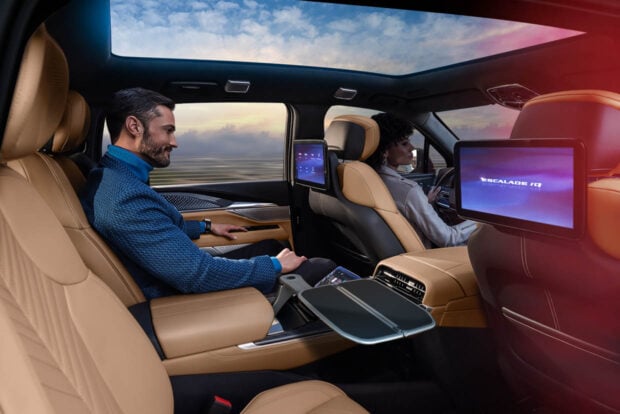 And if you like your music, you're in luck. Cadillac will offer the Escalade IQ with a choice of three different audio systems, including a 19-speaker AKG Studio system and a 36-speaker AKG Studio Reference system. If 36 speakers aren't enough for you, there's a 40-speaker upgrade to envelop you and your passengers in 360º surround sound.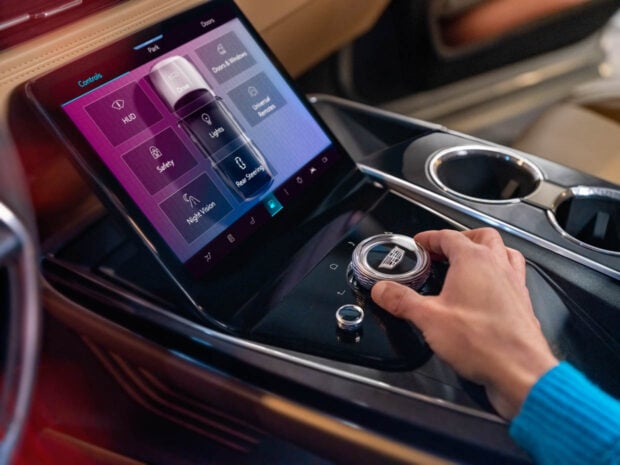 Cadillac has yet to announce the overall cargo-carrying numbers for the Escalade IQ. Whatever cargo space is lost in the back is made up for by a front trunk that provides an extra 12 cubic feet of storage space – perfect for carry-on suitcases, grocery bags, and other small everyday items.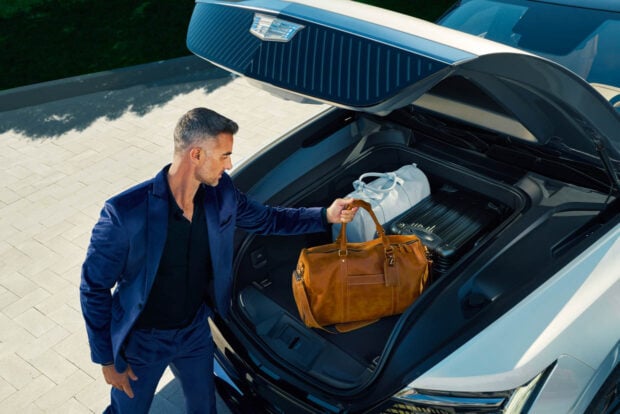 The starting price for the 2025 Cadillac Escalade IQ is $130,000, though the fully-loaded vehicle shown in the photos here is expected to sell for about $175,000. You can find more details and sign up for updates on the Cadillac website.