2023 Lexus RX 500h F SPORT Performance Review: Shines Like a Copper Penny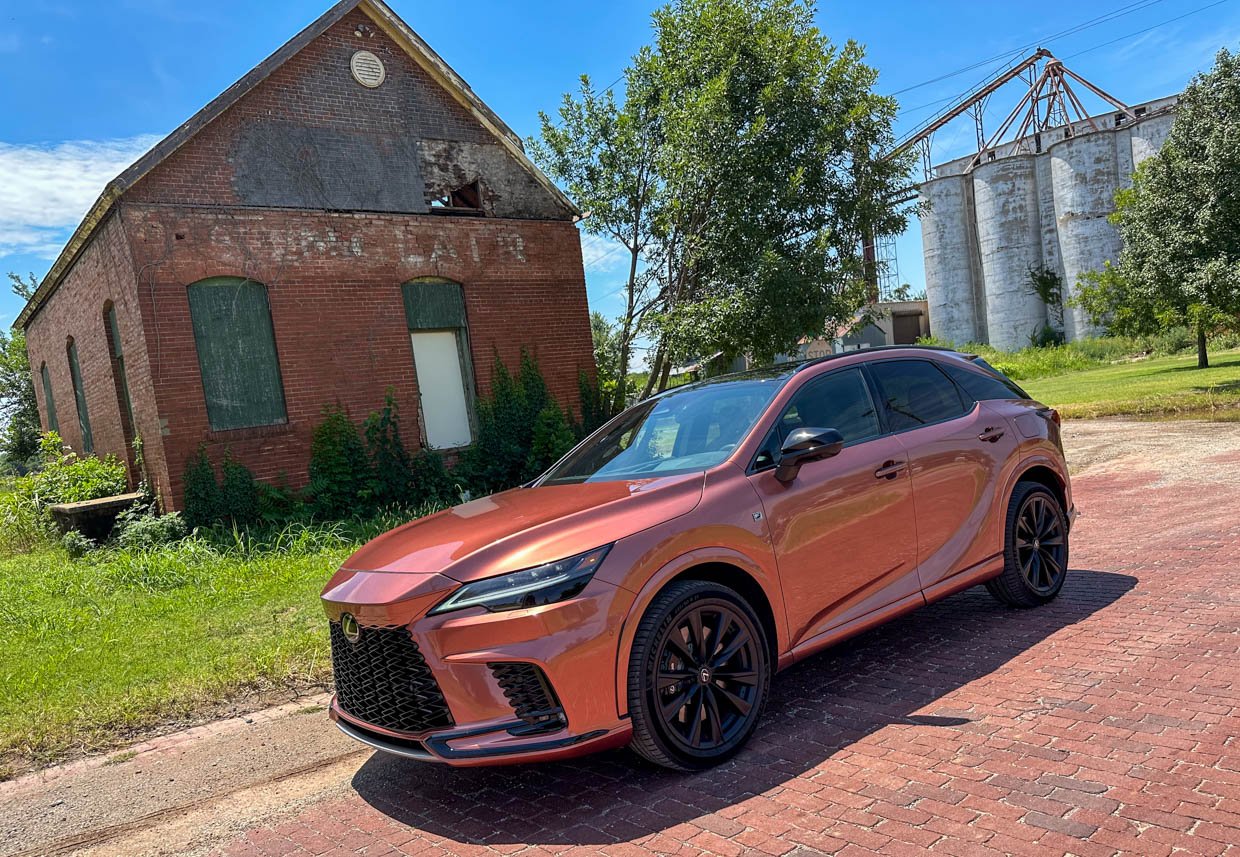 The 2023 redesign of the Lexus RX represents the boldest design change in the history of Lexus' most popular vehicle. Along with its daring new style, the RX has its most potent and dynamic variant, the RX 500h F SPORT Performance. This new all-wheel drive model packs a hybrid drivetrain that produces an impressive 366 horsepower and 406 lb-ft. of torque – numbers you might expect from a Mustang, not a luxury SUV.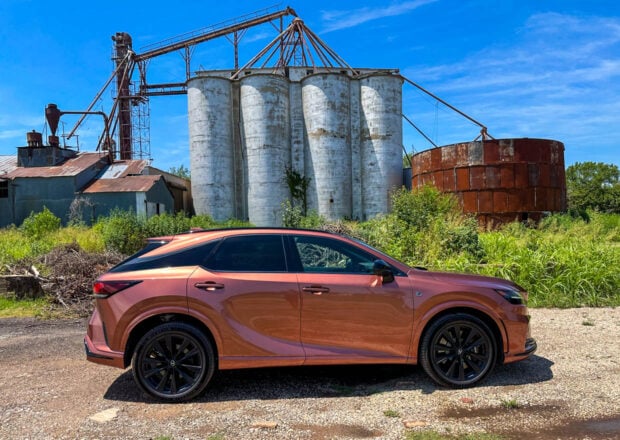 That power comes thanks to a 2.4-liter turbocharged inline 4-cylinder engine paired with front and rear electric motors. This RX will zoom from 0-to-60 mph in 5.9 seconds, and low-end torque arrives fast thanks to the electric part of the drivetrain. A 6-speed, shift-by-wire automatic transmission helps give the drivetrain a more engaging feel than the CVTs typically installed in hybrids. New RX models have a redesigned grille that takes the Lexus spindle signature design in a new direction. Most notably, it's got a broader and more bottom-heavy appearance than past Lexus front ends, and there's a neat sort of gradient fade between the body-colored and black sections. It's still a design that divides opinions, but I think it's the most successful take on the spindle so far. Our test car came bathed in a beautiful color called Copper Crest, the best-executed copper color I've seen on any vehicle. I got stopped several times by people complimenting the metallic paint, which shines like a freshly minted penny.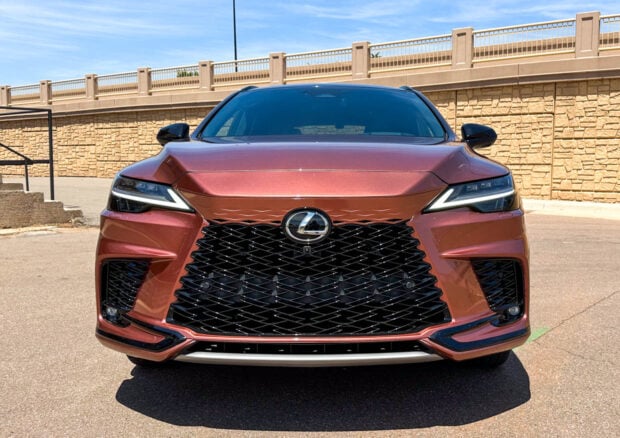 One thing that's immediately noticeable about the new RX is how well it handles. Not only does the new model weigh nearly 200 pounds less than the prior model, the TNGA-K platform is stiffer, and the adaptive variable suspension does a great job managing ride quality and handling. It offers a comfy, cushioned ride in Normal mode and on bumpy roads. In Sport mode, the ride feels more controlled and provides good feedback to the driver. Many vehicles use torque vectoring to help offer more precise cornering, but the RX 500h F SPORT goes one further by implementing rear-wheel steering. By turning the rear wheels up to four degrees, this technology not only improves the turning radius in tight spots but helps sharpen cornering response dramatically.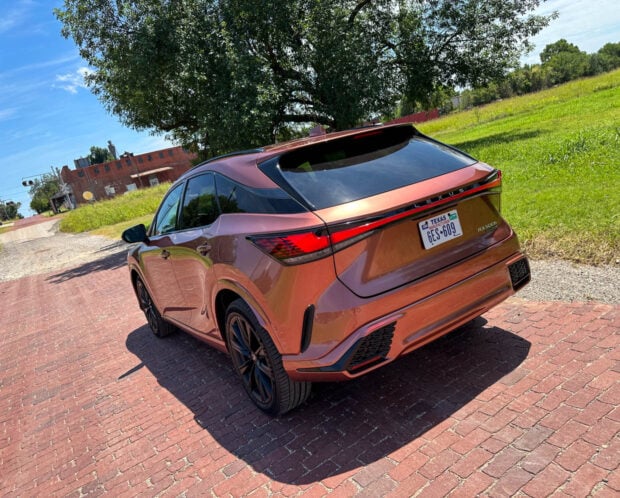 The RX 500h F SPORT gets big 15.74″ ventilated disc brakes and 6-piston front calipers, which offer excellent stopping power. Bigger wheels and smaller sidewalls mean more precise control, and Lexus went all-in with 235/50 three-season performance tires wrapped around 21″ alloy wheels. I'm a big fan of Michelin's Pilot Sport 4 tires, which offer exceptional grip in various weather conditions. The only downside to wheels and tires like these on an SUV is that they're easier to puncture since they don't have as much sidewall.
The interior of the RX 500h is upscale without being fussy in the least. Controls are well placed, and there's a good mix of touchscreen and tactile inputs. However, I'd prefer a physical button or dial for drive mode. In addition to soft leather seats with suede accents, the F SPORT has aluminum trim on the steering wheel and pedals. The sports seats offer good lumbar support and side bolstering and have heat and ventilation – a feature I appreciated in the heat of the Oklahoma summer.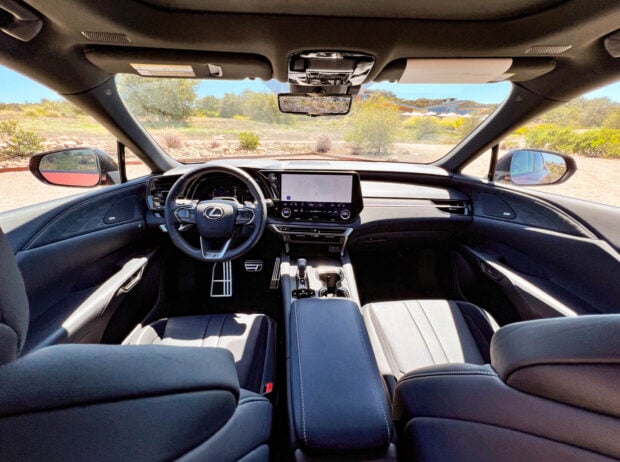 While the base touchscreen is a 9.8″ unit, our RX came equipped with the upgraded 14″ display. This system is backed by the recently released Lexus Interface tech, which is a dramatic upgrade from Lexus'  sluggish prior-generation multimedia systems. This new system is fast and intuitive and has features like cloud-based navigation with real-time updates and a voice assistant that answers to "Hey, Lexus." It also supports wireless Apple CarPlay and Android Auto, and those are nicely integrated. The optional digital rearview mirror offers better visibility and a wider view than a conventional mirror. I was also impressed with the crisp image quality of the surround camera system and visual distance sensors, which help when parking in tight spaces.
That upgraded display and nav system comes bundled with a Mark Levinson surround audio system, and that alone is worth the price of admission. Lexus and Mark Levinson consistently make some of the best-sounding car audio systems you can buy, and this lives up to the hype. It's got great dynamic range, a punchy low end, and cranks out impressive volume without audible distortion.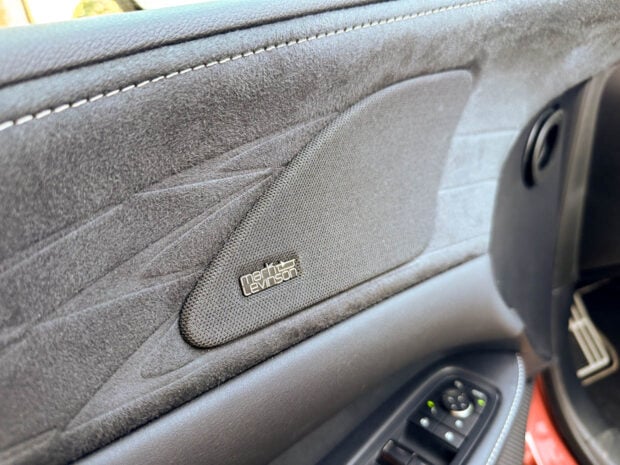 Of course, as an SUV, you're likely to carry rear-seat passengers and cargo. The RX handles both of those with aplomb. The second row offers plenty of room for three people, with excellent legroom and headroom. Back here, you'll find independent climate controls, a pair of USB-C charging ports, and optional heated and ventilated seats for added comfort.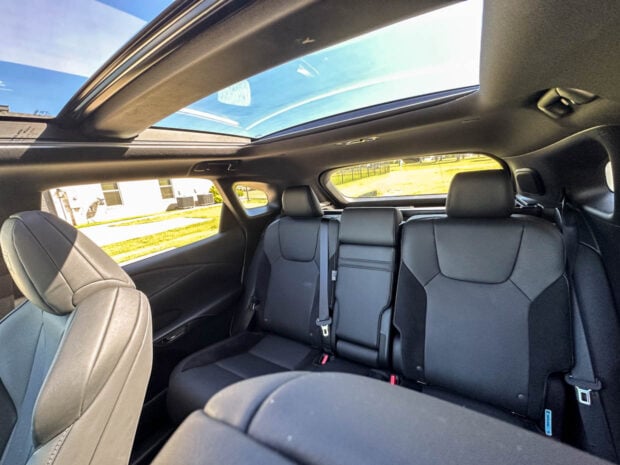 The rear seats fold in a 40-20-40 split configuration for versatility. With the seats in use, you'll find 29.59 cubic feet of space for cargo, and if you drop the seats, that increases to 46.19 cubic feet. The first figure is competitive, but overall cargo space is significantly lower than the Acura MDX, Mercedes-Benz GLE, and Volvo XC90. The space doesn't seem that small to the eye, so I wonder if Lexus measures cargo capacity differently from competitors. The power liftgate has a kick-to-open feature that makes access easy when carrying packages.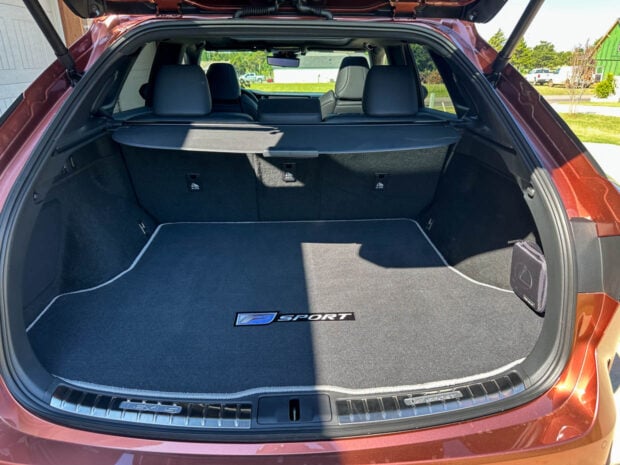 Lexus took a gamble with a bolder and sportier look for the RX, and I think they made the right move. The new styling stands out from other mid-size SUVs, and the RX 500h F SPORT has the performance chops to back up its look. With a base price of $61,600, it's almost $12,000 more to start than an entry-level RX 350 FWD, but it's also much more fun to drive. The vehicle reviewed here had a sticker price of $72,475.