2014 KIA Cadenza
kia | November 12, 2013
---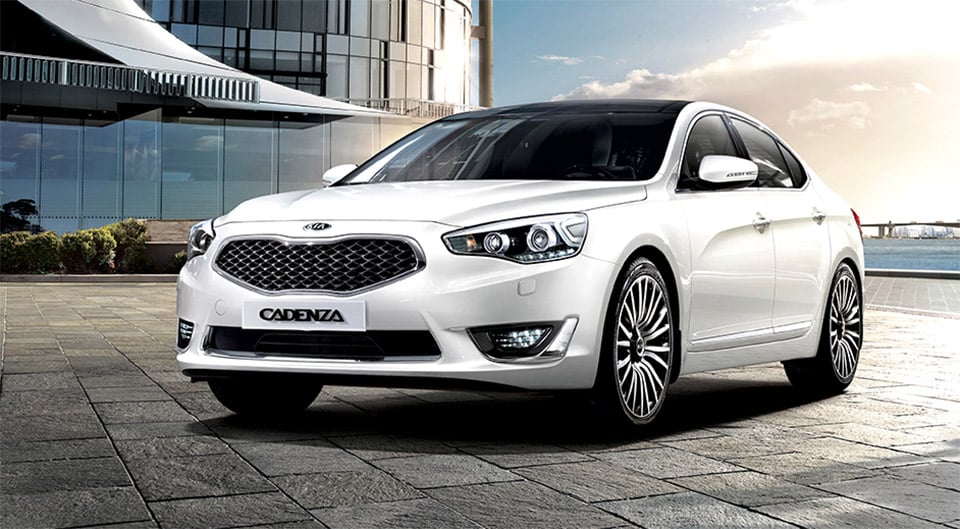 2014 Kia Cadenza

Powertrain: 3.3-liter DOHC V-6, 6-speed automatic transmission
Top Speed (mph): 154 mph
City/Hwy/Combined MPG: 19mpg city/28mpg highway
Curb Weight (lb): 3668 to 3792 lbs.
Wheelbase (in): 112 in.
Total Length (in): 195.66 in.
Width (in): 72.8 in.
Base Price (USD): $35,100
In recent years, Kia has really stepped up its game, and now has a serious contender in the luxury car market in the form of the 2014 Cadenza. Not only does the Cadenza feature upscale exterior styling, but it's well outfitted both under the hood and inside the passenger compartment. It's powered by a 3.3-liter, 294hp DOHC V6, connected to a 6-speed automatic transmission with manual override capability and paddle shifters.
Inside, you'll find elegant stitched leather trimmed or full leather seats, woodgrain accents, and soft touch surfaces on the doors and armrest. The 8-way driver and 4-way passenger power seats offer heating and optional ventilation, and the climate control system has automatic and dual-zone capability. It's even got butt warmers for the rear seats – not something you often see. Also standard is a heated steering wheel, and rain-sensitive wipers.
The car has scads of standard features, including a 12-speaker, 550-watt Infinity sound system, XM radio, navigation from an 8-inch touchscreen display, Bluetooth connectivity, pushbutton start, a rear camera, and an electronic parking brake.
You can also opt for a large panoramic sunroof – though it's split the middle. There's also an optional electric sunshade for the rear window, which provides both privacy and cooling on hot days. Optional tech features include adaptive HID headlights, smart cruise control, lane departure warning system, and blind spot detection for the mirrors.
While we've only had the opportunity to drive the Cadenza briefly, it's definitely worth a look if you're in the market for a car with true luxury amenities, but you don't want to break the bank. Now if it only its name didn't sound like a piece of furniture…