Infiniti Q50 Eau Rouge is Stunning in Person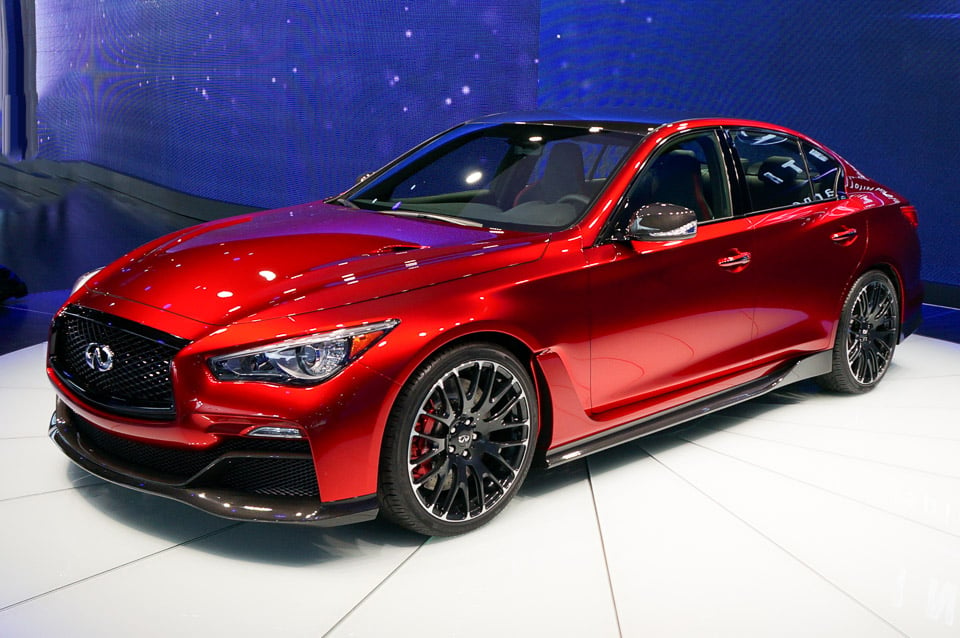 Infiniti showed off the breathtakingly beautiful Q50 Eau Rouge Concept at the 2014 North American International Auto Show in Detroit. The vehicle is Infiniti's concept of a high-performance version of its Q50 sports sedan showcasing Infiniti's vision for future designs, including more dramatic aerodynamics influenced by Infiniti's Formula 1 vehicles and complex carbon fiber composite bodywork.
The Q50 Eau Rouge Concept is lower and wider than the standard Q50, sharing only the roof and door profiles with that vehicle. And the car's carbon fiber details extend to the front splitter, rear diffuser, side sill skirts, roof, and door mirror casings. The vehicle is also shown with 21-inch alloy wheels and a dual-exit sports exhaust. With all those refinements, what we found most astounding was the deep, iridescent red color of the exterior finish. It's impossible to capture on camera, but in person we thought there was no other car in Detroit that equalled the finish of this vehicle.
And we may see this car on the road one day in the future. Infiniti's President, Johan de Nysschen, said during the announcement that, while the Eau Rouge is just a vision at this point, his plan is to "put this concept into production." He added, "If we built this car I would expect it to feature over 500 horsepower and 600 pound-feet of torque."
There aren't many sports sedans that can brag about having more than 500 horsepower under the hood, so it'll be exciting to watch this car evolve and see what ends up in the production version, assuming we see it roll off the line one day.