Car-to-Car Communication Moving Forward

Today's cars are loaded with all sorts of tech to improve vehicle safety and driving comfort, and many can also stream data and content via mobile devices. Now, the National Highway Traffic Safety Administration (NHTSA)  is taking steps to have vehicles start communicating with each other in order to further aid safety.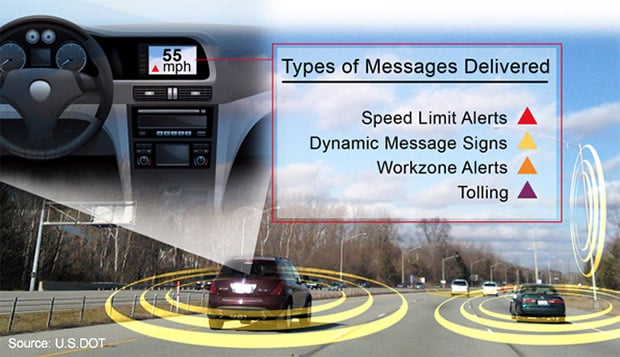 The NHTSA is currently working on a program which would use a combination of on-board transceivers and roadside communication points to move data between vehicles and a centralized infrastructure. Here's what they're ultimately envisioning for a vehicle-to-vehicle (V2V) communications system:
Connected vehicle safety applications will enable drivers to have 360-degree awareness of hazards and situations they cannot even see. Through in-car warnings, drivers will be alerted to imminent crash situations, such as merging trucks, cars in the driver's blind side, or when a vehicle ahead brakes suddenly. By communicating with roadside infrastructure, drivers will be alerted when they are entering a school zone, if workers are on the roadside, and if an upcoming traffic light is about to change.

Pivotal work is being conducted to guarantee that these driver warnings will not be a distraction and that people will only be made aware when they are approaching danger.

The connected vehicle system will be similar in many ways to other wireless networks and will create a dynamic transportation network based on an open platform to allow for new and creative applications. Open standards allow anyone to develop new products and applications that will work in this space.
Working in concert with University of Michigan's Transportation Research Institute, a pilot program of over 3,000 vehicles has been underway since 2012.  Based on this and other research, they believe that a large number of collisions could be avoided by providing drivers with information about other vehicles in their immediate vicinity. At this point the technology wouldn't be used to autonomously control vehicles, but just as an additional source of safety information for drivers to make decisions with.
To allay any privacy concerns, the government says the system would not exchange or record any personal information, nor would it track vehicle movements.