Experience NHRA Drag Racing
drag racing | racing | testdrive | February 9, 2014
---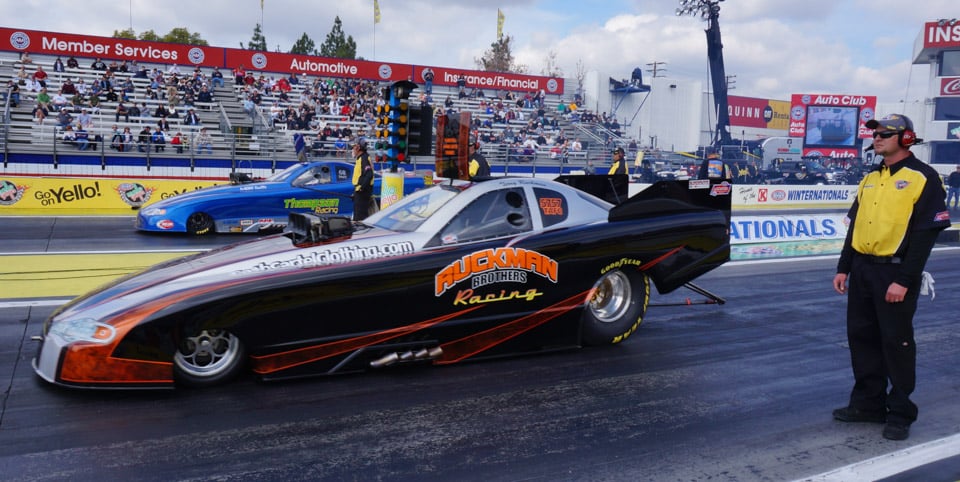 I recently had the opportunity to attend my first ever drag race event with the National Hot Rod Association. I'll start out by saying that no amount of photographs or video can really capture what you'll experience at a drag racing event.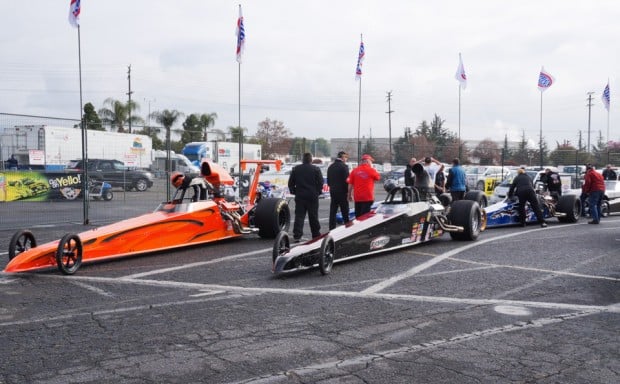 From the diversity of vehicles, to the intense sounds and sensations, to the air thick with burnt rubber and exhaust, it's something that must be experienced in person to really be understood. Attending can be a day-long or weekend's worth of activity, which includes watching races, and walking through the many aisles of mobile car pits, food and merchandise vendors.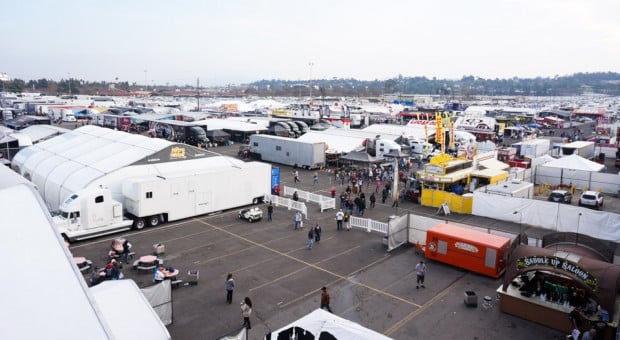 Unlike other motor sports, NHRA drag racing embraces all comers. Whether you're an amateur racer or a professional with a full pit crew, there are opportunities to participate.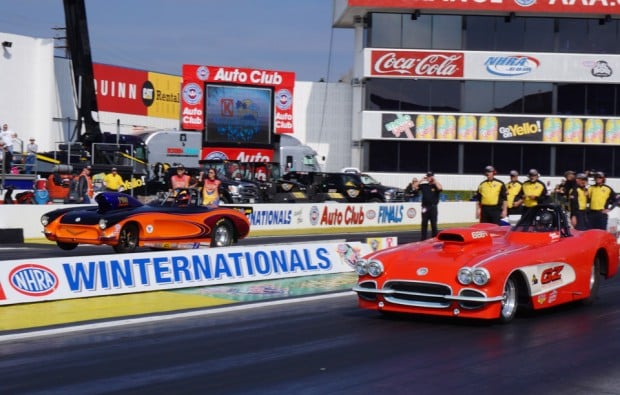 A typical spectator event like the 2014 Winternationals I attended is broken into a few main categories ranging from highly customized street cars, to ultra-high-performance Nitro-powered dragsters and funny cars with professional drivers and crews. There are numerous car classes, but this guide will give you a good overview of vehicle diversity.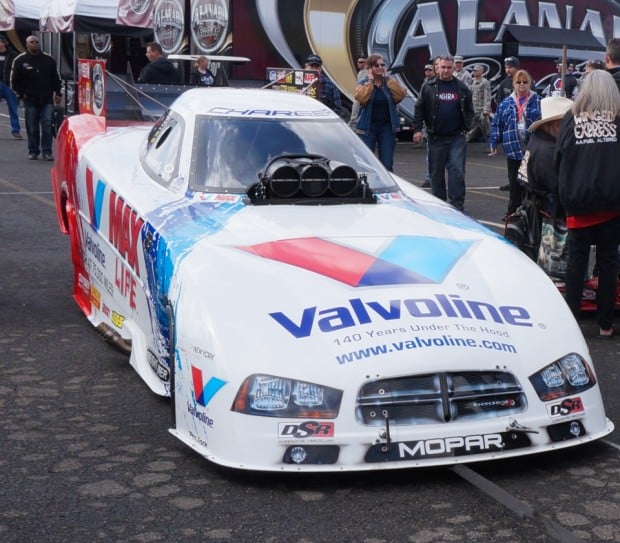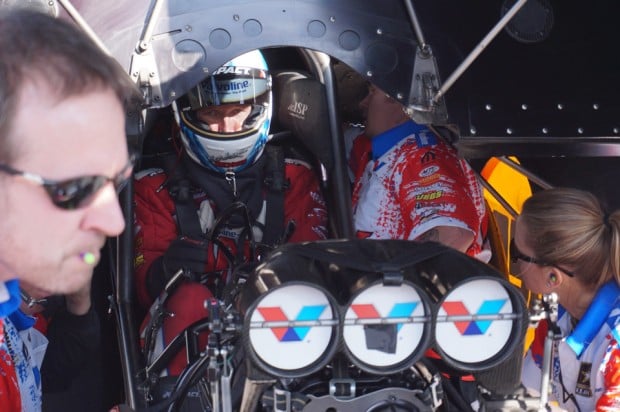 The goal of each race is simple: drive a quarter mile as fast as possible. Cars race in qualifier and elimination heats on a quest to rack up the most points and secure victory – first on a local level, then on the national level. Pro classes run head-to-head in a bracket style competition – with strict equipment regulations and no handicaps, while other vehicle classes use a time handicap system to ensure fair competition and no sandbagging.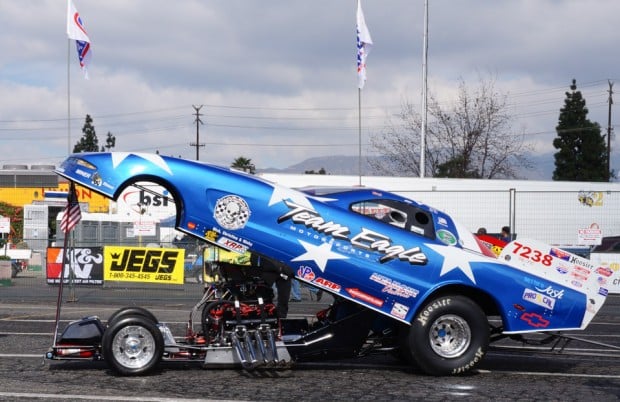 Vehicle classes range wildly in speed capabilities, with the stock and street groups running a 1/4 mile in anywhere from six to 12 seconds, and the Top Fuel dragsters racing to 1,000 feet in under four seconds, at speeds up to 330mph. While each run is quite brief, there's a huge thrill each time cars pull to the line – with each progressively more powerful class being more brash than the last.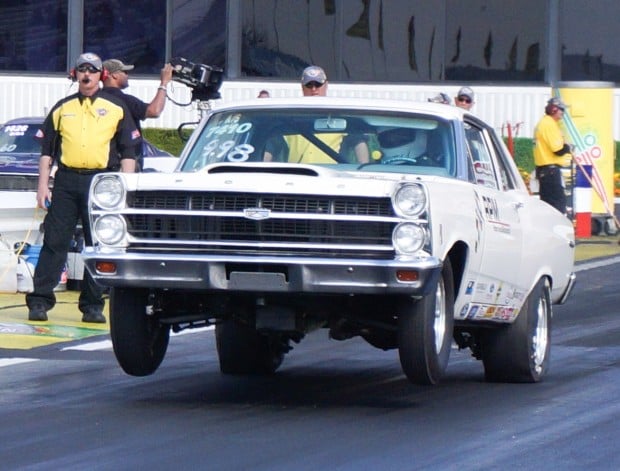 At the start of every race, each car does a fantastic smokey burnout to get its tires warm and sticky, and to remove any residue, then gets in position to race, waiting for the "Christmas Tree" of lights counts down to green.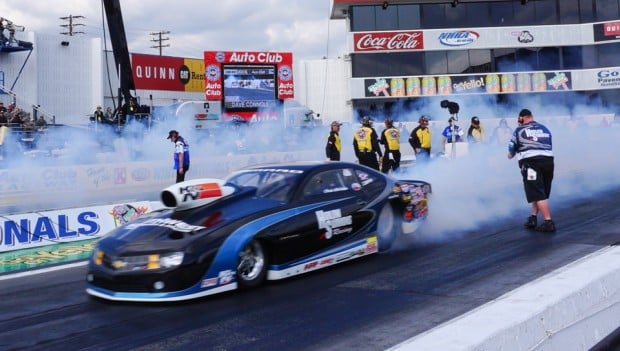 Numerous car classes zip by and you think they're loud, but I was blown away by the intensity of the Top Alcohol, Top Fuel and Funny Car classes. The sound and air pressure pushed out by these cars reverberates through every bone in your body and will make your hair stand on end. In fact, ear protection is a must when you sit out in the stands or stand alongside the track.
It's an awesome sensation I don't think I'll ever get used to, and has to be witnessed first hand.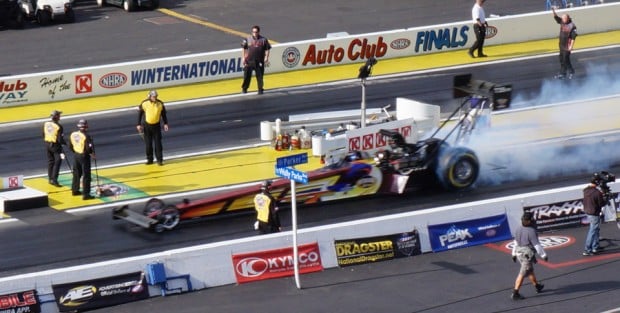 Each race is a nail-biting experience, as cars hurl down the track at breakneck speeds, with the possibility that an engine will spectacularly malfunction, or a car might lose control.  Thankfully, the NHRA has strict safety guidelines for each vehicle, so despite their speed and power, driver injuries are few and far between.
Still, with the Nitro-powered cars pushing out up to 10,000 horsepower, there's plenty to go wrong, but when things go right, it's a glorious sight. If ever there were a sport where "the thrill of victory, the agony of defeat" applied, it's drag racing. You could have a car that normally scores in the upper three second range that fails to perform, and ends up pulling twice that or worse because of an engine malfunction.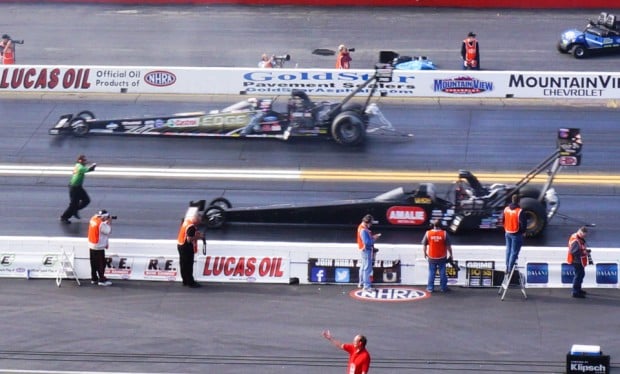 One of the really cool things about drag racing compared to sports like NASCAR or Formula 1 is that fans can walk right from the stands to the pit areas, where they can get within just a few feet of numerous cars being disassembled, reassembled and tested for runs.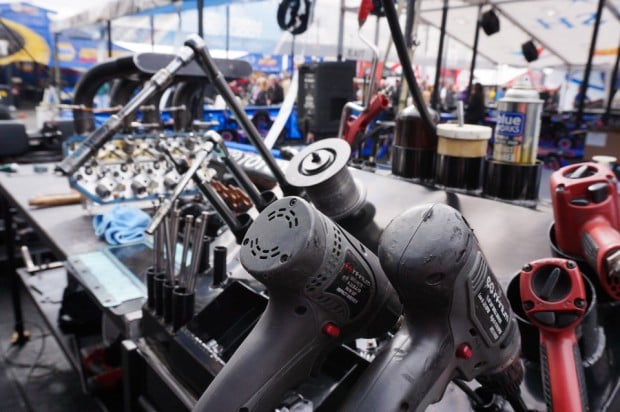 Drivers are often seen in their pit areas. In fact, I witnessed 2012 Top Fuel championship driver Antron Brown working closely with his pit crew, even mixing his own fuel. Photo and autograph opportunities are frequent as well.
Here, I managed to get face to face with Nitro Funny Car driver Alexis DeJoria, and her dad John Paul DeJoria – who just happens to be a multibillionaire philanthropist.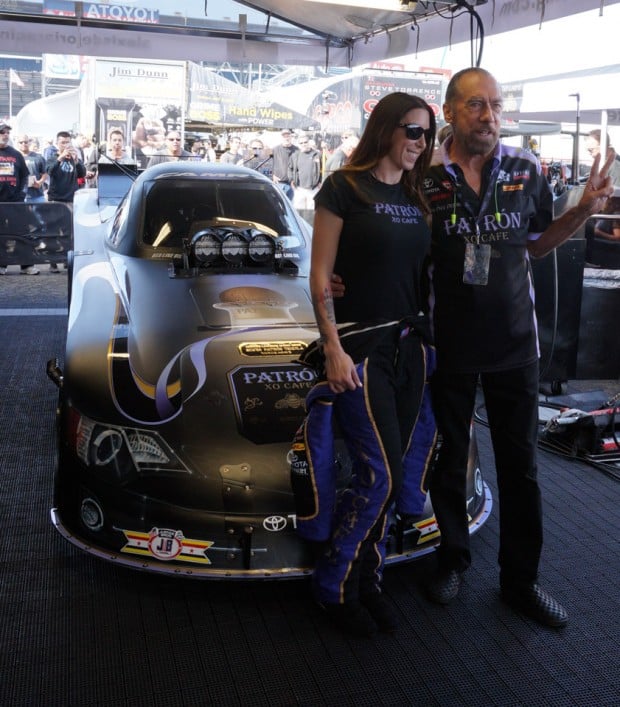 Pit crews are busy all day long, often having just 75 minutes between races to completely rebuild engines or transmissions and tune their cars. It's an amazing sight to see an engine ripped down to nothing in minutes, then completely built back up for the next race.
Like most racing genres, there's a tremendous amount of statistical information fans can follow if they want to go deep into the sport, and start rooting for their favorite drivers. It's also a family friendly sport where you can just come enjoy the day, eat some funnel cakes and hot dogs, see talented mechanics and engineers at work, and watch fast cars that will blow your mind (and eardrums). If you've never been to a drag race, you should try it – I think you'll have a great time.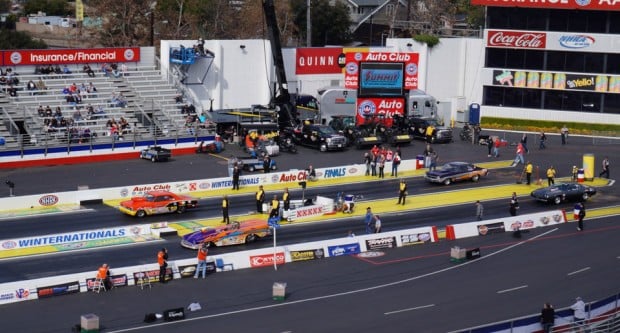 For more information on drag racing events and venues, check out the NHRA website.