2015 Volkswagen Passat Revealed for Europe
passat | volkswagen | July 7, 2014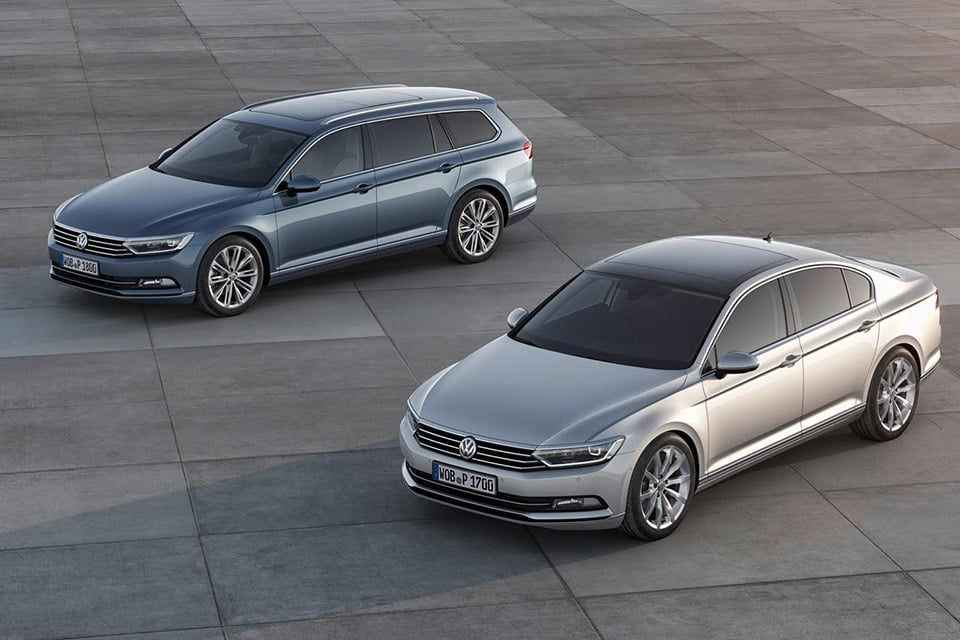 Volkswagen has lifted the veil off its 2015 Volkswagen Passat – at least the European market version of the vehicle, anyway. As we speculated after seeing the first teaser image, the restyled Passat has optional LED headlights (with Dynamic Light Assist, which can adjust the high beam without disturbing the incoming traffic) as well as a bolder front fascia. Along with those changes, the Passat also comes with LED taillights, a squared-off back end, and integrated dual exhaust tips. The Passat comes as either 4-door sedan or the wagon (known as the Passat Variant in VW's parlance).
The Passat's interior is also updated and buyer's can choose VW's new Active Info Display, which provides a large, dynamic navigational display on the instrument panel with smaller tachometer and speedometer indicators that changes based on the driver's preferences and the current situation. Other tech improvements include an app-based rear passenger entertainment system (which we haven't yet seen) along with additional safety features like automatic emergency braking, traffic jam assist, and trailer assist.
The Passat is powered by VW's Modular Transverse Matrix (MQB) engine platform which helps to cut the 2015 model's weight by 187 pounds over the current model Passat and the car will also be available in 2.0-liter TDI diesel and plug-in hybrid variants, with 237hp and 208hp respectively. VW will also be providing details soon on a plug-in hybrid version of the Passat with a 1.4-liter TSI engine producing 211hp/
The 2015 Passat will be shown at the Paris Motor Show in October and pricing for  the 2015 Passat sedan begins at 25,875 euros (~$35,200 USD) and the Passat Variant begins at 25,950 euros (~$35,300 USD). No word yet on pricing for the plug-in hybrid model. Regardless, this won't be the Passat we find in the United States, as the Tennessee-built Passat is unique to the U.S. and those specs haven't yet been revealed.