2015 Mercedes-AMG C63
amg | mercedes-benz | September 29, 2014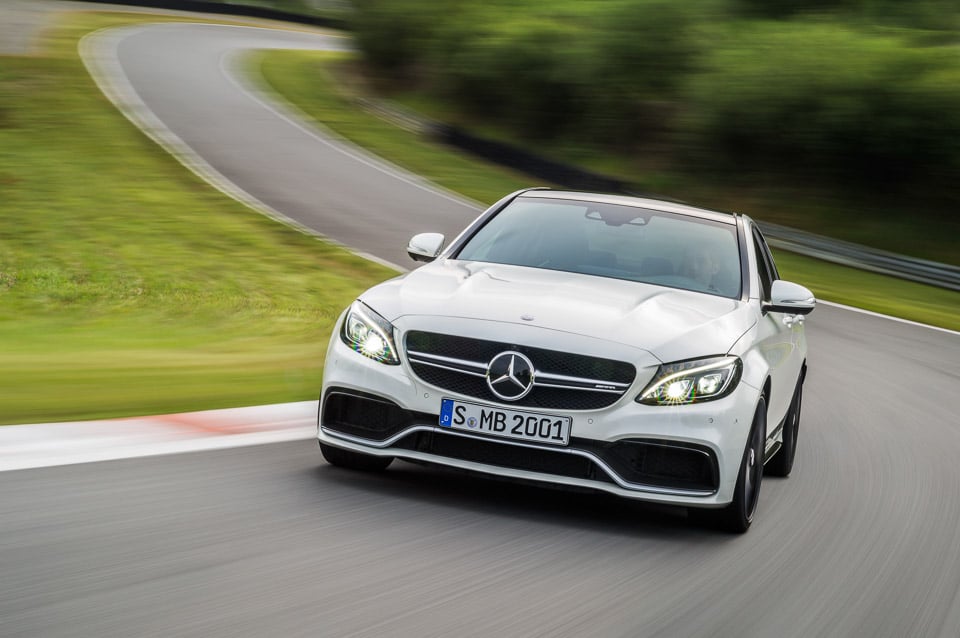 AMG works their magic on Mercedes-Benz' moderately-priced C-class sedan, with both a major performance upgrade and stylistic changes. The AMG C63 will come in two variants – a 469 horsepower model which can hit 100 km/h (62mph) in 4.0 seconds, and a 503hp model which does the same in 3.9 seconds.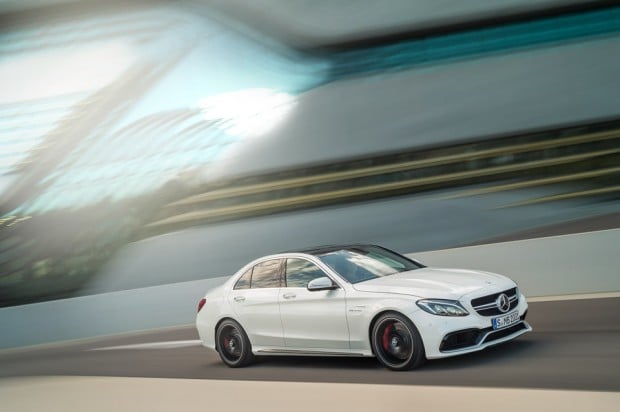 Both AMG C63 and C63 S top out at 155mph, and are powered by a 4.0-liter biturbo V8 engine, similar to the one found in the Mercedes-AMG GT. The engine in the C63 S is mounted with dynamic engine mounts which can adjust which can help the car adapt its handling and noise levels based on driving conditions and style. Other enhancements include AMG's adaptive sports suspension, and a mechanically-locking rear differential. An optional performance exhaust system offers electronically-controlled exhaust flaps so you can switch between visceral Sport and Race exhaust notes, or opt for a quieter ride in Comfort mode.
You'll notice that the car features aerodynamic and airflow enhancements compared to the stock C-class, along with widened aluminum front fenders, and front end that's been lengthened by about 2 inches.
Inside, the AMG C63 gets a dashboard trimmed in high quality Artico man-made leather with contrast grey stitching. Dials are backed by a carbon-weave pattern, and you can choose from microfiber sport seats or performance seats which place the driver in a lower position and offer improved lateral grip. Those who opt for the limited-edition C63 "Edition 1" variant will be treated to matte black forged wheels, black-out inlays, a D-bottom steering wheel, carbon fiber console elements, and bold red accent colors, which look especially great on the seats.
Mercedes plans on showing off the C63 AMG at the upcoming 2014 Paris Auto Show, and will start shipping the car in the U.S. in March 2015.