The World's Most Loved and Hated Cars
cars | infographics | November 25, 2014
Welcome to 95octane guest contributor Scott Huntington. Scott is a car enthusiast and writer. Check out his site, offthethrottle.com or follow him on Twitter. 
---
Reddit's most popular auto subreddit, r/cars, recently took part in a survey with two simple questions. What's your dream car, and what car do you hate the most? It's interesting to see the dream car answers, but even better to see the cars that everybody hates.
The universally most hated car was the Chrysler PT Cruiser. It won by a landslide. It's the butt of several jokes, and some say that no one ever means to buy one. Next up was the Toyota Prius, followed by the Fiat Multipla. The Fiat didn't get many votes from the U.S., but the rest of the world had plenty of hate for it.
As for the most loved, the results were pretty scattered, as there are just so many awesome cars out there. Porsche, McLaren, Lamborghini, and Ferrari were big winners, with BMW and Ford getting a few votes as well.
Of course, since this is a poll of Reddit's r/cars subscribers, it's not meant to be a scientific study or show that an entire state or country loves or hates a certain car. There were a couple places, such as Singapore, that only had a couple people vote. Others locations had several hundred voters or more. Still the people polled are some of the internet's biggest car buffs, so the survey gives some pretty cool insight on their thoughts.
Check out the results of the survey below: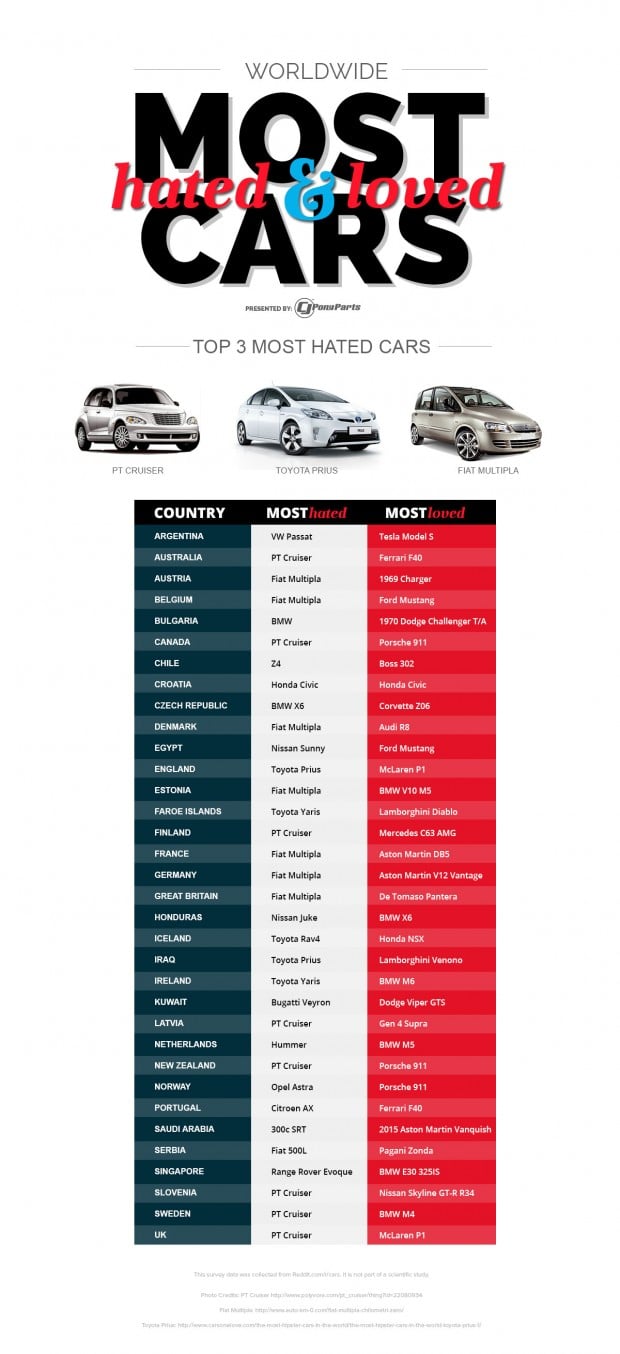 [Image credit goes to CJ Pony Parts]