Toyota Yaris WRC Aims for Rally Goodness in 2017
FIA | toyota | Toyota Yaris | World Rally Championship | February 3, 2015
Toyota's CEO Akio Toyoda wasn't kidding when he said he wanted his company's cars to "raise the pulse" instead of hitting us in the neck with tranquilizer darts. The giant Japanese automaker (insert Godzilla joke here) recenlty announced plans to re-enter the FIA World Rally Championship (WRC) after a 17-year absence. They'll join the likes of Volkswagen, Hyundai and Citroën in a mud, dirt and snow slinging fest that we Americans can't seem to appreciate as much as we do events like Sprint Car.
And no, their entry isn't a Venza on knobbies. It's the WRC Yaris, looking like a mini-badass with its frilled-lizard fender wells, roof scoop and tires that wouldn't look out of place on a small Jeep. The tiny titan will be powered by a turbocharged, 1.6-liter four-cylinder engine with 300 hp, mated to a six-speed sequential gearbox, making it significantly cooler than pretty much every Toyota currently in production.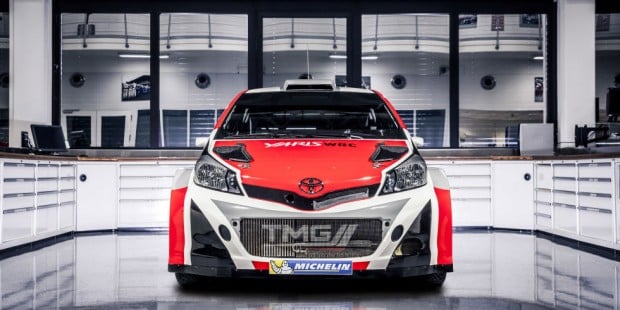 You won't see this angriest version of the Yaris on the WRC circuit until 2017, but testing has already gone through its first stage, and further development might just lead to the kind of dirty glory Toyota took in four rally championships way back in the '90s when you were just a zygote.
We tip our helmets to Toyota for working so hard on being fun again. Now if only they could get rid of the Prius C, the world would be a better place.